Chili or Ramen? A Nutrition Specialist Weighs in On Your Best Ski Lunch Options
Lodge lunches don't exactly include superfoods, but you can still make healthier choices.
Heading out the door? Read this article on the new Outside+ app available now on iOS devices for members! Download the app.
When it comes to food, skiers don't exactly take themselves seriously as athletes. After cramming a breakfast burrito or pastry into our mouths on the way to the lifts first thing in the morning, we survive on Snickers and granola bars while racking up thousands of feet of vert until we're so tired and starving that we have to make a beeline for the lodge, where we'll promptly gorge ourselves on a fat burger or greasy grilled cheese with extra fries.
In a pinch, those foods get the job done, but they don't exactly count as superfoods, says Dr. Amy Lee, a board-certified medical nutrition specialist. "This type of food is quick, easy, cheap. Maybe not cheap to buy at ski lodges, but cheap to produce because it's usually lower-quality food," explains Dr. Lee.
But what choice do skiers have when menus at ski lodge cafeterias seem set in stone across the country? Skiers may not have a lot of healthy foods to choose from, says Dr. Lee, but they can make smarter or healthier choices from the given menu.
"People these days are more sophisticated with their food choices. When given the option, they can make healthier choices. For instance, when it comes to burgers, pick one with better quality meat. A bison burger for example, or grilled chicken sandwich—these are better alternatives to your standard, greasy, high-fat beef patty," Dr. Lee advises.
If the lodge doesn't offer those alternatives, you can still make more mindful eating choices.
Related: Best Ski Resorts for Dining
"Every time you eat, you want to make sure you're eating something that gives you all the macronutrients you need—proteins, fats, and carbs. A burger definitely provides that, but there may be better options on the menu."
To help you make better decisions while navigating the lodge menu on your next ski day, Dr. Lee weighs in on your best options.
Burger or Sandwich?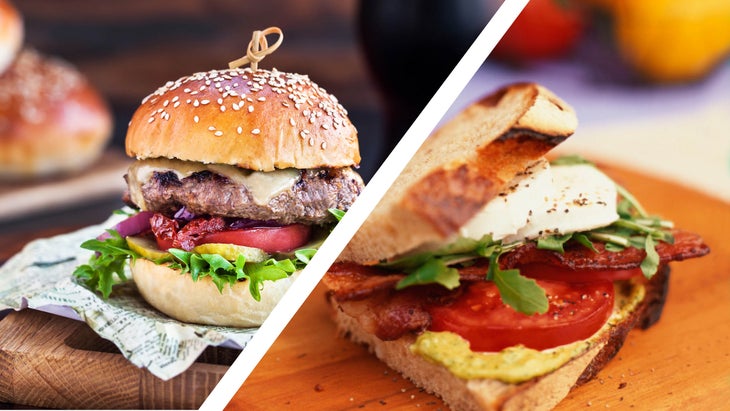 Dr. Lee: Sandwich. Assuming it's not just a PBJ or grilled cheese, a sandwich is almost always your best bet. A turkey and cheese sandwich or BLT on whole wheat bread includes good amounts of protein, fats, and carbohydrates. Burgers do provide protein, but they're also high in fat. If you're going to go with a burger, choose a higher quality meat if possible.
Related: 5 Nutrition Tips for Skiers
Ramen or Chili?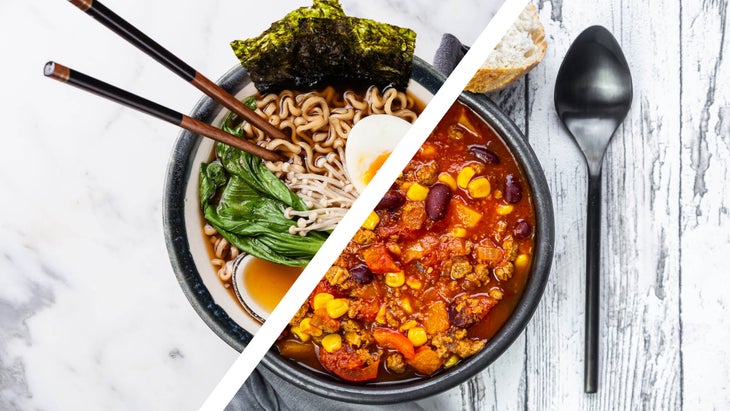 Dr. Lee: Ramen. If it's prepared by the kitchen and not the instant kind, chances are it will contain some protein like chicken or a hard-boiled egg, plus carbs in the form of noodles and vegetables. That's a good mix of everything you need without high fat or sugar content. Chili does include beans which are a good source of fiber, and chunks of meat, which will give you some protein, though probably not a significant amount.
Loaded baked potato or pizza?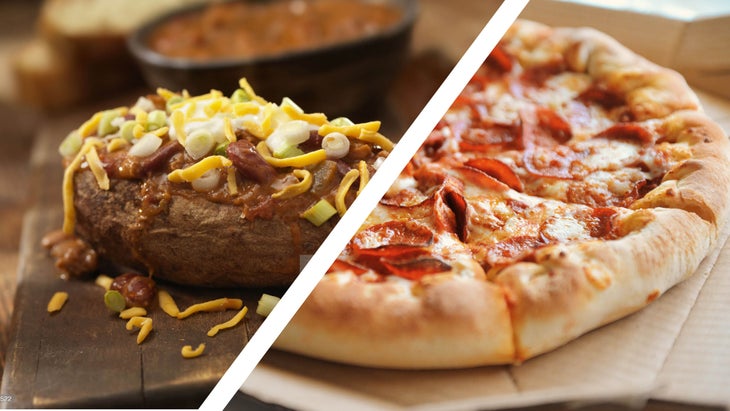 Dr. Lee: Loaded baked potato. This option contains a lot of sugar, but at least the sugar is from the potato, as opposed to pizza, which is just straight up sugar. And if you can control what you put on top of your baked potato, you have a chance to make some good choices there. If you can order a pizza with good topping like grilled chicken and veggies, it can be an OK choice. But if it's just your standard pepperoni pizza, that's just sugar and fat. If you're going to order pizza, make sure you get some substantial protein on it.
Water or Gatorade?
Dr. Lee: Both. When you're out on the mountains at elevation, you're cold, moving around a lot, and most likely dehydrated from the activity and from hyperventilating. Water content is super important to keep you hydrated. But it's not just about drinking water or drinking liquids. If your electrolytes are depleted, your water doesn't stay in your vasculature. You'll just find yourself going to the bathroom a lot because the water goes right through you.
Adding electrolytes so that you can better absorb liquids becomes super important. Gatorade—or concentrated alternatives like Gatorade blocks, Skratch Labs hydration mix, or GU Enerrgy packets—contains lots of electrolytes. Hydration packets are compact and don't leak, so it's easy to keep those on you while you're skiing to help you stay hydrated.
Clif Bar or Nature Valley Granola Bar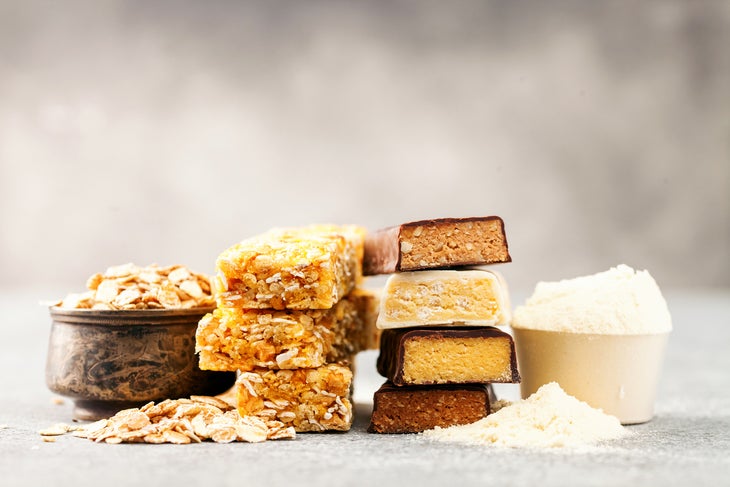 Dr. Lee: Clif Bar. When you're in the middle of exercise, like skiing, most people don't have cravings or may not even be hungry. But you still need fuel, and it's nice to at least have protein bars with you to snack on. And I'm not talking about candy bars and snack bars. I mean good bars with adequate protein. Clif Bars contain about 20 grams of protein per bar, which keeps you pretty satiated. I'm also a big fan of the RX and No Cow bars. With RX, you know exactly what you're getting since most only contain four ingredients and no added sugar or preservatives. No Cow bars are great for people who don't like the taste or can't tolerate whey protein.
We often think about the sugar and carb content of protein bars as negative, but if there's a lot of protein in the bar, it balances those calories out. Any bar with at least 12-20 grams of protein is a good choice because it will keep you satiated and the protein benefit outweighs the sugar issue.
Related: Best Pocket Snacks for Skiers
Other bars, like breakfast bars or standard granola bars like Nature Valley, can be very misleading. There's a massive amount of sugar in those and no protein, so you're just eating straight sugar. Always read the label on your bars and find one between 190 to 300 calories, and protein content with 10-30 grams. That's a good bar and will work as a meal replacement.
At the end of the day, all you can do is be mindful and make the best food choices available to you. Will it kill you to eat that greasy burger after skiing for four to six hours? No, it won't, says Dr. Lee. "If you don't eat pizza, burgers, and fries all day, every day, it's totally fine. When you're skiing, you're burning calories so you can probably afford it." Just don't let it become a habit.
Dr. Amy Lee is triple board certified in internal medicine, medical nutrition, and obesity medicine. She is currently the chief medical officer at Lindora Clinic.