How to Safely Ride and Unload The Chairlift
To ski safely at the resort, make sure you know how to load and un-load a chair lift safely.
Heading out the door? Read this article on the new Outside+ app available now on iOS devices for members! Download the app.
There are a few different types of lifts on the mountain, the most common being gondolas, chairlifts, "magic carpets" and T-bars. We'll focus on chairlifts for the sake of this article, the most recognizable feature of any ski mountain.
Riding the chairlift for the first time can be a pretty intimidating experience. The mount, the heights, the dismount… it all seems like a little extra risk to slide down a mountain on two slabs of wood. The good news is chairlifts are designed to be just as easy for the novice skier as the experienced, with a little basic instruction on how to maneuver them.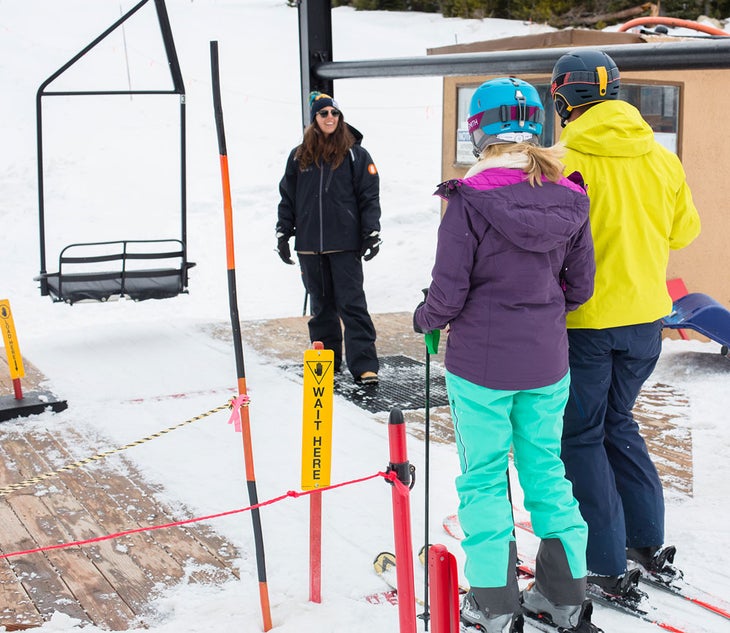 Before hopping on the lift, it's helpful to watch the more experienced skiers getting on. Shuffling at the same speed as your lift mates will get you in position, as the chair comes behind you. It is possible to have the lift operator slow the chair down for you as it comes, if you're still getting used to getting on and off the chairlift. Then, it's as easy as popping a squat when you feel the chair touch the back of your legs. This quickly becomes second-nature, and a rich part of the ski experience. Riding the chairlift is a perfect time to take a breather, take in the views and appreciate the friendly company of other skiers.
Once you take your seat, pulling the bar down from above your head adds an extra layer of protection and comfort from the heights below. Lifts often incorporate a footrest on the bar to give your feet a break from your boots and skis.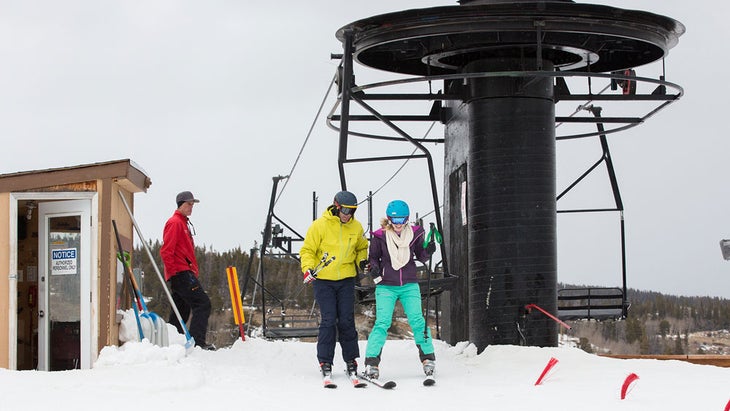 Unloading is where it gets a little trickier for the first-timer. Whatever type of lift you're riding, when you disembark at the top, move immediately away from the unloading zone so that skiers offloading behind don't crash into you. The gentle slope that awaits you on the chairlift provides enough space to ski to the side, without getting too technical.
AIM Adventure U's Intro to Skiing course is designed to take you through the basics of skiing, without actually having to step foot on the hill. The six-week online course can be completed from wherever you are, on your own time. Through interactive lessons, which include photo and video instruction, you'll be prepared to navigate everything from the rental shop to your first turns on the slopes.