The ABC on CBD
From lotions to lattés, CBD is in everything these days. Can this substance safely alleviate pain?
Heading out the door? Read this article on the new Outside+ app available now on iOS devices for members! Download the app.
Maybe it was the head-first tumble after clipping a tree, caught on film in Greg Stump's 1989 movie, "License to Thrill," or the ski racing crashes during her time on the U.S. Ski Team. It could also be the natural wear and tear from 50 years on the slopes, but Kim Reichhelm, two-time world extreme skiing champion and ski adventure trip leader, suffers—like so many lifelong skiers—from aches and pains caused by arthritis. Yet, that's not evident when you watch her ski because Reichhelm treats her pain with CBD.
"I've been skiing over 100 days a year since I was 12," says Reichhelm. "As a ski racer and big mountain freeskier, I've beaten myself up. Now at age 58, CBD helps a lot. I use oils, tinctures, and inhalers to get the pain relief I need while staying sharp so I can be focused on my job."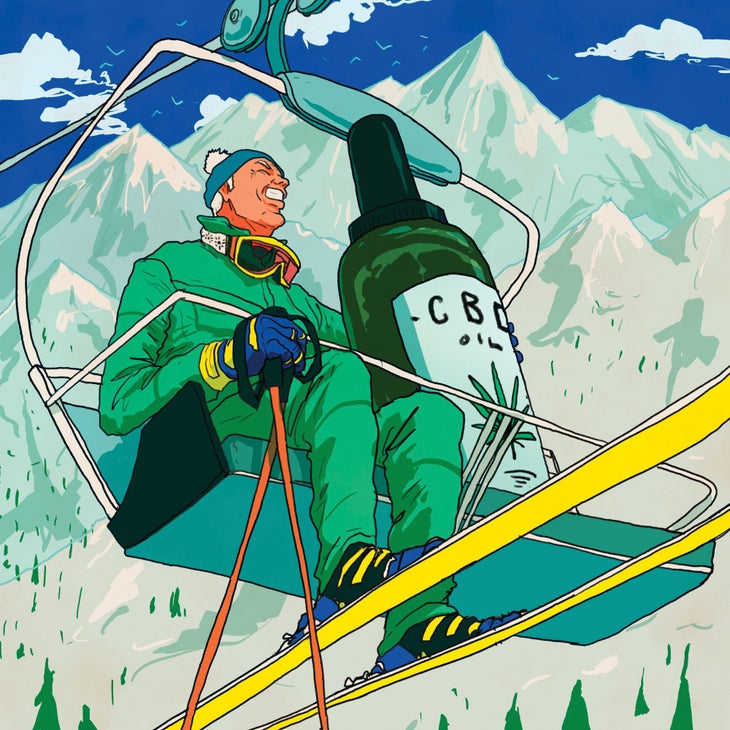 Reichhelm is not the only one to self-medicate with CBD. Cannabidiol (CBD for short) has officially hit the mainstream, yet there's still much misinformation and mystery surrounding the substance, with many still equating CBD with THC and marijuana.
CBD is one of over 100 cannabinoids, or chemical compounds, found in the cannabis plant. Another cannabinoid is tetrahydrocannabinol (THC), the psychoactive component of the cannabis plant, commonly referred to as marijuana. CBD does not share the same effects of getting high as THC, and CBD products are often listed as "hemp-derived."
Here's where it gets tricky: Hemp and marijuana are basically different names for the same cannabis plant and are both derived from the flower (or bud). Hemp, however, contains no more than 0.3 percent of THC (by dry weight). Marijuana, by contrast, can contain up to 35 percent THC.
Widespread adoption of CBD took off under new standards put in place by the 2018 Farm Act, which made it legal to grow, cultivate, and produce the hemp plant after decades of prohibition. Since 1970, cannabis has been listed as a Schedule 1 controlled substance under the federal Controlled Substances Act (CSA), but its legal standing has now been muddied by the legalization of the recreational use of cannabis in multiple states. While the 2018 Farm Act allows for interstate sales of hemp-derived products, these products still fall under the regulation of the FDA. Though the FDA has approved hemp seeds and hemp seed-derived food ingredients, the agency's position is that additional information is needed about the safety and effectiveness of CBD.
"CBD has been shown to mitigate inflammation, which results in a reduction of pain," says Jeremy Riggle, Ph.D., chief scientist for Mary's Medicinals and Nutritionals, a Colorado-based cannabis product manufacturer. "It's a low-risk, high-reward proposition because CBD has almost zero toxicity and won't result in the euphoric, psychotropic outcomes that come from THC consumption. CBD also interacts with a number of receptor systems, which is part of the reason you hear about it helping with so many different indications from pain to sleep to digestion." So far, there isn't a lot of data on the longterm usage of CBD, though some studies point to a lack of dependency or abuse and few side effects.
It's a joke among avid skiers that vitamin A, or Advil, can help you ski all day. Advil is an over-the-counter, nonsteroidal anti-inflammatory drug (NSAID). NSAIDs, however, are intended for short-term use and may have side effects such as stomach ulcers, high blood pressure, allergic reactions, and liver or kidney problems. William Spilo, heli-ski guide and co-founder of CBD LUXE, was taking a lot of Advil during his time in Vail, Colorado.
Ski With Kim: The Hostess with the Mostest
"The whole reason we started the company was to get off of NSAIDs," says Spilo. "I was 45 and had injured both shoulders, my neck, and my knees from hitting the mountain so hard. It was a professional MD who said I should check out CBD."
Utilizing his background in botany, Spilo experimented with CBD, using as pure ingredients as possible. "It was amazing," he says. "My knees didn't feel bad and my neck didn't bother me." Spilo gave his products to other skiers in the industry who experienced similar pain. Though he can't make specific health claims (to avoid a warning letter from the FDA), Spilo's company does make condition-specific formulations such as tinctures called BE Clear, BE Alert, and BE Well.
Not everyone is jumping on the bandwagon. For Tyler Carter, soreness and pain are a part of life. As a member of the U.S. Paralympic Alpine National Team and two-time Paralympian, Carter is hesitant to use anything that could inhibit his ability to ski race. "Every Team USA athlete is drug tested by the U.S. Anti-Doping Agency (USADA) and while they are generally looking for the THC component of the drug in tests, it is not worth that big of a risk," says Carter. "While there are some studies that show benefits to using CBD, especially with muscle spasms, seizures, and epilepsy, the rest is unproven."
Though CBD is not prohibited in sports, the USADA cautions athletes to assume that CBD products contain a mixture of CBD and banned cannabinoids like THC due to the difficulty of extracting only CBD from the cannabis plant. Therefore, the agency warns there's a potential to test positive for an illegal substance. Heeding that warning, Carter combats the aches and pains from the physical demands of his sport by sticking to a regimen of hydration, ice, foam rolling, stretching, and a healthy diet.
The Duel: CBD Supplements 
Lack of regulation has other repercussions on CBD products, such as accuracy in dosage, erratic levels of THC, the use of potentially harmful synthetic cannabinoids, and the presence of pesticides and herbicides. "You want to find suppliers who use clean, organic ingredients," cautions Riggle. "Cannabis has bioaccumulating properties, which means it accumulates things from its immediate environment, so you have to properly vet the sources of the cannabis itself."
As time goes on, more scientists will conduct studies on the use, safety, and efficacy of CBD. For some athletes, like Carter, the jury is still out. For others, the anecdotal evidence is enough. "I'm an adrenaline junkie," says Reichhelm. "I can't stop skiing, even with arthritis, and CBD helps me get through the rough days."
Krista Crabtree is a Boulder, Colo.-based freelance writer and ski coach who, thanks to Dr. Riggle's advice, vets her CBD products more carefully now.
Originally published in the October 2019 issue of SKI Magazine. Tyler Carter's Instagram video was added to the digital version. Don't miss out and subscribe now to get the rest of this season's issues delivered to your mailbox.