By Coming Out, This Ski Photographer Was Able to Create His Best Work Yet
The new film "Out West" details how Stephen Shelesky's photography was the instrument that allowed him to embrace, love, express his true self
Heading out the door? Read this article on the new Outside+ app available now on iOS devices for members! Download the app.
By all accounts, Stephen Shelesky is living the skier's dream in Jackson Hole, Wyoming. A young, talented photographer with a massive Instagram following and enough work to sustain him full-time, it's certain the 26-year-old is going to be making regular contributions to ski photography for years to come. You can check out a gallery of his work here. But arriving here has taken some winding turns and hard work—the murky, sometimes painful self-reflection kind of work.
Shelesky grew up in Northern Virginia, in the Washington, D.C. area, and snowboarded as a kid, spending weekends at Whitetail, Wisp, and other mid-Atlantic ski resorts. (His transition to skiing was just three years ago.) Eventually, his dad started taking the family to Steamboat, Colorado, about once a year as an introduction to the western U.S. and skiing on a bigger scale.
In college at the University of Colorado, Shelesky studied environmental science, building his schedule to accommodate four-day weekends so he could spend as much time as possible on snow. (Miraculously, he maintained a 4.0 and 60 days on the snow every year.)
His time in the mountains quickly merged with his interest in photography. "Virginia was very different, but I would go out of my way to make my photography outdoors-themed, nature-themed." In Colorado, he started shooting friends that were talented skiers. Ski resorts started picking up his photos and he began to gain traction as a landscape and ski photographer.
After two years working in marketing in the ski industry, he took a leap and moved to Jackson Hole to pursue photography full-time. Everything was working out. But despite his early success, Shelesky struggled to find fulfillment in his personal life or through his work, in part, he admits, because he was using it to hide and even ignore his sexuality.
It took a summer-long road trip across the American West and Canada to stop running from what he knew to be true about himself.
"I left on that road trip asking myself, 'What is it going to take for me to be happy? What is it?' I didn't really know the answer to that," he says. "But by the end of the trip, I had concluded that I need to be open with this part of myself and accept this part of myself to be happy, or at least to start on that journey to be happy."
A year and a half later, Shelesky came out as gay. First, to those closest to him, then his family, and eventually, to his broader social network. The response from his community in Jackson Hole inspired him to make a more public declaration. To celebrate his journey in hopes of reaching others who may feel unsure how they will fit into skiing or the greater outdoor community, Shelesky began to work on his latest film, "Out West."
Filmed and directed by Susie Theis, with support from Sofia Jaramillo and editing by Jack Hessler, "Out West" details how Shelesky went from using photography to hide to becoming the instrument that allowed him to embrace, love, and express his true self.
Our interview with Shelesky has been edited for length and clarity, and I recommend you read his every word. He's on to something, y'all.
Sierra: To be working full-time as a photographer in the outdoor industry at your age is a big accomplishment. I'm curious, did you have a fantasy of what that would be like? Now that you're doing it, has that shifted?
Stephen: I always had this big dream of traveling a bunch and being in all these amazing places but not really understanding what it takes to kind of bring all that to fruition. I've found today that, contrary to what social media shows us on the surface, it comes from real in-person, interpersonal relationships. Had I told myself three years ago, it would have been valuable. At the time, I had this 'I'm going to do it alone. I'm going to go out alone,' mentality and it's not that at all.
Were there specific relationships or connections that you attribute to any success you've had?
Stephen: I was back in Jackson for a second season after going on this long road trip and I got invited on a trip to Japan in January 2019 with Sofia Schwartz, Veronica Paulsen, Tami Razinger, Laura Gaylord, and Max Martin. I didn't know any of them, really. All they could offer me was my flight and my lodging. That was more than enough for it to be a 'Hell, yes!'
That is where it really started to grow. Max and I became very close after that and I started to piece things together. Max and I had enough work to market ourselves as a team—and that worked. He got on the Volkl team and I developed my relationship with Jackson Hole Mountain Resort who's now one of my best clients.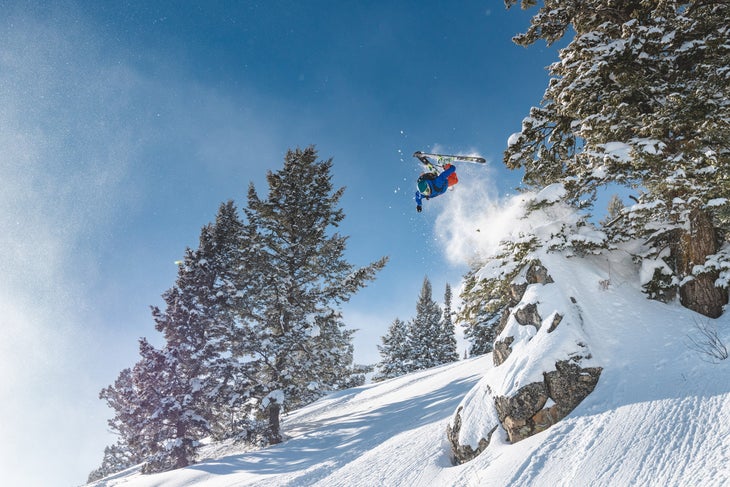 That relationship led me to do a project with both Max and Jim Ryan called "In Plain Sight," which was released last year. That allowed me to get my work in front of Helly Hansen and I met Madison Ostergren. She and Jim are basically my go-to folks and with who I share the most vision and have the most fun working. Again, this started because of collaborating. You can't just be like, 'My work is good, give me a job." It's interpersonal. It's vibing with those people and enjoying them outside of work, even outside of skiing. Once you start to share that, it creates a collaborative atmosphere that's just been so fun to work in.
It's so much easier to work with someone you know, right? You get familiar with and know how to communicate.
Stephen: There's a level of trust. If I say, 'We got it,' they don't even need to see it. They trust me. When I'm looking at something [to shoot], they're looking at it in the same way as me. I visualize the final edited image in my mind, and I know that they understand and share that. They know enough about photography to make it a really productive and successful shoot. Trust is really important in terms of being able to do a good job.
How has that type of trust impacted your personal journey as well as finding your community in Jackson?
Stephen: The community has been everything. That is what led me to be comfortable to come out [as gay] and share that part of myself with people. I came out to my family and then came out to like a few other folks here. Then, through the winter, I was kind of half in, half out. A select group of people knew this part about me, and then there was like a large number that didn't. That's really exhausting and led me to be like, 'OK, if I want to do this, I need to go all-in here. People need to know this about me so that I can be confident and comfortable.' If someone doesn't want to accept me for that, they can fuck off. So I just posted on Instagram, not really for making a thing out of it but because being able to reach a number of people all at once was easier.
How did you feel after that mass admission?
Stephen: It didn't make me immediately comfortable with myself. Truthfully, I'm still not. I'm trying to untrain myself from all these things that I taught myself for 25 years. There are still moments of doubt all the time. A way to persevere through that is just by being obnoxiously proud at the moment. After doing that, I was struck with this level of confidence that was different. I was like, 'OK, these people love me and they like love being around me,' and once that started it snowballed into, OK, now everybody knows this about me and they still want to be my friends.
Did that response surprise you?
Stephen: The fear of rejection is very real. Jim and Madison, maybe more than anybody, showed me that that didn't matter. I kept gaining confidence because these folks were accepting and including me. I feel fortunate that I'm a gay person with these outdoor interests, but it feels like skiing and outdoor activities, in general, create enough of a bond that the rest doesn't matter. Now, when I look at my group of friends here, it's a motley crew. Everyone is very different. [Being gay] might be one thing that makes me different, but Jackson has proven to be extremely accepting.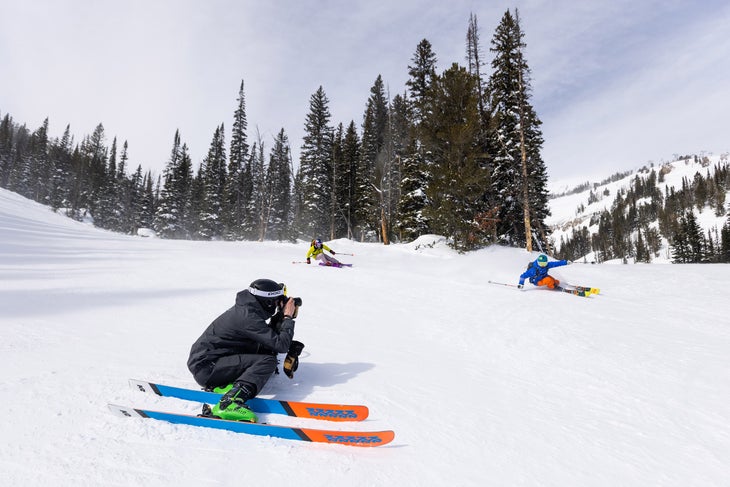 What was it about the people that you come out to that made you trust them? I ask that so the rest of us can learn to be those types of people too.
Stephen: There were some obvious things, like how they stood on political issues in general. Unfortunately, it's become a political issue. That's why we need to be loud about this. But also, they embodied a lack of judgment [of others]. I saw enough examples of who they surrounded themselves with and who they were choosing to hang out with, that it opened that door for me.
A lot of us talk about skiing as our community, as our family, and our friends. My ski community is the place where I can come and truly be myself. But when I talk to other people who feel like they may be at risk of losing that community because of who they are, it reminds me that skiers can be so judgmental.
Stephen:That's the back of my head all the time. There are still people in this community that are not completely inclusive and accepting. I think it's dying off, but it certainly still does exist. Before coming out, I created absolutely every worst-case scenario in my head. My fear was people were not going to want to work with me anymore, but it has proven to be the opposite.
Coming out hasn't changed who you are, but now that you've expressed yourself fully, what has changed in your personal life and your work as a ski photographer?
Stephen: Prior to coming out, I craved solitude. I think that's why I got so into landscape [photography]. I loved the excuse to run away and be alone in some peaceful place. Now, I can't get enough of people. Opening that door has allowed my connections to be so much deeper and I always want to be sharing my time outside with someone. There's something beautiful about sharing those experiences.
I love hearing that. Keep going.
Stephen: It has changed the way I communicate with everybody too. Previously, I very much feared intimacy on any level with any relationship because I had to hide this huge part of myself. So every friendship hit a ceiling relatively fast because I was not sharing this part of myself. I couldn't even engage in conversations about other people's relationships. Now, I'm much more able to be open with new people I'm working with right off the bat and strike a deeper connection.
Tying that to your film, "OutWest," why take the risk of going through something fairly personal in a really public way?
Stephen: What I've learned from this journey so far is that every time I take another step towards vulnerability, I ultimately open up a lot of challenging doors, but I end up feeling better after. I didn't feel like any gay people were visible really in skiing or much in outdoor sports in the past years. It's not something people need to be loud about if they don't want to be. But for me, I know how much it would have helped me if I had just seen someone like myself, whether it was a skier or snowboarder or a photographer or someone I could relate to in this industry.
It might not have sped anything up, but it might have shown me, 'Hey, there can be a place for you here. You belong here. You deserve to be here, and this industry wants you to be a part of it.' We had higher profile people like Gus Kenworthy but he was already an established Olympian and he's globally famous. We need [gay] people to be visible right now, until people don't have to come out, across the board, far beyond this industry. We've made a lot of progress, but we're really far from that still.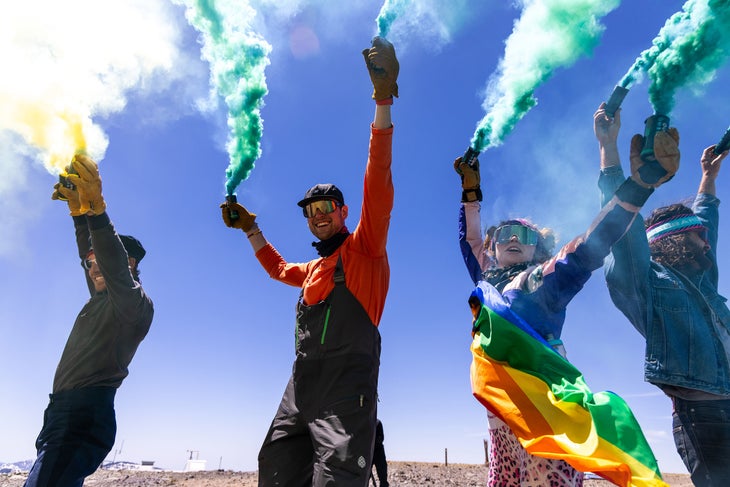 I think it's brave, and I wish you didn't have to be brave about something like this…but because of how far we've come, but also where [ski culture] needs to go, I think it does matter.
Stephen: Talent and all these other things are still valued, but we have to recognize that a gay person faces barriers so far back in their development that they might not get the opportunity to become talented. It needs to be fixed on a root level so that they feel included far before they're at a place where they're deciding if they want to make a career of this. They need to be able to foster their passion in an environment that allows it. And that hasn't existed.
What are some of those barriers you see?
Stephen: A gay skier, even an extremely talented skier, is going to show up to the mountain and hear a bunch of just like toxic masculinity bullshit spewed all over the lift lines. 'Oh, here's another group of bro skiers sexualizing women'. Who would want to be part of that? It's enough to deter you from skiing at such a core level that some people don't even get to taste it in the first place.
Good point. There are toxic parts of our culture that don't feel inclusive and are hard to be around. Across the board, there are so many barriers to entry to skiing. Some feel far away and out of our control; this feels like one we can all improve.
Stephen: Calling each other out when you hear it and keeping people accountable and not engaging in it yourself are all ways we can do that. Most of the time, people know what they're saying. They're aware and still, if someone doesn't perform as well as they should on skis, the way we say what they did wrong is often derogatory towards gay people are derogatory towards women. Just change the language. It doesn't have to be a derogatory term to get that point across.
When someone watches your film, whether they see themselves in you or see themselves as a skier, what do you hope is the takeaway message from this project?
Stephen: I want people to know that everyone is accepted and included and ready to be embraced by this industry. I think it's time—it's far past time—to uplift these stories. I don't want anyone to feel like they don't belong in skiing, because everybody belongs here. I want everybody to feel how good the outdoors can make you feel and how good being a part of the outdoor community can make you feel. We have to acknowledge there are a lot of imperfections, but let's work through them together. This needs to be a space for everybody. It's simple.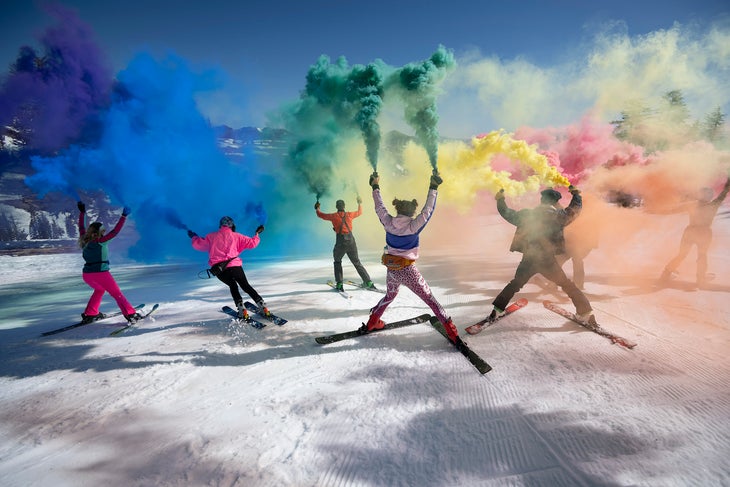 Be on the lookout for the full film, Out West, coming Fall 2021.