I Finally Made It to Alta and Now I Get What All the Fuss Is About
Even without the powder, this skier's haven is still pretty dang rad.
Heading out the door? Read this article on the new Outside+ app available now on iOS devices for members! Download the app.
Here's what I didn't understand before visiting Alta for the first time: How does a 2,614-acre resort with just six ski lifts at the deadend of a canyon register on the world's ski resort Richter scale?
I grew up in Garmisch, Germany, far removed from U.S. ski culture. When I heard people talk about skiing in the States, I heard plenty of mention of Vail and Aspen, Park City and Jackson Hole. But Alta wasn't on my radar.
Related: My first time in Aspen, Colo. 
The little I knew about it I'd heard from my dad, a ski instructor who spent the early '80s road tripping with his twin brother from Illinois out West—just a couple of 20-somethings with their 200s wedged into a Firebird in search of real snow and real vertical.
When they drove up to Alta in 1972, they found both. But it was the memory of Alta's snow—so light, deep, and unlike anywhere else—that stayed with my dad for more than 40 years after that trip to Alta.
So I assumed that little Alta was just famous for its legendary powder. Sure, the resort benefits from massive storms that drop around 545 inches of fluff on its slopes annually—but you'd have to hit it just right to really get the Alta experience everyone talks about.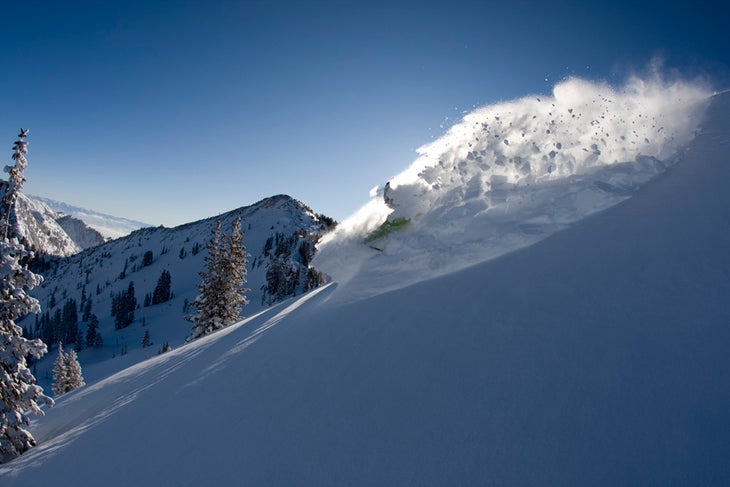 When I finally made it to Alta for the first time in early March this season, I didn't hit it right.
Two weeks earlier, Alta had received more than eight feet of snow over four days and experienced the longest Interlodge in recent Little Cottonwood Canyon history. But when we rocked up to the Collins lift at Alta's base at 9:15 a.m., the thermometer was already registering 46 degrees. And it had been for the past week.
Related: A Report from Inside Little Cottonwood Canyon's Longest Interlodge Ever
There was none of Alta's famous dry and light in sight, and none in the forecast. But it turned out, my assumption about Alta was wrong. Even without the powder, Alta is still pretty dang rad.
We spent two days exploring Alta's 2,614 skiable acres, and by the end I was ready to pack up my life in Colorado and settle in whatever room I could find in Little Cottonwood Canyon.
Alta has everything I look for in a ski area: an indy vibe that emphasizes the skiing experience above all else; dramatic views of surrounding mountains that are actual mountains (like Mount Superior); and, above all, steep and rugged terrain that will keep advanced and expert skiers entertained for days and seasons on end.
High Rustler may be Alta's most famous expert run because of its smack-you-in-the-face aspect on the resort's frontside, but it's hardly the resort's only expert playground. We could only ogle the Baldy Chutes, closed for avalanche danger during our trip, from the Collins chair, but even without those backcountry-esque lines, we never bored of hop-turning down Spiney Chutes or shuffling along the High Traverse to Gunsight and Eddie's High Nowhere.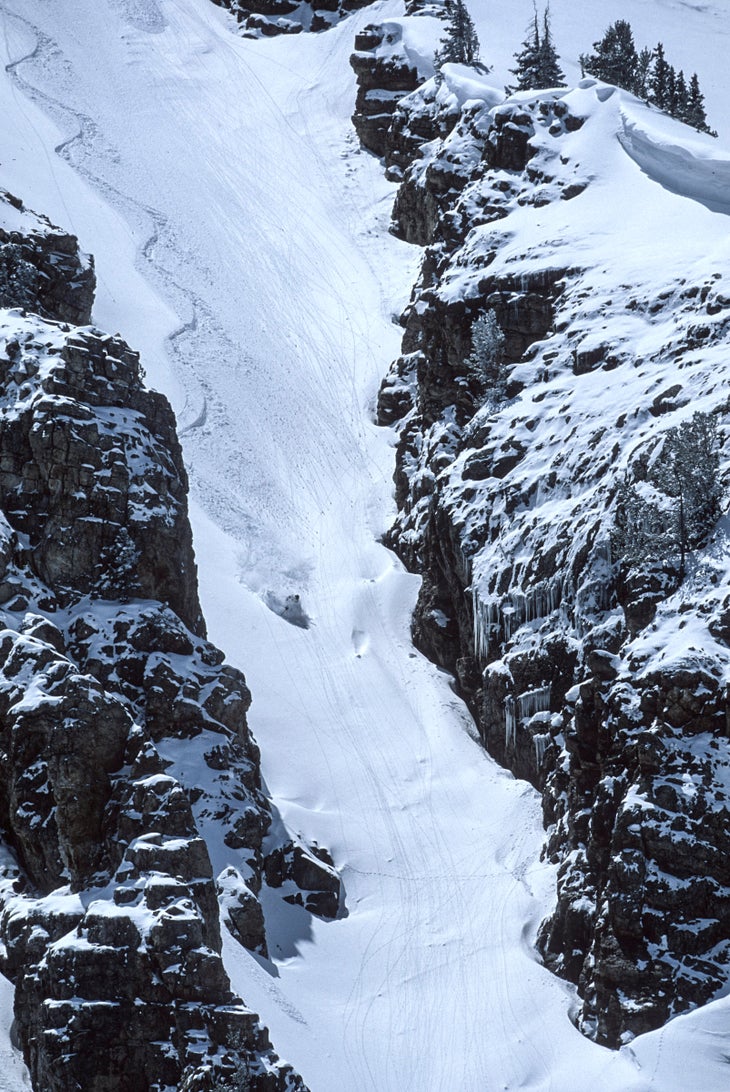 I couldn't believe the amount of fun, challenging terrain this little area holds. I admitted as much to Andria Huskinson, a longtime Alta employee and our local guide for the weekend. "If you can see it, you can ski it," she laughed.
Huskinson, a Jackson, Wyo. native who's called Alta home for the last 14 years, skied us around to her favorite spots on the mountain—all tight, technical lines where you had to ski between a rock and another hard place. We only ever skied sections of Alta's meandering groomed runs to get to the next traverse that would take us to the natural goods.
Huskinson, skiing on a pair of old and well-loved Völkl Mantras, made laissez-faire skid turns down those groomer sections. She's not really a groomer skier, she admitted, and doesn't really see a need for edges. I didn't blame her. Why would you care about groomers and edges when you've spent your life skiing places like Jackson Hole and Alta?
I found that Huskinson's attitude towards skiing accurately sums up the vibe of this ski area. Alta has nothing to prove. Established with the help of skiing legend Alf Engen in 1936 in the wake of the area's silver mining days, Alta is the country's second-oldest ski area after Sun Valley, and it's this rich history that has helped define the place.
Read more: SKI's 2021 Reader Resort Ranking for Alta, Utah 
You won't find a bustling base village or grandiose day lodges at Alta, but you will discover a place that exudes old-world charm. From the Transfer tow rope that connects the Wildcat Base to the Albion Base, to the Goldminer's Daughter Lodge—which pays homage to Alta's original mining saloon and serves up slopeside coffee and brews—Alta has an authenticity to it that's hard to find at other U.S. resorts with name recognition. Alta reminds me of the resorts I grew up skiing in Austria—no fuss, no muss, just excellent skiing.
And that's what makes Alta special. Not it's skiable acreage or even its legendary powder, but its commitment to staying true to what it set out to be in 1936: A real skier's haven; a local's hill that destination skiers from around the world just happen to visit.
Alta Ski Area Tip Sheet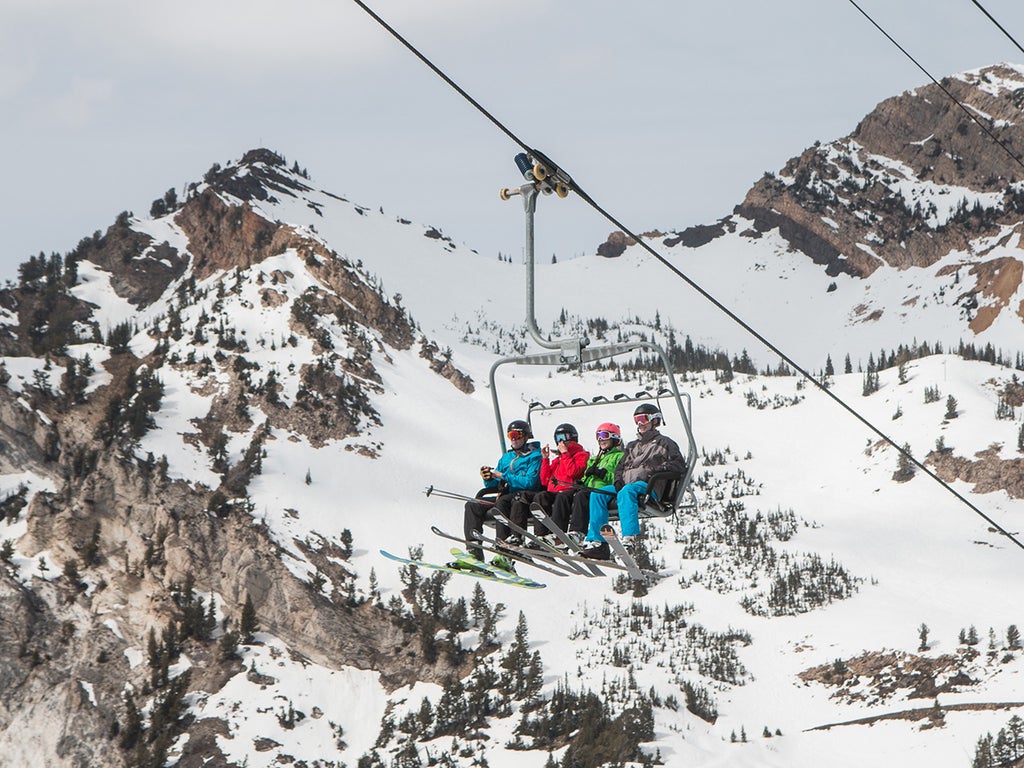 Where to Ski
Best Groomer: You don't ski Alta for the groomers, but if you need to give your legs a break from hop-turning down the steep and deep, go lay some over on Rock 'N Roll, a nice meandering blue cruiser, off the Supreme chair.
Best Snow: After a storm, it's hard to go wrong at Alta. But if it's been a few days since the last dump, check out Catherine's Area at the top of Supreme. It's known for trapping the best snow in all of Little Cottonwood Canyon.
Best Challenge (only experts need apply): Again, you can't go wrong at Alta if you're ready to test yourself. Or rather, you could go very wrong by winding up on top of one of many cliffed out areas if you don't pay attention to signs. If tight, technical chutes are your jam, check out Piney Glade or Spiney Chutes off of Supreme, or Eagle's Nest and Hourglass Chute on the frontside. If leg-burning vert is what you're here for, then it's got to be T-to-B on High Rustler.
Bragging Rights: If it goes (and it's not closed for avy danger or mitigation work), then hoof it up the roughly 45-minute bootpack to the summit of Mt. Baldy and go get yours in one of the Baldy Chutes.
Where to Stay
Snowpine Lodge
The original Snowpine Lodge was opened in 1939 as a public shelter in the same building that served as a general store during Alta's early mining days. In 2019, it was completely overhauled into an elegant ski-in/ski-out hotel with its own chair lift, movie theater, spa, and in-house pub and restaurant. You'll still find nods to the Snowpine's rich history in parts of the architecture and the dorm rooms that offer slopeside digs on a budget.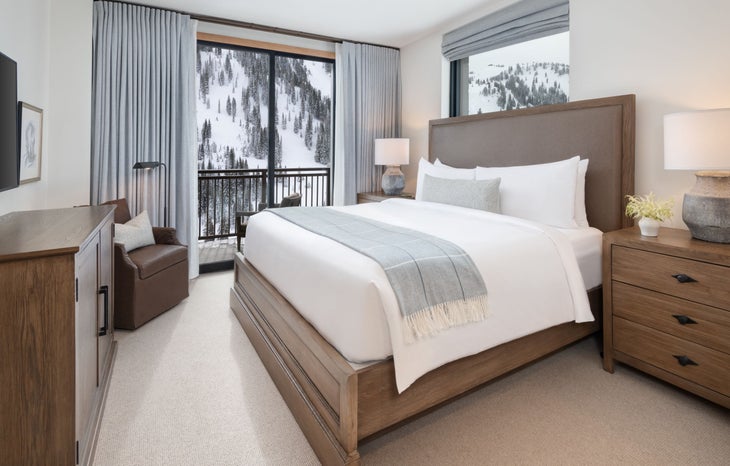 Alta Lodge
This gem still offers up lodging plus dining packages just like in the good ol' days. Book a dorm room or one of the original lodge rooms if you're on a budget, or spring for the roomier corner rooms with updated amenities—either way you can enjoy ski-in/ski-out access to the Wildcat Base.
Ski Pass Information
Alta Season Pass: $1,099 plus tax for adults (youth, military, seniors, and mid-week skiers can purchase a discounted season pass); gives skiers access to Alta's slopes
Alta-Bird Season Pass: $1,499 plus tax for adults; lets skiers shred Alta and Snowbird (which are connected via the Keyhole Snowbird Gate) on the same ticket
Ikon Pass: Ikon Pass holders get 7 days total (no blackout dates) between Alta and Snowbird
Learn more: Everything you need to know about the 2021 Ikon Pass
Need to Know
Alta does not permit snowboarding; snowboarders will need to stick to Snowbird
Little Cottonwood Canyon sees frequent road closures and parking restrictions due to weather. Skiers should check Alta's website for updated parking and road status information before visiting.