Think You Know What Fernie Alpine Resort is All About? Think Again.
Home to rowdy terrain and family-friendly slopes, hippies and CEOs, Fernie Alpine Resort is a place of seemingly impossible contradictions.
Heading out the door? Read this article on the new Outside+ app available now on iOS devices for members! Download the app.
Twenty-seven-year-old Dylan Siggers would have seemed out of place in Fernie, B.C., around the time he was born. Back then, miners and loggers ruled the town. A lanky goofball with a lighthearted disposition, Siggers is today the antithesis of the hardnosed figures of Fernie's yesteryear. And yet, he's now the de facto town mascot.
His skiing (which went viral in a series of self-produced videos called BURRLAPZ), like his personality, is carefree and whimsical, making light play out of his home resort's serious terrain with slashes, butters, and casual flat spins off cat tracks. Never mind that the headwall linking Fernie Alpine Resort's five massive bowls features lines that, to this day, no one has ever skied. The terrain above is as gnarly as the folks that used to make up the town.
That kind of seriousness, though, isn't appealing to Siggers. To him, life's not about bravado, it's about simple fun—and he's made his home mountain famous for it.
Fifty-nine years into its story, Fernie is a place of seemingly impossible contradictions. Positioned on the border of conservative Alberta and liberal B.C., it's common ground for dirtbag hippies and Fortune 500 CEOs, who bump fists in the lift lines. It's also in the heart of a temperate microclimate that bestows it some of the most snow in all of B.C., while the resort simultaneously profits from the giant relief of the usually dry and continental Canadian Rockies.
And, despite being one of the most expansive resorts in Western Canada, it remains a locals' hill. So long as you count the 1.4 million-person burg of Calgary, Alberta—three hours away—as local, too. Peer down just slightly from the serrated edge of the famous headwall, and Fernie Alpine Resort has a softer side on offer that's just good, clean fun. These days, leagues of families and skiers seeking the mellower edge of the sport's bell curve are tuning in to that
On average, Fernie gets 30 feet of snow a season: arguably the driest, lightest, and deepest stuff in Western Canada.
On a topo map, you can see exactly how the Lizard Subrange of the Canadian Rockies got its name. It runs in the shape of a reptile's slinking tail, flanking the town of Fernie and forming the spine of the resort. A virtually endless series of cirques extends from its contiguous ridgelines to form bowl after bowl, all the way out to Island Lake Lodge cat skiing.
On first inspection, it's a 3,550-foot-high wall of rock plastered with snow, but there are a few places where you can get on top of it. When you do, you get wondrous views of the chunky peaks that fade into the rolling hills of Montana, to the south. "The terrain links together really well," Siggers tells me as we hike with patroller Connie Henderson to a chute in the headwall called THC.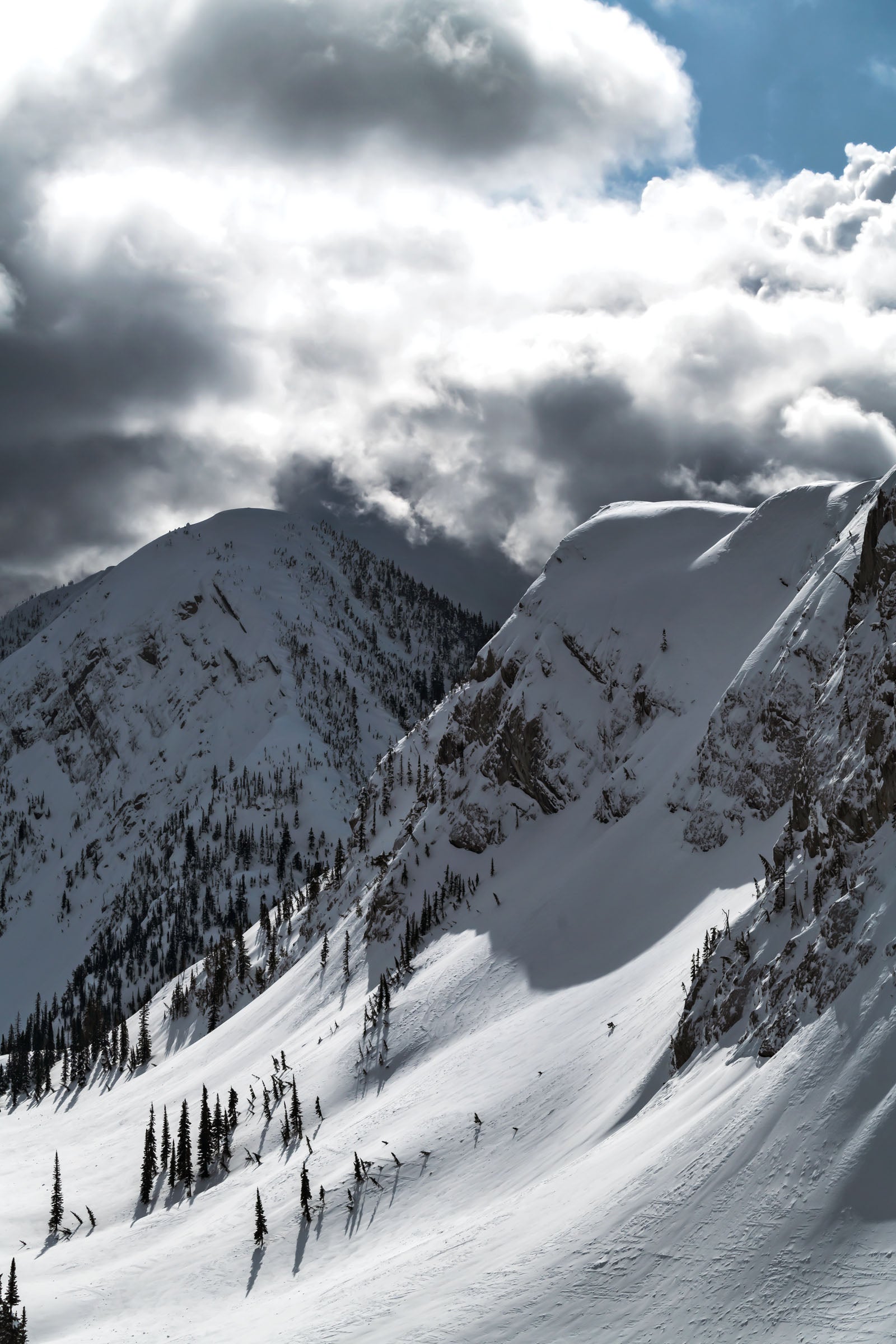 Ten minutes later, they point me down a lofty inbounds funnel that feeds into the Timber Bowl. The line is chalky and has a slight right bend, obscuring the runout. We dip in with edges biting nicely, and as I turn the corner it mellows into a massive dreamscape of a bowl with more room than a football field. These gigantic alpine canvases run along the entire resort and have made it famous for wide-open powder skiing that stretches for miles.
On average, Fernie gets 30 feet of snow a season: arguably the driest, lightest, and deepest stuff in Western Canada. To boot, skiers have so much space in the gargantuan terrain, and there's hardly any competition. These bowls then lead into serene glades that trace natural contours before spilling onto wide, booming groomers like Quite Right, Gilmar Trail, or China Might. All of it is slung together by a series of chairlifts that drops skiers on top of each successive ridge.
Siggers grew up here and watched the system that links it all pop up in 1998, supplanting the then-humble Fernie Snow Valley community ski hill that preceded it.
"When I was a little kid RCR happened," he tells me, referring to when Resorts of the Canadian Rockies bought the mountain. "They built the new side: the Timber chair, White Pass, the Bear… They kind of just pimped out the infrastructure; the Bear chair was just a T-bar before. They put a ton of money into the mountain and made it huge, and it bankrupted RCR. Then Murray bought it."
"Murray," as he's colloquially known around these parts, is Canadian energy-industry mogul Murray Edwards. He became majority owner of the multi-resort company in 2000 (along with, ultimately, Nakiska, Kimberley Alpine Resort, Kicking Horse Mountain Resort, Mont-Sainte-Anne, and Stoneham), and has made a successful enterprise of it since.
Thanks to that (perhaps hasty) initial infusion of capital, Fernie Alpine Resort now has an amenity-rich base area with hotels, a grocery store, pub, restaurants, and the fine dining of Cirque Restaurant & Bar tucked into the Lizard Creek Lodge. If you want to keep spinning laps up high, you can eat at Lost Boys Café, by the top of the Timber Bowl Express Quad. All of this infrastructure services 2,500 acres and 142 marked runs without missing a beat. You never feel like you're commuting between lifts—just skiing the fall line.
Most of the credit belongs to the terrain, though. Ask Robin Siggers, and the lift upgrades didn't necessarily change what you could ski from the first two T-bars, it just made it easier. A tall, stalky, white-haired guy with an exceedingly warm way about him, Robin Siggers is Fernie Alpine Resort's mountain operations manager.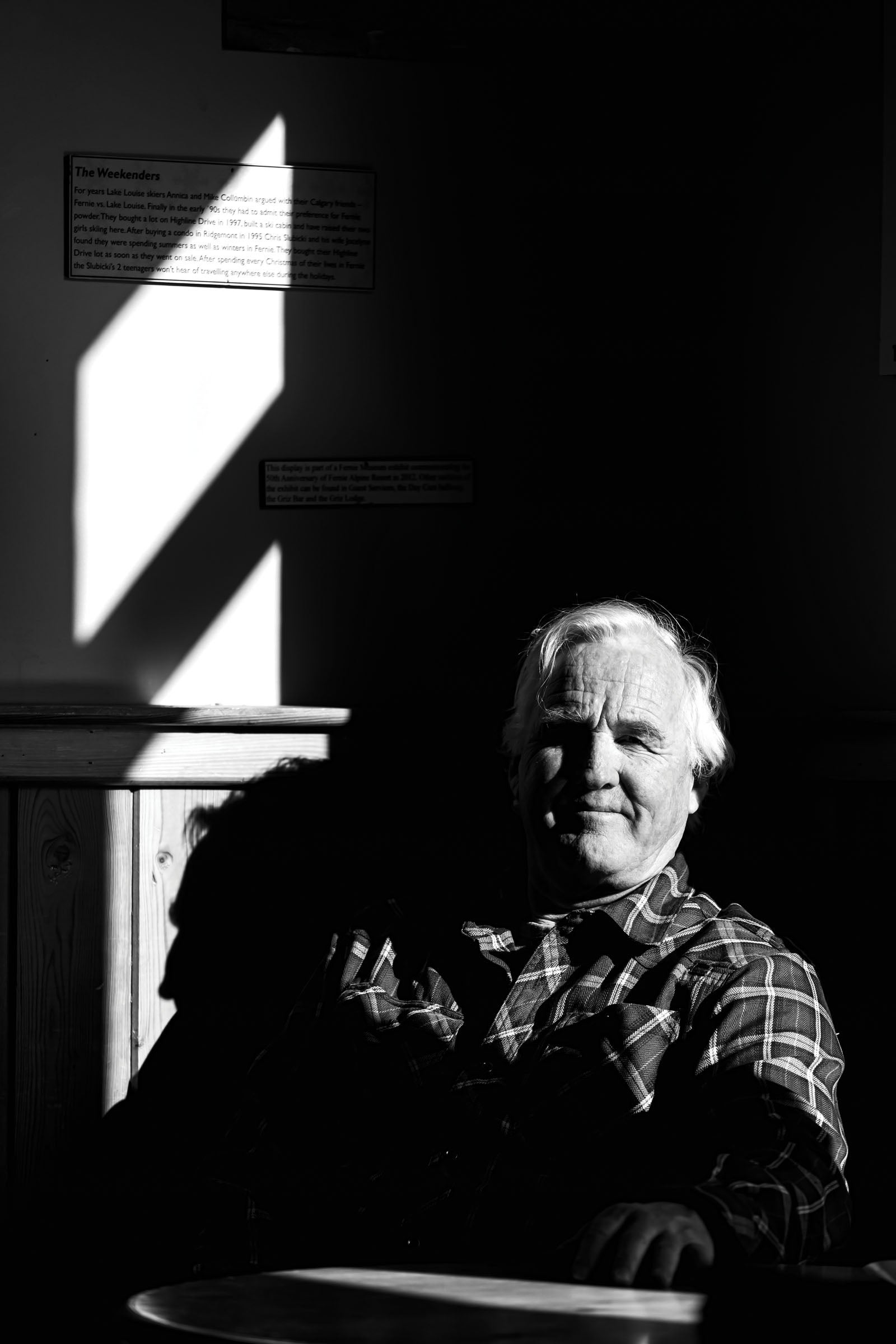 He was one of the first ski bums to find Fernie, is a local legend, and my young host's father. He first showed up in 1977 for a job in the ski school after getting kicked out of a literal squat in the woods in Whistler, B.C. When he discovered the obscure but handsome industry town where you could ski five bowls from two T-bars, he was sure he'd found deliverance. He split a $100 rental house four ways with three roommates for $25 a month, and skied more powder than he ever had before.
"It was steep, deep, and cheap," he recalls. "Ski bums were definitely a minority, a subset of the population. And we were viewed as degenerates, generally. It was a pretty tough town, a little bit on the redneck side. It sort of stayed like that almost until the '90s."
It was so raw back then there wasn't even an avalanche control program. The management dealt with the overhead hazard of the headwall by simply waiting a few days after it snowed before opening. That is, until an avalanche destroyed the mountain's first ever chairlift only weeks after it was installed. After that, Siggers became one of the first patrollers on the mountain, throwing bombs and making things safe. He still clings to those roots today, and raised his son on ski cuts and dawn patrols. Now their family name is synonymous with skiing in Fernie.
"It was steep, deep, and cheap. Ski bums were definitely a minority, a subset of the population. And we were viewed as degenerates, generally."
"The mountain is super playful," the young Siggers insists when I ask about his style, curious why he's less into big-mountain—given the abundance of it available—than what I consider jibbing. Fernie, after all, used to host one of the burliest freeride contests in North America back in the early 2000s. It raised fierce competitors like Janina Kuzma and Ryan Oakden. (That was before the top brass found the whole production too risky and scaled things down to junior freeride contests on the lower mountain.)
"For me there's tons of stuff to jump off that isn't necessarily a cliff," Siggers explains. "There'll be rollers or wind lips, or the terrain is shaped in a way you can catch air without there being a crazy cliff you have to jump down. There's not much scary terrain, but lots of stuff you can scare yourself with. Other places tend to either be boring or really extreme."
It turns out that middle ground is exactly what a lot of people want. Fernie's resident trickster-in-chief, after all, has made a career out of skiing the resort's most relatable terrain. It offers a gnarly headwall if you so choose, or some of the most stress-free and deepest powder you can find, or a sprawling midriff that families swoon over.
That's the other secret ingredient to the mountain's success, according to Robin. The generation that skis the most has kids now, and if you're switching shifts as parents, the mountain's entertaining for every level of skier. That all started back in the '90s when RCR first offered a multi-area family pass to its clientele of Alberta skiers. It introduced a whole generation to the resort and cast a lasting spell over the City of Calgary—the nearest big market.
Fernie would not be what it is today without Calgarians—or Califernians, as the locals call them.
While many small ski towns tend to treat people from the big city with an arm's-length attitude, it's not so here. There's a symbiosis; Fernie would not be what it is today without Calgarians—or Califernians, as the locals call them.
"We're definitely tied to their economy," the elder Sigger says without hesitation. "The Califernians have the respect of the people that live here. They're super nice people, they're super hardcore, they love skiing, their families are into it, they contribute to the community. They're as much a part of the community as anyone who lives here. A lot of my good friends are Califernians, for sure."
Many of the staff at the resort are, in fact, Califernians—Albertan kids who grew up skiing in Fernie and made the move when they grew up.
As far a snow quality, you cross over that border into B.C., even if you're just 30 minutes in, and it almost seems like you're in a different country.
"The snow quality and the terrain is the biggest thing compared to the resorts that are close by," says Rob Meaney, a Calgary-based former competitive freeskier with two young sons who spends weekends in Fernie. "You go there and you kind of mesh with the people from the Fernie community. It's very welcoming to people from Alberta. It's cool to see B.C.ers and Albertans cohabitating and really liking each other."
In return, Fernie gets to avoid a bit of the jet-set circus other resort towns are struggling with. Thanks to staple patronage from Calgarians, Fernie doesn't need to be an international destination, and hasn't been overwhelmed by hype, or the frenzy of powder consumption that comes with it.
"I talk to a lot of friends from Colorado, or Revelstoke, and there are crazy lift lines and a kind of powder panic," says Siggers, "and that hasn't really happened here yet. You know, you get the weekend crazy rush of people who fly in from time to time, but it doesn't happen that much."
Following behind Siggers and patroller Olivia Johnson, I watch the duo make impressively quick work of the Knot Chutes, a series of sunny alpine ramps that run in parallel below the White Pass quad (whose bull wheel is delightfully painted in mustard yellow and ketchup red). Each ridge at Fernie bisects a bowl—like Siberia, Currie, Lizard, or Cedar—and everybody has a favorite one.
For lifelong groomer Blair Craig—whose been laying corduroy on the mountain and skiing his own work 100 days a season since 1987—the Great Bear Express Quad is the zone, and the Cedar Bowl is where it's at.
His waist-long hair tied in bulky sections, he lays into his edges with decades of technique sharpened by these exact runs. As we lap the Boomerang Triple Chair to hit North Ridge and Linda's Run, Craig points out all the hidden signs in the trees: tributes to people who loved this place, but passed on to the next. "There are spirits all over this mountain," he tells me.
But none is more famous than the Griz, a feral moustachioed man whose face appears in the rocks of Grizzly Peak. Local lore says he was a child who wandered into the woods and was raised by bears. Now he lives in a cave in the headwall and shoots his musket in the sky to make it snow.
Everything around Fernie is named after him, not least of which is the famed Griz Bar at the bottom of the resort, with the tongue-and-groove tones of the '70s impregnated in its walls and antique paraphernalia decorating it. It used to be famous across B.C. for naked table sliding, which is just something you'll have to ask a local about.
Every February, there's a winter festival called Griz Days down in town. The city's proud brick and stone façades—the emblems of its mining heritage— play backdrop to days' worth of parades, snowmobile drag races, craft fairs, and hot-wing-eating contests, to name just a few of the events. And, according to Robin Siggers, it highlights one of the best and sometimes overlooked part of a trip to Fernie: the town itself.
"A lot of the world-class ski hills and ski towns are getting blown out," he posits. "And Fernie hasn't really gotten blown out yet. We have a really cool downtown and lots of places to eat and drink. During the week, everyone kind of leaves and it's a small town again, but we still have all that stuff."
That includes Mexican fare at Nevados, rock 'n' roll and burgers at the Brickhouse Bar & Grill, or at the Northern Bar & Stage, where local or traveling acts keep the nightlife bustling. Second Avenue likewise has a wealth of coffee shops and stores to lose hours in.
But what's most impressive is how well balanced everything is. Fernie has struck a rhythm few places in the ski world have.
"When I moved here in the '70s the population was 5,000 people," Siggers tells me. "And it's just barely over that now. So it's been pretty level. Which is why it's still pretty awesome, because it hasn't gone supernova. Now there's quite a bustle in town. But it's controlled growth, it's not explosive at all. We're at a pace where everybody's got work, but it's not like it's too much. The tourism influence provides a flow and an energy, it's a really great mix."
Fernie has struck a rhythm few places in the ski world have.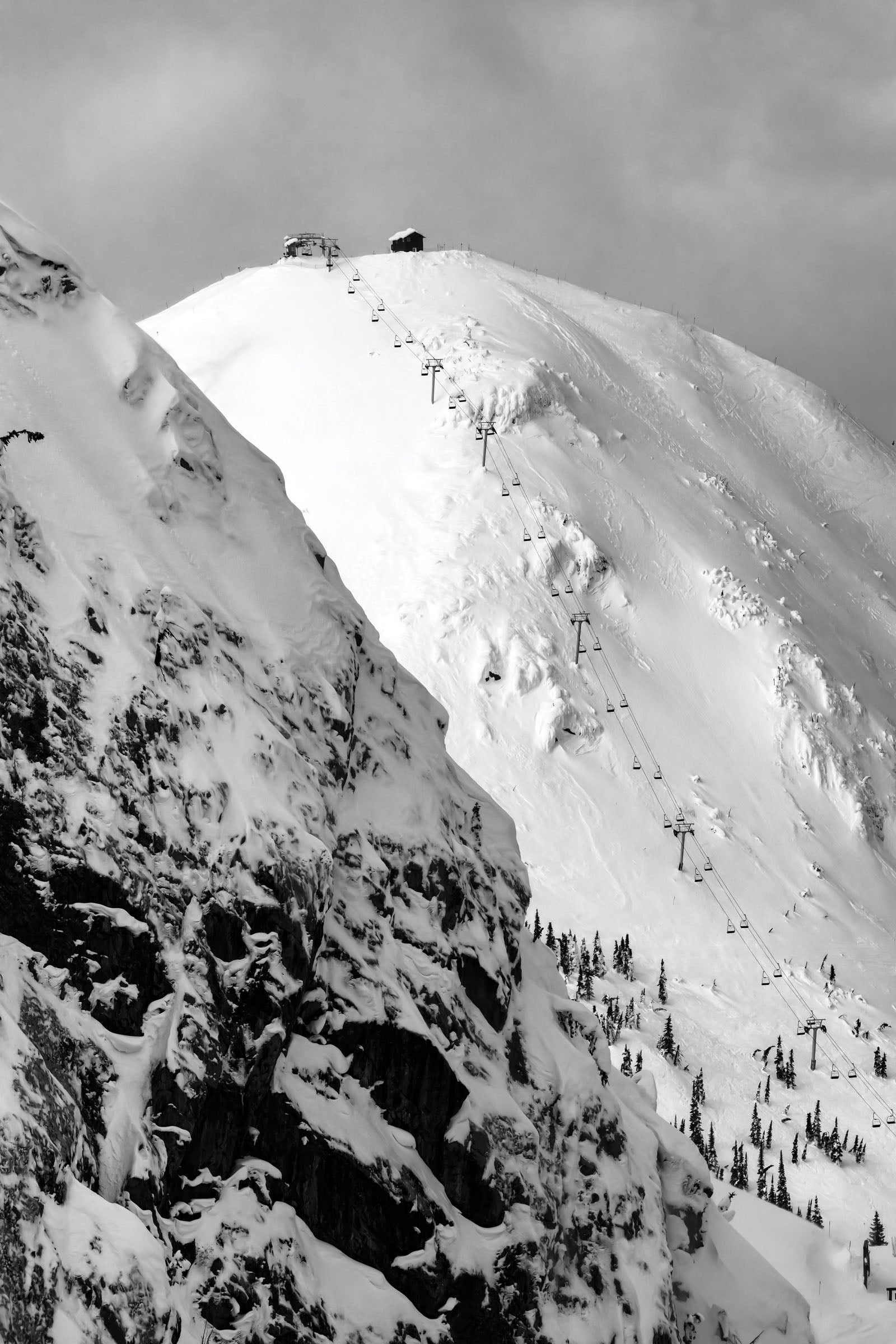 Back on the mountain, I ride the Polar Peak Chair as my final foray into Fernie's multiple dimensions. There are few lifts in North America that rise up such a steep and pronounced piece of terrain. In the early 2000s, the slope below it was the qualifier for Fernie's freeride competition and remains pretty serious avalanche terrain.
In 2012, the resort placed the crown jewel of its lift system on it and made it one of the most coveted openings to chase on the mountain—also eliminating the bootpack up the Currie Headwall.
On one side of the peak, the mountain drops several hundred feet straight down cliffs, and a serious rope line guards the edge. Down the middle, you need to have your wits about you to find your line, but on the other side, a cat-track ushers skiers gently into Currie Bowl, where there's a continuum of easy skiing. Polar Peak showcases everything Fernie has on offer all in one spot.
I don't get to experience the Currie Headwall on this particular visit; instead, the young Siggers shepherds me out into the far corners of the bowl, where we share fresh wind buff with a hundred other eager souls chasing openings without crossing a single track.