This Ski Area Could Be Canada's Next Big Thing—But It's Not Interested
Folksy Whitewater, B.C. has all the elements of the next big destination ski resort, except for the desire to become one.
Heading out the door? Read this article on the new Outside+ app available now on iOS devices for members! Download the app.
Chandrima Lavoie doesn't hold back. Plumes of coldsmoke burst out from under her skis in a blinding haze as she charges down Blast, Whitewater Ski Resort's signature run, right underneath the Summit Chair. Taking flight between moguls and over drops just feels mandatory when you're on the showboat line and there's two feet of fresh. As she does, heckles descend like daggers from above, with those on the chair held prisoner until their own skis can touch down. Watching others gorge on powder is a form of compulsive masochism that hurts so good. But being an exhibitionist feels even better.
Get More Travel Inspo: Top 50 Resorts in North America
In that regard, 30-year-old Lavoie takes full advantage, unabashedly gorging in front of a captive audience. Getting first tracks on Blast, she says, is still the ultimate stomp for her. Moreover, it's a ritual that's part of the fabric of Whitewater Ski Resort. As a former patroller here, current contender for the five-star Freeride World Tour, and coach of the Whitewater Freeride Team (where she launched an all-female contingent), this run still hasn't gotten old to her—even though she grew up on it. Lavoie has lived in nearby Nelson, B.C., since she was three, and earned her nursing degree in Castlegar, the next town over, while still working at Whitewater. Today, even though she has a 'grown-up' day job, she still works at Whitewater, too.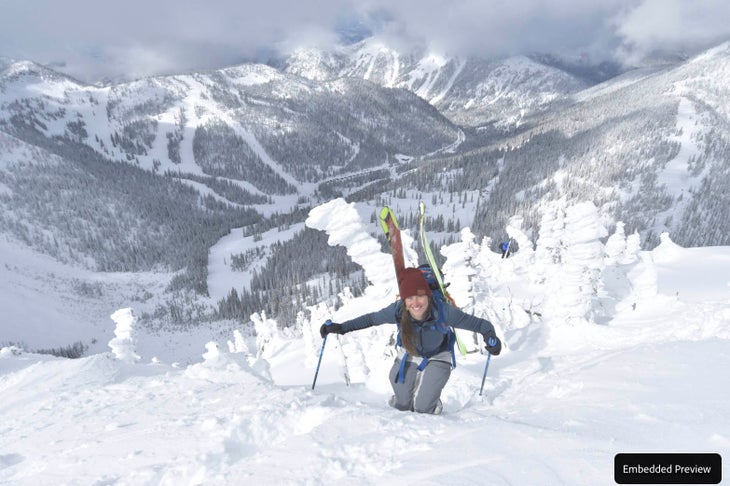 Nailing the lift line is a competition that's been playing out at this mountain for 49 years, she tells me, and has been passed on through the generations. Whitewater is one of those places that feels like it's from another era: Everyone knows each other, most everything funnels back to the same base area, and for the longest time, it was only serviced by two rickety old double chairs. But change comes to everything, and, today, this grassroots mountain is going through its own growing pains as it figures out how to gracefully accommodate the swell of newcomers discovering it each season.
Long revered as a counterculture holdout clinging to the sport's minimalist roots, Whitewater has been growing in skier visits by a steady 10 percent each season for the last decade. Consider that the ski industry was flat for the last decade before the pandemic, according Snowsports Industries America (SIA), and Whitewater has—during that same time—outpaced the industry's overall growth by 100 percent. On top of more families and ski bums moving to the nearby town of Nelson, about 15 miles from the ski resort, more and more visitors have tuned into what this place offers, too, which is still some of the purest skiing on the planet.
"It's steep and it's direct," Lavoie says. "There's not a ton of traversing that you have to do at the top or the bottom. You get off the lift, and you can go straight down and straight back on the lift."
In true backwater fashion, the mountain is a catcher's mitt of pillowy, playful powder skiing set in iconic evergreen forests. You can cruise the uninterrupted old-growth of the backside, lap the mini-golf of Powder Keg Bowl and Catch Basin, or bop all day with your family over on the Silver King side. Or, if you're a backcountry skier, you can work your way up around or over Ymir Peak—a tall diamond of a mountain that guards the alpine goods beyond.
At a moment where so many people are yearning for a return to simpler times, Whitewater has become an inadvertent hit. But making it big poses an existential conundrum for a mountain whose brand has always been small. 
"There is no question the biggest challenge is maintaining the guest experience that our 30-year locals are used to," says Peter Lonegran, the mountain's sales and marketing director. "When I was at Whistler, it was a lot easier because you didn't need to worry about over-advertising or over-selling the resort," because, he explains, it was already touted as a come-one, come-all mega-destination. "Having a local community that is so invested in the resort is wonderful because it shows that everyone cares, but it's also a major challenge as many are afraid of what change may bring." 
As such, Whitewater's evolution has, by necessity, been a careful one. In 2010, the mountain installed the Glory Ridge Chair, bringing 2,000 feet of additional skiing inbounds (which used to be a backcountry mainstay). In 2017, it replaced the original Summit Chair with a fixed-grip quad. That same year, a new building went up at the base in order to pull the skier services (lockers, snow school, rentals, etc.) operations out of the day lodge and double its capacity. And in 2022, Knee Deep Development Corporation—the mountain's parent company—announced the addition of a new quad that will extend beyond the current Silver King chair to the top of the ridge, ultimately replacing it and bringing even more terrain inbounds.
True to the Kootenay region of B.C.—where dissident roots spring from resettled American draft dodgers and escaped Russian Doukhobors—not everybody is thrilled about that. From a population of 11,000 people, 4,000 or so Nelsonites buy a season pass each year, making them a huge voting block. On the flipside, because 80 percent of Whitewater's business comes from season pass holders, most of these upgrades are, in fact, for locals, whether they realize it or not. Meanwhile, the ski area is still eschewing a lot of the commercial trappings of other resorts, all for local benefit. That's something Lavoie holds in perspective.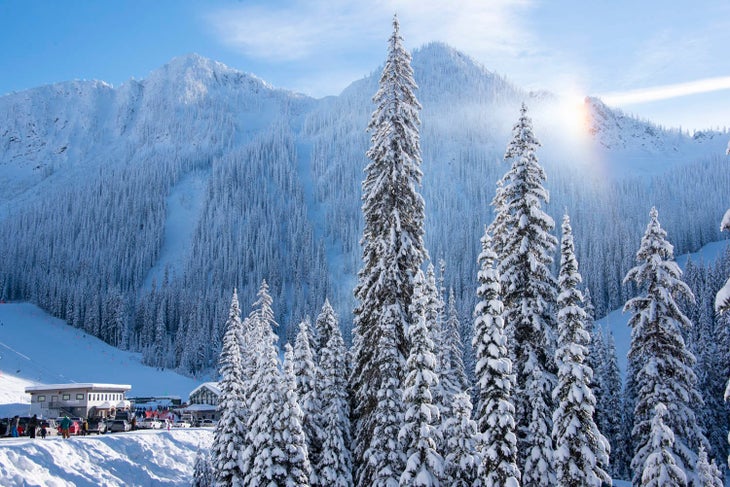 "It's definitely seen some changes, obviously, as everything does," she admits. "But not to as much of an extent as other ski hills I go to. You still have only three lifts, so you basically make plans with your friends and you say, 'I'll see you up there.' You don't have to necessarily have a time or place in mind because you just tend to run into each other."
For Lavoie, the lack of cell service, focus on skiing, and no real-estate development (you read that right) means Whitewater is staying true to its roots, even as it's forced to grow. "Even though you can tell there are people from all over the place, they kind of meld into the Whitewater community," she says.
Another B.C. Sleeper: Rad Terrain with a Retro Vibe at Red Mountain
Ask owners Andrew Kyle and Mitch Putnam, and they'll tell you that's by design, even though loads of visitors from Washington, Montana, and Idaho have begun descending upon what was once a Kootenay secret.
"We don't want to mess with the grassroots community feel of the hill and its authentic style," says Putnam. "But we are seeing an increase in skier visits. The challenge is obviously to create more capacity without messing with the feel too much."
Putnam and Kyle purchased the mountain in 2008 from original owners Shelley and Mike Adams (who had been part of the volunteer club that built the mountain in 1974), but as Putnam notes, they bought it because they loved it the way it was. They're members of the community too, after all.
"We've never been driven by maximizing profits with real estate or big developments," Putnam emphasizes. He adds that Whitewater is fortunate because the actual skiing more or less sells itself, and is a viable business on its own—which is rare. With 2,367 acres of terrain and 480 inches of annual snowfall, the mountain offers some of the biggest skiing in Canada, even if its lift infrastructure looks small, on the surface.
And while increasing uphill capacity is a double-edged sword, Knee Deep is making sure it comes with as much new terrain as possible. Any time they've expanded, it's been because the lift lines demanded it. And each time they've focused on opening up more of the same magic that originally made the place, which Putnam describes as steep, gladed terrain.
Back on the Summit Chair, as the day wears on, Lavoie moves over to the Quicksilver Glades after having made multiple meals out of Blast. There are only so many runs that offer such open, visible fall lines, but the forest will hold fresh snow for days. As she dips into it, Lavoie sinks into a whole new rhythm now; relaxed, privately floating between the cedar and fir that continue to stash some of the softest, deepest snow in B.C. And while it is getting a bit more competitive out there, it doesn't seem to be putting a dent in how good it feels to get it first.
Trip Planning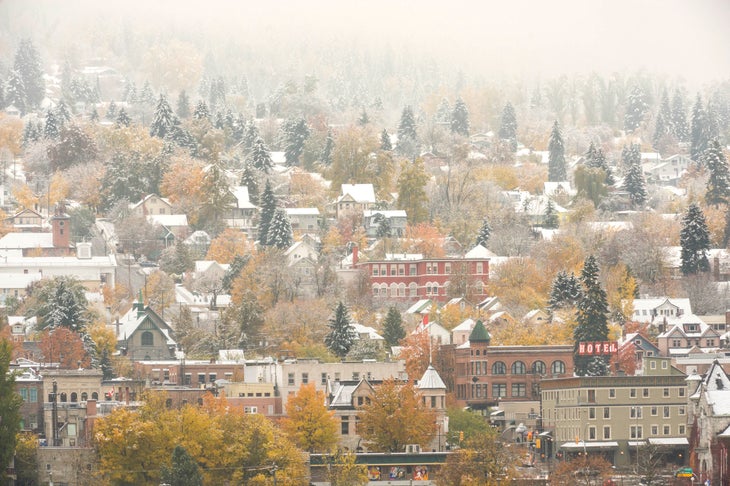 Where To Stay
Whitewater is unique in that there is no real estate at the mountain, and the only accommodation up there is RV camping. The next best options are 30 minutes away, in Nelson, and mostly all within walking distance to most amenities.
Hip and Trendy
The Adventure Hotel is an affordable yet hip lodge between Baker and Vernon Streets with sleek, modern rooms. There's a coffee shop, sports bar, and steakhouse, so you've got everything you need in one spot. 
Most Luxurious
Prestige Lakeside Resort is just down the hill from town, with larger rooms and sprawling grounds with pools, hot tubs, a fitness center, and a spa.
Historic Vibe
If you want to tap into the region's Victorian roots, Blaylock's Mansion is five minutes from town. It's a historic bed and breakfast that feels plucked from a period film. 
Best Value
Trying to make it work on a budget? The Dancing Bear Inn is your hostel option, smack dab on Baker Street, in the heart of town.
Where to Eat
"We're lucky in such a small community to have such a vast array of options for dining," says Rebeckah Hornung, Whitewater's operations manager. "Everything from the local pub vibe to a full metropolitan experience." Indeed, Nelson has one of the highest densities of restaurants in all of B.C., and is known as a culinary epicenter amongst foodies as far as Vancouver and Seattle. Here are Hornung's recommendations.
Oso Negro Café is definitely the daily hot spot, according to Hornung, with locally roasted coffee and delicious grab-and-go breakfast options. Pitchfork Eatery is a hidden secret with the best brunch in town, a year-round outdoor patio, and hip, urban vibe. Jackson's Hole is your dependable pub option, which Hornung jokes is "A dude's place, the dudes love it there." Cantina Del Centro is the spot for margaritas and tacos, but Hornung's favorite spot is Marzano, "because of the atmosphere, the quality ingredients, and the menu," which is largely upscale Italian. Marzano also offers après specials that make it super affordable and casual.
Best Après + Nightlife
When it comes to nightlife, Nelson is one of the most bustling little cities in Interior BC, and has been attracting young people for generations. Peter Moynes was one of those back in 1997, and has watched the town grow from a backwater burg into one of the most vibrant ski communities in Canada. As the publisher of Kootenay Mountain Culture Magazine, he has a special affection and knowledge of the confluence of tastes that make his adopted hometown hum. While you can judiciously wet your whistle at Coal Oil Johnnie's Pub up at Whitewater before heading home, Moynes says the Backroads Brewing Company is the mainstay watering hole in town, and where most ski bums gather. The new blood on Baker Street—the main drag—is in fact old blood, and it's the totally revamped Royal, which came under fresh ownership during the pandemic, and is Moynes's new favorite spot. On top of killer suds and eats, it now hosts live music and art shows, too. If you're into shaking and grooving, The Spirit Bar in the Hume Hotel remains the best dedicated live music venue, just two blocks from Baker Street, with headliners to rival the big city.
How to Get Into the Backcountry
The Selkirk Mountains are some of the snowiest but also convoluted peaks in B.C. Navigating old-growth forests can be more difficult than the alpine, and Stephen Senecal would know. In 2016 he and his friends completed the first ever 325-mile traverse of the entire Selkirk Range. As a ski guide, he thinks the mountains surrounding "The Queen City of the Kootenays" are some of the best in the world. 
"The backcountry skiing around Nelson is one of a kind and should be on the tick list for anyone traveling through B.C.," he says. The lowest hanging fruit is the sidecountry right off of Whitewater itself, according to Senecal, which holds options for all weather and all conditions, and you can buy a single-ride lift ticket. "After departing the Silver King Chair, a 15-minute skin puts you on Silver King Ridge overlooking the sweet terrain in 5-Mile Basin. Take your pick from low-angle glades to steep avalanche paths and wide-open alpine runs. Just save some energy for the climb back out and ski a cruisy groomer down to a well-deserved pint at the base lodge." 
Kootenay Pass, halfway between Nelson and Salmo, is also one of Senecal's must-ski zones. "Click into your skis at the car and head into Stagleap Provincial Park for some of the best tree skiing around. For a great intro day, head north from the parking area towards Cornice Ridge and enjoy the great tree and pillow skiing in Cornice Bowl." For anything more complicated than that, Senecal says it's best to hire a guide. You can find him here.