The Terrain is Extreme and the Powder is Abundant at This Little-Known B.C. Resort
Extreme terrain—the likes of which most resort skiers have never seen outside of ski flicks—is in abundance at B.C.'s Kicking Horse Mountain Resort. Before you book that trip up north, one question remains: ARE YOU GOOD ENOUGH?
Heading out the door? Read this article on the new Outside+ app available now on iOS devices for members! Download the app.
This article—and many more like it—is available exclusively to Active Pass members, along with a host of others benefits such as access to the Warren Miller Entertainment film archive (that's 50-some films), ski-instruction and fitness video tutorials, pro deals and members-only industry discounts, and a print subscription to SKI. Learn more about Active Pass or join here.
IT WAS 1858, and the Canadian Pacific Railway was burrowing through the towering granite faces of the northern Rocky Mountains with unstoppable enterprise. Canadian confederation was still nine years away, but the industrial behemoth of the railroad was literally laying the ground work. The company enlisted explorers and mountaineers to help forge a route through the nebulous array of rock that rose in walls up to 11,000 feet from sea level. Roughly 9,000 feet below the summits, glacial runoff gnawed deep trenches in the soft stone, and offered little passage.
When James Hector, a Scottish surgeon and geologist, agreed to help find a route through the Continental Divide, he didn't realize what he was up against. One day, at the height of exhaustion, a packhorse fell in an opaque and turquoise torrent fed by a 1,000-foot waterfall. Hector rescued the life of the horse, but in doing so lost his own. When he chased after it, the horse kicked him in the chest—killing him. Or so the expedition thought. As the crew readied a grave for their dead surgeon, he gasped back to life. The men named both the river and the pass after the supernatural event.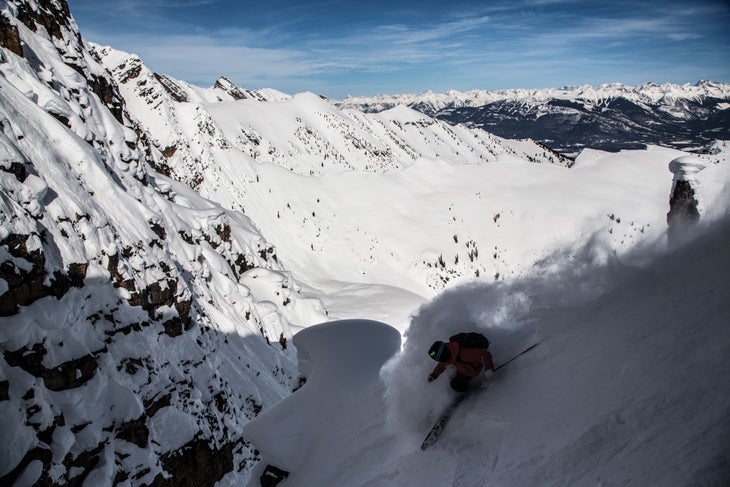 Today, 160 years later, gazing out at the interconnected sandstone promontories that make up Kicking Horse Mountain Resort, it's equally hard to believe anyone would put a ski hill here. Overlooking the Rocky Mountain Trench, a single gondola rises 4,000 vertical feet in one swoop to regurgitate snow sliders on the mantle of the Purcell Mountains' Dogtooth Range—a massif formed some 185 million years ago at the eastern edge of British Columbia. Claiming an average of 24 feet of snow per year, at the triple-intersected nexus of mountain chains that also includes the Selkirks, the resort is defined by alpine terrain: cliffs, chutes, and steep faces. Watching seasoned skiers descend on any given day is like watching the Freeride World Tour in action. (The tour actually did stop here for the first time in February of last season.)
Read more: If You Haven't Experienced the Adventure Hub of Revelstoke, It's Time
Nearly two decades after opening, Kicking Horse is still a strangely unique operation with an enormous span over a minimal lift system; patrons still hike to many inbounds areas It's been compared to both La Grave and Jackson Hole. At times drowning in hype and others wallowing in obscurity, the unicorn-like resort has spent a long time trying to figure out its identity. Rounding the final year of its adolescence—and now gearing up for expansion—Kicking Horse has finally gained the confidence to settle into its skin, and own what it is: burly, death-defying, divine.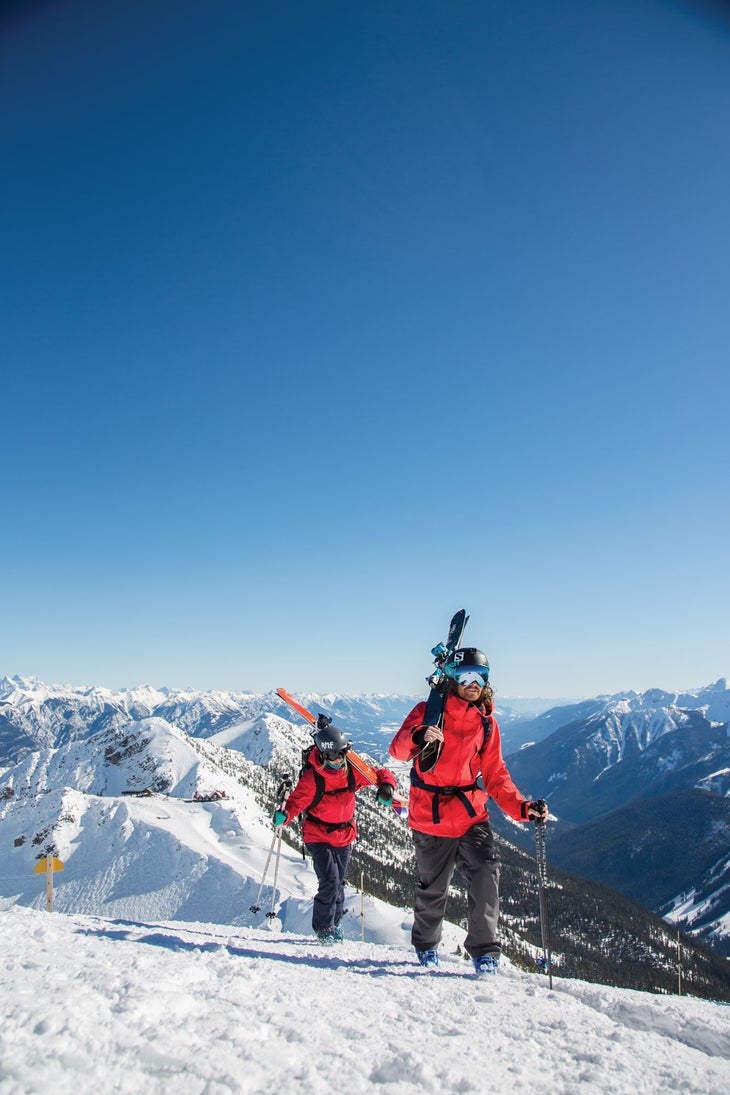 MY LEGS QUIVER as they usher me through the transitory pinch point out of Feuz Bowl into a field of knee-deep moguls. I just skied a thigh-smashing chute in the "Steps" that anywhere else you'd need to take a helicopter to, but we're apparently not stopping until mid-mountain. There's a meandering groomed line to the right, but what fun is that? The fall line is below me, and I can't give it up or I'll lose my host.
"I love having to do long laps," says Brenna Donaldson, a 28-year-old freeski coach and brewery-tasting-room manager who's been edging into Kicking Horse's steeps since she was 15. "You have legs of steel by the end of the season," she adds, noting you have to ski 4,000 feet back to the gondola base every run if you want to access anything other than Crystal Bowl—just one of four inbounds alpine bowls. A run down CPR Ridge (so named for the Canadian Pacific Railway), leading over Redemption Ridge and into Feuz Bowl courtesy of the Stairway to Heaven chair, takes most strong locals a shattering 45 minutes. But it also paradoxically makes the mountain feel like a small community ski hill, always funneling everyone back to the same place.
"It was totally easy to meet friends growing up," recalls Donaldson. "You still see it now, the big groups of kids that show up first thing in the morning. They're like a swarm."
Donaldson's family moved from Calgary to the 3,700-person town of Golden, eight-and-a-half miles from the ski hill. Kicking Horse was only six years old. It was right before the 2008 economic downturn put the kibosh on what was forecast to be Western Canada's next mega-resort—with plans for lifts and mansions to rival Whistler. From the start, the rumors were grandiose, and the project offered big promise for those who got in early.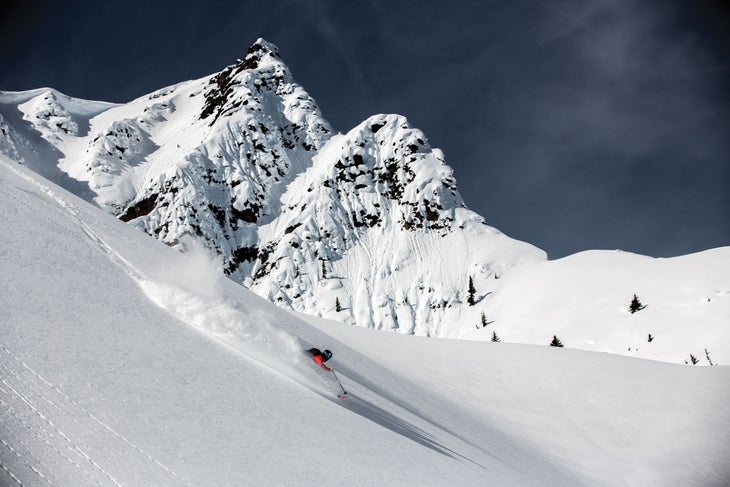 Formerly a community-operated, subalpine, weekend-only ski hill called Whitetooth, Kicking Horse had earned the attention of Italian architect Oberto Oberti, who was interested in the massive, steep terrain above. Oberti, now famous for his controversial quarter-century-long fight to build an expansive Euro-style resort in the pristine and glaciated Jumbo Valley one hour to the south, was stalled on that project and needed another. He knew the Dutch engineering firm Ballast Nedam had just finished building the Confederation Bridge to Prince Edward Island in Eastern Canada and was beholden to the Canadian government to reinvest profits domestically. He pitched them developing Whitetooth into the next big thing in skiing—an industry they had no experience in—and they bought it.
Golden, then a rail and lumber town, had a referendum, and bought it too. Surrounded by five national parks but not in one, development wasn't fettered like in nearby areas. Its unpolished veneer would provide an affordable blue-collar alternative to places like Banff and Whistler.
Read more: Destination Guide – Golden, B.C.
In December 2000, the Golden Eagle Express gondola—which to this day has no mid-station—dropped the first skiers on top of CPR Peak, and a cult following of big mountain chargers swooned immediately. Even when chalky and dry, Kicking Horse offered steep inbounds chutes like no one had seen in Canada. It was like the backcountry, only with an avalanche control program.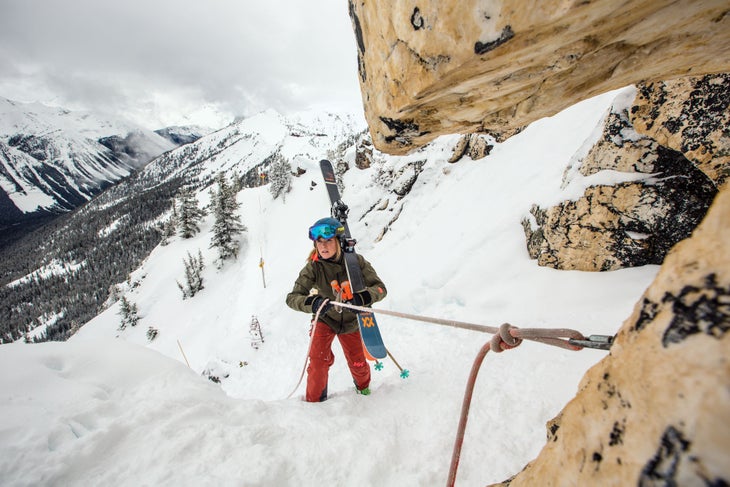 I drop into Truth, a "chute" that would be a couloir by most any measure, through an intimidatingly fluted entrance, only after hiking 20 minutes to the top of Terminator Ridge. The shaded north aspect has preserved delectable pockets of cream-cheese snow that perfectly moderate my speed through the steep choke—mellowing and widening over 800 vertical feet.
Read more: Overcoming Your Fears
I too would have imagined this place would blow up. But a couple years after opening, it mostly seemed to be a quiet enclave for the region's toughest skiers. Wealthy destination goers weren't coming, and the parent company was upset.
"What it came down to was having people at the helm of the resort that weren't skiers and didn't understand the gem that they had," recalls Michael Dalzell, who was director of sales and marketing from 2004 to 2010. "You only have one opportunity to launch a resort and make a big impact."
With its skeletal beginnings, Kicking Horse hadn't appealed to families out of the gate. After the first couple years with ski bums overrunning the place, the top-down directive became to sanitize its gnarly image and sell it to cash-rich beginners and intermediates.
"Our black diamond and double-black diamond runs far outnumber our blue and green runs," says Mike Rubenstein, the mountain's area manager. "In the earlier days, we embraced that to a certain extent. But knowing what the market was, and the bottom of the pyramid being blue skiers and green skiers, over the years, I guess we've tried to soften the experience as much as possible."
Rubenstein, the resort's former mountain safety supervisor, has lived through many management regimes, and maintains a sober outlook on the mountain's history. His former colleague, Dalzell, fought hard against Ballast Nedam at that time. He believed the ski industry was inherently interwoven. But they wanted nothing to do with lifestyle big-mountain skiers, who they simplistically believed represented little money.
"It had nothing to do with not catering to families," Dalzell recalls of his idea. "It had to do with positioning the resort as a big, badass experience that everyone wanted to be associated with. It's not just for the hardcore skiers, it's the aspirational effect."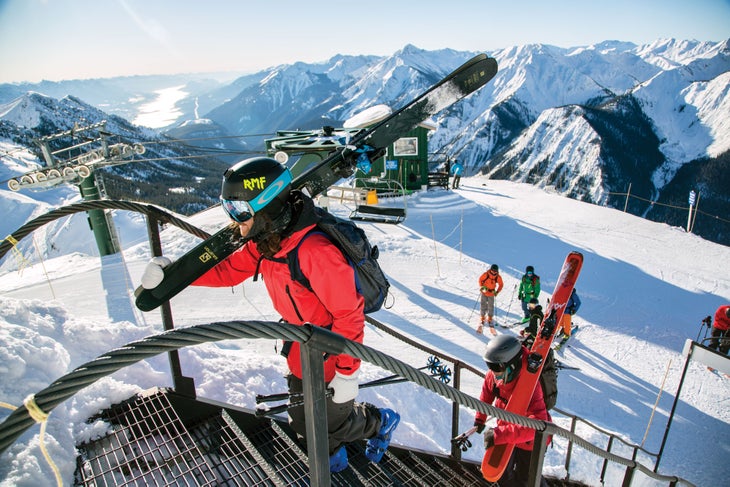 ALL OF THE MARKETING POLITICS were only background noise to Kicking Horse's dedicated following, and things did eventually grow busier. Hype built up, and there were whispers of impending new lifts each season. New businesses opened in Golden and housing prices climbed steadily. Expansion seemed inevitable. Then, Revelstoke Mountain Resort opened, another hour and a half west, and U.S. sub-prime mortgages toppled the world economy. By 2009, that double-whammy stalled development at Kicking Horse, and the hype machine moved to Revelstoke.
The explosion that it initially rode upon acted much like a mushroom cloud, shrinking back in on itself. Still, Kicking Horse forged along. Development scaled back; growth would have to be pursued purely according to the merits of the business now—no longer carrying the lore of "the next big thing."
Things stagnated for a few years, like they did everywhere, and the next generation of marketers got small rights to experiment with flashing the resort's rugged side. The ski school launched a steep-skiing department called The Big Mountain Center, and the events department got permission for a regional freeskiing contest called Wrangle The Chute. It too gained a cult following. Then, in 2011, Ballast Nedam surprised everyone when they sold the mountain to Resorts of the Canadian Rockies (RCR) overnight—apparently finished with their Canadian obligations.
The new juggernaut owner frightened locals at first. But RCR was of the ski world, and recognized Kicking Horse added something different to its portfolio. The new parent company actually gave it room to breathe. Wrangle The Chute turned into a four-star Freeride World Tour Qualifier event, and the RCR franchise brought the Jeep Junior Freeski series to the resort. Suddenly, Kicking Horse was embracing freeride, and winning new skiers.
Donaldson, for her part, was elated to get to coach kids in competition at her home mountain. "There are so many ski hills around us that have an awesome family vibe," she says, "being the way we are kind of singles us out."
The top brass saw it working, too.
"A lot of the families that we manage to gather now are ones with kids that are into the freeride side of things," says Rubenstein. "Starting to host the Jeep Junior series last year really opened our eyes to how many families are willing to travel with their competitive kids."
Rubenstein highlights something here that Dalzell believed all those years ago: skiers get better over generations, and tastes evolve. So do resorts, it turns out. Last year, after three years of talks, the Freeride World Tour settled on hosting its only North American five-star stop at Kicking Horse. Alyeska Resort, in Alaska, is the only other place on the continent to have held this distinguishing honor.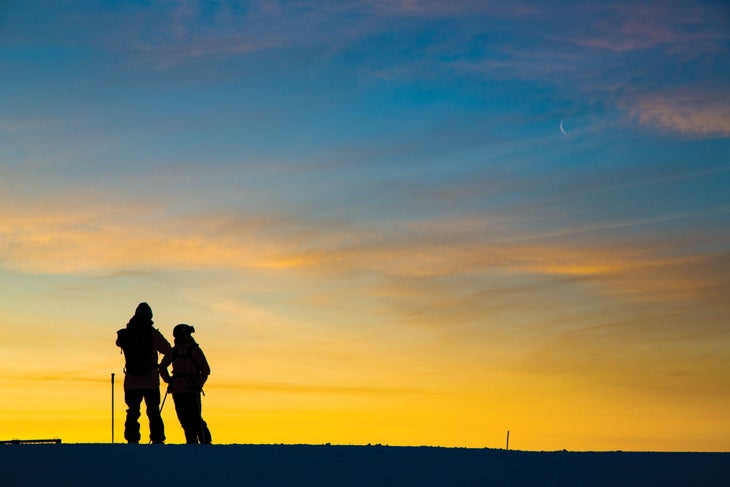 NOW ABOUT TO LEAVE its teens behind, Kicking Horse finds itself boosted by its new World Tour designation—after all, it's finally on the global map. Last year, the mountain used the event to negotiate with the provincial government and Purcell Heli-Skiing to absorb some adjacent heli-ski terrain. To much fanfare, the glowing and tantalizing south face of Ozone—which had been permanently closed for the past 18 years—became the 1,000-vertical-foot World Tour event venue. Locals speculated it would open to the public after, but it didn't happen—at least not during the 2017–'18 season. The mountain, though, also got Middle Ridge and Rudi's Ridge in the bargain: two mellower alpine areas farther beyond the current resort boundary with actual intermediate appeal. Going after the top of the pyramid, it turns out, might have unlocked the bottom part of it after all.
"It's not so much searching for our identity," reflects Rubenstein. "I guess, it's more changing our identity over time. … The people who do come to Kicking Horse expecting it to be really steep and gnarly and have nothing for them to ski, I think, are pleasantly surprised with what we do have to offer. Nineteen years is still relatively young in the ski business."
In recent years, the resort has gladed new tree areas and carved ridgetop cat tracks that have made great egress for intermediate skiers. These throughways even helped open Super Bowl and T2 to the public in 2010. As of now, planners are still drawing lines on maps for Kicking Horse's fifth alpine bowl, Rudi's Ridge, which might include hiking at first. There's no doubt that this intermediate terrain is great for the resort, but fingers are still crossed for Ozone.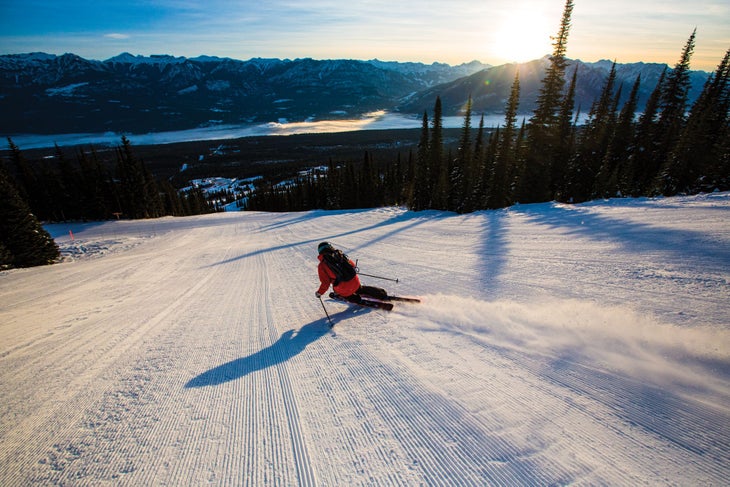 Golden, too, is finally starting understand itself—having undergone an awkward transition from resource town to resort town. Golden is now a sanctuary city for serious skiers, sitting on a bedrock of authenticity. Adrienne Ross, a nurse from Fruita, Colorado, moved to Golden two winters ago from Bozeman, via Crested Butte, with a partner who works in the avalanche industry.
"We chose Golden because it was low-key," she says. "It didn't have much of a scene, and had easy access to multiple mountain ranges."
Now maintaining a sustainable pace of development, there are once again new businesses popping up around town, and a fully funded beautification project in place for the waterfront portion of downtown, facing the Kicking Horse River. It's the same stretch along which Donaldson's family opened the popular Whitetooth Brewing Company two years ago; part of a new wave of entrepreneurialism thoughtfully reshaping the town.
For Dalzell's part, who now does marketing for a top apparel company in Vancouver, eight hours west, he still visits his old stomping grounds as much as he can.
"There's no resort in North America like it," he insists, "and nobody knows it. But they're making all the right moves now, and it's exciting to see."
Watching the sun crash into the Selkirk Mountains to the west, and long shadows growing out of the resort's north-facing ridgetops at the close of a heart-pounding day, the original vision all starts to make sense. The place just needed what every ambitious expedition needs, it turns out: a good kick to the chest.
SKI contributor Matt Coté lived in Golden for nearly 10 years before picking up shop and moving west to Revelstoke.
This article—and many more like it—is available exclusively to Active Pass members, along with a host of others benefits such as access to the Warren Miller Entertainment film archive (that's 50-some films), ski-instruction and fitness video tutorials, pro deals and members-only industry discounts, and a print subscription to SKI. Learn more about Active Pass or join here.