Casting a Spell
Vermont's Magic Mountain is reclaiming its rep as one of the east's adventure meccas. Find out why.
Heading out the door? Read this article on the new Outside+ app available now on iOS devices for members! Download the app.
It's the Thursday before closing weekend at Southern Vermont's Magic Mountain, and I'm ordering a beer with the ski area's president, Geoff Hatheway. It's been a long and busy winter; Hatheway really deserves this beer. But first, an electrician dressed head to toe in Carhartt moseys towards him with something to say.
"Ya' lost element one on the first hot water heater and two is startin' to fail," he explains. "Must'a blown when the power went out last night."
Hatheway patiently listens to the electrician, then goes back and forth with him to determine a solution. Meanwhile, I watch in fascination. It's not typical for the president of a ski area to deal with a busted water heater, but things are done a bit differently at Magic. I recall the sign I saw earlier on the access road on my way to the mountain: "YOU'VE OFFICIALLY TAKEN THE ROAD LESS TRAVELED," it practically bellowed in bold, look-at- me lettering. "WELCOME TO MAGIC!"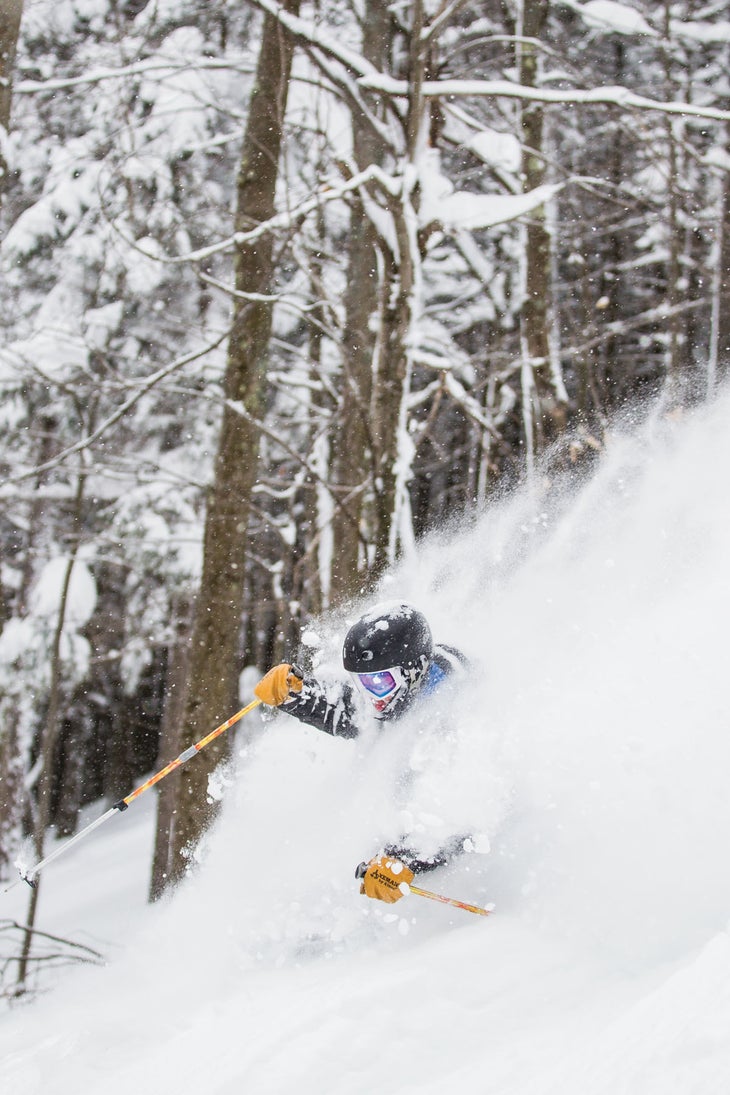 It's also why this ski area is in the midst of a serious comeback. In 2015, Hatheway and an ambitious group of investors bought Magic—setting into motion the latest chapter of a complicated tale. Long story short, the ski area was successful throughout the '60s, '70s and early '80s. It was a place known for marching to its own beat. A true skier's mountain following in the footsteps of Mad River Glen and Alta. But after it was sold in 1985, Magic suffered through lengthy closures and various owners, but not one with a clear vision for the resort. Enter Hatheway. What are they doing that's finally clicking? Investing in the not-so-sexy stuff .
"We're not focused on being an amusement park, having water slides, a million restaurants and discos and things of that sort. That's not our deal. What we're doing is making sure we're putting money into the ski area itself so that the experience here—the ski experience—is what we want it to be," says Hatheway, who left his marketing career in New York City to pursue this passion project. Growing up, his parents owned a small, off -the-grid cabin in the nearby town of Jamaica, and he's been skiing the Green Mountains since he was a tot.
Since purchasing Magic in 2015, the investors' business philosophy has been simple: to focus on snowmaking and lifts. The long list of enhancements includes new snow guns, pump house updates, replaced piping, a new rope tow that accesses snow tubing and a small terrain park, and major lift repairs. Going into the 2018-'19 season, projects include an expanded snowmaking pond, the reopening of the Green Lift—which caters to beginners and intermediates on the lower mountain—and a fixed-grip quad to whisk skiers to the summit. These improvements have cost millions of dollars. But not too many millions.
"We're not spending $15 million putting in a new state-of-the-art snowmaking system," says Hatheway. "We'd be here 50 years before we could pay that. We're working within the constraints we have, but making everything better."
The base area has enjoyed a face lift of its own, down to new paint in the lodge and a redesigned bar and restaurant, the Black Line Tavern, where Hatheway and I are enjoying our beers. The mountain has also invested in a slick new line of merchandise, proudly worn by diehard and novice Magic skiers alike, among many other changes.
Those slick new hats, sweatshirts, and stickers all point to Magic's, well, magic. All investments aside, this mountain's greatest asset always has been, and always will be, its terrain. The ski area is undoubtedly one of the most challenging in the East. Ski Magic, and you want that emblazoned across your chest. Its upper section is wrapped in long and narrow runs, full of heart-pumping natural features, with dreamy glades slipped in everywhere between. On the lower section, a wide array of scenic groomers cater to beginners and intermediates, a demographic that's crucial to Magic's long-term success.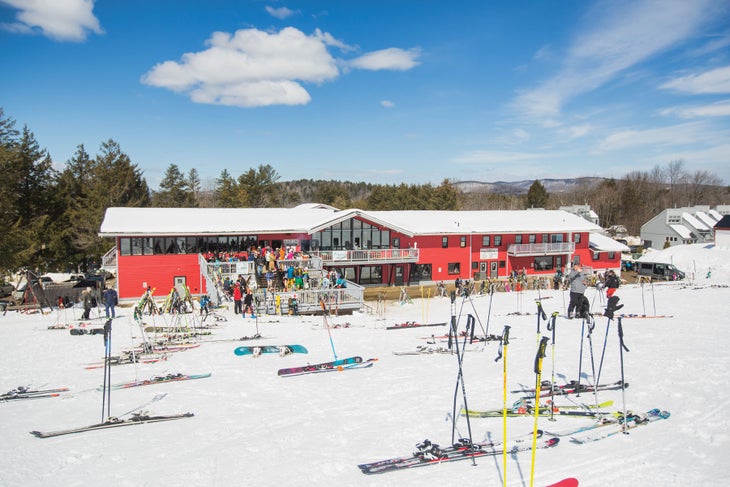 Last March, when Mother Nature deposited several feet of dream-like snow across the mountain, Magic really came to life. The glades skied like a mythical wonderland where you could wiggle between perfectly spaced trees, funneling out into open snowfields. But it wasn't a mythical wonderland. It was Vermont the way nature intended. Well, Old Man Winter, at least.
Anyone who's skied at this gem understands the appeal—people like Will Reed, from the nearby town of Peru, who's been Magic-faithful his entire life.
"On a powder day, there is no better place on Earth," says Reed. "I'm sure there are more hip scenes out there, but when it comes down to true rawness and authenticity, Magic is it. It's like a redneck Mad River Glen. Less hippy, more aggressive."
That sentiment is echoed by Brian Johansson, who resides in Burlington, near Stowe, Sugarbush, and Smugglers' Notch—yet who loves Magic so much that he bought a second home here. 
"It's just so welcoming," says Johansson. "People are willing to share their secrets, all the best spots to ski. And people who like Magic are really passionate about new people who want to like Magic. In the summer, I'll take my dogs up the hill, carry a pair of loppers and trim up some stuff just because I really care."
Read more: The Thirstiest Little State
Whatever secret sauce Hatheway and team are cooking up here is beginning to work. The 2017-'18 season saw a 50 percent increase in day ticket sales and 30-percent increase in season pass holders. As Hatheway puts it, "We came in with a five-year plan and we're well ahead of schedule." In fact, on two busier powder days last season, the management team closed the ticket window to ensure the ski experience would remain enjoyable.
"People don't have to worry that we're just going to cram as many guests as we can in here and tarnish the experience," says Hatheway. "The idea is that, even on our busiest weekends, you're not waiting more than 10-15 minutes for one of our lifts."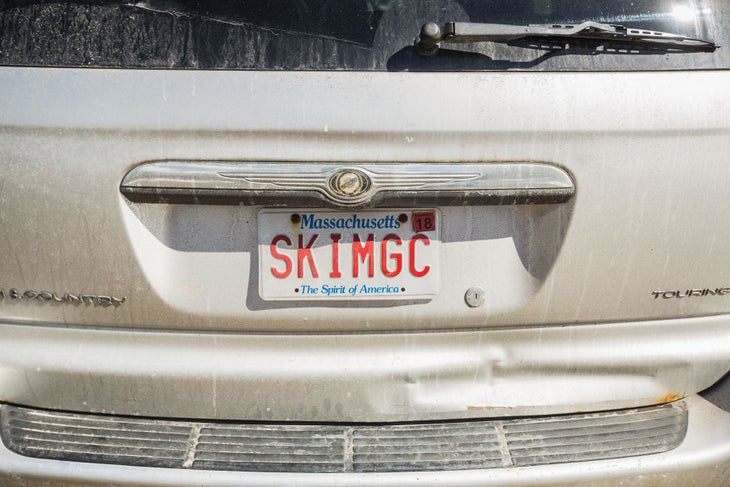 When Swiss-born ski instructor Hans Thorner founded Magic in 1960, he felt that he'd somehow unearthed a "Little Switzerland" in Southern Vermont. The incredible terrain, rich mountain culture, and the expansive surrounding beauty were collectively unsurpassed in his eyes.
Today, it continues to deliver a unique sense of happiness and escape to its patrons old and new. The experience is hard to describe, but one word continues to sum it up quite well: Magic.
Magic Mountain Trip Planning
Stay
The homey Blue Gentian is an unpretentious B&B in walking distance to Magic's base. Home-cooked breakfast daily, outdoor hot tub, and lovely mountain views add to the appeal.
Eat
The Red Slate is the local hangout, serving Vermont-made beer and full lunch and dinner menus.
Downtime
Viking Nordic Center's 39 kilometers of trails beckon for classic cross-country, skate skiing, or snowshoeing.
Connor W. Davis is former ski racer raised in Vermont, though these days, you're more likely to find him in the glades than the gates.
Originally published in the October 2018 issue of SKI Magazine.