Cindy's Lift: The 40 Year Legacy of Cranmore's Veteran Liftie
Do you even lift? Meet Cindy Whitaker, a sixty-five year old liftie who's been operating chairlifts for 40 years at Cranmore Mountain and still going strong.
Heading out the door? Read this article on the new Outside+ app available now on iOS devices for members! Download the app.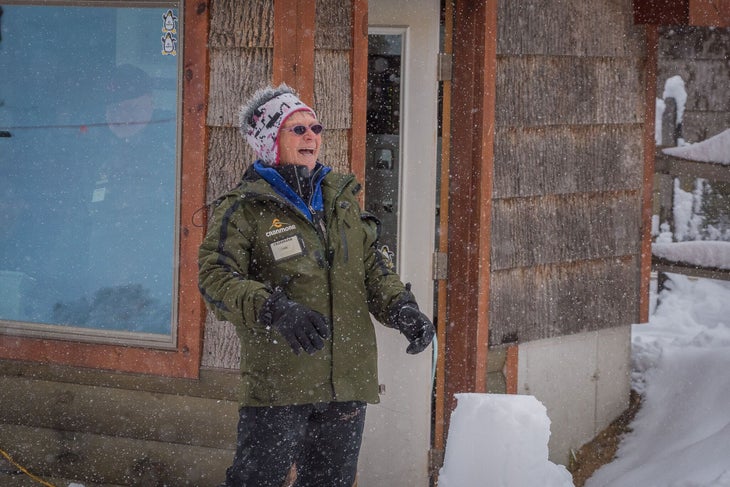 This winter will be Cindy Whitaker's fortieth year as a liftie at Cranmore Mountain in North Conway, N.H.
"Pretty scary, huh?" Cindy agrees.
Cindy, who's been skiing Cranmore since she was five—and all 60 years since—remembers the days of wooden skis and the iconic Cranmore Skimobile, a scarlet train that marched up the slope on a tall latticed track, carrying a single skier each. Such a long-standing legacy requires the kind of exposure that only comes from growing up in a skiing family, which Cindy did. They didn't have much money for lift tickets, so the 50-cent tokens for the Skimobile were a treat. But Cindy never saw this as an impediment.
"We had what we wanted and I'm glad I was raised the way that I was," she says. All the same, Cindy began working when she was sixteen to make a little extra pocket change—"Egg money, my grandmother used to call it," she says—first as a waitress at the local inn and later at Cranmore part-time.
When Cindy first started working as a lift operator in the late seventies the pay was $2.50 an hour. The job was good exercise—slowing down chairs is a full body workout—and the free season pass to Cranmore and other nearby mountains made it a great gig and Cindy saw no reason to leave. On average she works 40 hours a week, save for the Christmas season when 70 to 80 hours becomes the norm. Some of the newer lift attendants–including high schoolers and college kids as young as 18–don't want to work over their winter break so it's up to veterans like Cindy to pick up the slack.
"Us old guys have to step up," she says. But surely, at age sixty-five, she ought to start slowing down? She's already quit night skiing hours and this winter will drop down to four days a week instead of five, but she plans to keep working for the next four or five years at least before reassessing. Her good friend Russ Veale retired last year at age 85 after seventeen years as a Cranmore liftie. He and Cindy worked the Schneider lift together on the back side of the mountain; Cindy remembers their shenanigans fondly—snowball fights with skiers and fumbling cumbersome snowbikes onto chairs to some disgruntled riders' dismay.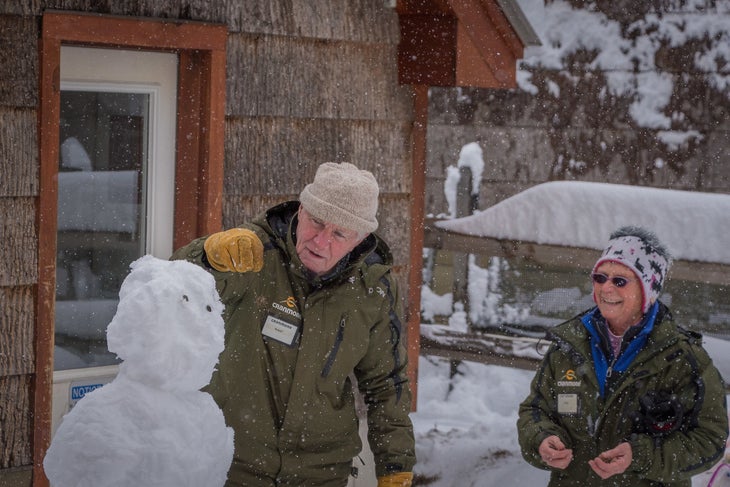 "He's a very sweet man," she says. "They called us Grandma and Grandpa. But at his age you don't need to be doing that anymore." Even without her partner in crime Cindy still manages to combine work and play. Part of the job is entertaining riders, a responsibility she takes seriously, and as a result she's become an institution at the small mountain.
"They call it Cindy's lift," she laughs. "A lot of them love me and I love them."
But while she's made friends with many of the regulars, it's their children that make her day. They're always happy and excited to ski, she explains, and bring a great energy to the mountain. The kids know her too. Sometimes the youngest children, six or seven years old, get lost—"My parents never allowed me to ski by myself at that age,"—and come looking for their parents at the bottom of the Schneider lift. Cindy calls ski patrol and together they wait for the reunion. She always has a tin of candy on hand for times like these, just in case.
"I keep them entertained and happy while we wait. They feel safe with me," she says. Parents in turn bring homemade cookies and treats for Cindy. "They say thank you for taking care of my kid, and I'm like, that's my job!"
Cindy is so well known amongst this community that even during her summers—which she spends gardening for a friend's flower shop—fame is inescapable. When she's working in the gardens of large estates the owners will come over to introduce themselves and recognize her from the Schneider lift. It happens more often than you might think, she says. Sometimes the owners will even be the lost boys and girls Cindy once looked after, now grown-up and with children of their own. They'll bring out their kids to meet the gardener and discuss plans of ski lessons for the upcoming winter.
And while most of these parents and children are wonderful and grateful, she says, there are some that are not. Cindy remembers one little boy who stepped out in front of the chair too late. She rushed forward to help him move out of the way and the boy's mother began shouting at her. 
"She was screaming at me for touching her boy," Cindy recalls, "telling everyone I molested her kid." Onlookers were equally baffled. "They were like, why is she screaming at you when you were trying to help her kid?" Yet it was Cindy, black and blue from ear to shoulder for weeks, who had to defend her side of the story. After circumstances like these, she explains, the employee must meet in a conference room and draw diagrams of the event from their point of view. Cindy shrugs this off now. "Some adults are just like that," she says. "They can get hateful. People just start screaming at you. Sometimes you're better off not saying anything at all."
Aside from the rare encounter with a cranky parent, Cindy's biggest woe is technology. In the 21st century, lift operators have become the eyes and ears for their riders. People get hit by chairs often when looking at their phones.
"I tell them all the time, 'here comes the chair, it's gonna bite ya!" she laughs. Cindy herself only owns a flip phone and spurns all forms of social media. She doesn't have a Facebook, Twitter, or even an email address—let alone a computer with which to access them. If she needs to use the internet at all she'll solicit the help of her niece and nephew—twelve and fourteen years-old respectively—who live down the street. A small television and the flip phone are her only allowances. She admits to having an old school attitude towards technology—and is proud of it. 
"People don't write letters, they don't talk on the phone. A lot of that common sense they don't have today. Put that thing away and go skiing!" By her estimates, Cindy finds between twenty-five and thirty-five cell phones or tablets every winter. She puts orphaned tech in the window of her operator's cabin and brings them down to lost and found at the end of the day. "Some people don't even come back for them!" On one memorable occasion, she found three cell phones and three credit cards each belonging to three young kids. "They all lost them. Their dad gave me $100 just for finding that stuff," she recalls. "Back then there wasn't even that much money for ski tickets. They don't realize how good they have it, some of them."
Cindy's work ethic isn't just appreciated by discombobulated parents—Cranmore notices too. At the end of every season the mountain hosts their Summit Awards, an event to formally acknowledge everyone's hard work. Engraved glass trophies are presented to a stand-out employee in each department. Cindy has lost count of how many she's won. "Oh…I don't know. Ten? Twelve, maybe?" There are other smaller accolades too: clothing pins and patches to commemorate years of service or special deeds. Cindy has many, of course, but doesn't care to show off. "I'll put a few on, but I'm not like some people that wear fifteen or twenty. This isn't the military," she laughs. 
But it's her no-frills, humble attitude that makes her so beloved by her Cranmore family. "I tell you, Jeff is more excited by this story than I am," she jokes about the Cranmore public relations officer. She emphasizes her dislike of the spotlight, her aversion to speech-making (which she has been called on to do several times) and points out more than once that there are many employees just as worthy of a story.
"I appreciate it all, but I don't need it. I'm a quiet person, I yack a lot, but I could care less," she insists. During the summer, when she's not gardening, Cindy sets out for peace and quiet. She retreats to the woods or the lake to hike and kayak with her yellow lab, Tidbit, and a few close friends. When she really wants to be alone she goes fishing. "But I'm not gonna tell you where because I don't tell anybody," she warns.
Now near the end of her career at Cranmore, Cindy is looking towards the future. She'd like to travel, inspired in part by Cranmore's participation with the State Department's J-1 Visa program, a work-study exchange for international students. Through this program she's befriended students from Peru and other South American countries. She keeps in regular contact—snail mail, don't forget—with a few and is keen to visit them in retirement. 
Plus, she plans to do more skiing—although perhaps not at Cranmore.