True Believers
As more and more resorts are operated by fewer and fewer companies, there's a visceral desire to return to what skiing used to be. We traveled to a handful of community hills to remind ourselves why we ski. Their stories will remind you, too.
Heading out the door? Read this article on the new Outside+ app available now on iOS devices for members! Download the app.
Labor of Love: Antelope Butte, Wyo.
It's hardly Wyoming's biggest or best-known ski area, but when Antelope Butte opens next season, it just might have the most heart.
There's something about skiing that cultivates a loyalty to your local hill that approaches a parent's view of his kid as, without a doubt, the cutest in the class. So, pumped up on loyalty, tiny Antelope Butte, Wyo., showing the swagger of the Whistlers, the Altas, and the Jackson Holes of the ski world, thumps its chest. "If you can ski Antelope Butte, you can ski anywhere" is a common aphorism in the community, according to Andrew Gast, the executive director of the Antelope Butte Foundation, which is five years and more than a half-million bucks into reopening the area, which closed in 2004. Gast, 35, started as a volunteer with the foundation, then worked as a consultant. Now as the foundation's first full-time employee, he's running the show. The title on his business card is "Ski-EO."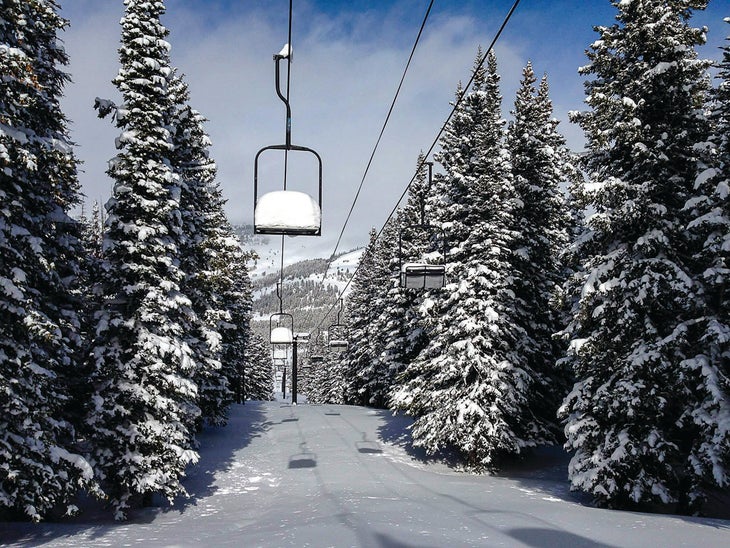 Antelope Butte ski area opened in 1961. The resort held its own as a modest, yet passionate, regional ski hub for nearly 40 years. However, it became collateral damage in the divorce of the husband-and-wife team that owned the place. "This was a ski town for a long time, and people miss it," Gast says.
But its strong bones remained in place: 9,400-foot summit elevation; 1,000-foot vertical; 250 acres; a 10,000-square-foot day lodge; two fixed-grip doubles; and, to great local pride, some for-sure expert turns. "There's fantastic tree skiing, and it's seriously steep at the top," Gast says. Renovations are happening on the hill and off, and pass plans include discount youth programs. "We want the parking lots to be full of school buses," he says.
Summer might be busier than winter, with the Wyoming Department of Transportation tallying more than 330,000 vehicles annually passing through the Antelope Butte Mountain Recreation Area, many on the way to Yellowstone, according to Gast, who says he's already getting phone calls about hosting weddings for the summer of 2017. The target opening for the ski area is an Oktoberfest celebration next fall, as a dress rehearsal for welcoming skiers later that winter. The ski area plans to be open Friday to Sunday and school holidays. But it also plans to follow the six-inch rule. "We'll open any day that has six inches or more of new snow," Gast says.
The closest town is Shell (population: 83), so Antelope looks elsewhere for its patrons.
Sheridan is about 60 miles to the east. The state's supernova of skiing, of course, is Jackson Hole, a full six-hour drive to the west. "We live in a place where a huge percentage of the people want to get out and recreate. They want to ski. They want to mountain bike. We want to provide that without having to get into a car, rent a hotel room, and drive a long way," Gast says. "We want to keep them right here at home."
The mountain's reopening for 2017–18 will be different from its original opening in the early 1960s. "One of our biggest challenges is putting in wi-fi," Gast says. What hasn't changed is having an après-ski bar in the day lodge. "We haven't named it yet. We think there are some fundraising opportunities there," says Gast, ever the businessman.
Gast grew up skiing in the Southeast. After graduating from the University of Georgia, he moved to Whitefish, Mont., to get into the ski life, which eventually led him to Wyoming.
He has two sons, a three-year-old and a five-year-old. Last season, he got his youngest "up on skis two weeks after his third birthday." A lifelong skier, Gast feels a need to admit that his toddler son "wasn't really skiing, but he was up on skis."
That's good enough, of course. As with all the best parts of skiing, it always comes down to community. To the tribal aspects of the sport. Another word for tribe is, indeed, family. So not surprisingly, when asked why he's working so hard to get the lifts turning again at Antelope Butte, Gast answers personally. "I moved to ski country so my kids can ski. Right now that opportunity doesn't exist," he says. "I want to change that." —Greg Ditrinco
There's Gold in These Hills: Elko Snowbowl, Nev.
A tiny ski hill in Nevada's high desert is making it work against all odds.
It seems so unlikely to find a ski area in the dusty, dry foothills of the Adobe mountain range outside tiny Elko, Nev., that it's only natural to do a double-take. "Wait, there's
skiing here?"
Elko, a gold-mining town of 19,000 just off I-80 between Salt Lake City and Lake Tahoe, is populated largely by the miners and their families. (Northern Nevada is the nation's largest gold supplier. Who knew?) In 1992, the town, aiming to offer a healthy outdoor winter diversion for residents, slapped a rope tow on a 600-vertical-foot hill five miles from town. In 1998 it bought a lift—a 99-chair double—and installed it on the same hill, creating an outlet for young families to enjoy the waxing and waning northeastern-Nevada winters.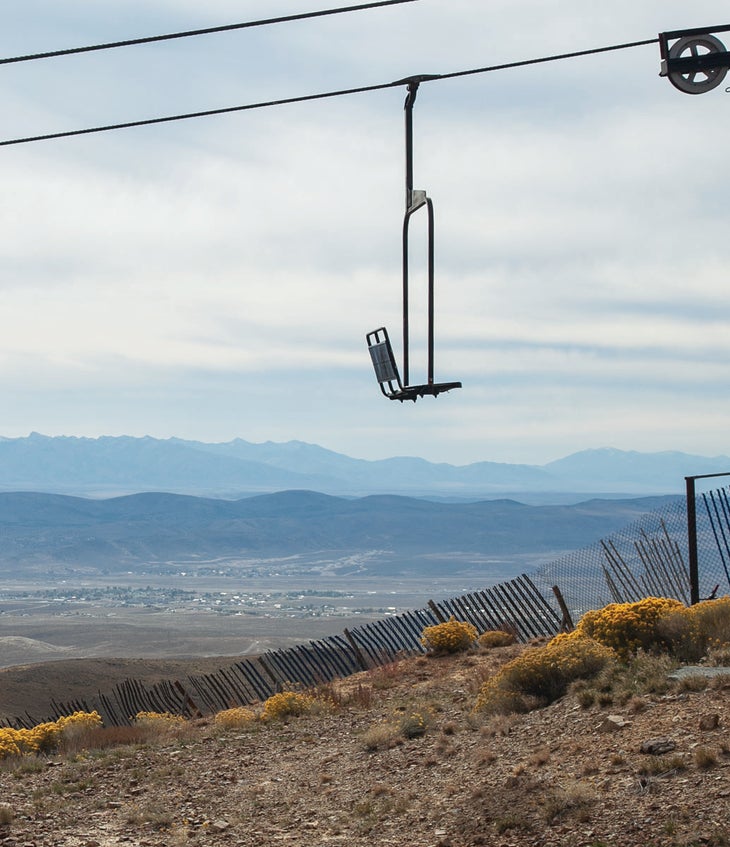 It's been a struggle, for sure. Most winters the Snobowl doesn't open until January and closes in March. But it's for the love of the sport that the community bands together to give this place a fighting chance. At Snobowl that means two words: Spaghetti Feed. The ski hill has been holding an annual fundraising dinner highlighting the hearty noodle for the past 23 years. For the past several seasons, Elko has been relying on individuals and businesses to help fill the coffers so it can install a much-needed snowmaking system to tune of $275,000. Businesses and organizations also lend a hand by sponsoring chairs on the chairlift—and get a plaque advertising their services on the back of each chair in return.
Down in Skip's Snack Shack, at the rudimentary base, many of the owners of those same businesses nosh on hot dogs and swap stories on the weekends, as the hill is the town's de facto meeting spot in lean snow years as well as good ones. All employees at the Snobowl are volunteers, from the guy grooming the couple of runs to the hot-dog slinger at the Snack Shack. They're in it for the kids who take their first turns off the free rope tow. For the way it brings the community together. For the love of the sport. And that's solid gold. —Samantha Berman
Doing It For the Kids: Abenaki, N.H.
This town-owned ski area has the next generation in mind.
The ski-resort industry frets—should probably fret more—about the demise of its "feeder and breeder" areas, the local hills that keep skiing accessible and affordable for newbies who might someday graduate to bigger slopes.
Wolfeboro, N.H., a pretty little resort town on the shores of Lake Winnipesaukee, doesn't care about all that. It just wants a safe place where its kids can get outside to play in the snow during those long, cold New Hampshire winters.
Abenaki Ski Area, town-owned and managed by the Parks and Rec Department, isn't a big or challenging hill—just 200 vert, a rope tow, and a mini-rope for tykes.
The place, like a lot of hometown hills, has seen some hard times. But it's had one particularly vital resource: the goodwill of all the people who grew up or raised their own kids on its gentle slopes. When times got really tough and the town was ready to give up, civic-minded skiers came to Abenaki's rescue. They formed a nonprofit corporation and got busy raising money. Abenaki-lovers responded with deep generosity, giving enough money to install snowmaking and lights for the 2006–07 season.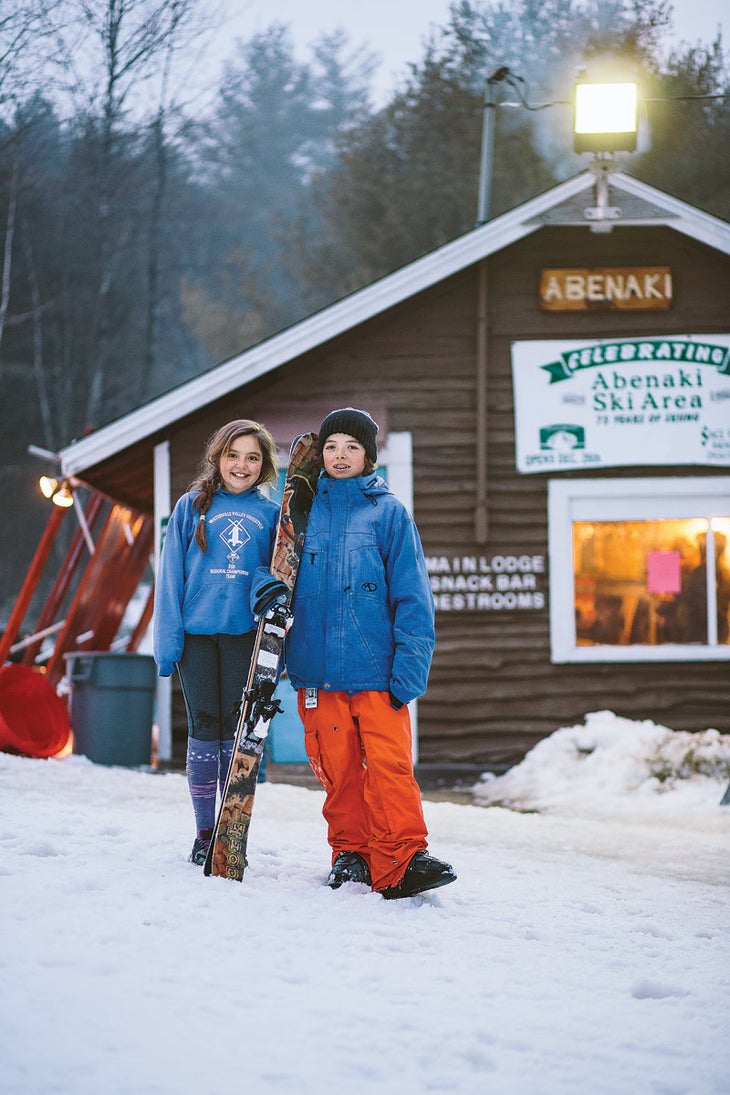 "Now it's going gangbusters," says Friends of Abenaki president Bill Swaffield, a longtime Wolfeboro resident who used to ski at Abenaki as a kid. "When the snowmaking went in, we were able to operate on a normal schedule, and skier visits went right back up through the roof."
Last year, a spiffy new base lodge went in too, one that doubles as a four-season event facility, bringing in extra revenue. ("Some people come out just to eat a hamburger and watch the kids ski," Swaffield says.)
Most town governments probably wouldn't want to be in the ski business, perhaps wisely so. But Christine Collins, director of Parks and Recreation, says Abenaki is just part of the landscape, along with the town's public beaches, playgrounds, and tennis courts. "We have a budget for it, and whatever profit we make goes back into the hill. People love it. They drop their kids off—the kids ski all day and get picked up in the afternoon."
Abenaki is about as old as any ski area in the country. The Wolfeboro Outing Club cut its trails in the 1930s and installed a rope in 1940. Toni Matt skied here sometime either before or after famously straightlining the Headwall at Tuckerman Ravine. Two Olympians, George Macomber and Penny Pitou, are among its benefactors, Swaffield says.
But what matters is that today's Wolfeboro kids ski and fool around and make mischief in the snow just the way Swaffield could when he was a kid. Night skiing is key—Abenaki's slopes are busiest on weeknights after school. And snowmaking: Without it, no New England hill can survive. Otherwise, by keeping it small, Abenaki makes it look easy, and it sets an example that ought to inspire winter-loving towns everywhere. —Joe Cutts
Small But Mighty: Ashland, Ore.
A tiny gem with legit terrain enjoys true community support.
If you evaluate Mt. Ashland purely by acreage and amenities, it makes little sense why Rogue Valley locals have fought so passionately for their 220-acre, 23-run, five-lift community-owned mountain. Focusing on the size of the area, the age of its lifts, its modest five-day-a-week schedule, and the chronically leaking roof of its funky Victorian-styled day lodge is to ignore the soul of this nonprofit ski area and consequently the soul of the local ski and ride community. And there's this: The terrain is damned steep.
There's no grading on a curve here in southern Oregon, just a few miles from the California border. Eleven of Mt. A's 23 runs are legit advanced or expert terrain (and at least three of the intermediate runs would be considered black diamonds on less aggressive mountains). On the east end of the resort, a bowl system offers five distinct chutes that serve up enough full-commitment steeps to get even
veteran skiers gripped.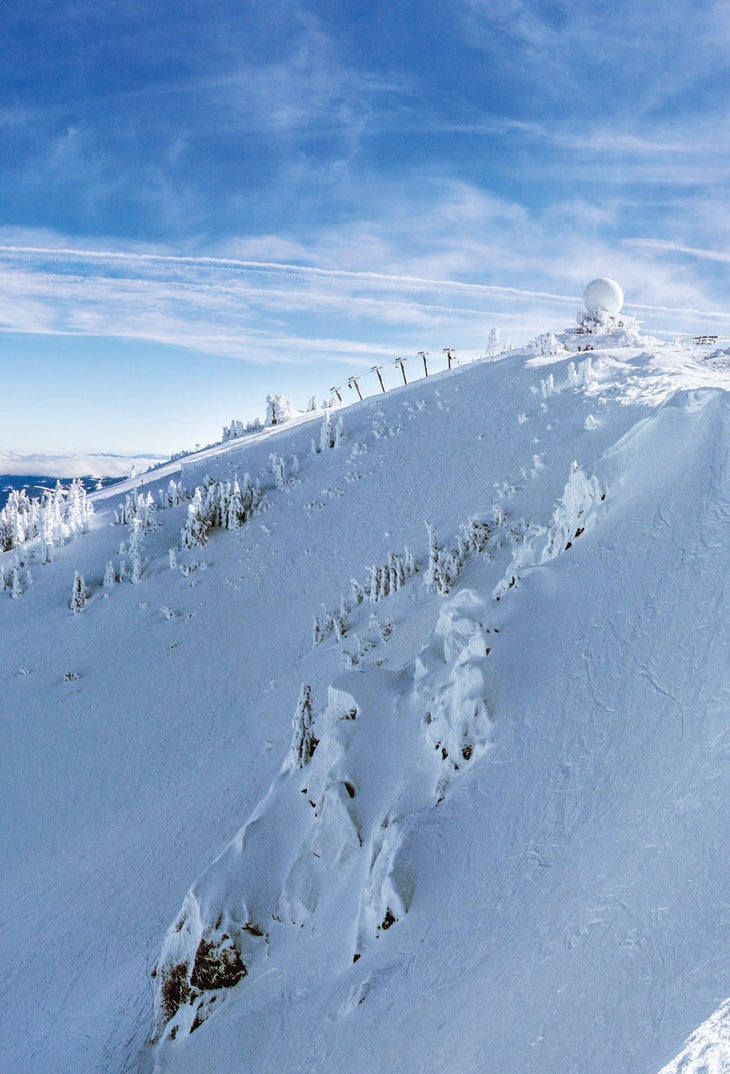 Like all aspects of Mt. A, the beginner terrain offers quality in place of quantity. The beginner lifts are set up so new skiers don't have to interact with advanced ones until they are good and ready. "The fact that it doesn't sit at the bottom of a busy base area where people are bombing by just to get to the lodge is a pretty unique thing," says Hiram Towle, Mt. Ashland's general manager. Another bonus of being a community-focused ski area is that parents can fire up the chutes while their kids explore the mountain on their own. "It's small enough where you can kind of loosen your grip on your kid because the lift operators, the ski patrol, everyone is committed to this small community atmosphere," says Mt. Ashland's development director, Michael Stringer.
In the late '80s and early '90s, drought put Mt. Ashland in such a dire spot financially that the owners at the time, Harbor Properties, considered selling the lifts. "The community, not wanting to see their local ski hill go away, rallied and put together a group of people that went out and did fundraising and raised the money and started the Mt. Ashland Association—and it has been a nonprofit ever since," Towle says. With a $299 season pass and heavily discounted programs for kids, it continues to be an accessible community resource, which is conveniently tucked in only 8.5 miles off Interstate 5.
As locals quickly learn, great turns are available all season (waiting in liftlines is what you do on a ski vacation, not on a Mt. A day). If all the lifts are open you can enjoy a true powder day, rather than the more accurately labeled powder morning found at most big-brand resorts. Truth be told, no one is going to relocate to the Rogue Valley specifically for the skiing, and locals are great with that. —Joe Jackson