The Only Thing Better Than Being a Ski Parent? Becoming a Ski Grandparent.
One newly minted ski grandma embraces snowy outings with her two granddaughters and all the moments she gets to relive and cherish.
Heading out the door? Read this article on the new Outside+ app available now on iOS devices for members! Download the app.
I'm standing inside the ski rental shop staging area at Okemo Mountain Resort on a busy spring-skiing Friday, a salty substance leaking down my face. It was my granddaughters' first official ski weekend, and while I'm not known to be a crier—the opposite, actually, I've never gotten misty-eyed over a single scene of "This Is Us"—it is in that moment that my near-lifetime of manifestation to create my own multigenerational ski family came to be.
"Rara! Rara!" my eldest grand, Molly, age 5, shouts as she clomps in her ski boots toward me, brimming with glee. "When do we get the hot chocolate and Reese's Cups?" Promises had been made.
"All will be revealed!" I wink back.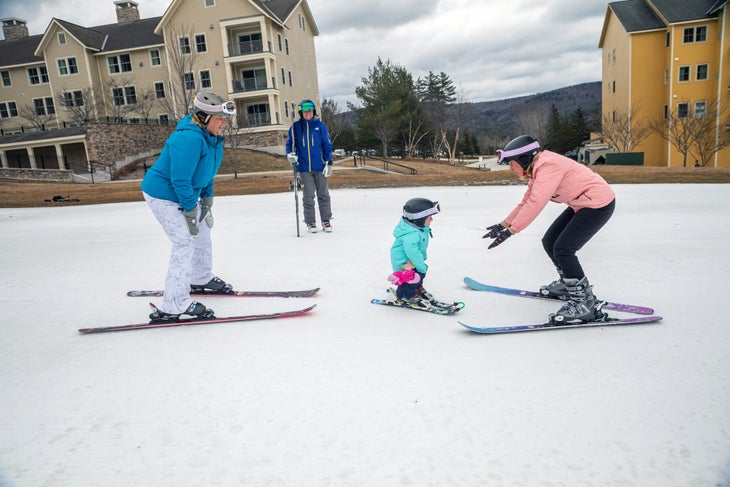 I'd begun planning this weekend officially a month prior, semi-officially two years prior (the pandemic derailed our original plans), and unofficially circa 1976. I was a teen then, but savvy enough to have already discovered that the ski life—the sport itself, the setting it puts you in, and the people it aligns you with—was a magic potion to cure all my ills.
We were fortunate enough to have a family weekend ski home where I could walk steps to the mountain to ski with my gang and do the things I loved all winter long. The ski life is one of traditions: dipping Reese's Cups in hot chocolate, S'mores around the fireplace. It was and is a love of place that's meant to be shared.
Along the way, I noticed something: Families that seemed to have what mine lacked. Siblings who actually hung out together without constantly fighting. Parents who seemed to enjoy one another's company out on the snow. I was drawn to them, particularly two families I had met, the Carriers and Dawleys. I found something I wanted in their lives: ski family cohesiveness.
I told Mrs. Carrier as much one day. We were eating lunch at their counter (a quick glide in from the slopes).
"I wish I had this," I told her. "I wish I had a family that truly bonded—over skiing and over everything."
"Well, Moira," she said matter of factly, "It starts with you. You want it? Build it."
And so here I am, slopeside at Okemo, having followed Mrs. Carrier's call to action to share that love of place with my very own motley crew.
My family of multigenerational skiers is ready to launch. My husband Sean, now a grandpa, who I had demanded take lessons to become a more graceful skier to win my heart. Leigh, my daughter, whose elegance on skis no matter the conditions has always made my heart pitter-patter. Michael, my son-in-law, who took to skiing easily and embraced it as a true love the moment he joined our squad. Molly, my determined and quiet first granddaughter, for whom I purchased ski wear before she was even born. And little Lucy, my redhead-to-the-core, outspoken leader-of-the-pack youngest grand.
Skiing With Kids? These Are the Top 10 Most Family Friendly Resorts in the East
At this particular moment, we're dropping the girls off at Okemo's ski school, which means some tears. Not from the kids. Rather, Leigh is struggling.
I get it. And it's part of the reason we chose Okemo as our first stop in what will be a lifetime of ski resort family outings. Lucy was a medically fragile child, spending nearly the first year of her life in a hospital. It brings me right back to the day I dropped my other daughter Lauren, Leigh's older sister, off at this same ski school 25 years ago. She had just been diagnosed with Type 1 diabetes.
I was terrified; but Okemo's team made it all fine. I had to be brave back then: building a committed ski family requires that too. It will be the same for Leigh and Lucy. So we must, as a true supportive multigenerational ski family, absorb this mogul together.
The girls fit right in. A bubble machine greets them as we check them in, and both are visibly intrigued with all of this ski stuff their Rara has been whispering into their ears since birth. They clomp off in different directions to explore the environment that Okemo has crafted for its youngest skiers.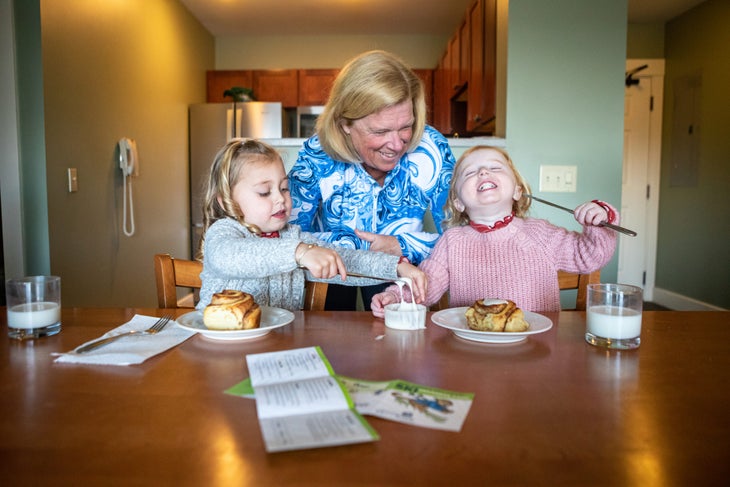 With the kids stashed at ski school, I begin to contemplate all we have ahead of us. I'd raised my kids not just to ski well, but to live the ski life well. Ski days were filled with traditions for my girls: Dad made teddy bear pancakes (my grands had noshed on that same meal that very morning); trails were chosen because the names were funny (my youngest launched the tradition of screaming "Maybe because I WANT TO" every time we skied "Why Not" at Steamboat), NASTAR races, après fun, starry and snowy nights splashing in slopeside outdoor pools; lunch tray sledding.
I get to do it all again.
We jump on the Coleman Broom Express. At the top, Leigh pushes off first, carving those elegant turns that have long made me jealous in a good way. Half a run down the four of us gather to look out at the Green Mountains of Vermont. Leigh is smiling. Skiing heals.
A few runs later, despite my determination to let the girls have their own space at ski school, we concoct a plan to spy. We find a picnic table tucked in at the base far enough from where the girls are learning for them to not spot us, but close enough for us to take it in.
They're having a blast. Molly, as expected, is focused on learning to turn. Lucy, as I would have told you, has charmed the entire staff into being at her beck and call.
"Excuse me," a voice says, and we change our focus. It's the young man who'd checked the girls into ski school. No doubt, he'd noticed Leigh's angst. "I'm so glad I found you. I wanted to let you know: the girls are great and all is well."
What a gift that moment was for Leigh (and all of us). Great ski schools take the time and effort to make multigenerational skiing work.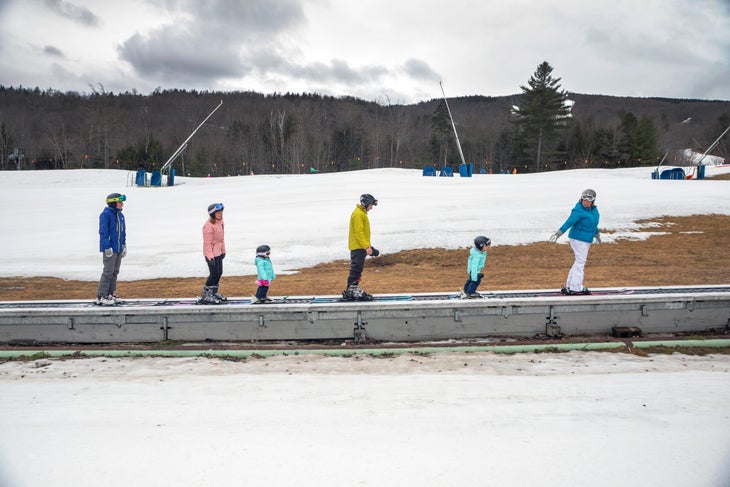 We pick the girls up at day's end and they're wild with stories to share: about skiing and what they learned, about their new friends out there, about "what's next, what's next?" We afternoon après with a dip in the pool and then a dinner with giggles, stories and, as is the law across the land of skiing, lots of chocolate. 
They crash into bed, barely keeping their eyes open. But then, Molly sits up and says, "Wait, Rara: When do we get to ski with you?" Ah yes, I tell them: the best is yet to come.
Saturday morning dawns much like Friday: Papa is at the stove making teddy bear pancakes. Toys are scattered about; ski boots from the tiniest to largest are lined up against the wall. The sun is sparkling outside and we are about to take our first family multigenerational ski lesson.
Here's an important aside: Family skiing is not for the faint of heart.
There's schlepping, for sure. There's some whining from time to time (and not always from the kids). Some mornings, by the time we got both kids fed, geared up (with a quick run to the shop because two left mittens again?) and into ski school, we'd load the lift ourselves at about 10 a.m., already totally spent.
Deep Dive: An Ode to Honoring Skiing's Family Legacy
But now, a gift: There are more hands to ready the crew. Team work makes the dream work and relatively seamlessly, we're out at the magic carpet meeting area, hands gloved correctly, smiles on all faces and two little girls chomping at the bit to show mom and dad, grandma and grandpa what they've learned.
Molly loves gliding alongside Rara. Lucy embraces riding the magic carpet and waving like a royalty to all who pass. It's fun. It's sweet. It's everything I tried to manifest.
After a few hours, it's S'mores time at Okemo's kid-focused après at the Jackson Gore base. There are gooey S'mores around the fire pits, a DJ, beer, and hot chocolate. I finally break out the Reese's Cups.
Just like their mom and aunt before them, Molly and Lucy rip open that ubiquitous orange package, dip a cup into their hot chocolate, lick it and dip it again and then, when it's almost just peanut butter, gobble it down.
That's when I realize that their fledgling ski careers are their gift to me, not the other way around. It's my direct route to building and maintaining my own unique relationship with each of them, and I'm here for it. After all, I'm not a regular grandma. I'm a ski grandma. Raise your Reese's Cups to that.
More from the 2023 Destination Guide
The ski town housing crisis is coming for this beloved Montana ski community
This ski area could be Canada's next big thing—but it's not interested
Gunning for first chair on an Alta powder day? You'll have to beat this guy