Discover This Newly Revived Down East Resort Before Everyone Else Does
Long a place with tons of potential, Maine's Saddleback has finally hit its stride after five years in limbo.
Heading out the door? Read this article on the new Outside+ app available now on iOS devices for members! Download the app.
It's an early-April Thursday morning, and the sun promises a day full of spring-softened mashed potatoes and crystal blue skies. I'm huffing and puffing at the top of Muleskinner, on far-skier's-right of Saddleback Mountain, having just cut above any number of tasty gladed chutes in a hike that didn't require us to remove our skis, but did involve a fair amount of poling, side-stepping, and skating.
From this vantage point, just short of the 4,120-foot peak, it strikes me that I'm skiing the trees in Maine at a time of year when most of the state is getting ready to hit the golf course.

"I don't think most people know you can do this right now," I say to Jim Quimby, the mountain's General Manager, who's locking in his tele bindings to alpine mode and getting ready to attack the tight line, roots and rocks showing just here and there.
He looks around him. We're the only two souls in sight. He's just the slightest bit exasperated: "We don't know why people don't know about this!"
To be fair, this is only Saddleback's second year in operation after five years of being completely shuttered. And the mountain, with the third-most vertical drop in Maine and generally regarded as some of the gnarliest expert terrain in the East, has never been what you'd call "stable."
Related: These 10 resorts have the most challenging terrain in the East
From its earliest days in the late 1950s, Saddleback has struggled to find its footing, with a series of well-intentioned owners who couldn't quite make the finances work, a long battle with the National Forest Service due to the Appalachian Trail cresting its peak, and, most recently, a potential buyer from Australia who ended up being arrested for fraud before he could complete the purchase.
Which is to say, people can be forgiven for losing track of the place.
Now, though, there is considerable evidence that Saddleback is on the rise. Arctaris Impact Investors bought the mountain in 2020, pledging to drop more than $25 million into improvements, and already installing a much-needed high-speed quad at the base. Locals have been talking about that potential upgrade for the last 20 years. Another lift debuts this season.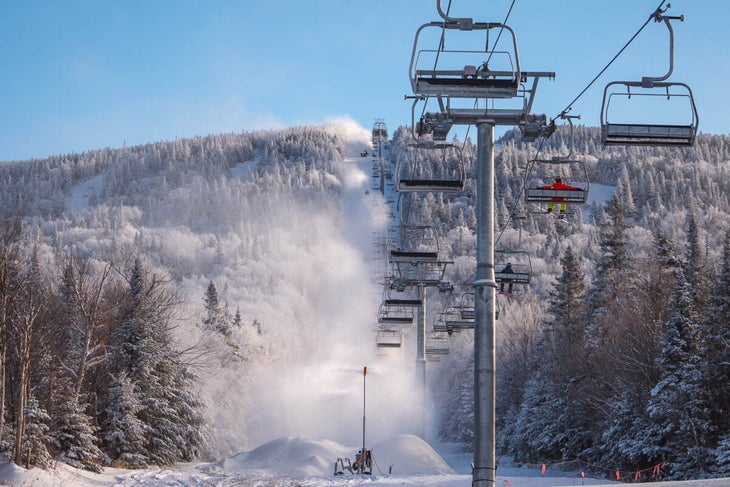 "We're pretty confident we have the youngest lift infrastructure in the East," says Molly Shaw, who heads up marketing for Saddleback, but at the moment is leading me down Peachy's Peril, a steep bump run that's softening up in the sun's heat. Natural-snow bumps in April? In Maine? And I'm not terrified of losing the bottoms of my skis? Maybe it's trying to keep up with Molly, or my general amazement that this run is still in such great shape, but I spin out and claw for purchase, just managing to avoid a full wreck. Phew. Hopefully, she didn't see that.
Related: 10 Eastern resorts with the best lift systems
What's crazy is that it hasn't even been a particularly good snow year. Jared Emerson, who shares mountain ops duties with Quimby, knows this well. There's rain in the forecast for tomorrow, the 10th rain storm the mountain has dealt with since January 22. They're keeping count, because that's the last day the mountain made snow, something that was unthinkable in the 1950s when the ski industry launched in Maine. But Saddleback is eyes-wide-open about the future.
They've invested $6 million in new, more efficient snowmaking since Arctaris took over, and they lay it on thick early so that it will last late. Emerson puffs out his chest a little in saying they currently are open top to bottom and side to side, with little to no exposure of the underlying rocks and dirt, without any touch-ups from the snow guns.
Related: The top 10 resorts in the East for snow quality
They're also doing their part in hopes the climate doesn't get worse. From the mountain's summit, you can see a square of cleared land that will soon be a 40-acre solar farm that will power the mountain and then some, and they're partnering with Maine Audubon and others to ensure the mid-mountain lodge they're building fits in with the local ecology and is as low-impact as possible.
"It's going to be more nature-based," says Quimby. "It's not going to be plastered with TVs with sports on them. It's going to be, 'Hey, look at the view.'"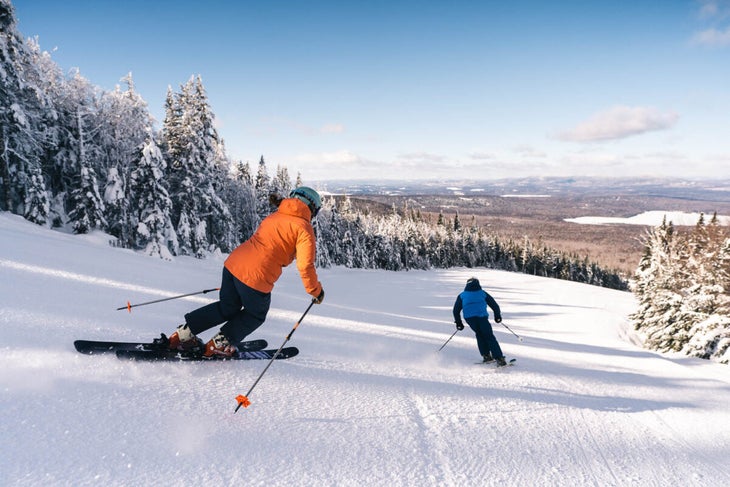 It's true that the view is spectacular. Just about every spot on the mountain looks out over one of the six Rangeley Lakes, from Rangeley, the third-largest in Maine, to Mooselookmeguntic, which is about as Maine as names get. Throughout the thousands of acres on view, you can see little logging trails cutting through, triggering thoughts of backcountry poaching.
All of that, though, is sort of beside the point. You don't go to Saddleback to talk about the weather or look at the view. You go to Saddleback to ski, and the reason people keep trying to take a swing at making this mountain work is because it's fun as hell. Tight Line, the trail that used to run beside the T-Bar until it was removed decades ago, is nearly vertical at the top and offers one of the widest, steepest, longest trails you'll find in New England. On this Thursday morning, I do five laps of it in 40 minutes, skiing right back onto the Kennebago Quad every time, slowed only by the gates that scan my ticket.
Related: Top 10 Eastern resorts for terrain variety
The set of double-diamond drop-ins that surround Tight Line is enough to keep even the most advanced skier content all day, with a second set of drop-ins off Firefly when the wind is whipping and the snow gets a little bare at the tip-top. Plus, there are glades for days. Emerson and his team cut the Casablanca Glades back in 2009 and they've spent the last two years getting them in peak condition now that the mountain has reopened.
Here in April they're still wide-open enough that Shaw and I get a little separated—she goes left, I go right—and I have to traverse back a bit to find her. No worries, though: Everything bottoms out into Nymph, which takes you right back to Kennebago. Tight Line is the classic, but don't sleep on the Woolly Bugger glades on the opposite side of the mountain. They're lower down, a bit less steep, but no less fun. You might even see an uphill skier or two using the dedicated skintrack they've newly cut to make sure uphill skiers stay safe. Even before the skintrack was cut, there was no shortage of uphill skiers: After five years of being closed, the mountain has become a popular place to earn your turns.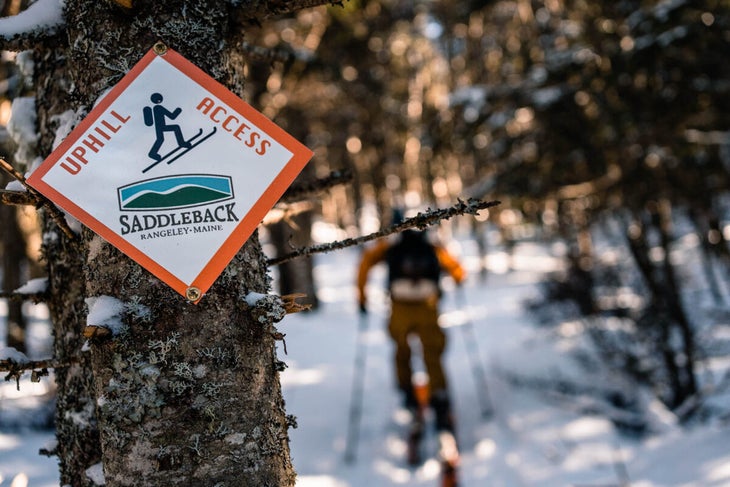 The resulting culture is incredibly intimate. People greet you when you step out of your car. The lifties offer you a pulled pork sandwich as you stand in line (no thanks; vegetarian). The locals feel an ownership of the mountain that creates fierce loyalty. Back in 1984, then-owner Donald Breen told this very magazine that "Saddleback has the potential to be one of the largest resorts in this part of the country," that it would be the "Vail of the East." That's not what they're building here now. What they're building now just might be the polar opposite, at least when it comes to the vibe of the place.
With each visit to Saddleback, it feels a little bit like you've stepped back in time. The access road is bumpy with frost heaves. There's no "village" at the base of the mountain, no blaring music—the little Fat Tire outdoor bar and fire pit feels like it could be in your backyard.
That must be why it's so easy to feel right at home here.
Trip Planning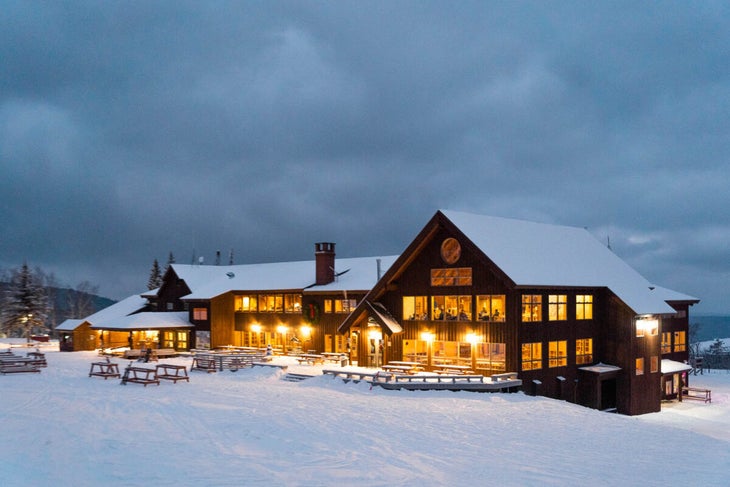 Getting There
It's true that Saddleback is not among the more easily accessible mountains in North America. The closest airport is in Portland, Maine, and that still leaves you about three hours in a car to get to Rangeley, the town that's home to about 2,000 people and the ski area.
Google Maps might tell you to go through the Lewiston/Auburn area, but I'm here to tell you to take the Maine turnpike to Augusta, then hop on Route 27 through Belgrade Lakes, into Farmington, and take the fork onto Route 4 (if you stay on 27, you'll find Sugarloaf, also a fine mountain in Maine). Follow the Sandy River until you spot the turn-off for the access road.
Along the way in, you'll see the best and worst of Maine. For every unspoiled lake, circling bald eagle, and rising mountain of sturdy pine trees, you'll see a ramshackle trailer that's been caving in for 10 years and a yard full of plastic toys. The end of the paper industry and rural flight has not been kind to some of these parts of Western Maine.
But Arctaris and the folks at Saddleback hope the mountain can be a hub for new economic investment and offer a path forward full of adventure tourism, sustainable development, and future-looking industry. And the Covid era has seen a huge influx of people into the area, as remote work gives them leave to escape into Maine's unadulterated beauty.
Where to Stay
If you're planning a trip, book it early. Saddleback's rocky past means that local lodging isn't incredibly robust, so the best rooms go quickly.
Resort Convenience
Rangeley Saddleback Inn is newly renovated to match the new additions to the mountain. It's got a great pool, the snowmobile trails are right out the front door, and they love to talk about how the hot tubs are always prepped for your arrival.
Most Nostalgic
Loon Lodge, on the shores of Rangeley Lake, is as authentic Maine as you'll find. Located right across the street from the access road, the circa-1899 lodge has the feel of an old fishing camp, but restored into the 21st century. It's the sort of place where someone just might show up via snowmobile from across the lake and buy you a beer.
Best Ambience
The Rangeley Inn is your "downtown" experience, just off the main drag of the little town and sitting on the side of Haley Pond, where you can rent some ice skates and twirl around if you don't feel like going up to the mountain. Set inside a restored building from the 19th century, the main sitting room will make you feel like you're in an Agatha Christie novel.
Dining and Après
If anyone builds up an appetite for après on a regular basis at Saddleback, it's Chris Riley, who's been on the patrol team there since 2000 and was the designer of Saddleback's uphill trail (and did plenty of bushwhacking, too). Here are his suggestions for a bite or a buzz in the area.
This is the place where everyone comes together: families, singles, snowmobilers, skiers, bowlers, and pool players. "It's a great place to get a drink," Riley says, "with a really cool vibe where everyone co-mingles." If it's a Saturday, there's a good chance you'll catch a band, like Maine legends the Mallett Brothers Band.
Do they have a website? No. Phone number? It's unclear. Doesn't matter. This is where you head for some "kick-ass food," says Riley, cooked up by some seriously local folks. The Jamison family has been in Rangeley's food scene forever—dad Steven used to bartend at the bar at Saddelback's base—and now they've got a new spot with signature cocktails, a bit of tapas, and a lot of charm.