Kids With No Access to Skiing Can Now Find it At This Tiny New Hampshire Hill
Close to the Vermont-N.H. border, nonprofit Whaleback Mountain continues to do whatever it takes to keep the sport accessible to its youngest community members.
Heading out the door? Read this article on the new Outside+ app available now on iOS devices for members! Download the app.
When the nonprofit board of Whaleback Mountain, N.H., applied for a Share Winter Foundation grant, they did so with one overarching goal: to stay exactly who they are. That mission—focusing on being their best rather than aiming for expansions or to take on the big hills—may be exactly why Whaleback was chosen as a grant designee this year.
"Whaleback is creating the type of experience that builds lifelong skiers and riders," Constance Beverley, Share Winter's CEO, says. "And they're doing it on a dime."
Whaleback is a steep yet cozy-sized ski area that juts up almost directly from the curb of the state's famed "Ski 93" highway. Founded by Olympic Nordic ski jumper Ernie Dion in the mid-1950s, its 700-foot vertical and 85 acres have been reborn a handful of times, closing at times for years, and always, while closed, missed by its core clients: Local families who may not be able to afford skiing and riding otherwise.
But since 2016 and the formation of the Upper Valley Snow Sports Foundation, which was charged with the daily operations of the ski area, Whaleback has been on its way to solidity. That, says Board President Norm Berman, will come not from trying to compete with the many ski resorts in the region or by trying to be a destination mountain, but by simply amping up what they do and how they do it. The why they do it needs no work. The how they do it is what the grant will boost.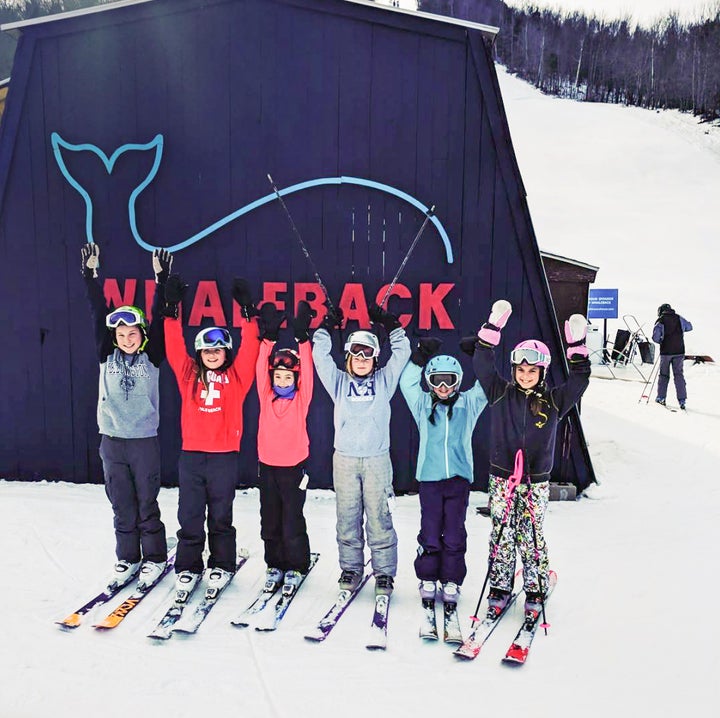 "I can see [the success] in my head," he says. "It's a sunny day and there's a lot of natural snow. No one has to wear a mask anymore and there is a crowd. That crowd is mostly local; a ton of families. And they are there simply because they want to be there. That's the vision. It's basically what Whaleback was always meant to do.
Whaleback's main clientele comes from area school districts; most of them, Berman says, serving lower-income communities.
"We are 30 minutes from Dartmouth, but you don't have to go far from there to find a lot of poverty." Those communities are the heartbeat of Whaleback. Last year, 569 students came weekly from surrounding communities, most on scholarship and most also egging their parents and other family members to join the fun. Another 100 or so attended freestyle programs on the hill.
Meet the Share Winter Foundation: This Community Organization Needs Your Help to Diversify Skiing
The ski area's goal is to build on that by expanding into more communities with even stronger programs. Whaleback will focus on better instructor training, program building, and yes, getting guests to buy into a lifetime of skiing and riding. "We'd like to train a more professional ski school staff," Berman says. "And of course, more professionalism means more pay." They'd also like to hire a program coordinator to help better track students, programs, and needs.
Board Secretary Samantha House first discovered Whaleback when she joined an adult race league (another Whaleback staple) as a Dartmouth grad student. Later, her two children sparked their love for skiing there. Now she's on the board, she says, "with a strong desire to help keep the mountain running and accessible to our community."
House hopes the grant helps their programs continue to build from within; taking on past students as staff. "Last year two-thirds of our staff had come through a Whaleback program," she says. "We want to keep them engaged in the program not just to keep them skiing, but to keep them caring about and supporting what Whaleback does."
Like Berman, she sees the grant as a jumping-off point not for new, but for better. "Basically, it is going to help us keep doing what we were always meant to be doing," she says. "A lot of what we need is already there. The feel of the mountain, that local-place vibe: it's there." And while their main focus is to bring in the local community who may otherwise never discover the sport, they also don't mind the day-tripper visits.
Go Deeper: Inner-City Kids Hit the Michigan Slopes Thanks to an Innovative After-School Program
Most New England skiers and riders have at least driven past Whaleback and wondered what's going on there. It's hard to miss with its steep slopes, roadside location, and, at night, bright lights. It's tempting to pull in and add some runs on your way to or from a bigger spot. They hope more do so to help support them long-term.
"There's the skiing, the chicken fingers, the happy vibe," says House. "And then a quick ride home and a nap. It changes your experience when it's all this easy."
Whaleback has even adopted a new tagline this season: "Ski It to Believe It."
"It's just a tagline but it's part of the story," Berman adds. "The way to be sustainable is for people to know it's fun and to come visit. We want folks to know. And to come."
For Beverley, that's an easy request. "It's about getting out there," she says. "Would I turn down a chance to go to the Yellowstone Club? Hell no. But some of my best days have been on community hills. They're easy to love."