Here's To No. 83
That's a hell of a lot of ski areas, but who's counting?
Heading out the door? Read this article on the new Outside+ app available now on iOS devices for members! Download the app.
I know it makes me seem both egotistic and geeky, but yeah: I count the ski areas I visit. Just as Wilt Chamberlain famously tallied one-night stands, I run the numbers on resort conquests. Not to brag, but I doubt many of you can match my count of North American resorts: 83. Ochenta y tres. If you want to get francophone about it, quatre-vingt-trois.
Still, I must lag far behind Glen Plake. I don't know his exact total, and I doubt he knows either—the number's too high. It's unfortunate that Plake remains something of a caricature of himself—goofy dude with towering mohawk who sort of pioneered American extreme skiing—because every bit as impressive is his lifelong crusade to celebrate skiing wherever it exists, from the French Alps to Indiana's cornfields. For years, Plake has tagged unknown hills on his Down Home Tours, in which he circulates, unannounced, through small U.S. resorts in an RV. He's skied everywhere.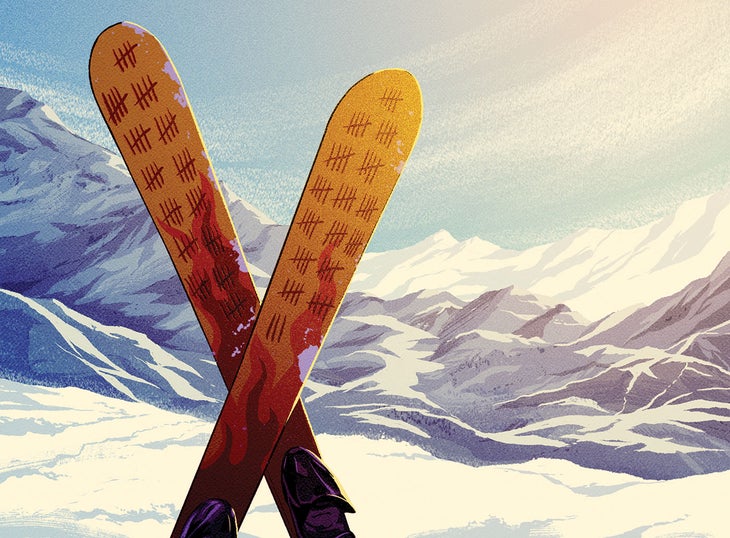 My tally contains a few molehills as well, such as Buck Hill, Minnesota, and Devil's Head, Wisconsin, plus others (like Idlewild, Colorado) that have since gone under. Happily though, most of my trips have taken place on true mountains, including No. 83: Panorama Mountain Resort, which occupies a gorgeous chunk of British Columbia's Purcell Mountains just west of Highway 93, a.k.a. "the Powder Highway."
Panorama's motto is "Pure Canada," which could be an acknowledgment that Yanks barely know it exists. It also boasts of having Canada's largest slopeside hot pools, which are nice if you enjoy it when perverts on their way to après-ski ogle your girlfriend's bikini.
Me, I prefer to celebrate other amenities. Such as nearly 3,000 acres of terrain—750 of them in a superb sidecountry zone called Taynton Bowl that in the past served as heli-ski terrain. Taynton Bowl is now controlled for avalanches but mostly goes au naturel.
I also dig "Elite 83's" lift-served vertical: 4,019 continuous feet, just an office building shorter than Jackson Hole. Then there are the views, highlighted by the astonishing "Matterhorn of the Purcells," Mount Nelson. I spent most of a January day gaping at this 10,330-foot icon from the Elkhorn Cabin. A homey wooden structure built long before Panorama opened in 1962, Elkhorn invites experts to arrive around 4 o'clock and commence drinking local beer and wine. That's what some friends and I did the day I notched the 83rd hole in my belt. Each ensuing grog made the already giddy day—in which clouds dropped six inches of fresh before clearing out for bluebird sunshine—progressively better.
As dusk purpled the sky, we tucked into a Swiss dinner of gooey raclette and more wine. We were buzzing and loose-limbed at 8 p.m., when we finally donned headlamps and prepared to ski in the dark back to Panorama's base (which is why Elkhorn dinners forbid beginners). We giggled and blasted figure 11s, repeatedly outracing the beams of our lights.
Slow down there, cowboy, I told myself. No need to rush a magical experience. No need to click out any sooner than necessary. After all, the whole point of visiting 83 resorts is to ski as much as possible. And if that means I miss closing time at Canada's largest slopeside hot pools, well, there's always tomorrow.