Join This Hotel's Membership Program for Half-Off Nightly Rates, Free Ski Demos, Slopeside Cabanas, and More
Gravity Haus' hotel membership lures avid ski travelers through community and perks.
Heading out the door? Read this article on the new Outside+ app available now on iOS devices for members! Download the app.
When Gravity Haus opened in Breckenridge in December 2019, it was clear from the start that it wasn't just another new ski hotel. Sure, you can book a comfortable room (with bunk beds, even), soak in the hot tub, stash your sticks in the private ski lockers, or grab a bite at the property's restaurant, Cabin Juice. 
You can also become a Gravity Haus member and get half-off your nightly rate.
While hotel membership programs aren't necessarily new, the ones that do exist are aimed at the super-rich. Gravity Haus, on the other hand, is training its lens on the super-outdoorsy.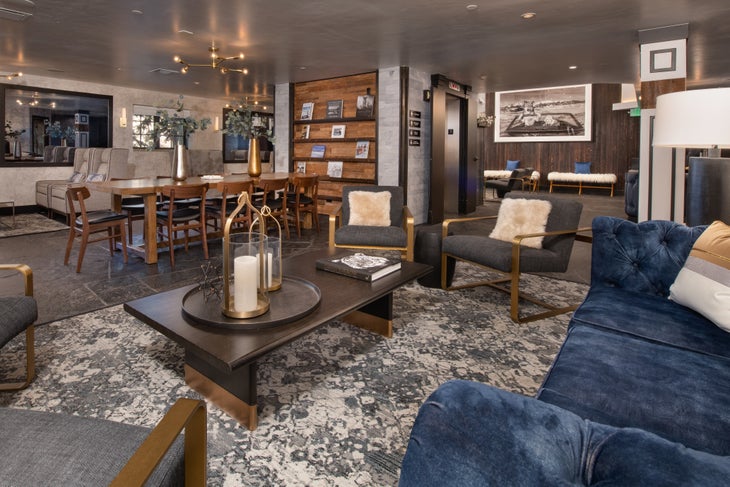 "GH is much more than a hotel," says Matt Windt, the company's Executive Vice President of Marketing and Communications. "It's a mission-driven experiential brand that aims to enrich the lives of travelers who share in its values. A globally-conscious life well-lived doesn't need to be full of 'stuff' and expensive, exclusive experiences."
Related: From In-Room Pelotons to Lobby DJs, These New Ski Hotels are Next Level
A Gravity Haus membership is not a hotel points program or loyalty-based operation. On the contrary, members pay a monthly fee and get access to a variety of perks and discounts at the Breck hotel as well as the newer Vail location, which opened in September 2020. Another Colorado Gravity Haus is slated to open at Winter Park this summer.
So what are these experiences, and who is this type of membership designed for? Avid travelers, for one. With four tiers of membership and monthly fees that start at $50 and go up to $330, Gravity Haus is courting adventurous outdoor enthusiasts who are keen on innovative and out-of-the-box experiences.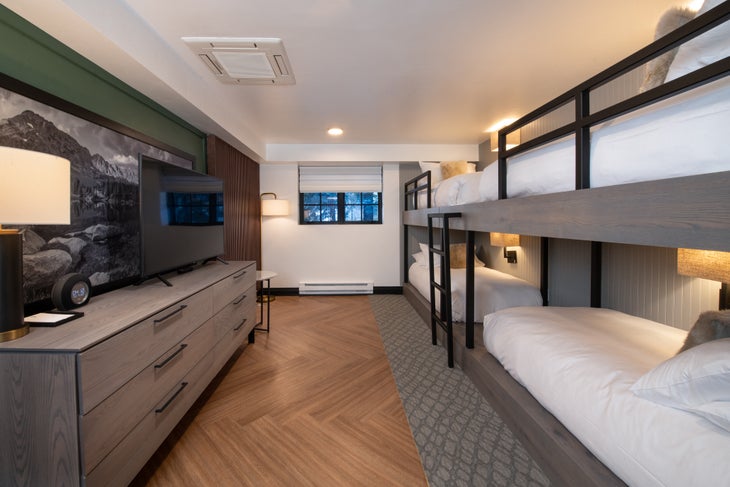 "Our members are primarily Colorado-based mountain and outdoor enthusiasts," Windt says "But we are also seeing an increasing number of destination travelers who frequent the mountain communities and use Gravity Haus as their 'center of gravity,' their community to meet people and connect with the authentic Colorado lifestyle.
Although conceived just before the start of the pandemic, Gravity Haus' emphasis on shared spaces, gathering spots, and member discounts, such as the ski valet and access to private slopeside cabanas, make it clear that the pandemic has fueled the desire for community. What it's not, Windt clarifies, is a passive hotel-point-collecting program.
"Gravity Haus is membership-based because at our core we're a community, not just a hotel," he explains."The simple act of paying a small monthly fee is our way of attracting members who want to be a part of what Gravity Haus is building as opposed to a rewards program where someone is unknowingly earning points and discounts to be redeemed.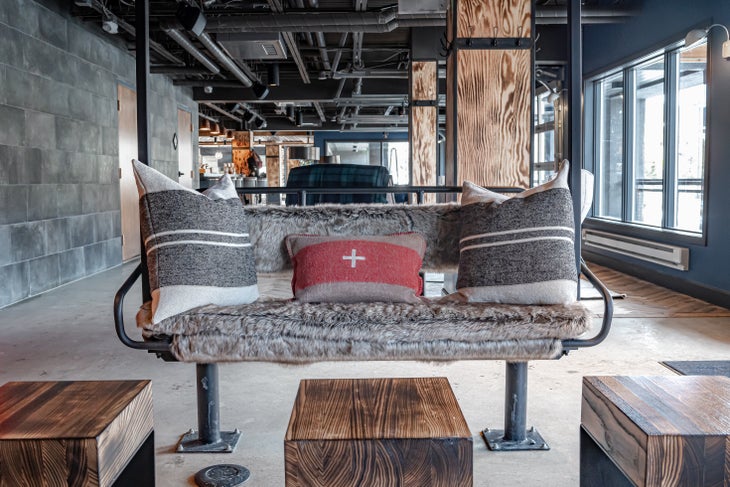 "Our members are making an intentional decision to join this globally conscious community, to connect with our network, and to enhance their lifestyle with healthy and sustainable choices."
At both Breck and Vail, private "snow cabanas"—slopeside lounges with refreshments, lockers, and wifi—are half-off for members. Members also get a 25-percent discount at the restaurants at both locations, as well as services at their respective spas, plus a certain number of complimentary visits to each property's fitness center and co-working facilities depending on their membership tier. The properties' Dryland Fitness facilities both offer full schedules of group fitness classes, weight training, personal trainers, and pre- and post-ski stretch sessions.
Another super-popular perk is the Haus Quiver, where members can reserve unlimited outdoor equipment to use during their GH stay, from demo skis in the winter to bikes, paddle boards, and even camping equipment in the summer. (Haus Quiver is a membership add-on.)
Related: The Epic Pass Price Cut Just Made Your Season Pass Decision More Interesting
While people join for myriad reasons, there are certain perks that have the most lure, including the nightly savings at each GH location, access to the co-working amenities, and the fitness benefits at Dryland Fitness. Windt says that the recent addition of partner properties in Silverton and Telluride in Colo., Lake Tahoe, and Costa Rica have definitely added more incentive to become a member.
"As members start to connect with each other and spend time with Gravity Haus, their interests quickly grow beyond the primary focus and into many of the new benefits we've added. It's really exciting to see the member behavior and adapt to member feedback."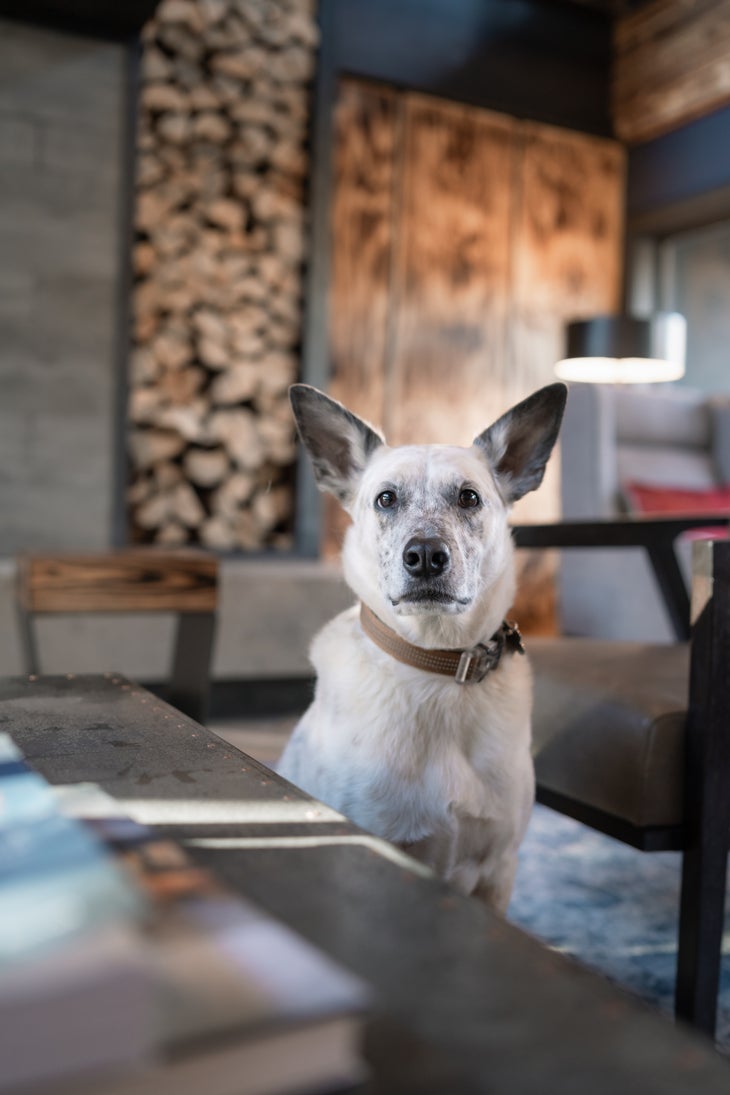 The Winter Park property, for instance, which is located in downtown Winter Park, will feature a Japanese-style onsen. Gravity Haus hopes to have three more locations, including some international, operational by 2024, and there's always the possibility that more partner properties will join the family, further expanding the benefits—and the attractiveness of the membership product.
At the end of the day, though, the appeal lies in the community. 
"By connecting deeply with each local community Gravity Haus becomes even more attractive to our community members and visitors because of our authentic feel," says Windt. "Visitors want to spend time and hang out where the locals do. That's been a really powerful dynamic behind our growth."