The Man Behind the Maps
James Niehues' new coffee table book celebrates his life's work of painting ski area trail maps.
Heading out the door? Read this article on the new Outside+ app available now on iOS devices for members! Download the app.
For 30 years, James Niehues has been every skier's best friend. He has painted trail maps for ski resorts at over 200 ski areas all over the world, including at least forty-five ranked in the 2017 SKI Magazine Resort Guide. Now, rather than keeping his work strictly utilitarian, he has released a beautiful coffee-table style book that combines all of his best pieces in one place. 
Niehues, who was inducted earlier this year to the U.S. Ski and Snowboard Hall of Fame's Class of 2019, worked with Jason Blevins, Todd Bennett, and Ben Farrow to design "The Man Behind the Maps," a self-published book. According to Niehues, the book's Kickstarter page became the top art illustration project in the crowdfunding website's history.
James Niehues: The Man Behind the Maps
"The Man Behind the Maps" is both a walk down memory lane for any skier who has used one of Niehues' 300 ski resort maps over the years, as well as a history lesson about both the evolution of ski area maps and Niehues' beginnings. 
"I have always enjoyed the challenge of fitting an entire mountain on a single page," says Niehues. "Mountains are wonderful puzzles, and I knew if I painted with the right amount of detail and care, they would last. A good design is relevant for a few years, maybe even a decade. But a well-made map is used for generations." 
Read More: Skiing's Top Trail Map Illustrator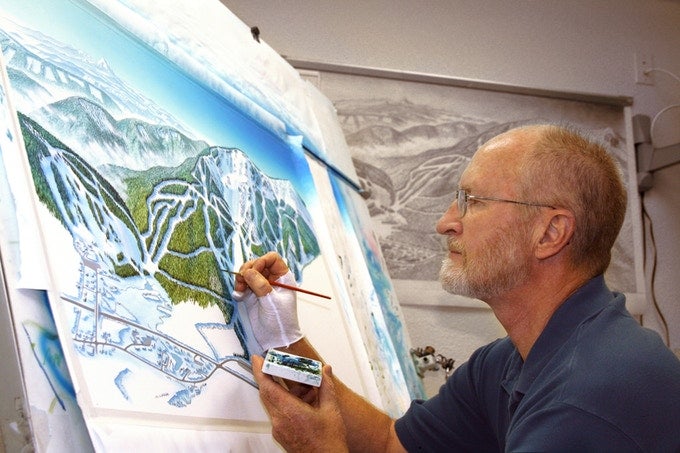 In a world that is becoming increasingly digital, it's always been refreshing for the staff at SKI to pull out a trail map and use Niehues' work to figure out where we were on a resort visit, or figure out where to go next during our planning meetings. As mentioned several times in the book, Niehues' artwork provides an unparalleled human touch to these maps, one that digital renderings cannot quite capture. This is because Niehues actually puts boots on the ground to ski many of the areas he paints.
"Hal [Shelton] said we need to get out there and know the experience and then try to get that on the page," says Niehues in the book, referencing one of his ski area illustrator predecessors that greatly influenced his style. "That's something I think is very important, and I've fought for it for many years."
When the advanced copy of "The Man Behind the Maps" arrived at the SKI Magazine offices a week ago, every member of the editorial staff took a moment to flip through the pages to remember their favorite runs at dozens of ski areas, as well as open the book to random ski areas and dream about future descents at far-away places. There's no way to accurately describe the affinity every skier has for Niehues' artwork, instead it's just something every skier should experience themselves while getting lost in the pages of this book.
"The Man Behind the Maps" retails for $85 and is scheduled to start shipping this week. You can order your copy on James Niehues' website.