Meeting Maverick
Sometimes skiing's soul resides in unlikely places. Namely on a tiny and obscure little mountain in southwest Montana's Beaverhead National Forest.
Heading out the door? Read this article on the new Outside+ app available now on iOS devices for members! Download the app.
For many, the measure of a skier is "soul"—a fluid concept encompassing a drive to make turns as often as possible and to make skiing a way of life. And if commitment is a marker by which soul is understood, then the new owners of Montana's Maverick Mountain have soul in spades—though it's not entirely clear whether they are committed, or should be committed. Either way, in true Montana form they cowboyed up, grabbed the bull by the horns, and did what every skier only talks about: They bought a ski area.
Maverick isn't a resort. It's an old-fashioned ski hill, with $36 lift tickets and one slow double lift that climbs 2,020 vertical feet overlooking the ragged ridgelines of the Pioneer Mountains outside of Polaris, Mont. (population 76). There's a lodge, cafeteria, ski school, rental shop, and cozy slopeside bar. The ski area is open Thursday to Sunday (which means Thursdays can be deep), and RVs are welcome in the dirt parking lot. There, a hand-painted sign depicts a skier riding a bucking white bull, with the slogan "Ride the White Thunder" emblazoned across the top. Maverick has remained more or less unchanged since the early 1950s, when it first opened as Rainy Mountain—a ski-area name now widely recognized as the worst ever. Now Erik and Kristi Borge, along with a couple of their college friends (and new business partners), wouldn't have it any other way.
Erik and Kristi—who married in the summer of 2016—bought Maverick in the fall of 2015, and with it an entirely new lifestyle. Before Maverick, they lived in bustling Bozeman, where he sold real estate and she was a teacher at the local Montessori school. They owned a home, had friends, and were part of the community. But when the opportunity to run a small-town Montana ski area came along, they made a bold choice: They sold the house and Erik's truck to make the down payment, talked their friends Matt Migel and Isaac Flemer into investing, and moved into a 32-foot RV in the Maverick Mountain parking lot. They were committed.
"I saw a post online that Maverick was for sale, and it wasn't ridiculously expensive," Erik explains. "I was intrigued, so I started poking around and talking to Kristi, and eventually we just decided to give this thing a try." Kristi, who grew up in the resort town of Big Sky, Mont., says she asked herself a simple question before making the leap: "Can you accept Plan B or C?" Apparently the answer was yes—and it was a gutsy move.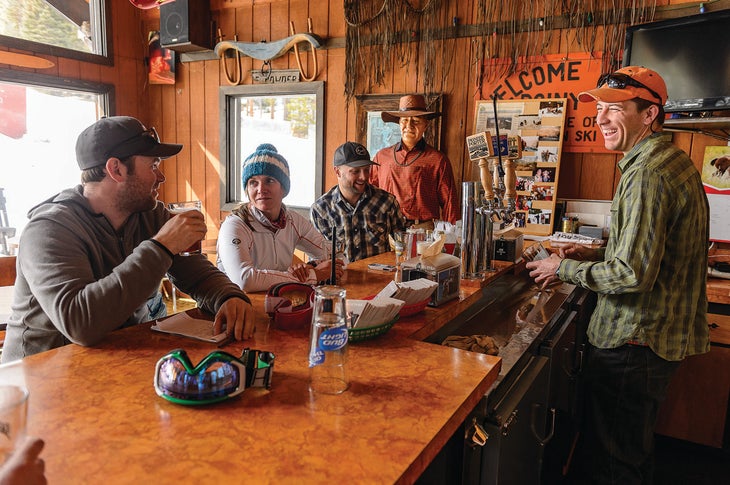 Buying a struggling ski area in the middle of nowhere is no small task. Finding a bank to finance the operation was nearly impossible; insurance proved expensive; they had to figure out employees and payroll, taxes, marketing, and equipment maintenance. Before Maverick, Erik hadn't even looked under the hood of a snowcat. Now he's the entire operations department, including head mechanic, groomer, and electrician. Matt comes down from Bozeman occasionally to help out, and Kristi runs the ski school and lodge (along with whatever else happens to come up) and teaches full-time at a one-room schoolhouse nearby (one of around 70 left in Montana). Teaching was an unexpected opportunity that dovetails nicely with the couple's new Maverick lifestyle. "I teach K through eight and have five students," she explains. "It's a dream job—a lot of work but it's really rewarding." The best part: "It's fun to share skiing with my students on the weekends."
Inside the lodge, ancient movie-theater seats line the hallway outside the rental shop. Plaid carpet covers the floor—and many of the walls—to the pleasure of '70s aficionados. The cafeteria is a no-frills affair serving burgers and fries with great views of the Pioneers. In the bar, the decor is equal parts ski gear and Western-themed antiques—saddles, bits, wagon wheels, and, strangely, a life-size sculpture of John Wayne that guards the end of the bar with a jaunty hat and a questionable bulge in his dungarees.
There's a free gear box for kids who forgot their gloves, and some locals leave their skis on the outside rack from Sunday to Thursday—there's no point in bringing them home, and no one's going to steal them.
But whatever soul the Maverick entrepreneurs possess, they say it's the local skiers who give the hill its unique flavor. "People don't ski here because it's cool, or they want to be seen," Erik says. "At the end of the day, you look around the bar and we've got people from all walks of life—people in Carhartts and jeans and traditional skier folks in head-to-toe Patagonia."
Perhaps their favorite regular is Rob, a local octogenarian who has been coming to Maverick for as long as anyone can remember. He pays by the run ($2 per), skis in jeans no matter the weather, and enjoys a frosty beverage at the bar at the end of every ski day. It's guys like Rob who have enamored Erik. "He's awesome. He's what I want to be when I'm 80," he says. "He loves to ski and doesn't give a damn."
But kids are the reason Maverick is surviving. Kristi organizes a skiing curriculum for local schools, and up to 120 kids descend on the mountain every Friday as part of their physical education classes. The ski area is similarly popular with budget-minded families from as far away as Bozeman and Idaho. As a longtime racer, race coach, and instructor, Kristi combines her love of teaching with her love of skiing, and she helps introduce skiing to kids who may never have the opportunity otherwise. Maverick is a feeder hill, developing the next generation of diehards.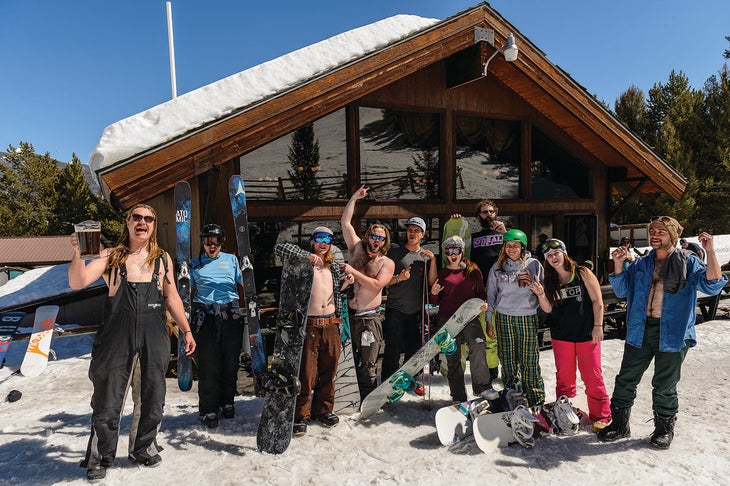 "It really makes you appreciate the sport, after seeing all the wrangling that goes into it," she says. "Growing up skiing Big Sky, it was just something we did all the time. We didn't think about what it takes to make skiing happen." And what it takes is work. Lots of work.
"One day the chairlift, plow truck, groomer tiller, and a snowmobile broke down," Erik says. "That was interesting." They've had plenty of late nights and exhausting days. They've even coined a phrase for when they uncover a rat's nest of problems: "When things start to go sideways," Matt explains, "we say, 'Things are going Maverick.'"
But the community is incredibly supportive. Knowing that Erik is often working all day and grooming all night, and that Kristi is teaching long hours before coming home to chores, some families in the area drop off hot meals for the couple to keep them going. While I'm there, Phyllis, who is Kristi's retired predecessor at the school, delivers a hot dish of alfredo to the bar—much to Erik's delight.
But given the expense, the challenges, and the uncertainty of running a small ski area, the big question is: Why? Why Ride the White Thunder, with all the risks? "I was the poor kid who should've never entered the ski world," explains Matt, who is now a former Olympic ski-cross racer. "I don't know, if I had kids now, whether I could afford it without places like Maverick."
Erik agrees. "When you hear about places like Vail, with $165 lift tickets, this place feels good. Plus, it's just something different. When you fix the broken cat, spend all night grooming, then ski the runs you just groomed—that's pretty cool."
For Kristi, it comes down to lifestyle. "We were more stressed living in Bozeman, selling real estate and teaching big classes," she says. "At Maverick, even with all that we have going on, life's just a lot simpler. And we get to ski whenever we want."