My First Time: Aspen, Colo.
SKI Magazine's content producer pops her Aspen cherry.
Heading out the door? Read this article on the new Outside+ app available now on iOS devices for members! Download the app.
I was a 31-year-old Aspen-virgin. Despite having lived in Crested Butte, Colo.—just 24 miles south of Aspen as the crow flies—for a number of years, I'd never made it to the ski mecca located just on the other side of the Maroon Bells.
At first, it didn't bother me. In my mind Aspen was the go-to destination for the glitterati, not the serious skier. But then I started running into more and more skiers on my wavelength (caring mostly about expansive expert terrain, annual snow totals, and minimal lift lines) who all flocked to Aspen.
I began to wonder—was I missing out?
FOMO (and copious amounts of peer pressure), led me to finally take the plunge this season. I was resolute, yet anxious. What if it didn't live up to the hype? What if it became clear through my awkward bumbling around the mountain that I was a total noob?
As it turns out, I needn't have worried. Unlike that other first time, my Aspen experience wasn't awkward, didn't leave me unsatisfied, and definitely lived up to the hype. Admittedly, my first time didn't last nearly long enough—only 72 hours, to be exact—but it was long enough to get the picture and realize I'd be coming back for more.
72 Hours in Aspen
I don't know about you, but when it comes to doing anything for the first time, I like to pretend to outsiders that I've done it before. So, I usually fake it 'til I make it, which involves getting as much intel as I can before said first time. In preparation for Aspen, I tapped a friend who has been visiting and skiing Aspen for most of her life. Renée was more than happy to dish the dirty details (not that Aspen has many dirty details). She even offered herself up as my Aspen spirit guide, in addition to her grandparents' house built in downtown Aspen in its early days, though Renée warned me with a note of apology in her voice that the house is "nothing fancy." But it was a free place to crash—in Aspen, mind you—so I took her up on the offer. Here's what I learned in the 72 hours that followed.
Lesson #1: "Nothing fancy" in Aspen is still pretty darn nice.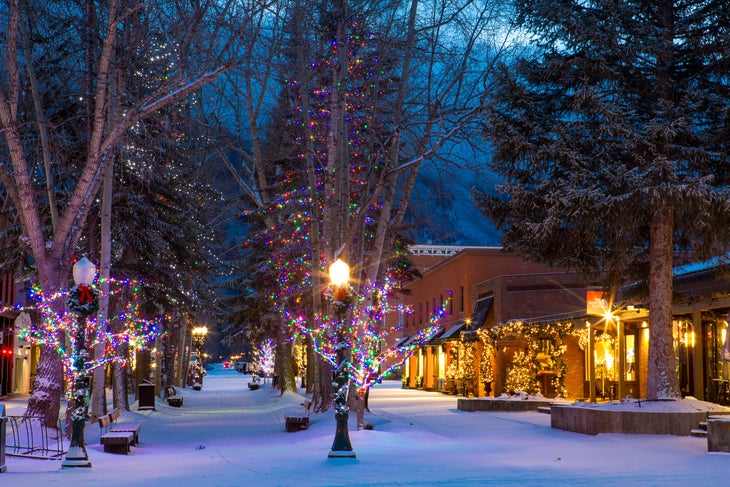 Upon arriving in Aspen I find Renée's charming A-Frame just blocks from the gondola at the base of Aspen Mountain, with a back deck that overhangs the Roaring Fork River. "We fish off that in the summer," Renée's dad tells me.
The interior is made up of one large, cozy room on the ground floor—kitchen, living room, and dining area, arranged yurt-like around the original wood-burning stove in the center, with its long chimney stretching 20 feet up through the apex of the roof. The walls are adorned with pieces of old mining and farming equipment—relics of Aspen's past found and reclaimed by Renée's father when he was just a boy, foraging in the woods with his father after the A-Frame was built in the '60s and became the family's mountain retreat.
I come to find out that this house not only looks like an Aspen ski shrine but actually is a designated historic landmark—an homage to the original Aspen, before the rich and famous started buying up the town and building McMansions to serve as second or third homes occupied once or twice a year.
While it's true that this house doesn't stack up to the multi-million-dollar homes that now dominate the town, Renée's house is a precious reminder of Aspen's quaint and idyllic past—a living memory of the ski-bum haven Aspen used to be. 
Lesson #2: Don't ski and drive.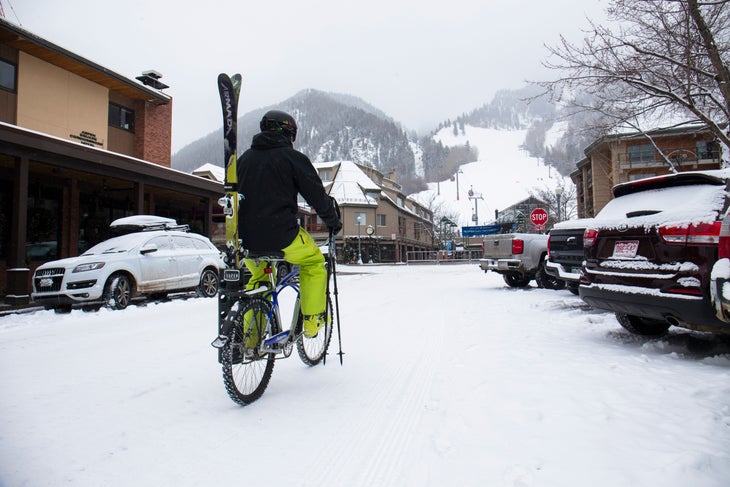 My mission over the weekend is to ski at least two of Aspen's four mountains—Aspen Mountain (a.k.a. Ajax), Buttermilk, Aspen Highlands, and Snowmass. The four are only miles apart, and though not connected by ski slopes or lifts, they are strung together by a highly convenient bus system that shuttles skiers from one mountain to the other every 15-20 minutes, making it very doable to ski at least two of Aspen's resorts in the same day (from a logistical standpoint at least—though each mountain has enough terrain to keep you occupied for an entire day). And when staying in Aspen and heading to Aspen Mountain, you can skip the bus altogether and simply walk to the Silver Queen Gondola in the center of town.
Learn more: 2019 Resorts of the Year – Best in the West
Renée's house comes equipped with three classic townie bikes, each fitted with tubes on the back wheel to carry skis and poles, as well as a milk carton crate on the rear for miscellaneous items. So, on the morning of my very first ski day in Aspen, we hop on the townies and pedal a few short blocks on snowy roads to the "gondi"—in our ski boots.
There, we park our rides in the bike racks conveniently left out even in winter for commuters such as ourselves. We've stashed some après necessities (casual footwear, a beanie, some sunglasses) in the milk crates, and plan to leave them there—in plain sight—while we ski for the day. When I express mild concern about coming back to no footwear at the end of the day, Renée assures me that it's safe to leave things out in Aspen. "Trust me, people here don't need to steal stuff," she says.
And as I watch a woman decked out in tight, shiny silver ski pants, a matching jacket with fur-lined hood, and perfectly coiffed platinum blonde hair walk past us towards the gondola, I agree that my worn-out boots and $10 sunnies are perfectly safe here.
Look the part: Western Ski Town Style
Lesson #3: Bring your own maple syrup.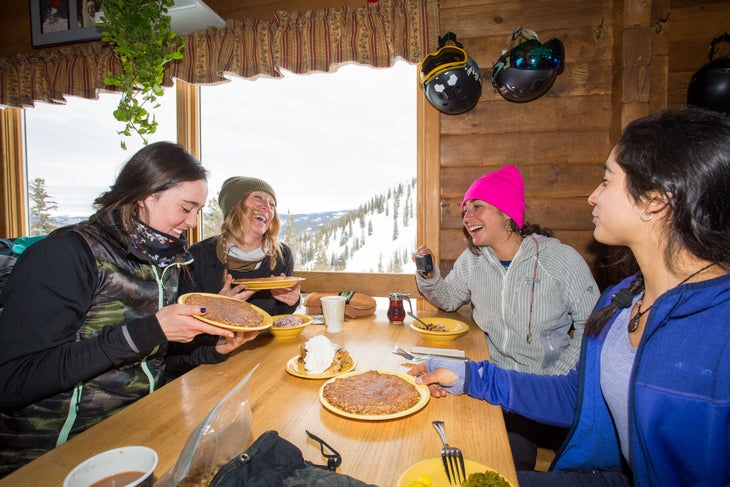 After we load the Silver Queen Gondola to the top of Aspen Mountain, we make a beeline for Bonnie's. Located mid-mountain, Bonnie's Restaurant is an Aspen staple, especially beloved by early-morning uphillers who indulge in Bonnie's famous oatmeal pancakes as a reward for their ski touring efforts.
We didn't tour up to Bonnie's, in fact we haven't even really skied yet, but we still treat ourselves to the giant, plate-sized pancakes hot off the griddle. Before I get to the self-service, cafeteria-style counter, Renée tells me to order my pancake without syrup. But I want syrup, I tell her. Renée responds by asking the kitchen staff behind the counter for the syrup bottle with the green ribbon on it. The employee grabs a giant Kirkland maple syrup bottle from Costco off the shelf behind her. Renée's last name is written in thick black marker on the bottle.
"This is a stash-and-go kind of place. A lot of people just leave their own syrup up here," Renée tells me. And apparently, this is completely sanctioned.
As I discover, that's just one of the reasons to eat at Bonnie's. The oatmeal pancakes turn out to be all they're cracked up to be, and the cozy, rustic interior of this Austrian-inspired restaurant is one of the few on-mountain restaurants I've encountered in the U.S. that has the ambiance and "Gemütlichkeit" of the mountain huts of Austria.
Lesson #3: Ski Aspen's Dumps.
Though Aspen has been getting hammered by storms all winter, I hit Aspen on a dry weekend. Despite this, we find some soft stashes under the gondola in Bell Meadow, gladed, double-black-diamond terrain that's short but sweet. From there we head over to the F.I.S. lift and ski the expert runs stacked off of International.
The snow is surprisingly good considering the last storm hit a week ago, the moguls that dominate the runs still soft and sugary. We lap Zaugg's Dump and Perry's Prowl—runs developed atop Aspen's mining dumps of yore, when silver mining was Aspen's lifeblood and waste rock from mines like the Silver Queen, Bonnybel, and Little Percy was deposited on this hillside.
At the bottom of each circuit my quads confirm that the pitch of the dumps is steep and sustained. The snow's good, the terrain is fun, and yet, we're the only ones skiing these glades—on a Saturday. Where is everyone, I wonder.
"That's the beauty of Ajax," Renée says. "Most advanced skiers head straight for Highlands, so the more challenging runs on Ajax don't get skied out as quickly."
Lesson #4: If you find Marilyn, blow her a kiss.
We spend the day ducking in and out of the trees on Aspen Mountain, zig-zagging and connecting ski lines like a local thanks to Renée's shepherding. On a traverse from one run to the next, I spot something that doesn't belong on a tree ahead. As I ski by, I realize the tree's trunk is plastered with pin-ups of Marilyn Monroe.
"Quick, blow her a kiss," Renée shouts. She's right on my heels, and we need speed to get across the traverse without pushing, so I do as I'm told—blow Marilyn a quick kiss over my shoulder—and continue on through the trees.
Later Renée explains that Aspen is home to over 100 shrines—quirky tributes to original Aspen locals, long-lost stars such as Marilyn, Jerry Garcia, and Elvis Presley, and whatever other deity Aspen locals worship (sports teams not excluded). Unbeknownst to most visitors who never venture off-trail, these shrines are hidden all over Aspen's mountains. Those who do stumble upon them may even be so lucky as to find the deceased's spirits (of the alcoholic variety).
Lesson #5: Highland Bowl is always worth the hike.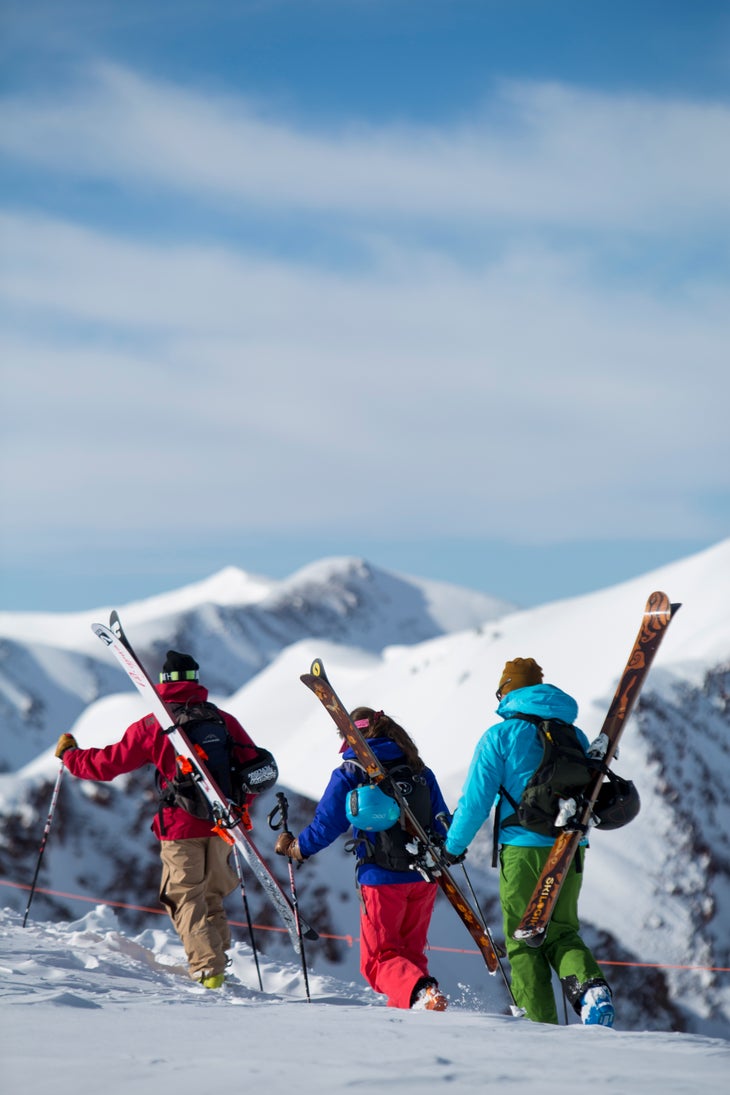 Full disclosure: Aspen Highlands is the reason I finally decided to check out Aspen. I'd heard enough about Highland Bowl and the sustained vert off Deep Temerity lift to know that of Aspen's four mountains, Highlands would be my jam.
And so it was. I loved everything about Highlands—from loading an empty Exhibition lift at 10 a.m. on a Sunday morning to the long, challenging bump runs under Deep Temerity that demand your best skiing—both because that's the only way to survive the runs, and because you always have an audience on the chair above.
And then, of course, there's the fabled Highland Bowl—an accessible, 30-minute hike from the top of Deep Temerity and Loge Peak via the Highland Peak ridge. 
It's a bluebird day—a perfect day to take in the grand views of Pyramid Peak and the Maroon Bells from the summit—but we can tell by the way the snow is blowing off the top that it's gusty up there. Still, we decide that though the snow in the Bowl might be wind-scoured, the views alone are worth the trek, so we begin our hike along the boot-packed ridge, skis on our shoulders or attached to a pack.
Terrain at a glance: Aspen Highlands
We have to battle our way up to the summit, the wind whipping significantly more ferociously at 12,000-plus feet. But as if on cue, when we reach the ski patrol stand strung with Tibetan prayer flags at the peak, the wind quiets. We take a few moments to sit in the two-man ski lift chair stationed at the top and bask in the spectacular 360-degree view. Then, as if anxious to see me ski the Bowl for the first time, the wind picks up again, and we take the hint.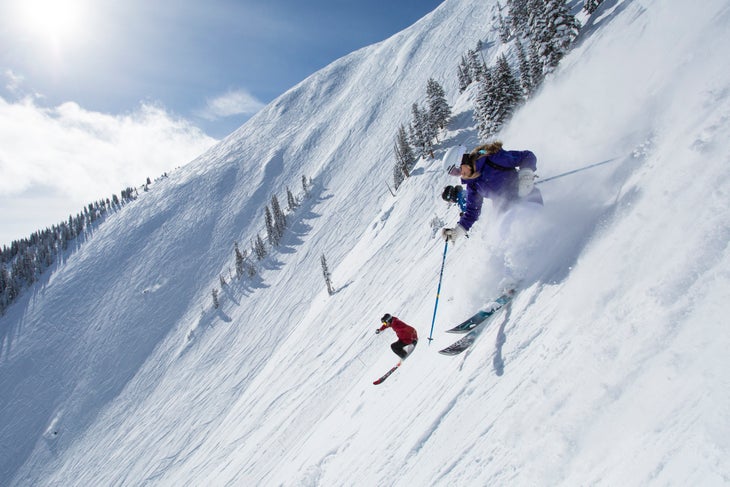 We fully expect all the lines in the Bowl to be pretty crusty, but decide that Ozone, the central line of the Bowl with a northeast aspect to be our best bet for some chalky, wind-blown sugar. A few seriously scrappy turns over the top cornice, and suddenly I'm skiing silky, smooth hero-snow, blown from the opposite ridge and deposited right into this corridor. I open it up from shorter radius turns to wide, arcing super-G turns, taking advantage of the width of the chalky corridor and sending it more than 1,000 vertical feet down into the runout.
When I reach the bottom, I stop and look back up. I realize that the line I just skied wasn't the most technical, it wasn't thigh-deep powder, and yet, I decide that Highland Bowl on a "bad" day is still more fun than most other resort terrain on a good day.
Lesson #6: Find a safe spectating spot at Cloud Nine.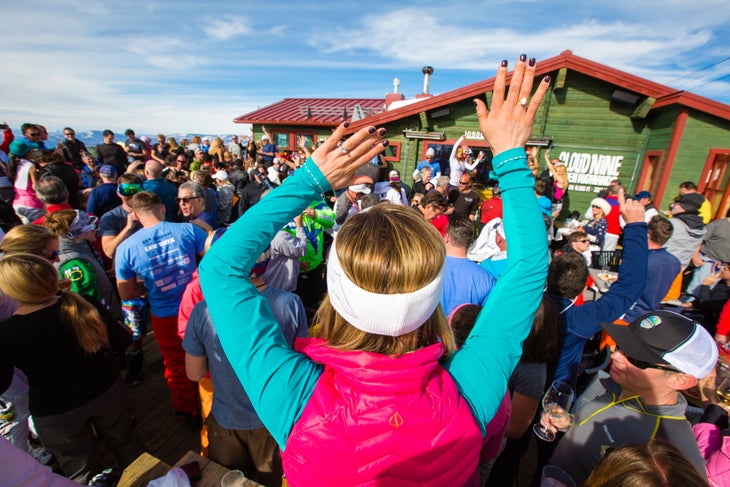 After our Highland Bowl lap, we head to Cloud Nine to kill two birds with one stone: celebrate the end of a great first day at Aspen Highlands, and check another Aspen-to-do off my list—spectating the legendary après-insanity of Cloud Nine.
At 3 P.M. electronic remixes of throwback hip-hop tunes are bumping from the speakers on Cloud Nine's strategically located terrace. Every table on the deck is occupied, with groups of men and women stripped down to stylish base layers from the waist up, sporting sunglasses with reflective lenses and a champagne glass in hand, dancing near or on the table benches.
We head toward the cabin door to check out the inside of Cloud Nine, but when we approach, a bouncer stationed outside the door tells us we don't really want to go in there. When we turn around and find a spot at a table up against the cabin, we see why: shimmying derrierès line the inside of the cabin's windows. It's packed to the rafters with people dancing on benches in there, as well.
Suddenly a loud pop draws our gaze back to the patio, and we watch as a crew two tables from us showers each other with $125 bottles of Veuve Clicquot. Needless to say, the full Cloud Nine experience is beyond my pay grade, but that doesn't stop me from enjoying this scene straight out "Real Housewives" meets "Jersey Shore."
Lesson #7: Aspen is what you make it.
At the end of the weekend I decide there are two Aspens. The glitzy, posh place you hear about and read about in People Magazine's celebrities-spotted pages, and the Aspen that's home to truly rad skiing and the sort of people who live there solely because of that.
What's unique is that Aspen's two personalities have seemingly learned to coexist harmoniously, making it possible for the rich, as well as the die-hard skier, to find their Eden here. I can't speak to whether Aspen today is better or worse than when it first started attracting skiers and tourists in the days of Walter Paepcke, nor can I comment on whether Aspen will continue to be friendly to its camp of seasonal employees, year-round residents, and ski bums in the years to come.
But what I can say is that this die-hard found Aspen's skiing and terrain to be exactly her speed, and whenever there's a townie-bike to borrow and snow in the forecast, I'll be back for more.