My Whistler
How can a place so sprawling and immense also be so intensely spiritual? Call it the Whistler dichotomy. Or, like one writer, call it home and you'll understand.
Heading out the door? Read this article on the new Outside+ app available now on iOS devices for members! Download the app.
The summit of Whistler Mountain is a windswept, snow-hammered place. Known as the Peak, its treeless heights are reached by a fast quad lift that vaults sharply up a sheer face before shooting skiers and boarders onto the mountain's crest. From here, a skier's goat path leads to West Cirque.
To the uninitiated, the path (such as it is) looks like a route no one on skis should take—especially not a kid who grew up in Los Angeles. But I like it here in these high narrows, wending among the big mountain's crags. By now—more years into my Whistler adventure than I could have imagined possible—angling over the path's rocky knobs and gliding past its precipitous drops and then hoofing it uphill to the mountain's very crest is like spending time with a good friend. 

Once here, the top priority is to assess. West Cirque is a triple-barreled, rock-scattered, concave affair that drops off the summit, sustains its steepness, and then just goes and goes, fanning open but not leveling off. Its uppermost entrance is essentially impassable much of the year, with irregular, wind-chewed cornices protruding over stony outcroppings that have bite. In times like that, keeners work their way in a bit lower, from the side.
My husband, Sandy, a rugged Canadian whose Peak habit predates mine by some 15 years, looks away when I do this, and I can understand. Watching anyone slither on one ski edge through a bony gauntlet onto a 50-degree face is nerve-racking. I can't stomach watching him do it either, which is why I usually bust a move (as I do right now) and just go first.
Out on the pitch, the trick is to make that first turn, then let gravity and flow take over while I aim for the fluffiest lines of snow and stay on top of the game. Rocketing turns alternate with being airborne, and snow cascades downhill as I fly. At the foot of West Cirque we regroup, flushed and beaming, then weave our way into the mystical quiet and untracked snow of the boreal woods. When we pop out onto the groomed, we bomb like racers to Red Chair to beeline back to the Peak.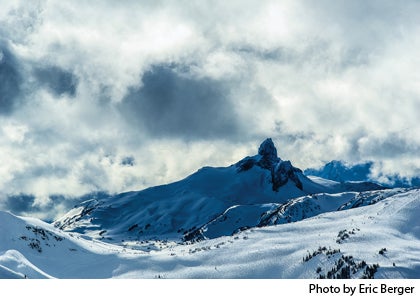 In just two hours (not an uncommon window for those who work for their living in a ski town), we can rack up over 10,000 vertical feet of true big-mountain skiing without touching the same line twice. This, is for sure, is my happy place.
When people ask me, "why Whistler"—why did I leave California, a lifetime of family and friends, adulthood's traditional trajectory, and the safety of the familiar to spend my days in this once obscure Canadian mountain town turned booming cosmopolitan resort?—the best explanation I can offer is this slice of my life on the Peak.
Here, high above treeline on a little plateau at 7,160 feet, everything that's fixed to the ground is cloaked with thick riffles of rime—patrol hut, map board, cell-phone tower, giant basalt inuksuk (a type of statue that originated with Canada's indigenous Arctic people and was a signature of the 2010 Olympic Winter Games). Skiers and boarders linger in bunches, speaking tongues from around the globe as they snap selfies, plan routes, and gaze at the majestic views.  The inuksuk towers over all with its stony, snow-fringed arms spread permanently wide. Beyond it span glaciers, uminous and rippled, and alpine lakes so vivid they look like something from dream, and a vastness of white, craggy heights descending into lush, snow-dressed forests. A colossal rock spire called Black Tusk rises in the southeast, seemingly just beyond arm's length, licked by puffs of clouds. From this spot alone, we can reach five inbounds basins, a cornucopia of steep ridges and gentler shoulders, and the expansive backcountry, and ski all the way down to Creekside or Whistler Village without loading another lift.
Of course, Whistler Blackcomb (North America's largest mountain resort) dishes out all sorts of other skiing besides the Peak. About the size of Jackson, Squaw, and Aspen Highlands combined, its 8,171 acres on two seamlessly connected mountains include 16 spacious alpine bowls; hundreds of groomers; entire realms for kids, intermediates, and terrain-parkers; couloirs and steeps by the bushel; aspects facing every degree of the compass; and a whole hidden world of trees—all of it graced with 38-plus feet of snow annually. In other words, what brought me to Whistler—and what keeps Sandy and me here today—is the skiing.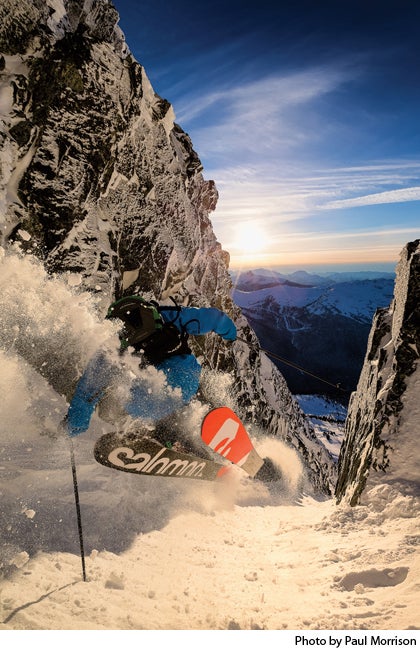 These days—nearly 50 years after Whistler Mountain opened for skiing and 40 years after the town of some 1,000 pioneering ski hippies was incorporated—many think of Whistler as something other than a soulful skier's place.  They see it as Vancouver's weekend playground (which it has been throughout its modern history) or as a party scene for those who like DJs and late-night clubs or as one of the very few mountain resorts actually delivering the goods for spa-goers, tentative skiers with little kids, professional triathletes, amateur beer drinkers, gourmands, bobsleighers, ritzy-hotel fans, wilderness adventurers, yogic meditators, and hedonists alike. It will soon offer robust cultural opportunities, with the new 56,000-square-foot Audain Art Museum just steps from the excellent Squamish Lil'Wat Cultural Centre, a steel-and-glass showcase of the region's native people that opened in 2008.
The Whistler of today is like a little mountain city that ebbs and flows from 10,000 people at its low to nearly 60,000 at its peak. Its year-round residents are mainly hardworking wage earners and small-business owners, many with young families. Households, like my own, in which one member of the family hails from outside Canada are common. And more than a quarter of Whistler's two-plus-million annual overnight visitors come from overseas—Australia, China, Germany, Japan, Mexico, the UK, and elsewhere.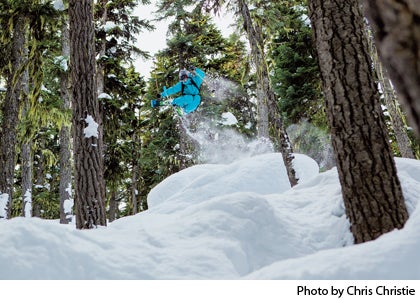 Eric Griffith, 35, grew up in Whistler and has watched the place evolve. His parents, ski bums who met in the 1970s while working at a ski resort in Australia, opened an art gallery in 1980 in one of Whistler Village's very first buildings. (Greg Griffith, Eric's father, is a photographer whose work appeared throughout the '80s and '90s in the pages of this magazine). As a tyke, Eric rode his tricycle around a then-slow-paced Village Stroll while his parents worked, and he slept under the table when his parents and their friends went out for dinner. By age six he was skiing the mountains' steepest lines while his mother led the way. Over the years, Mountain Moments Gallery kept the couple's ski dream going while both Whistler and Eric grew up.
In late 2010, a few months before his parents retired and closed Mountain Moments, Eric and partners opened a modernist French restaurant called Alta Bistro on the site once occupied by Eric's elementary school. With just 30 or so seats, a location off the Village Stroll, and a kitchen about as big as a gondola cabin, its odds were tough. But Eric, by then a sommelier, had learned about quality and hard work from the restaurateurs of his parents' generation—those who created what he calls "such a dense culinary place" in this ski bum's haven in the B.C. woods. Today Alta Bistro draws aficionados of avant-garde cuisine from London, New York, Sydney, San Francisco, and Whistler itself. A typical winter afternoon finds Eric (still in his ski boots) stocking wine and Chef Nick Cassettari (still in his snowboard boots) planning the next month's menu while the prep staff—one member wielding a paint gun loaded with chocolate—readies for another busy night.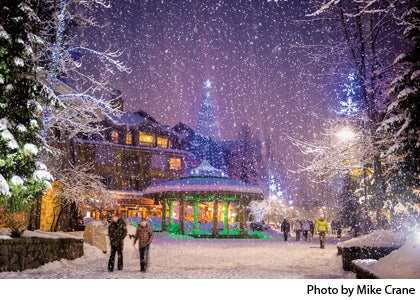 "Whistler has a high standard for everything," Eric says. "I think it starts with the athleticism, that initial passion for skiing."
Eric's father would probably agree. After Japanese native Mikito Homma and partners opened Sushi Village in 1985, Greg Griffith asked him why they had chosen Whistler. Homma replied that he wanted to ski every day, and that he and his partners hoped the restaurant would be a way to survive in the process. After all, in those days Whistler did not have many places to eat. Homma is now 65 and edging into retirement while his wife Naoko runs the business (while he goes skiing), and he remembers Greg Griffith's reply: "You came here to ski! Then you will succeed." Homma opens his eyes wide and laughs as he tells this story, looking far younger than his years. Today, in spite of competition from seven other sushi spots and more than 80 other eateries, Sushi Village remains the busiest restaurant in town, sometimes serving 650 customers per day. 
I, of course, was not a pioneering Whistlerite, although in January of 1998 I too came here to ski. I was anything but an especially great skier. Instead, I was very keen. Also—and this is not a small thing—I had a knot in my stomach that told me the life I had been living was not the one for me. I pulled the plug on a career, on a serious relationship with a successful and ambitious man, and on a future in affluent suburbia to heed that knot and follow a dream.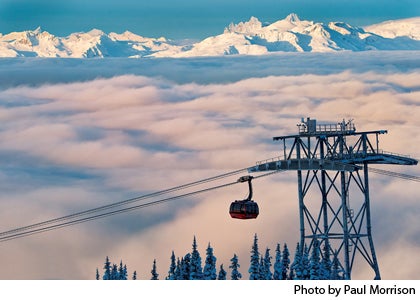 Slowly I learned Whistler's and Blackcomb's secrets: Huge swaths of the best terrain fall away out of sight of any lift. What is happening weather-wise in the village is irrelevant to what is happening up top. Many powder-crazed locals spend every possible moment skiing the trees. Top-to-bottom nonstop carving runs are always a blast. If conditions aren't good where you are, switch elevation or aspect. Or load the incredible Peak 2 Peak Gondola (which opened in 2008) and switch mountains—Blackcomb's Seventh Heaven may be sunny with six inches of light fluff on creamy corduroy while Whistler's Peak is wind-hammered and shrouded in fog. And the best secret of all: Learning to navigate everything Whistler Blackcomb has to offer in its famously mercurial weather transforms a person—even one who is not naturally gifted—into the most capable of skiers, the kind who can finesse any terrain, anywhere, anytime. (Well, almost. I'm still working on my fl ow through the trees.)
I don't remember exactly where in this whole arc I started catching myself staring at the Peak as if it were my life's greatest love. Or when, for that matter, I realized I felt the same way about the fun-loving, unpretentious, hardworking Whistler local I had met over dinner in Black's Pub when the wait to get into Sushi Village was particularly long. This much is certain:  at old knot in my stomach—the one triggered not by skiing steeps but by the prospect of a life that wasn't right for me—was soon history.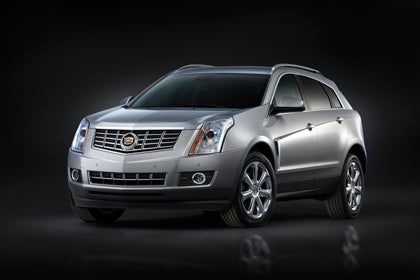 When you visit, Sandy may be out in the backcountry ski touring, but you'll know for certain where to find me. I'll be skating off the Peak chair, cutting a sharp left to wrap around the cell tower, dropping down a steep sluiceway into Whistler Bowl, weaving through its people and moguls, wriggling up onto North Ridge, slipping into a wind-buffed chute under the liftline, flashing through the fluff in lower Glacier Bowl, popping onto the groomed for some super-G turns, and then making my way back to the good old Peak Express. 
Total elapsed time: seven minutes. Fun factor: extremely high. Without a doubt, this is my happy place.