Here's What to Think About When Deciding Between a Trip to Vail or Aspen
Planning a ski trip out West is a huge undertaking. We can help you decide which of these Colorado megaresorts is right for you.
Heading out the door? Read this article on the new Outside+ app available now on iOS devices for members! Download the app.
PHOTO: Matt Power
This column is part of a new trip-planning series aimed to help ski travelers choose the vacation destination that's right for them. Want us to compare two resorts for you? Send your requests to editor@skimag.com.
Colorado's two superstar resorts collectively lure millions of skiers to their slopes each season, but the two couldn't be more different when it comes to the vacation experience you'll have at each. Here, we break down some of the key differences to help you make the decision on which one is best for you.
Vail vs. Aspen Snowmass
Hugely varied terrain and runs for all levels of skiers are two things that Vail and Aspen Snowmass have in common. The main difference is in the layout of the resorts. Vail Mountain's slopes are all interconnected across its over 5,000 skiable acres. Aspen Snowmass comprises four separate resorts, which means you'll have to drive or shuttle between them.
The Skiing at Vail
Vail Mountain, the flagship resort of the entire Vail Resorts operation, is massive: 5,280 skiable acres that spans across five miles. Accessed from three main villages—Vail Village, Lionshead, Golden Peak—the slopes are varied and served by an incredibly fast and efficient lift system. From the gentle beginner terrain off Golden Peak to the legendary Back Bowls, the cliched "something for everyone" really does apply here.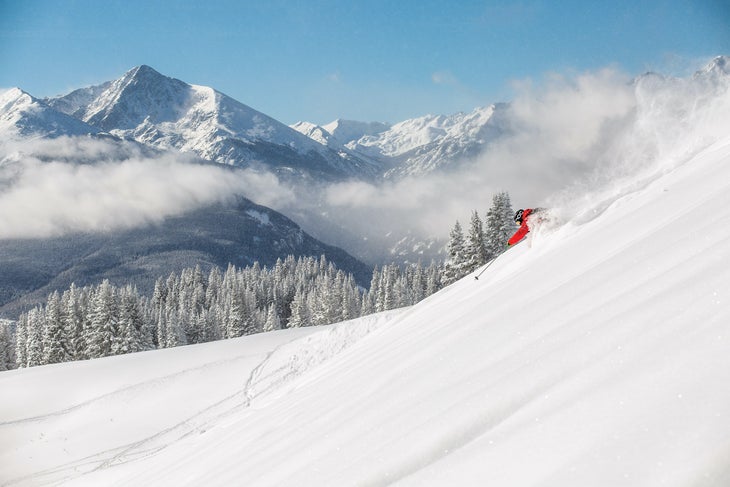 While true beginners would be well-served to start their ski careers at smaller, community-based mountains that are easier to navigate (and less expensive), just under 20 percent is Vail's terrain is green. Once your ski legs are under you and you can safely ride a lift, some of the best scenic and winding green runs can be found on Eagle's Nest Ridge and off the Avanti or Wildwood chairs.
For intermediates, Vail is a great mountain to test yourself and level up. From the Lionshead base village, make your way to Born Free and Simba, off of the Eagle Bahn Gondola. Another blue-run favorite is Game Creek Bowl; Showboat and The Woods are a blast. The Northwoods Express, while mostly serving expert terrain, is also home to the wide-open groomer Northwoods, which offers the chance to get speed on a reasonable pitch with plenty of room to spread out.
Trip Planner: Destination Guide—Where to Sleep, Eat, Drink, and Play in Vail
Strong intermediates looking for a challenge shouldn't shy away from the Back Bowls; there are a handful of groomed runs designed to let skiers of varying skill levels get a taste of the backcountry-like surrounds. While the bowls themselves are rated black technically, China Bowl and Sun Up Bowl are totally doable for confident intermediates who can handle variable snow—or powder!
Experts and beyond can really go anywhere at Vail, from the steeper frontside terrain—including Prima and Riva Ridge off Northwoods and double-black Highline off of the Highline chair—to the bowls. On the backside, while the majority of the terrain is rated black, there's little super-difficult stuff back there. One of our favorites for experts is the sustained vertical of China Bowl's Ghengis Khan. Sun Down Bowl is a lock for experts, especially Morningside Ridge and Ricky's Ridge.
The famed Blue Sky Basin is a must for adventurous intermediate and experts for the views and the backcountry feel alone. Intermediates can stick to the mellower pitches of Pete's Bowl while those looking for a challenge along with great views will find them both off of the Skyline Express on Steep and Deep and Lover's Leap.
The Skiing at Aspen Snowmass
Aspen Snowmass's four separate resorts each serve up entirely different ski experiences. Depending on what you're after during your vacation, this is either a great thing or an inconvenience. We'll run through the pros and cons below.
The four resorts are Aspen Mountain (known locally as Ajax) which rises from the town of Aspen itself; Snowmass, the sprawling, 3,000-acre mountain 10 miles outside of Aspen; the beginner's hill Buttermilk; and Aspen Highlands, best for experts and known for its double-black Highland Bowl.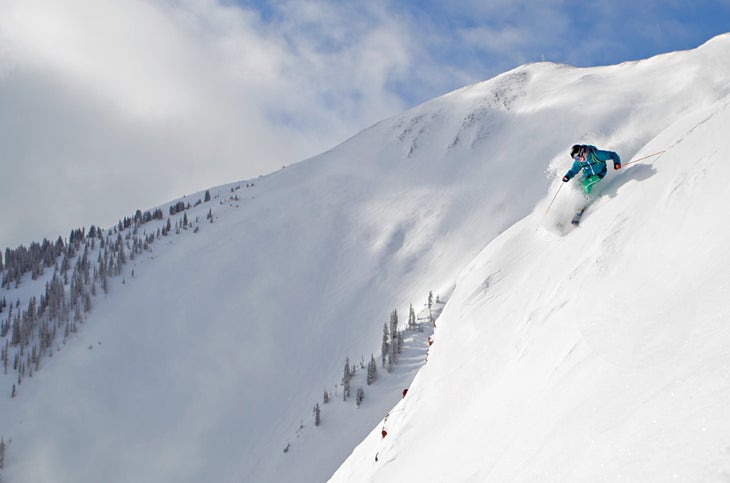 Ajax is small (less than 700 skiable acres) and steep. It's a ski-anything-you-can-see type of place that's really geared toward adventurous experts looking for glades and steep pitches not readily visible from the lifts. There's no beginner terrain here.
Snowmass is the "resort" mountain, or the place most skiers would consider the mainstream ski destination of the four resorts. With 3,339 acres, skiers of all abilities will find what they need at Snowmass. Despite the fact that Buttermilk is considered the beginner mountain, Snowmass has enough green terrain, plus excellent ski schools for both kids and adults—including never-evers—but's big and can be overwhelming to navigate. Snowmass's sweet spot is intermediates, from the scenic groomers off of the Elk Camp chair like the five-mile Long Shot, to the Alpine Spring chair's Slider and Naked Lady runs. Experts should be sure not to miss the bumps of Sam's Knob and the trees off the Big Burn chair—we love Sneaky's Glades.
Trip Planner: Destination Guide—Where to Sleep, Eat, Drink, and Play in Aspen
Most Aspen Snowmass visitors skip Buttermilk—it's 35 percent green terrain—but this is a stellar spot for first-timers to learn to ski in a smaller, less-intimidating environment. Aside from that, this is home to the Winter X Games, so the terrain parks alone are worth checking out if that's your jam. The five-mile Uncle Chuck's trail wends down from the summit with different park pods along the way—it's a blast for jibbers and kids who like to dabble on the different-sized rails, boxes, berms, kickers, and jumps.
Aspen Highlands is an absolute must for experts. Not just because of the legendary Highland Bowl—which you don't have to hike, but really should—but rather because this sleeper has some of the steepest big-mountain skiing in Colorado. Highlands is why skilled skiers choose an Aspen Snowmass vacation, and they aren't disappointed. Off of the Deep Temerity lift, Steeplechase (bumps) and Canopy Cruiser (glades) are some of the toughest runs on the mountain.
Highland Bowl is the cherry on top of the whole experience. It's a 250-acre open bowl, and to reach the summit, it's an 800-vertical-foot hike. It's all in-bounds and patrolled so no avy gear needed, but it truly provides a backcountry-like experience without the risk.
Bottom Line: Both resorts serve up well-rounded ski experiences for all levels, but adventurous intermediates will find bottomless opportunities for challenges and opportunities to level up at Vail, while Aspen Snowmass's strengths lend themselves more to experts at Ajax and Aspen Highlands.
Lodging + Dining
You won't go homeless or hungry at either Vail or Aspen Snowmass, but there are some key differences, especially when it comes to ski-in/ski-out lodging (very little at Vail or in the town of Aspen, plenty at Snowmass) and the overall character of the towns.
Even saying "town" is a bit of misnomer; Aspen is the only true town—a former mining town built up silver miners in the late 1800s. The rich history is infused into the original storefronts and hotel facades. Lodging options like the Hotel Jerome, built in 1880s, offer a mix of luxury and character throughout the 93-room property.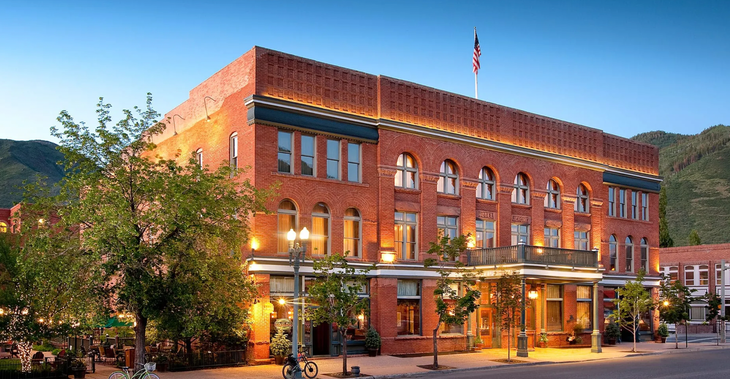 The lodging options at Snowmass are more traditional, with sprawling resort hotels such as the Viceroy and the Westin Snowmass offering up all the modern conveniences, but less character. Snowmass has built up its base village quite a bit over the last handful of years, so there are now more amenities than ever. The resort also has the only true ski-in/ski-out lodging options of the four resorts, including oodles of on-mountain condos, if that's something that's important to you. There's one hotel at the base of Buttermilk, and the only option at the base of Aspen Highlands is a Ritz Carlton.
Also Read: Lose a Ski Trip to the Pandemic? These Hotels Will Take Your Points
Vail came up in the 1960s, modeled after the Bavarian villages of the Alps. It's one of the first "purpose-built" ski villages that have subsequently popped up across ski country over the years, and what it lacks in authenticity, it makes up for in the breadth of amenities and options available. Resort hotels such as the Four Season Vail and The Arrabelle at Vail Square, boutique hotels like the Sonnenalp, and budget options such as the Evergreen Lodge are all accounted for, plus many more. There's very little ski-in/ski-out lodging here, but there are plenty of hotels that are within a few minute's walk to the lifts.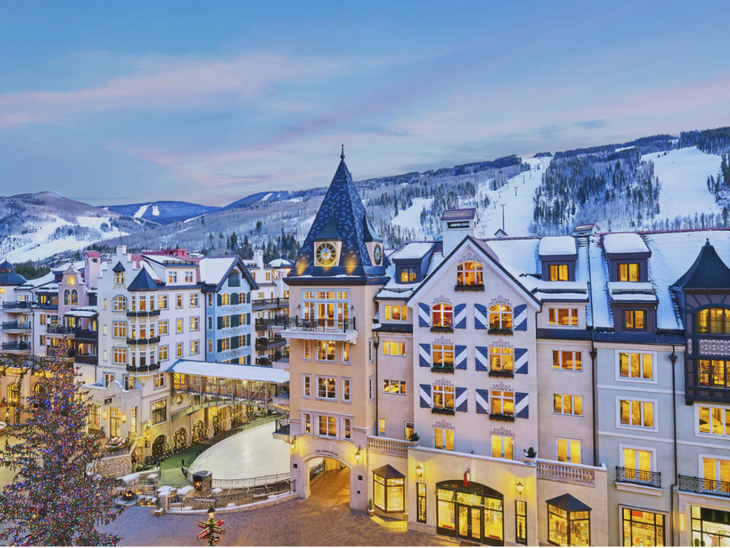 As far as where to stay at Vail, village-wise, Vail Village is the main village, home to most of the restaurants, nightlife, shopping, and hustle and bustle. Lionshead is a 15-minute walk or quick shuttle from Vail Village, and is a little quieter and more quaint, but still has enough amenities to keep travelers well-fed and satisfied. Golden Peak, the third main village, is pretty sleepy but offers great access to ski school.
Bottom Line: Snowmass and Vail offer the traditional "ski resort" experience when it comes to off-slope amenities, but the town of Aspen has way more character and charm than either.
Getting There
Both Aspen and Vail can be reached from Denver International Airport in about a 3.5- and 2-hour drive, respectively. Each resort also has a smaller, closer airport where flights might be more expensive, but you can cut down the drive considerably.
Vail Eagle County Airport is 35 miles from Vail and offers a surprisingly robust winter service for such a small airport. Over a dozen U.S. cities are served by nonstop flights—Philadelphia, New York City, Chicago, and L.A.—to name a few big ones. Prices tend to be higher than at DIA, but you could recoup the saving in ground transportation costs.
On That Topic: Flying to Vail—Should I Rent a Car or Shuttle From Denver
Aspen's closest airport is Aspen/Pitkin County Airport, three miles from the town of Aspen and six miles from Snowmass. The small airport is served by two airlines—United and American—that offer nonstop service from 10 U.S. cities in the winter, including San Francisco, Atlanta, and new last winter, Phoenix. There is a free shuttle service that can get you into the town of Aspen or to the base of any of the ski areas from the airport.
Bottom Line: The difference in getting to Vail or Aspen is pretty negligible. Aspen is a longer drive from DIA, but with good nonstop winter flights from closer airports, travelers should seriously consider flying into one of those and shuttling from there. You don't really need a car at either resort considering the shuttles that serve the airports and run between the resorts and the various base villages all winter long.
Final Word
There are entire travel guidebooks dedicated to parsing out the details of all that these resorts have to offer, so it's hard to even scratch the surface in the space we have here. But at the end of the day, two resorts' differences do lead to very distinct experiences at each one. You'll find skiers who swear by one and visit every season, and some who like to bounce around because they like the variety.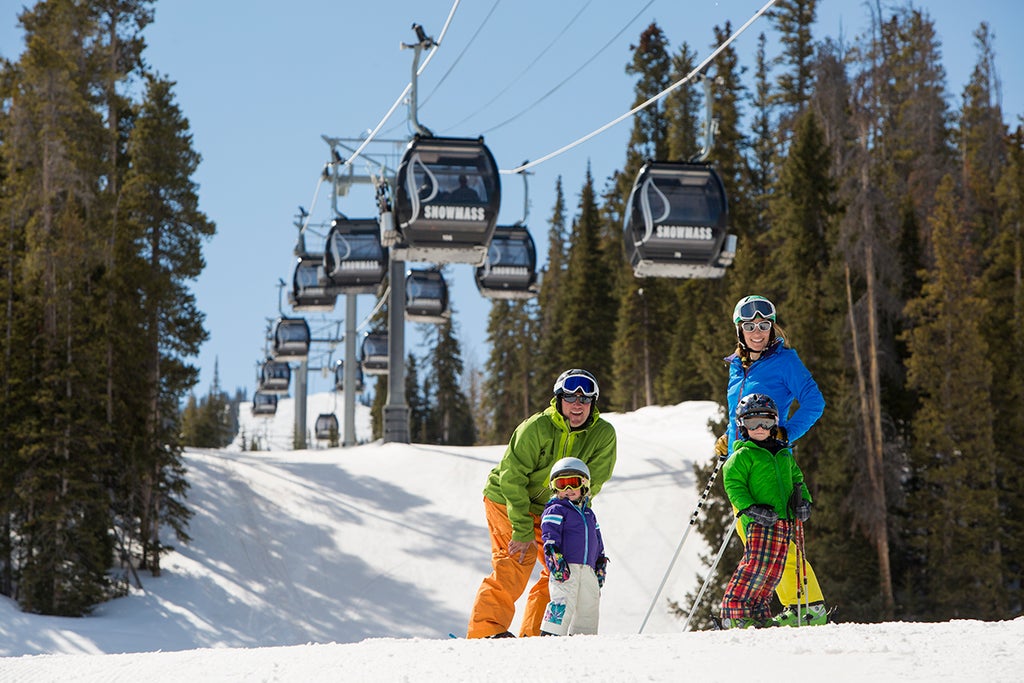 In our opinion, Vail offers the easier ski vacation experience simply due to everything being in one place. There's certainly enough varied terrain to keep skiers of all levels engaged, and enough off the slopes to satisfy every taste, both in dining and lodging.
Aspen Snowmass, however, edges out Vail when it comes to true expert terrain, and the town of Aspen, with its deep history and Colorado character, simply has few equals. If you're okay having to shuttle between mountains, a vacation here will check all the boxes from skiing to lodging to nightlife and beyond.