Outside The Box
How one single, Michigan chairlift became an empire
Heading out the door? Read this article on the new Outside+ app available now on iOS devices for members! Download the app.
Originally published May/June 2002 issue of SKI Magazine 
In 1948 Pappy Rogers, the general manager of Sun Valley, Idaho, sold the world's first chairlift to a young man from Detroit. Pappy wanted $5,000 for the already obsolete, wood-tower chairlift. Everett Kircher talked him down to $4,800 and then set to work.
He and Victor Gotschalk took the lift apart bolt by bolt, loaded it onto a truck and then put it on a train bound for Michigan. There, Everett and Victor put the chairlift back up on a hill that Everett had bought from a farmer for $1 because the hill was too steep to grow potatoes on.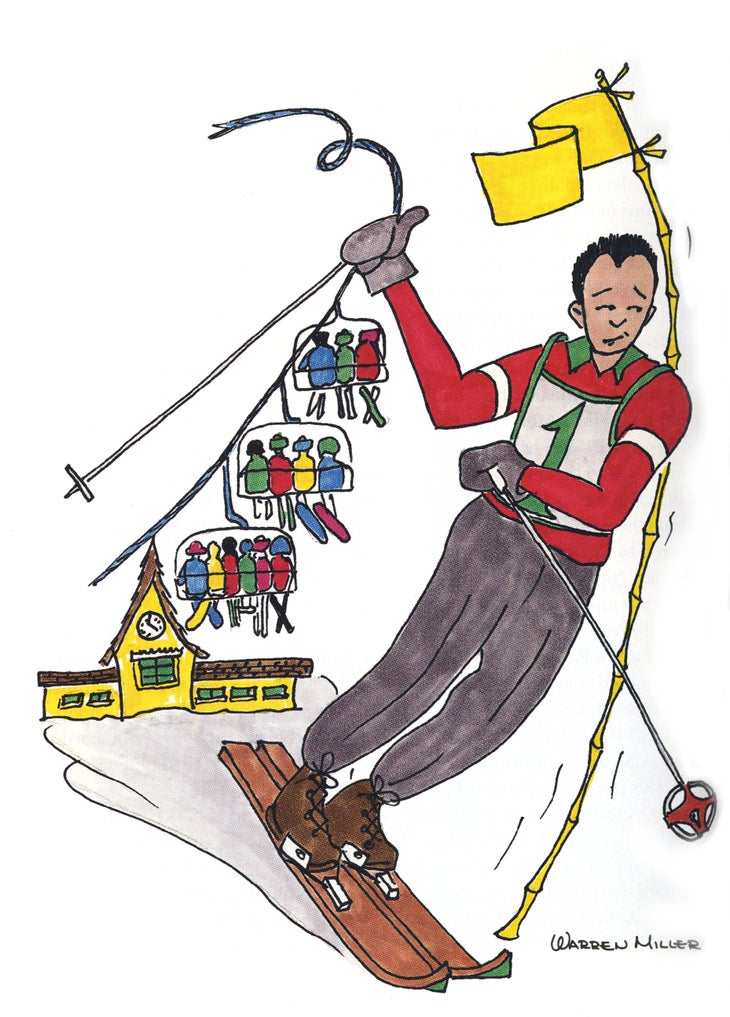 At the time, Boyne Mountain was only 402 feet high, but since then the mountain has magically grown to more than 500 feet. That's because there is a sign painter in nearby Petoskey who earns a season pass every year by repainting the altitude sign. Every couple of years he adds a few feet to the height of the mountain.
Everett was a man who always thought outside the box. As a result, that old single chairlift spawned an empire that now owns and operates Boyne Mountain and Boyne Highlands in Michigan; Big Sky, Mont.; Brighton, Utah; Crystal Mountain, Wash.; Cypress Bowl, B.C., Gatlinburg, Tenn.; plus golf courses stretching from Florida to Michigan.
In the process of building this empire, Everett engineered and built the world's first triple and quad chairlifts and installed the first six-passenger chairlift. I always told Everett, "The reason you invent those things is so that more people can be hanging up in the air at the same time from a slow-moving cable and fewer people will be wearing out your expensive, manmade snow."
But no machine has ever been invented that can work as well as the parts of your body. We all know that at any age, much less age 85, a kidney dialysis machine is a very poor substitute for your actual kidneys.
We lost Everett in January. And when I say, "We," I mean the skiing world lost Everett. He finally gave up after a stroke, heart surgery and four years on that kidney dialysis machine. However, he didn't give in without a fight. Just last November, he shot a good-sized deer with a bow and arrow.
Everett was one tough guy. He was a world-class fisherman, having once caught a 55-pound salmon on a lightweight fly rod. He hunted all over the world and also piloted his own jet airplane. He is also the guy who, almost 50 years ago, messed up my life when he first invited me to Boyne Mountain to film Stein Eriksen skiing under that obsolete chairlift. It was Everett's hospitality, a state-of-the-art ski resort and free lift tickets that allowed me to feature Boyne Mountain in my ski movies for many years. He helped make my films better because his resorts always had some new invention that I could film and share with my audiences.
Everett finally gave up the fight and was taken away from us to handle a much more important job. No one knows what it is yet, but we will. Meanwhile, his legacy lives on not only in his wife, his four kids and his five grandchildren, but in the several million people who learned to ski at the many resorts that his family still operates.
The guy who always covered his hills with powder snow for my cameras, while inventing and building things before anyone else in the ski industry, is probably already inventing and building things somewhere else with a small group of movers and shakers. Everett will get them all organized and pick which lifts to ride, which slopes to carve up, where to eat lunch and what to order. He will also decide which slopes to cover with a blanket of new powder snow that will be shot out of an even better snow gun that he will have recently invented.
Everett, you have run off to ski in untracked powder snow somewhere, leaving the rest of us behind to solve the latest income tax problems, Afghanistan, Enron and many other suddenly unimportant issues. We already miss you a lot and we always will.