Park, Ride, Repeat
Maybe it's those nice girls from the bar knocking on your door in the parking lot at 2 a.m. Maybe it's the cops. Do you answer? An RV ski safari is all about choices.
Heading out the door? Read this article on the new Outside+ app available now on iOS devices for members! Download the app.
I remember thinking,somewhere on the road from Kicking Horse to Lake Louise,that between the jerky farts, the sweaty boot liners, the unwashed baselayers, and the perfume of the prior night's alcohol seeping through our pores, the RV should have smelled worse. Was I just immune by then to our collective stench? Should we have been embarrassed to invite ladies into our home on wheels?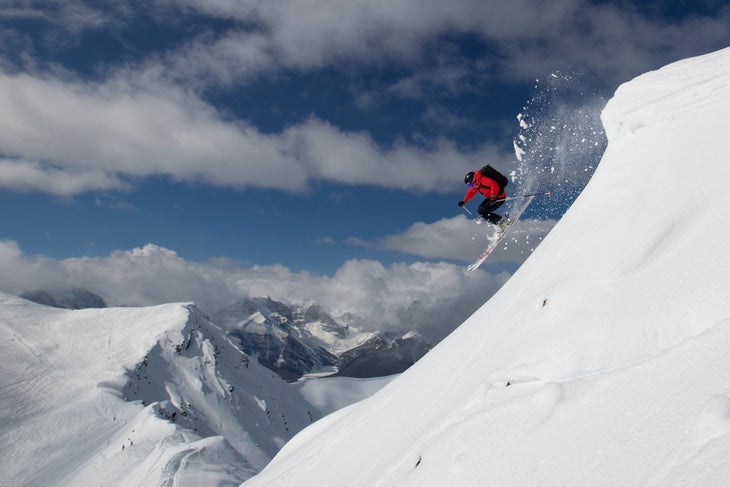 More vividly, I recall my first few miles at the wheel of Bessie, our 28-foot RV—aiming her swaying hugeness at the impossibly narrow gap between oncoming rush-hour traffic and the giant brick wall of the George Massey Tunnel just south of Vancouver. (We had already disregarded advice and ended up stuck in downtown traffic.) As I struggled to keep our small-semi-size home between the lines, Stephen and Casey relaxed in back, drinking beers, taking in the sights, and looking at trail maps.
It was the start of a seven-day road trip on the Trans-Canada Highway: 800 miles, six resorts, and about 10 pounds of ProBars and Jack Link's jerky between Vancouver and Calgary. Ambitious? Yes. People either thought we were crazy or wanted to join us. But with limited vacation days and family responsibilities that don't go away, I wanted to cram as much adventure into as little time as possible, and it hadn't taken muchto convince Stephen, my talented 24-year-old colleague, and Casey, my flatlander Wisconsin bro-in-law, to come along. 
The snow sucked. We knew it would, last winter being what it was in western North America. But this trip wasn't about the snow. It was about three dudes, a 28-foot RV, lots of skiing, and getting the most out of five days of paid time off. Some details were planned in advance. The rest—where we slept, what we ate, what lines we skied, how many hot tubs we poached, and how many gallons of alcohol we consumed—was left to impulse and circumstance.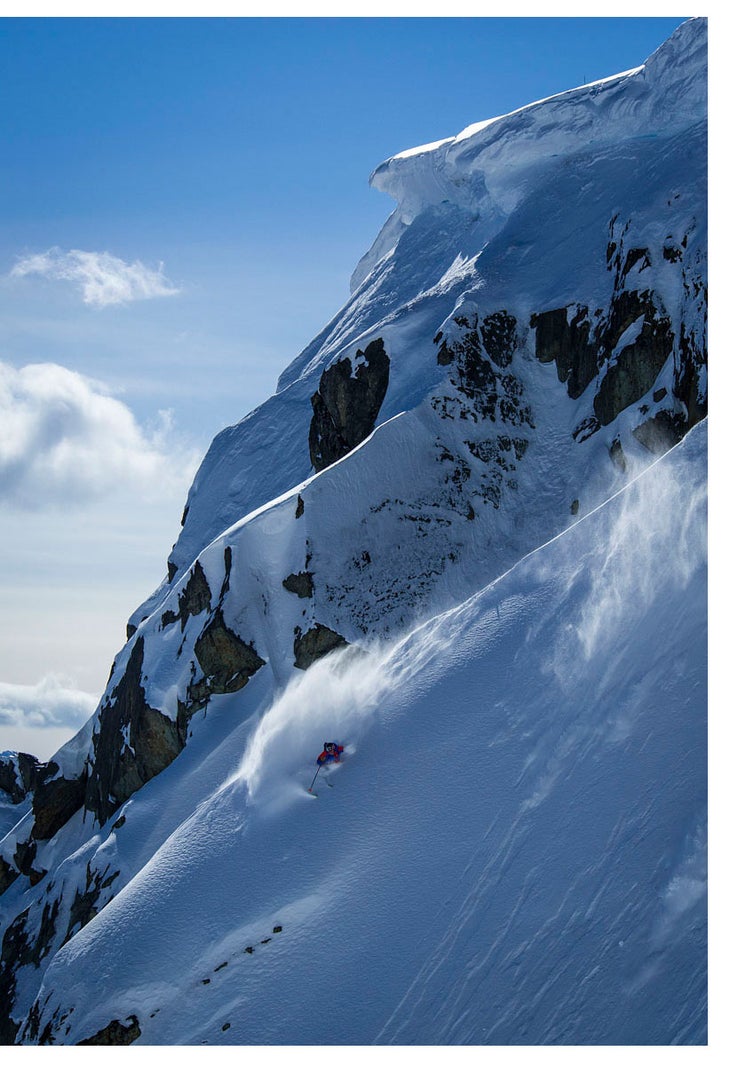 Along the way we found all kinds of snow: wind-buff, mashed potatoes, crust, ankle-deep blower, crud, soft corduroy in places nobody looked—everything except Canada's famous powder. We (mostly) avoided rocks, skied through mud, and delimbed half-buried shrubs. We skied mountains that demanded respect and gave it in return. We ate beef jerky and bars for lunch, drank whiskeyin gondolas, sampled many local beers, ate poutine, and tried to dry our gear before doing it all over the next day. We stashed Bessie alongside bowling alleys, next to fellow RVers in ski-resort parking lots, and in snowed-in campgrounds. We flooded her bathroom sink, set off her carbon-monoxide detector, and coaxed her past countless semis as they chugged their way through switchbacks on snowy mountain passes.
The next thing I knew, the trip was over, and reality kicked in. We were trying to pack our 50-pound ski bags, find our RV drop-off site, rush to the airport, drink the rest of the Pemberton single malt, and say quick goodbyes. It wasn't the sitting-in-lawn-chairs-drinking-beer-while-watching-the-sunset ending I had pictured. Bro trips are the best, and you just want the saga to continue. 
Now I'm going through Jack Link's/ProBar withdrawal (it's a bitch), my burps still taste like Pemberton gin, and my memories of six great Canadian Rockies resorts might already be a little hazy. But here goes.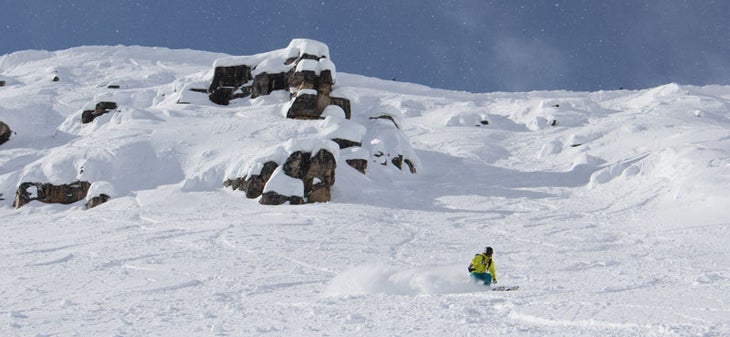 Know Before You Go:
Parking presents a nightly challenge for the RV skier. Get friendly with the bartender at the locals' bar. He'll likely know where the cops do or don't patrol, which will lessen your chance of getting rousted at 3 a.m.
In some areas it's actually illegal to sleep in an RV overnight. If you get a knock on the door at night, it's your call whether to answer. Penalties vary.
When you pull into a parking lot for the night, scope out the lampposts, median areas, mountain-ops buildings, and boundaries of the lot for external power sources. Find one that's live, and plug in for the night. You risk getting busted, but you might end up being able to charge your devices all night.
You'll need to empty the RV's poop chute before returning it, so stay at an RV campground near the end of your trip. It'll have a dump station, a water-refill station, and often wi-fi and showers. After that, your sink, shower, and toilets will be off-limits for the rest of the drive, but that's better than paying the RV company $55 to empty it for you.
It's illegal to drink alcohol in your RV when you're not parked. Then again, it's illegal to drink in the back of a moving limo, too.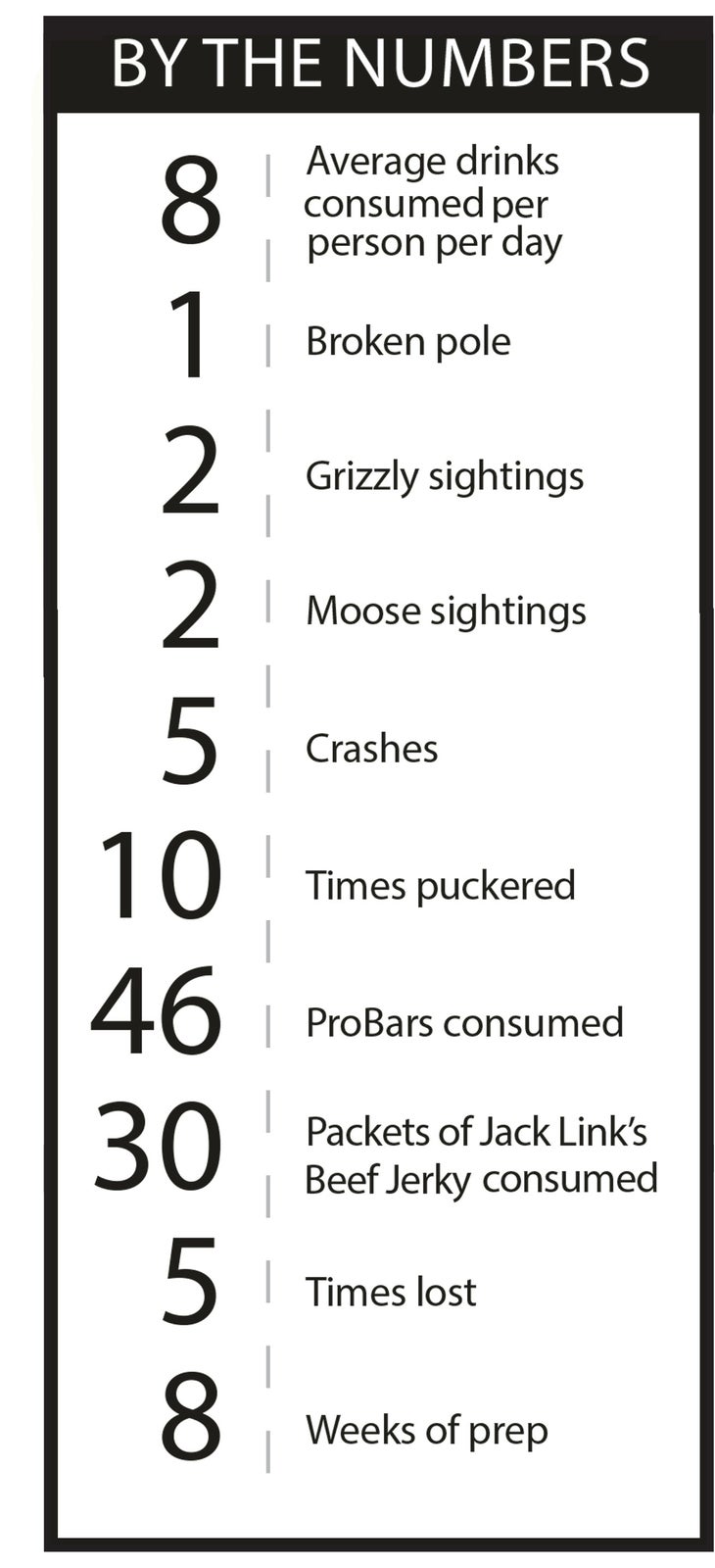 Road Trip Necessities 
Power converter
When there's no external power source, the RV's outlets don't work. But with a power converter that plugs into your "cigarette lighter," you can juice while you drive. In fact, with a double-outlet converter, we found there was little need to plug the RV in overnight.
GPS with Canadian maps
Cell data is expensive in Canada. Figure out a way to get Canadian maps on your American GPS, and you'll be good to go.
Bluetooth speaker
Contrary to popular belief, when you're in the middle of the province, Celine Dion and Nickelback don't blare from the radio. Rely on your own tunes for the drive and the après hot tub.
Deck of cards
When Bottom's closes and you still have gin back at the RV, there's always an excuse to invite the locals to your home. And since the RV's TV antenna won't pick up curling or hockey, you'll need entertainment.
Budget

For three people, USD, excluding our one-night splurge at Sunshine's Mountain Lodge.
Nine-day one-way RV rental: $2,115
Gas: $397
Food and booze: $919
Airfare: $2,138
Lift tickets: $1,317
Total: $6,886
($2,295.33 per person) 
Want to save more cash? Cook more meals in the RV, and invite more friends. The best part: Exchange rates have been very favorable in 2015, hovering around 75 U.S. cents to the dollar. That made the trip even cheaper than we expected.
How To RV
CanaDream is the only RV company near Vancouver that'll rent you a one-way RV that's fully winterized (insulated, with double-pane windows, freeze-proof water system, etc.).
 It'll comfortably sleep four adults, but to save money you could squeeze in five or six, especially with couples sharing beds.
 Another way to save cash is to stock up on food. The RV has an oven, stove, fridge, and freezer and it comes equipped with dinnerware. Or bring bars
and jerky and eat them for breakfast, lunch, and dinner as needed.
Plan on spending about three hours from the time you land at the
Vancouver airport until you pull out of the CanaDream parking lot.
Being patient sucks when you want to get on the road, but c'est la vie.
Learn More About RV Stops In: