Q&A with Klaus Obermeyer
The Obermeyer founder, and ski history (and yodeling) legend, talks ski pants, Gary Cooper, and the secret to life.
Heading out the door? Read this article on the new Outside+ app available now on iOS devices for members! Download the app.
We caught up with Klaus Obermeyer, the ski maverick who founded Sport Obermeyer, at Aspen International Fashion Week. Between infectious chuckles, he shared his legendary tales—from whence the first down parka came.
Born in 1919 in the Bavarian alpine village Oberstaufen, he immigrated to Aspen, Colorado, in 1947, where he worked as a ski instructor at the Aspen Ski School. "In my class, we had seven or eight people on Monday," Obermeyer said, "and on Thursday they were gone." In an effort to keep skiers warmer (and in lessons longer), Obermeyer repurposed a down comforter he'd carried with him from Germany.
"I made it in the dining room," he said. "I kept finding feathers after that…in the cereal. I'm still finding some." Despite the mess and the fact that the prototype resembled the Michelin Man, the new parka was warm—"and you could ski in it."
Here are some highlights from the conversation, led by Ramona Bruland, a former Obermeyer model and local Aspen celeb. 
What was life like in the '50s as a ski instructor in Aspen?
Obermeyer: Well, it was a ghost town at first. You could buy a house on the corner for $400 or $500. Now they're a little higher. Later on, people came because they'd heard about skiing. It was really tough because the skis were two-meters-ten-[cm] long. There was no grooming on the mountain. A lot of people who came had a 14-day reservation, but they left after three days.
We tried to figure out what would make skiing easier and more fun and safer and better. There's the basis on which the company really grew. We made the first ski stopper. Now that's worldwide.
The ski brake. 
It's part of every binding now. They used to have run-away straps instead.
There were a lot of things to figure out. We [Friedl Pfeiffer and I] developed the first suntan lotion that worked at this elevation. When people came in February or March, after one day out in the sun, they were totally sunburned. Then we did really light ski poles.
We made the first quilted parka. There was no insulation available, so in the factory we took a broom and collected the little scrap pieces and put it in [a jacket] as insulation. But when you put it on, the insulation just dropped to the bottom. You looked like a sack full of water. So then we said, Well, let's redistribute the stuff and [put in panels] so it doesn't fall all the way down.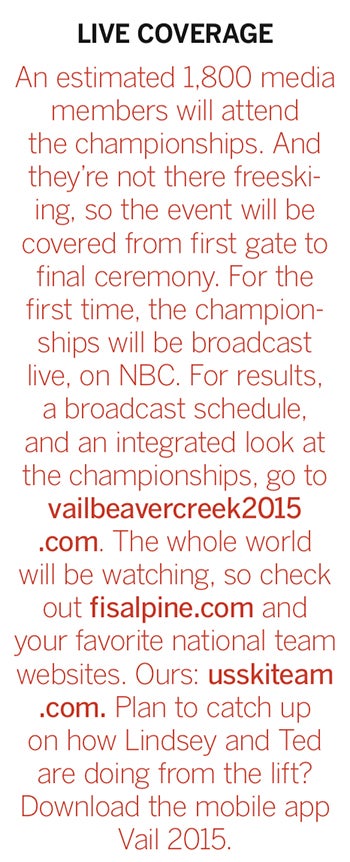 So when was Sport Obermeyeractually born?
1947. There was just a lot of opportunity to make things better in the mountains. Skiing used to be a very, very formal sport in Europe. Men skied in a knickerbocker suit with [a] necktie. Ladies skied in curtain skirts.
It sounds kind of cold.
I know. It's interesting how it developed. It's such a great sport. It's nice how we can slide on the snow. And to go down the mountain on two boards—isn't that nice?
So what's kept you skiing all these years?
It's easier than walking.
How many days have you skied this season?
Probably most days.

What's your favorite place to ski?
Tiehack. There's very little traffic and it has a new lift. In seven minutes it goes all the way up to the very top. There's wonderful terrain.
And it's right by your offices, isn't it?
It's only five minutes from the office—that's another good thing. And you can ski to your parked car. That's a luxury these days; you don't have to take a taxi.
Tell us a bit about your offices, because when they were built in 1980 they were very environmentally efficient.
I bought the land. I looked at it, and there were all these natural flowers growing that had been growing for thousands of years. And the sage. I thought, you know, it's kind of a sin to put a building over that. What can we do to compensate for that? One would be to put solar heat in, so we had the whole south wall of the warehouse set up—it heats about 60 percent of our building, if the sun shines.
Then you put a hydro dam in by Durango?
Yep, a hydroelectric dam that makes electricity for about 5,000 houses. I think we should in our life step on our planet lightly. Wherever we have a choice to do that, we should. In the textile industry that's tough to do. For a while we made shirts out of bamboo, but then to get it to the point where you could weave it, it took a lot of energy.
There are many ways to say, "He who searches will find." We are always looking for better ways. Everyday. What was good yesterday is no longer good enough today. So there's always that opportunity in life with everything you do. Make it better. 

In 65 years in the ski industry, you've probably seen the ski fashions evolve and change.
Yes. It used to be all black. Then navy came and that was a big, big far-out thing. Navy. Whoa! Slowly color came in, and now it's fantastic.
But then what's also really nice is that the fit of the pants is getting tighter again. It really makes skiing popular. So things are looking up. 
Now you know what else is popular is climbing [ski touring]. Everything we used to ski, we had to climb for it. When the first lift came, it was like a dream. You could ski up and down, up and down, up and down. But now they are climbing again, which is a good thing because it keeps you physically in good shape. You lose a few pounds that you may not need.
And it's a different type of experience of beauty because you don't go so fast. You see the nice trees covered with snow. It's just really beautiful. [It also] means that you need different clothing. It needs to be more breathable, more ruck-sack friendly, and much lighter. The climbing, touring, and backcountry skiing has inspired a better working clothing, which is terrific. We're doing it. We don't want to lose out on new customers.
Every time I see you I get to hear your fabulous yodel. Where did you learn to yodel?
It came about for people in the mountains who saw unbelievable beauty. There were no words in their vocabulary to express it. Then they found out it carries. So they yodeled to each other from one mountain top in the summer to another on the other side of the valley. They used it as communication. Then, every year in the [Bavarian, Swiss, and Austrian] mountain towns they have big festivals. They have music with dancing, beer, schnapps, and yodeling.
I learned from my dad. You learn when you turn from a mouse to a man. 
So what's your secret to life? To always being so happy and smiling, and to have done so much?
I don't know. Life is good. I think we have the choice of perception, which is one of the great things in our lives. We can perceive things in our brains as "Oh, it's terrible," or we can say, "Isn't it nice?" When we're playing on the snow or in the mountains, in the summer and the winter, it's beautiful. We're lucky. That overrides all the negative. So let it go. To hell with it.
Photos by Sarah Perkins Photography / Aspen International Fashion Week.