The 10 Best—and Worst—Ski Resorts For Parking
Our readers weigh in on how easy it is to park at the resorts, plus an overview of parking requirements at the worst offenders this winter.
Photo: Courtesy of Arapahoe Basin
Heading out the door? Read this article on the new Outside+ app available now on iOS devices for members! Download the app.
Parking issues have always loomed large in our annual Reader Resort Survey, but never as much as last season, as crowding and capacity issues came to a head at ski areas across the country. What seems like it should be a simple thing—finding ample, convenient, and affordable parking—is becoming increasingly harder as more people flock to the slopes. Ski areas with parking issues are combating the problem this winter by incentivizing carpooling, selling pricey seasonal parking passes, and requiring parking reservations.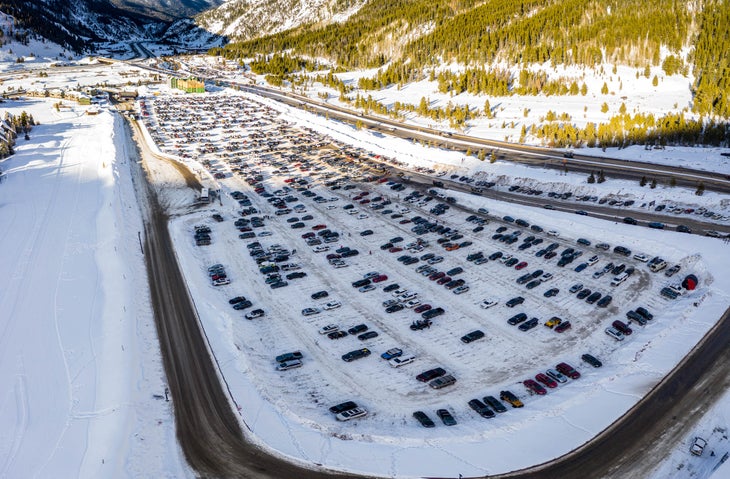 It's not all bad news, though. There are still resorts with free parking, and when we skiers do find it, we sure do like to shout it from the roof, er, mountaintops. Survey comments referencing free and easy parking are almost as numerous as the complaints over paid parking throughout the 2023 Reader Resort Survey.
Don't Miss: Funniest Comments From the 2023 Reader Resort Survey
The following list collects the best and worst survey comments about parking last season, along with tips to navigate the toughest scenes this winter. If you know before you go, it tends to sting less.
Top Resorts With Free, Easy Parking
Copper Mountain, Colo.
From the 2023 Reader Resort Survey: "Copper is great fun. I skied there eight days in the last two years. Terrain variety is great. The lifts are good. FREE Parking and FREE shuttle bus system is fantastic. Good for all abilities, wonderful fun."
Copper's two free parking lots seem to have their own fan base among survey respondents. That said, the Alpine Lot and the Far East lot are a good hike from Center Village, and about a 10 minute walk to the East Village and the Super Bee lift. There's a free shuttle that runs on a loop all day long, but it does add another layer to the schlep. But hey, the price is right.
Smugglers' Notch, Vt.
From the 2023 Reader Resort Survey: "Unpretentious. Authentic, friendly Vermont people. Awesome terrain for all levels. Best family resort around. Never crowded, even when it's crowded. Free parking. No traffic jams. No reservations required to get a bowl of chili or chowder."
Parking is free at all of Smuggs' parking lots. Get an early start for a spot in Lot #1, which provides the closest access to Sterling Mountain. Lot #1 is also tailgate central and can be quite the fun scene on non-bitter afternoons. Lots #2, 3, and 4 are close to Madonna Mountain. For ski school, use the parking lots at the base of Morse Mountain.
Arapahoe Basin, Colo.
From the 2023 Reader Resort Survey: "To hell with $150/per person après in Vail Village—give me the beach and a cooler full of beer any day! Highly recommended for out-of-towners looking for a pure local experience and a hill where McConkey would have fit right in."
A-Basin's parking is free and comprises a main lot at the base as well as an overflow lot on the other side of the highway, accessed by an underground walkway (about a 10-minute walk) or a skier shuttle. The main lot is home to the Basin's iconic "Beach" scene; arrive early for a coveted spot flanking the slopes.
Bretton Woods, N.H.
From the 2023 Reader Resort Survey: "The snow is always great, lines are short, and we have a great time whenever we go. Parking and finding space in the lodge to eat is never a problem."
There's free parking behind the Slopeside Restaurant & Pub for day skiers, and of course lodging guests can park at their accommodations and ride the free resort shuttles to the slopes—if they're not ski-in/ski-out, which much of Bretton's lodging happens to be.
Snowbasin, Utah
From the 2023 Reader Resort Survey:"The staff is warm, welcoming, and helpful. They have a great system for parking and shuttling guests. It's by far my favorite resort—and I've skied all the Utah resorts and many out of Utah too."
There's plentiful free parking in Snowbasin's Earl's and Maples lots, although Earl's A lot is reserved for carpools of three-plus skiers. In the event that these fill up, there's expanded parking availability in the Canyon lots, plus a skier shuttle to the base from all of the parking lots.
Five Resorts With Pricey Paid Parking
Alta and Snowbird, Utah
From the 2023 Reader Resort Survey: "Traffic and parking are both HUGE issues. It can be impossible to park at Snowbird, and you have to have a parking reservation to drive to the resort, which means you can't just decide to go spur of the moment."
The price of popularity is … pre-paid parking. At least at Alta and Snowbird, neighbor resorts that adopted similar parking policies last season and got similar flack for it. There's still some free parking at both ski areas, but if you want to be guaranteed a place to stash your car on a powder day, you'll have to make weekends and holiday parking reservations at Alta and daily parking reservations at Snowbird. Reservations range from $10 to $30 a day.
While Alta's policy is fairly straightforward, Snowbird is applying a hybrid approach consisting of some free parking, prepaid self parking,  prepaid valet parking, day-of reserved parking, carpool benefits … and a partridge in a pear tree. There's also a Preferred Parking Pass at Snowbird which, for $799, gives pass holders access to three lots with no reservations required. It's sold out for the season, but you can try again next year. Get the full scoop on Snowbird's parking situation here.
Vail Mountain, Colo.
From the 2023 Reader Resort Survey: "Front side is crowded, but the Back Bowls are fantastic. Paid parking is very expensive. Free parking is very limited."
Contrary to popular belief, there is free parking in Vail. It's just a long walk from the slopes. The free parking, which gets snapped up quickly, is mostly along the Frontage Road; there are about 200 spots between the two North Frontage Road lots. There's also free parking in Donovan Park, just under 100 spots.
As for paid parking, it's actually less expensive this winter than in years past—$30 a day on non-peak days and $40 on weekends and holidays in both the Vail Village and Lionshead parking garages.
Palisades Tahoe, Calif.
From the 2023 Reader Resort Survey: "Traffic and parking can be problematic on powder and weekend days. Go early! Customer service has improved but still could be better."
There's plenty of free parking on both the Palisades and the Alpine sides of the resort—it can just fill up very quickly. There are 4,200 spots at Palisades and another 1,825 at Alpine, all free, plus a carpool lot at Palisades for groups of three or more. On super-busy days, be prepared to be directed to the Hidden Valley and Deer Park overflow lots, where skier shuttles will run to Alpine Lodge. 
If you don't want to monkey around and want to be guaranteed a spot, you can fork over $60 ($50 if you book in advance) for one of the 75 prepaid spots at Alpine Lodge, or buy a seasonal parking pass for a spot in the parking structure at the Village at Palisades Tahoe. They tend to sell out in the spring, so act early.
Stowe Mountain Resort, Vt.
From the 2023 Reader Resort Survey: "The resort experience is good but at a high price-point. Looks like this year we'll pay for parking. Great strategy to reduce the traffic jams and make more money for Vail resorts!"
After a nightmare season last year filled with traffic jams and packed lots, Stowe is taking a multi-pronged approach to parking this winter. Visit ParkStowe for the nitty-gritty, but the basics are that parking is free in the main Mansfield lots on non-holiday weekdays (Mon-Thu), and will cost $30 a day on weekends (Fri-Sun) and holidays. You can bypass the fee by carpooling with four or more of your buddies or parking at the Cross Country Center or the Toll House lots.
There's also a $450 parking pass that doesn't guarantee you a spot—it's still first-come, first-served. No matter. Rumor has it that these passes sold out in nine minutes after they went on sale this past fall.
Park City Resort, Utah
From the 2023 Reader Resort Survey: "Parking is a challenge. People actually get to the parking lot early and tailgate with breakfast cooked on portable grills so they can access the mountain. I just stopped going even though I had several days left on my Epic Pass, where I bought a set number of days."
Among the things that went wrong at Park City, parking was near the top of the list. In our Reader Survey comments, parking is mentioned over 20 times, with most complaints focusing on packed lots, long waits for skier shuttles, and just the general chaos of figuring out where to put the car.
To help with congestion, the resort is making several changes for this winter, one of which is requiring parking reservations in the Mountain Village base as well as four other lots. Reservations will be required every day of the season between Dec. 12 and April 2 and will cost $25 per car.
There is still free parking at the Canyons cabriolet lot, at Park City High School (weekends and holidays), and at all High Valley Transit Park-n-Ride locations. Also, carpools of four or more people can park free in any of the lots.
To address the long waits for shuttles, the resort is partnering with the city to increase shuttle service throughout the winter. All the deets on the new parking system can be found here.