Fantasy Island
Remote Northern Iceland is a land of volcanoes, fjords, glaciers, and jagged cliffs—and the kind of raw, adventurous skiing that most of us can only dream of. Join one writer for a magical expedition to one of the last bastions of undisturbed arctic wonder. By McKenna Peterson. Photos by Mike Schirf.
Heading out the door? Read this article on the new Outside+ app available now on iOS devices for members! Download the app.
Fantasy Island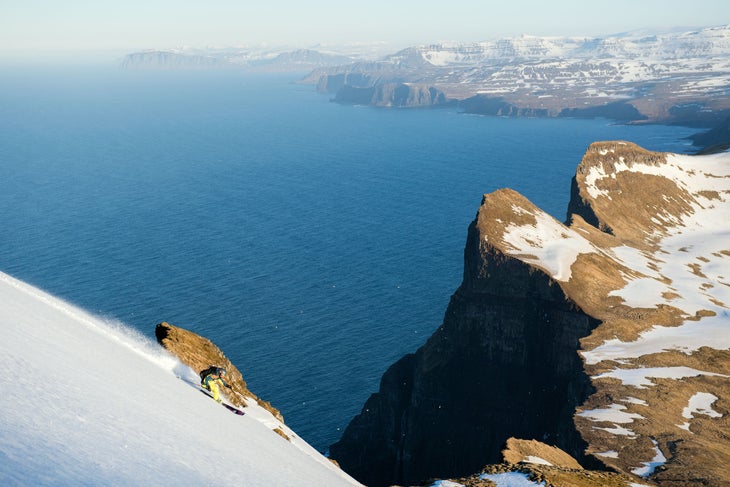 McKenna Peterson descends from Hornstrandir peak in Hornstrandir Nature Reserve, in Iceland's northernmost peninsula.
Photo: Mike Schirf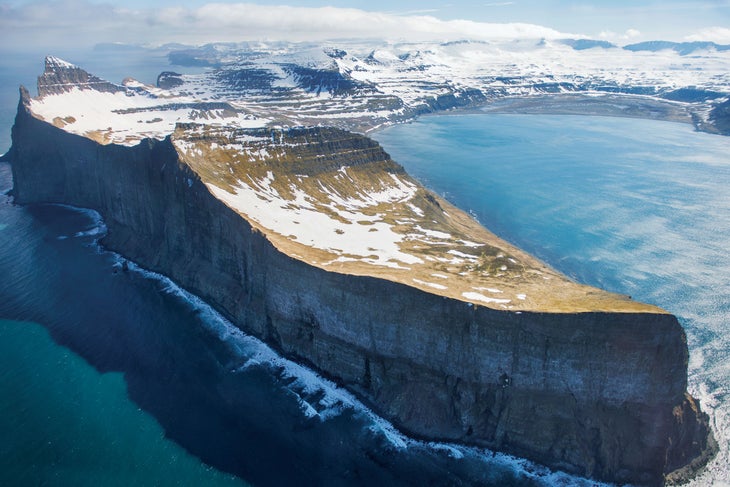 An aerial view of the Horn Peninsula in Hornstrandir Nature Reserve.
Photo: Mike Schirf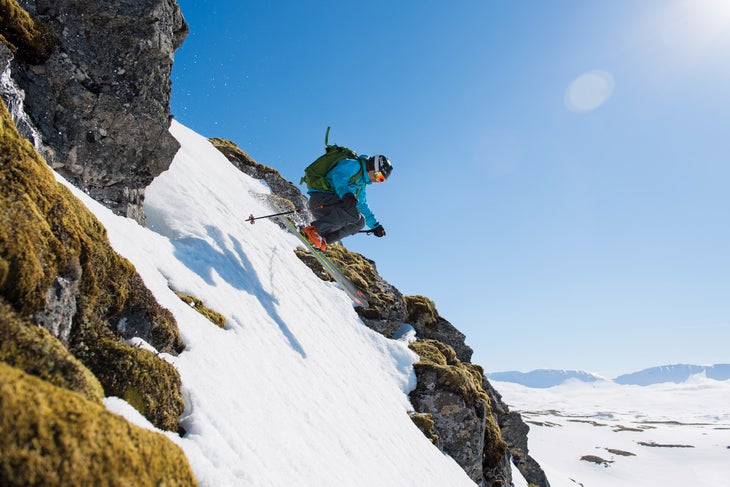 Marcus Caston skiing late-spring corn, or crème brûlée as the local population calls it, on Hornstrandir peak. 
Photo: Mike Schirf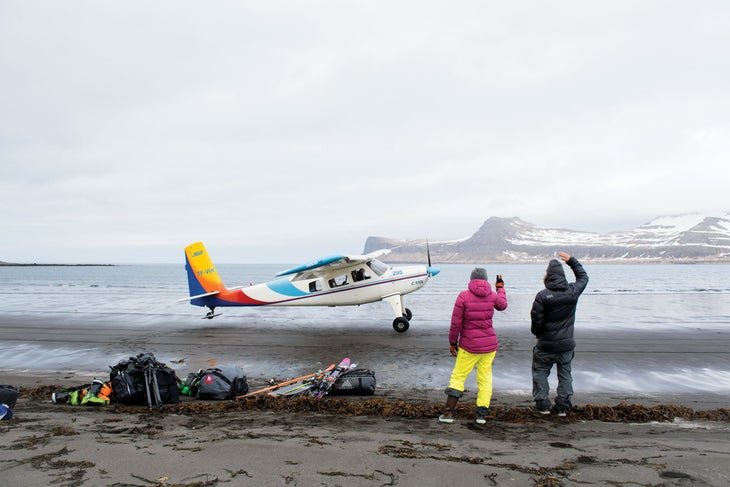 Expedition members bid farewell to civilization as their ride takes off from the drop zone at Hornvík Bay.
Photo: Mike Schirf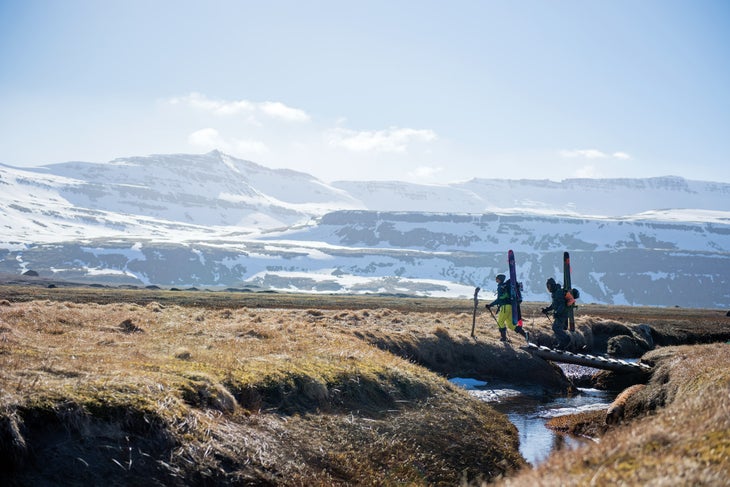 The adventurers toured Iceland's Hornstrandir Nature Reserve late last spring.
Photo: Mike Schirf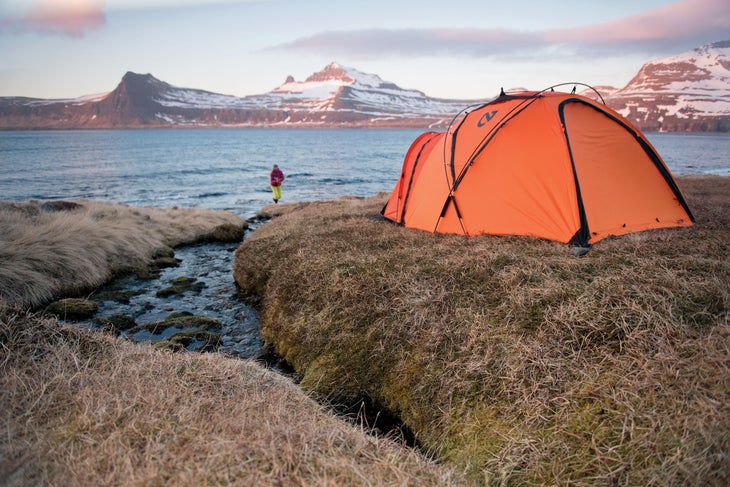 The group, including Caston (right) and Peterson (bottom right), spent three days in the isolated nature reserve camping on soggy, moss-covered beaches, climbing desolate peaks, and skiing until the sun set—often after 8 p.m.  
Photo: Mike Schirf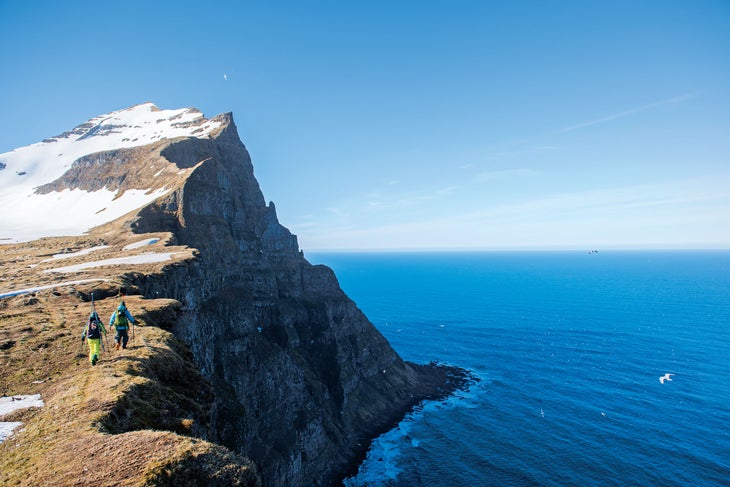 Peterson and Caston follow in the steps of an Arctic fox to the top of Kálfatindur, at 2,204 feet.  
Photo: Mike Schirf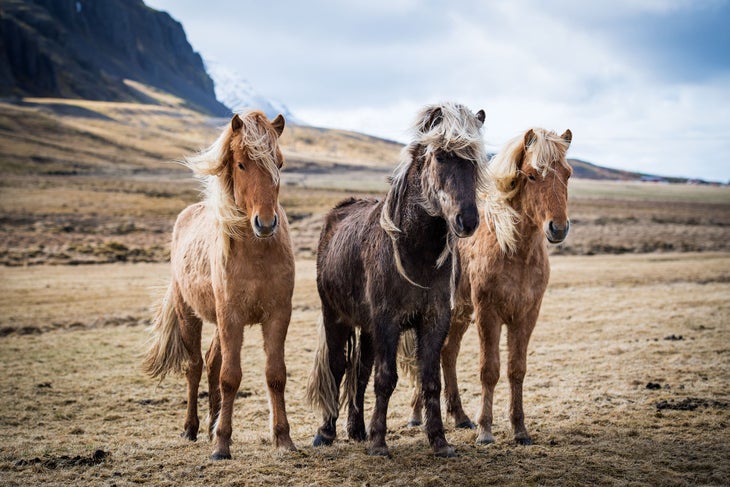 Icelandic horses are small in stature—often the size of ponies when fully grown. 
Photo: Mike Schirf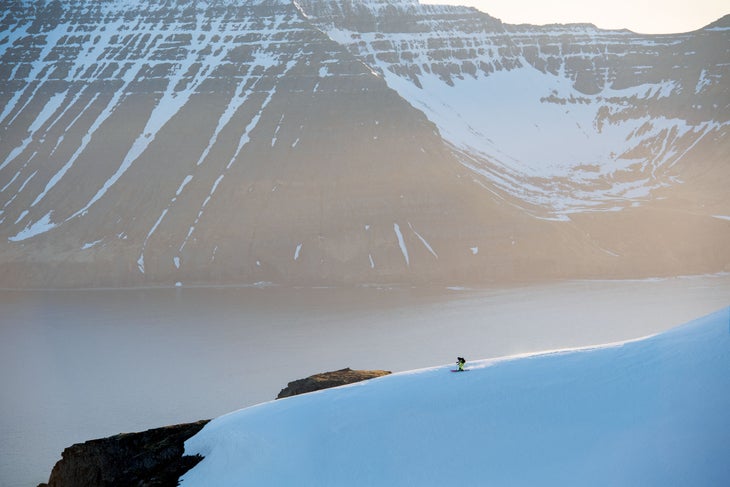 Peterson skis into the everlasting sunset on the final eve of the expedition. 
Photo: Mike Schirf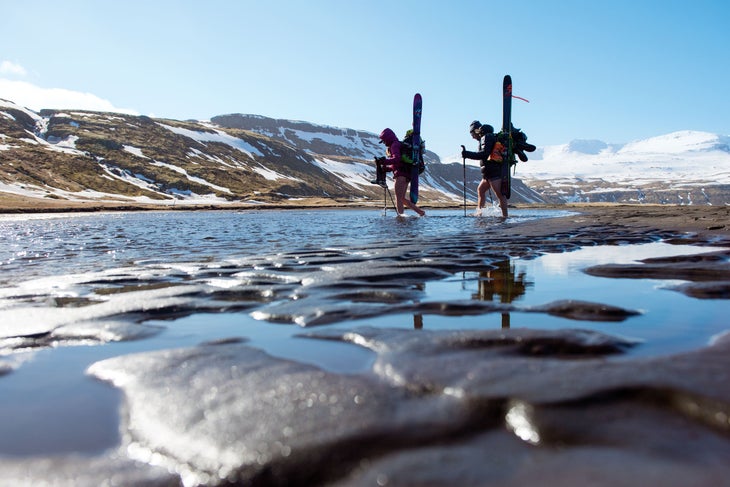 Thankfully, the ice-cold river is shallow in spots, allowing the team to cross. ("Watch out for the quicksand," warns Peterson.)  
Photo: Mike Schirf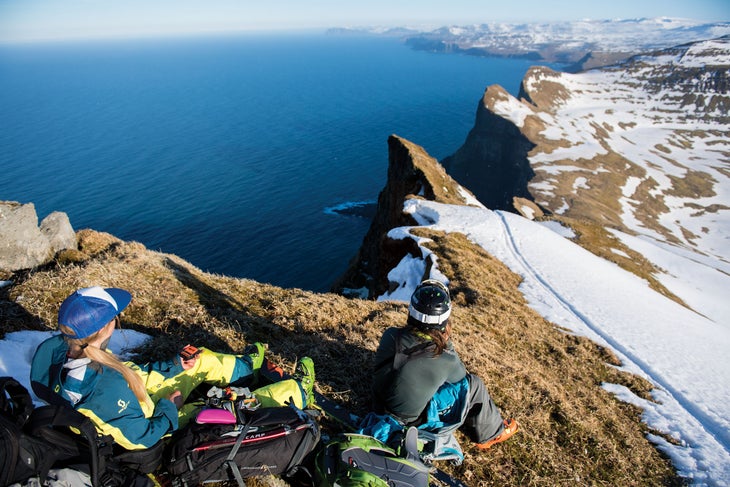 Caston and Peterson steal a moment's rest and a tranquil view of the Norwegian Sea from the edge of a jagged fjord.
Photo: Mike Schirf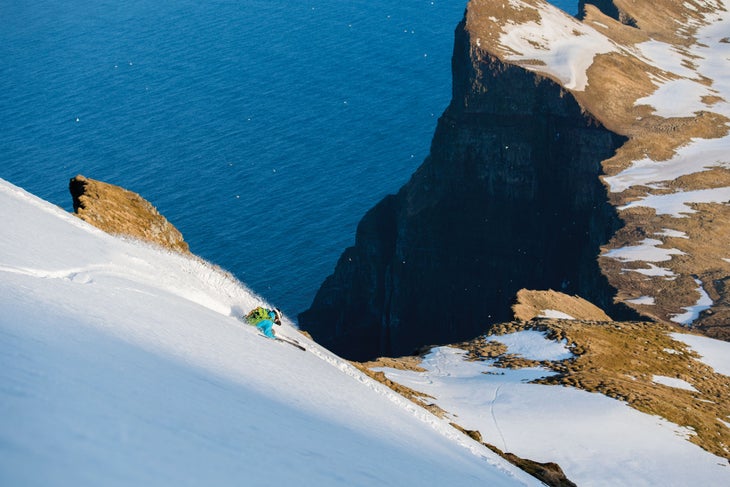 Caston lays tracks close to the coastline and wonders what it feels like to fly. He gets pretty close to finding out.
Photo: Mike Schirf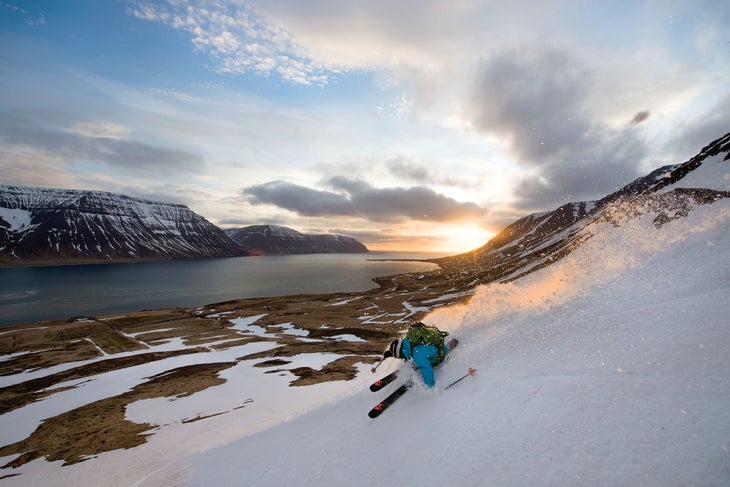 Caston shreds the corn. Late spring in Iceland means the sun stays low in the sky for hours.
Photo: Mike Schirf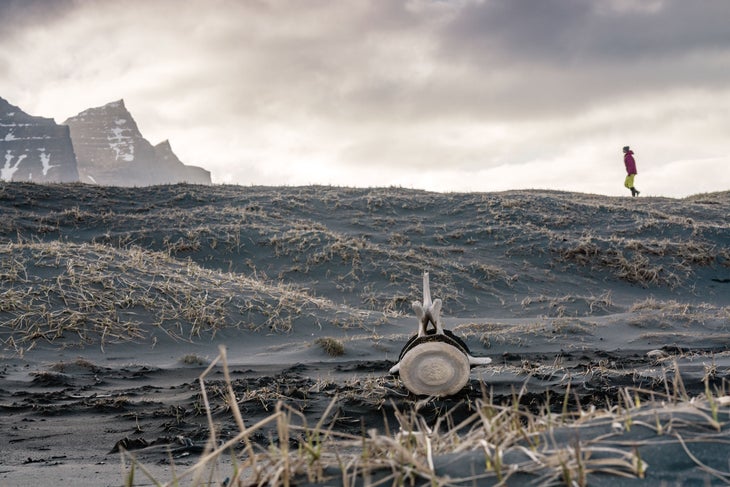 The crew comes across the washed-up carcass of a whale.
Photo: Marcus Caston
What does it feel like to ski on the edge of the world? Exponentially enticing. The closer you get, the closer you want to be. It is where curiosity leaves you short of breath and full of life. If there is a definitive line humans may not cross, it is here. An extra step, a delayed edge release, a slip of a foot would deliver you to a mile of thin air and the curling North Atlantic. Or would it? Peering over the edge is eerily comforting—maybe I would sprout wings and glide away. A revisitation of a childhood fantasy, perhaps?
If Svalbard is likened to the North Pole and Antarctica is the last frontier, Iceland's far northwest coastline is most definitely the proverbial edge of the world. The Hornbjarg cliffs in the Hornstrandir Nature Reserve jut straight from the ocean like fingers reaching out to keep the island from blowing away.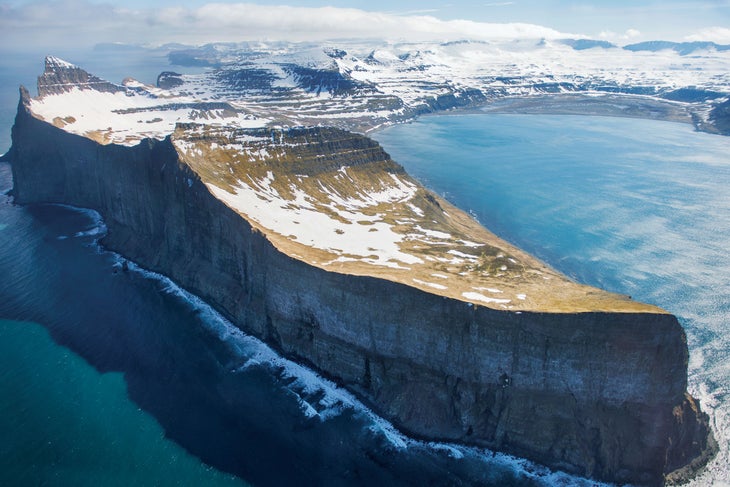 When first asked to join this ski expedition, I gave it a grave 40 percent chance of success. Googling Hornbjarg produced incredible images of tourists lying on deep green grass, stomach down, peering over the edges of ginormous cliffs. A stunning landscape. Zero photos of snow. Has anyone been there in winter? Do these mountains even hold snow? 
But then, the draw to adventure comes from the unknown. Once the idea is planted, it grows roots, and I'm unable to let go until the puzzle is solved and the experience had. I committed to the trip knowing the crew would guarantee an adventure regardless of the expedition's success. There would be cinematographer Matt Hardy, one of those enigmatic creative-genius types; Marcus Caston, an exceptional skier with a stream of terrible jokes; and Mike Schirf, a photographer who makes prettier turns than his athletes. The prospect of skiing on the edge of a 1,600-foot cliff was barely imaginable. Until it happened.
As we drag our load onto the tarmac of Ísafjörður's small airport, our pilot, Orn, shakes his head with uncertainty. Orn has agreed to fly us over the Hornstrandir peninsula in his small plane, as long as we weigh under 1,000 pounds: four people, ski and camping gear, cameras, and enough food for a few days. We arrange to have him drop us in Hornvík Bay, the closest landing to our objective. The only runway option is the hardened beach sand left exposed at low tide. We have to time it perfectly.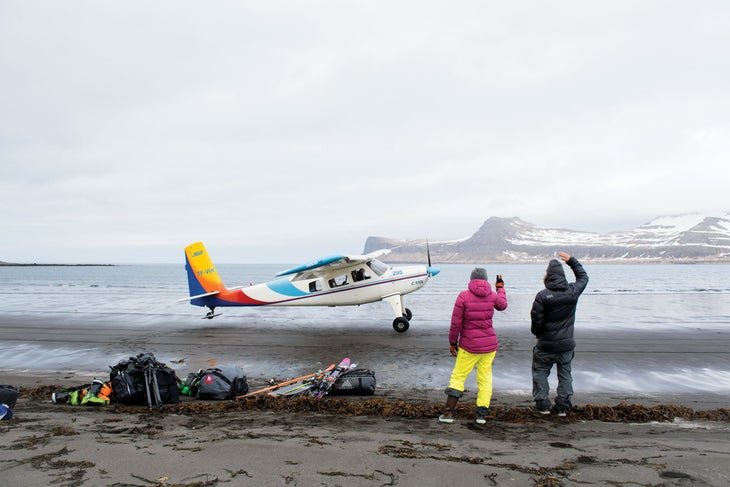 Half confident that our crazy idea will work, we wheel the plane out of the hangar and begin the weigh-in process. We make weight and fill every cranny of the plane with gear. With skis resting over shoulders and duffles on laps, we fly away from Ísafjörður nervous, cramped, and claustrophobic. Fortunately we are greeted with a smooth flight and a surprisingly easy beach landing. Set to return at some point between noon and 6 p.m. in two days' time, the pilot flies away, leaving our group of four alone in the uninhabited Hornstrandir Nature Reserve, the most isolated part of desolate Iceland.
We make camp on a mossy beach overlooking the ocean. Decomposing skeletons of cod encircle the tents, our only hint of the elusive Arctic fox. Fresh water trickles through the squishy ground and in turn seeps through our camping pads. A midelevation cloud shrouds our objective, Kálfatindur, teasing us with her flanks but never revealing her peak. I can't take my eyes off of her, certain that if I look away for a moment the cloud will part and I will miss my only glimpse of the snow-laden summit. She is far away, three miles at least. Gauging distance is difficult in Iceland. The lack of trees makes it almost impossible to judge the scale of slopes, cliffs, and summits. As we settle in for the night, a crashing ocean break sedates us into a restful sleep.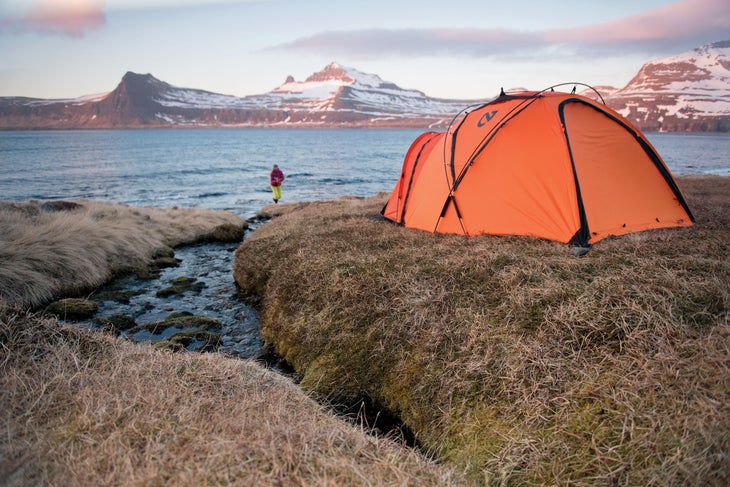 An alpine start, in Icelandic terms, is a 9 a.m. wakeup, quality coffee, and a leisurely breakfast. Good conversation, mandatory. Naturally we follow this tradition, paying no mind to the 15-hour day we have ahead of us. We leave camp around 11. Seaweed pops beneath our feet as we cross the beach and move inland, navigating textured sand dunes and rolling knolls. The juxtaposition of trekking across sand dunes with skis on my back highlights the oddity of our situation.
We are going to have to cross the river. As if dangling a luscious poison cherry, the river is only seven feet wide here at its mouth but much too deep to wade. Add to that the threat of quicksand, and the crossing becomes much more complex. Instead we trek inland, looking for the widest, and hence most shallow, section of the river.
"All right, boys, drop your pants. Let's do this." Clad in both of my down jackets (hood up), my biggest mittens, my Japanese fleece buff and…no pants, I take my first step into the knee-deep river. I have such an issue with cold water that I strongly consider walking a few hours in the wrong direction to where I may or may not find a snow bridge to cross. Either way, this is going to suck.
Fifty-five yards in and just as many f-bombs later, we sprint onto the snow with zero feeling below midthigh. Invigorated, we laugh at ourselves and take turns commenting on how the crossing wasn't "that bad."
Until our feet begin to thaw.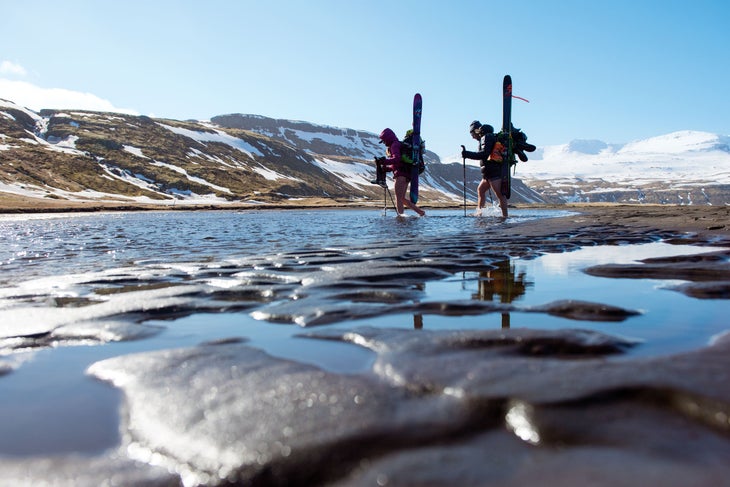 I have never been so excited to boot up and start walking uphill. The lower slopes are a smorgasbord of snow and moss with the most direct route crossing between the two. Like dipping your toe into the pool before committing to the cannonball, we cautiously skin from snow to grass and back again. Skinning on moss is surprisingly efficient; skins stick up to "mid level riser" steepness and glide even better than on snow. 
A transition to ski crampons and a PB&J later, we reach our first summit, Dögundarfell. After taking in the view from our perch and assessing our route to Kálfatindur, we indulge in the type of perfect corn snow that makes you feel that you are, no joke, the best skier in the world.
The run is much longer than the ascent—how that's possible I don't know, but I accept the gift. Marcus sincerely states that he would give up skiing powder if he could ski this type of snow every day for the rest of his life. But this is coming from a guy who made the same comment regarding eating cookies and having sex (choosing the former over the latter), so I'm not sure he has his priorities straight. Or maybe I need that cookie recipe.
Skins back on, we walk as far west as we can possibly go. Approaching the peaks from inland gives them an illusion of insignificance. Kálfatindur looks to be a modest pyramid with a few attractive lines from her summit. It isn't until we near the saddle between Kálfatindur and Dögundarfell that we are hit with the grandeur of our location. My boots are a few steps away from a sheer cliff. To my left, Kálfatindur's half-pointed summit stands tall, the meeting point of a 45-degree slope and a 90-degree sheer cliff. To my right, Iceland's raw coastline of meandering rolls and jags stretches as far as the eye can see. Thousands of birds dive in and out of their nests. A stark-white Arctic fox, spooked by our presence, skirts the edge of the cliff and vanishes into the next nook. I have fallen out of reality and landed in a fantasy world.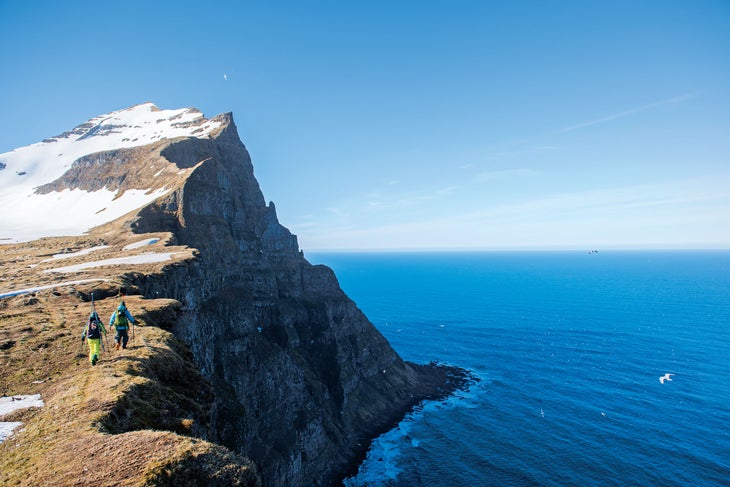 With the sun beating down we begin to ascend Kálfatindur, skinning the apron and eventually transitioning to a bootpack as it steepens. "How close can we get to the edge?" I wonder. Nearing the summit, we are on grass and rock but the ground feels airy and hesitation precedes each step. I am walking on a lush green cornice hanging over a cliff. Good thing the wind is calm.
Taking in one's surroundings becomes impossible when in a place of such majesty. The grandness is so overwhelming that I simply have to be. To exist amid my surroundings. Be present in this moment rather than feeling small and insignificant on the edge of a really big cliff. To be open to the connection that ignites my core.
Clicking into my binding brings me back to reality. The philosophical questioning and emotional cognizance fade away. Psyched to be standing on the tiny summit of a notable peak, paying no mind to the grass cornice or the consequences of a misstep, I am all smiles. Let's go skiing.
My skis, the tools responsible for this outlandish mission, cut semicircle slices through the snow, flicking specks of ice off the edge and into infinite emptiness. I want to fly. The snow resembles crème brûlée. Burnt sugar cracks under my skis as the crème softens each turn. Confidence builds with every carve and I get playful with the ocean, throwing my tails over the edge of the cliff and watching the snow fling into oblivion. Making these turns melds the reality of my existence with this landscape's fantasy world—a marriage of presence and imagination. I am flying with the birds, the closest I will come to being one of them. And then it's over. These moments are inherently fleeting; that's part of their allure.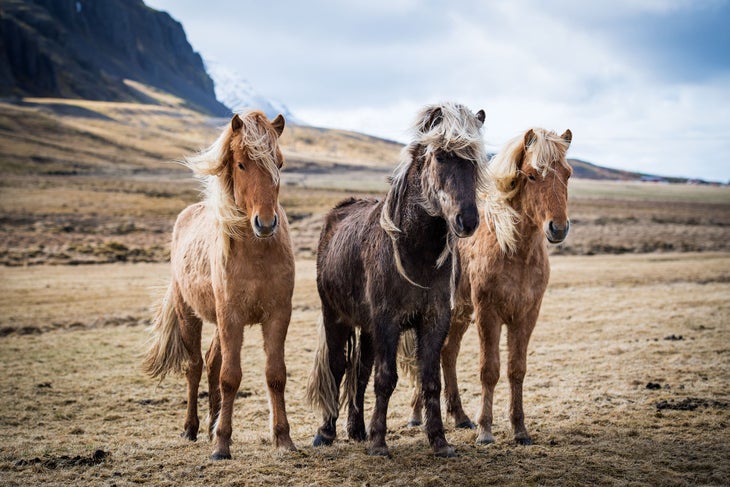 It is 9 p.m. and the light is waning. We have at least three hours of travel back to camp, yet there's no rush. We laugh and we walk slowly, retracing our route. We find perfect corn from the summit of Dögundarfell and it reignites our stoke. The cold river crossing soothes our swollen feet. We pass the bleached remains of a whale, washed ashore who knows how long ago. Electric blue stripes of mussel shells crunch beneath my shoes and a steady breeze helps to refill my lungs with ocean mist.
As the hour touches midnight, I follow the fading footprints of my comrades through the sand and back to camp, walking the solid ground where ocean meets land. Kálfatindur majestically looms above the bay as she always has and always will, completely unaffected by our presence. The sun has dipped below the horizon yet the sky glows auburn with a lingering sunset. It's a matter of mere hours before it rises again and the magic of this land makes itself known once more.