Good to the Last Drop
Now brewing in ski country: small-batch specialty coffees roasted for infinitely more flavor than your average cuppa joe.
Heading out the door? Read this article on the new Outside+ app available now on iOS devices for members! Download the app.
At Publik Coffee Roasters in Salt Lake City, Utah, fit hipsters in ski beanies, coffee steeped from Salvadoran beans light-roasted just the day before, and airy postindustrial decor have me wondering if I'm in Brooklyn, Portland, or Vancouver. But Salt Lake City these days is rich in au courant cultural diversions, making it a dynamic and fun home base for a ski trip—and a great place to taste what small-batch coffee roasting is all about.
Known as coffee's "Third Wave" (a movement recognizing coffee as a craft beverage), specialty roasting has more in common with wine tasting and the farm-to-table scene than with Maxwell House or even Starbucks. Instead of joe that tastes predictably uniform from day to day, the idea is to highlight flavors from each sustainably farmed and freshly roasted bean, often without the caramelization and carbonization you find in mainstream roasts. "Most specialty coffee is lighter-roasted, and you're trying to preserve varietal and regional flavors and characteristics," says Ryan Gee, head roaster at Publik.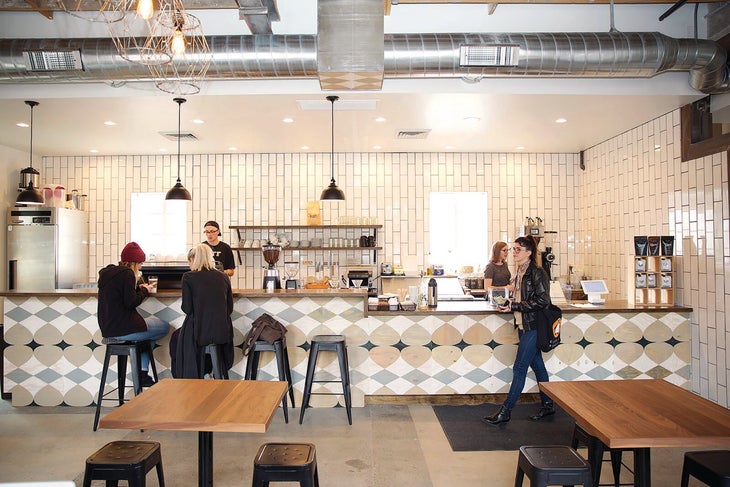 Those flavors vary more widely than many java drinkers realize. "Coffee from Central America is different from coffee from Southeast Asia or South America or Africa," Gee explains. Ethiopian beans, for example, can have a fruit-forward quality. Central American beans may be snappy or zesty. Indonesian beans may be sweet, with a sharp finish. Even within regions, each crop of green coffee is distinctive. And like wine grapes, varietals also carry the flavors of their particular terroir, even influences from the specific fruit trees in the farmer's shade canopy.
Bringing out those flavors requires a skill set that's half food science and half art. "It's a lot more involved than putting coffee in the roaster, turning it on, and waiting until it's done," Gee explains. Time (10 to 14 minutes per 20-pound batch at Publik), temperature, and airflow are manipulated throughout the roasting arc to enhance or subdue each varietal's flavor components (sugars, acidic compounds, lipids) to suit both the bean and the roaster's own style.
At Publik and other small-batch specialty roasters emerging throughout the ski world, the end result is not mere caffeination but coffee-flavor appreciation. The idea is to savor variations. Expect lighter roasts (in which subtle qualities are more evident) accompanied by Millennial eats like avocado toast. Coffee snobbery is not required. "I like coffee in all its different forms," Gee says. "I'm not gonna lie. I drink it anywhere from black made with a homemade pour-over to a Starbucks Frappuccino. I love road-trip coffee from a gas station. I love visiting specialty coffee shops. I love going to my mom's and drinking a Keurig. I just love coffee."
Sample the brews at these high-country coffee bars next time you're in town.
Publik, Salt Lake City, Utah
Freshly roasted varietals—three single-origins and three custom blends—change with the seasons and lean toward light roasts. Taste them in espresso drinks, pour-overs, or nitro cold brews at Publik's eco-friendly roastery and café (in downtown's Granary & Ballpark district) and its two new outposts, Publik Avenues and Publik Kitchen. For bites, try maple-mocha toast or heirloom tomato toast on fresh loaves from Park City's Red Bicycle Breadworks. Or swoon over pastry chef Alicia Pacheco's Pop Tart–style treats filled with fig jam and goat cheese.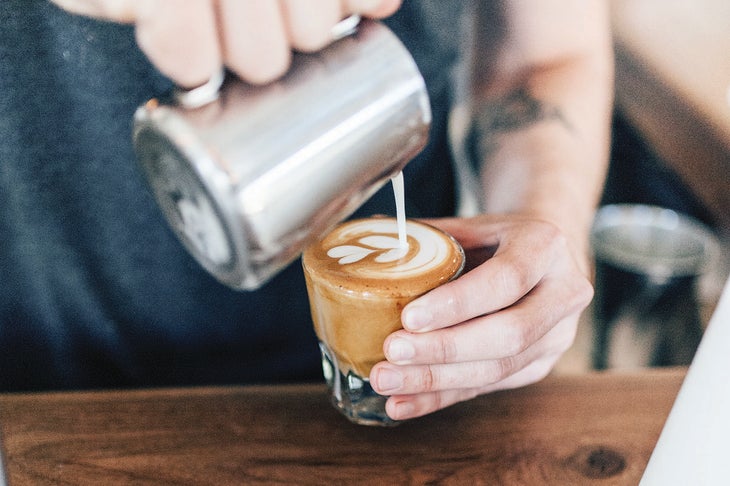 Treeline Coffee Roasters, Bozeman, Mont.
Belly up to the coffee bar for tasting flights and java-bean education while watching roasters work at Treeline's new 2,500-square-foot café, tasting room, and roastery. Founder Natalie Van Dusen is a certified Q Grader (coffee's cross between a quality-control expert and a sommelier). She and her team roast an ever-changing array of beans, often purchased directly from small family farms in batches of just six pounds at a time. For snacks, try the arepas, Colombian cornmeal pockets. Or take Treeline's buzz to go—even backcountry skiing—with custom "Geo" travel filters filled with the varietal of your choice.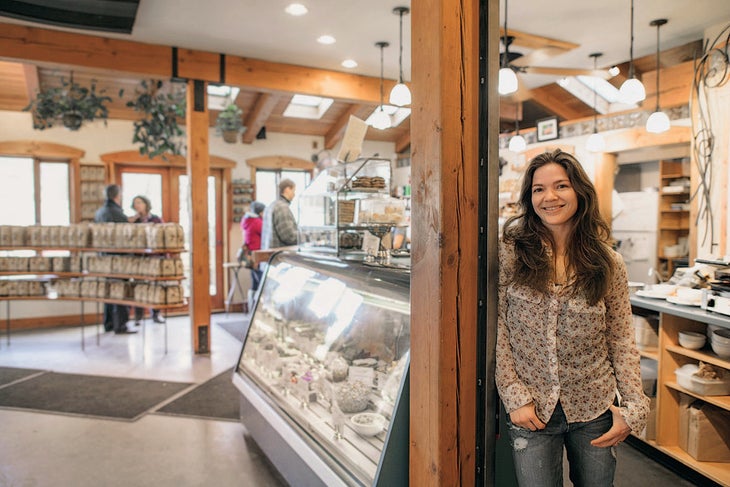 Oso Negro, Nelson, B.C.
Before going skiing, everyone in Nelson heads to Oso Negro (Spanish for "black bear"), which has spent 23 years perfecting the rare art of highlighting subtle terroir flavors in medium and dark roasts. Try the Prince of Darkness (deep, winey, spicy), Chocolate Cake (rich, velvety, bright), or Meteor (smooth, nutty, earthy) for artful taste progressions, even in a mug of drip. The 1950s drum roaster and 100-year-old buildings are historic, but owners Jon Meyer and Anne Bokser share a long-standing commitment to triple-bottom-line sustainability that's entirely modern. From farmer to roaster to employee to customer, this is feel-good ski-town coffee at its tasty best.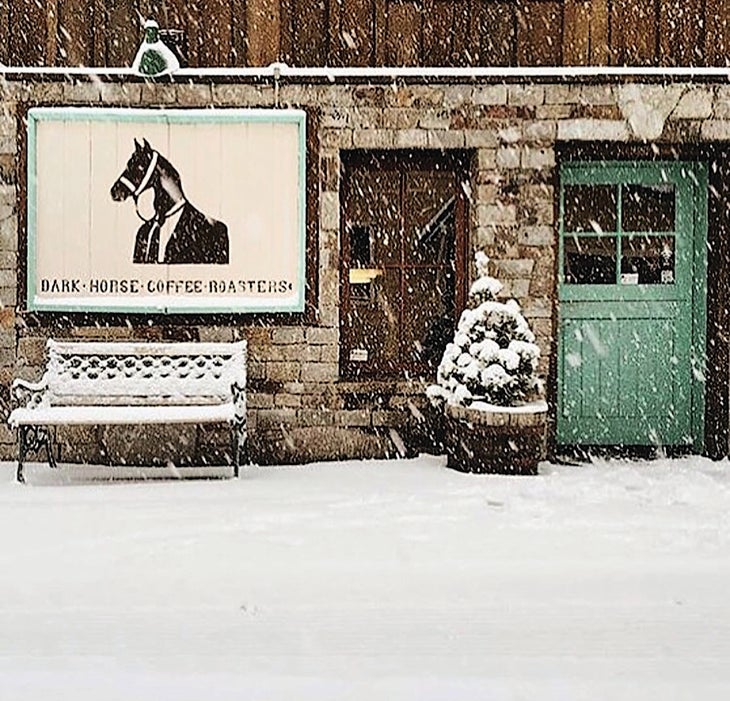 Dark Horse Coffee Roasters, Truckee, Calif.
San Diego–based mini-chain Dark Horse brought its easygoing surfer vibe and daily small-batch roasting to a late-1800s stone and timber building in historic downtown Truckee in 2014. Roaster Drew Taylor works in five-pound batches with a focus on single-origin beans (particularly from Guatemala, Brazil, and Sumatra) and medium roasts. French press, pour-over, cold brew, and espresso drinks are the main attractions, with organic sourdoughs and other baked goods from nearby Lobo Baking on the side.