Skiing's Top Trail Map Illustrator
James Niehues might have the single most widely printed name in all of skiing. Beyond Lindsey. Or Bode. You just don't know it.
Heading out the door? Read this article on the new Outside+ app available now on iOS devices for members! Download the app.
James Niehues forgives you if you don't  recognize his name, though if you're reading this magazine, you undoubtedly would recognize his art. It's right there in your pocket when you're skiing. Or spread out on your lunch table. Or, better yet, being held down by a frosty après mug of beer. For going on three decades, Niehues (pronounced NEE-hews) has painted trail maps for just about every major resort where you've put skis on snow. The way Niehues sees it, your trail map is his canvas. "When someone opens one of my trail maps, the first thing I want them to do is believe it," he says. "It is a map. You use it to get around."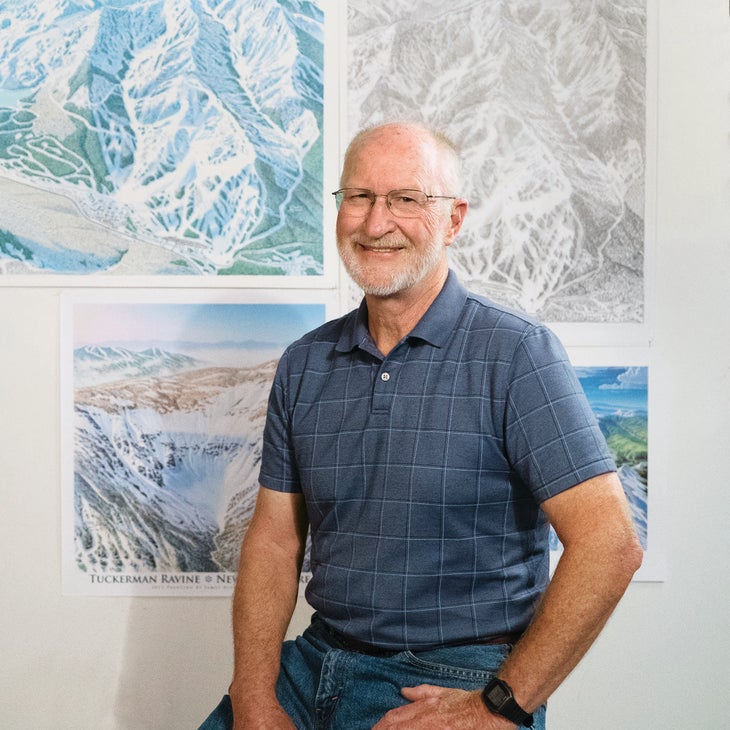 The art of the trail map has a wonderful legacy. In the mid-'80s Niehues, a graphic artist by trade, needed work, so he contacted Bill Brown, who had been painting trail maps since the 1970s. Brown, a protégé of Hal Shelton, one of skiing's first trail-map artists, gave Niehues the job of painting the Mary Jane insert for the Winter Park trail map. The resort liked the inset and didn't even know it wasn't by Brown. "The timing was right. Bill wanted someone to take over," Niehaus recalls. At age 40, Niehues had found his calling.

Niehues goes to great heights for his art. He requires aerial photos, which he sometimes shoots himself. He makes several sweeps in a plane, starting at about 2,000 feet, down to a few hundred feet above the trees. "By the time the flight is over, I pretty much have it set in my mind," he says. He then creates a pencil sketch. After it's approved, he projects the sketch onto a 30-by-40-inch illustrator board and paints in the details with watercolors. The resort scans the art and prints the trail maps.

Niehues keeps the original art and has more than 300 illustrations in storage. If a resort has a terrain expansion or other changes, he pulls out the original piece and updates it. Back in the 1990s, resorts would print posters from his maps. Now they're increasingly using satellite imagery and computer-aided design to produce them.

Niehaus does use Photoshop to tweak his work, but he's passionate about the power of old-fashioned art. "A hand-drawn image is something that skiers can dream by," he says. "That's not the case with a computer-generated piece of crap."
Many resorts are using maps he painted decades ago, just updated. "I've painted myself out of my field," he says. "I could be the last artist to paint trail maps by hand—but I hope not."

At 70, and now semiretired in Loveland, Colo., he's at peace with that. Niehues takes on a few choice jobs, such as when Vail Resorts merged Canyons with Park City Mountain Resort. He's also mentoring an artist in hopes his art doesn't retire with him.

With a few trail maps spread out on a desk in front of him,  Niehues traces a run on the Deer Valley map with an index finger. "I want people to look at a map and say, 'This is where I fell!' 'This is where we found great powder!'" he says. "There aren't a lot of artists who can say that people sit down with their art and a beer and reminisce."  ●