The Sky's the Limit
Hans Gmoser turned the skies into a lift, creating the sport's ultimate high.
Heading out the door? Read this article on the new Outside+ app available now on iOS devices for members! Download the app.

"To be bound to one slope, one mountain, by a lift… robs us of the greatest pleasure that skiing can give." The young mountain guide who composed these words 47 years ago had emigrated in 1951 from Austria to the crags of the Canadian Rockies, learning to write English by candlelight in tents after guiding clients on winter ski tours and summer climbs. He also made annual movies about trekking and ski touring, screening them in assembly halls and theaters across North America.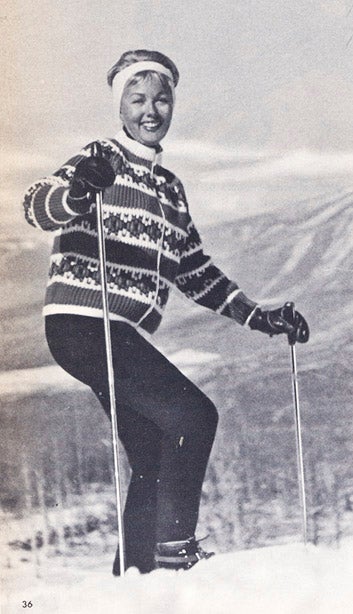 Hans Gmoser began to use a helicopter to make his films in the early 1960s. In April of 1965, he first used a helicopter to ferry 18 skiers up the vast treeless slopes of untracked powder in British Columbia's Bugaboo Mountains. Each paid $260 for the week, which included a bunk and meals in a logging camp.
The next winter, 70 skiers came, then 150 in 1967. That summer, Gmoser built a lodge with four eight-bed bunkrooms. Guests dined at a common table. In the morning, Gmoser woke them by strumming his zither. His wife, Margaret, cooked the meals. Over the next 25 years, Gmoser added a dozen more remote lodges, building his far-flung empire into Canadian Mountain Holidays, a $55 million business.
Heliskiing leapt ahead in the early '90s with the advent of fat skis, which opened the door to deep-snow skiing to nonexperts. This winter, at least 15,000 powderhounds will pay typically $4,000 to $8,000 to heliski for a week in British Columbia, Alaska, the Rockies, and as far away as Russia. 
Fifteen years ago, Gmoser eased into partial retirement and took up cycling. As with skiing, he liked the speed. This past summer, cycling near his home outside of Banff, Alberta, Gmoser crashed, damaging his spinal cord. He chose to be removed from a respirator and died two days before his 74th birthday.
Gmoser hosted his guests with wit, candor and a modesty so compelling that he was admired by almost everyone he met. He was an accomplished climber, a musician, film producer and founder of a new kind of ski tourism. Through his vision, skiers entered a magical world, etching miles of tracks on virgin snow on a scale unimaginable until he showed how it could be done.