Snow Ghosts and Powder Highways: Why British Columbia is Unlike Anywhere Else
If you've ever wondered why skiers flock to British Columbia, we've got six great answers for you.
Heading out the door? Read this article on the new Outside+ app available now on iOS devices for members! Download the app.
If you can't find what you're looking for in British Columbia, you're not looking hard enough. Canada's westernmost province has something for everyone, from European-inspired tea traditions to some of the best modern art in the country. There are rainforests and whales, big booming metropolises and 12,000-year-old Indigenous tribes. It's an awe-inspiring place; but if there's one thing every Canadian can agree on, it's that when it comes to skiing, British Columbia can't be beat.
So, what makes skiing in this Canadian province so special? You know, besides its dozens of resorts, picture-perfect mountain sight-lines and unparalleled wine culture?
We're glad you asked.
It's all about the snow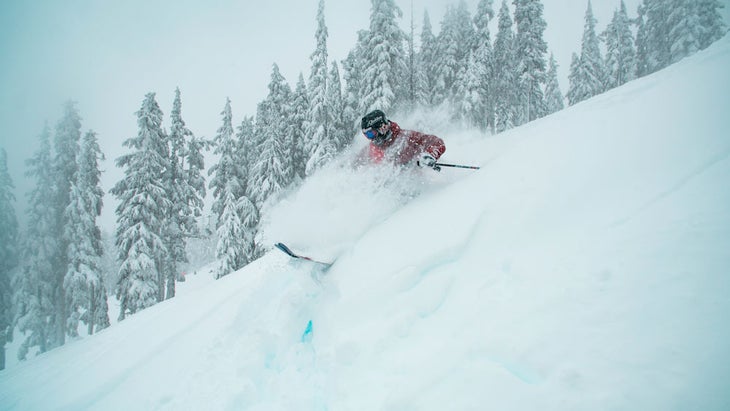 This can't be overstated: there's no snow more reliable than British Columbia's. Mount Washington Alpine Resort gets more than 36 feet of snow every year, while Fernie Alpine Resort sees up to 37 feet of top-tier powder every ski season. And then there's Whitewater Ski Resort, with such an abundance of snow (40 feet a season!) that the mere thought of a snow machine is borderline blasphemy. But B.C.'s snowy reputation isn't only about raw accumulation. The fact that such reliable snow is spread across so many fantastic landscapes—from snow-brushed, fir-filled forests to groomed runs on glacial slopes—makes B.C.'s skiing second to none. Snow is a point of pride on these slopes, and at this point, the reputation is well-earned.
It's only as cold as it needs to be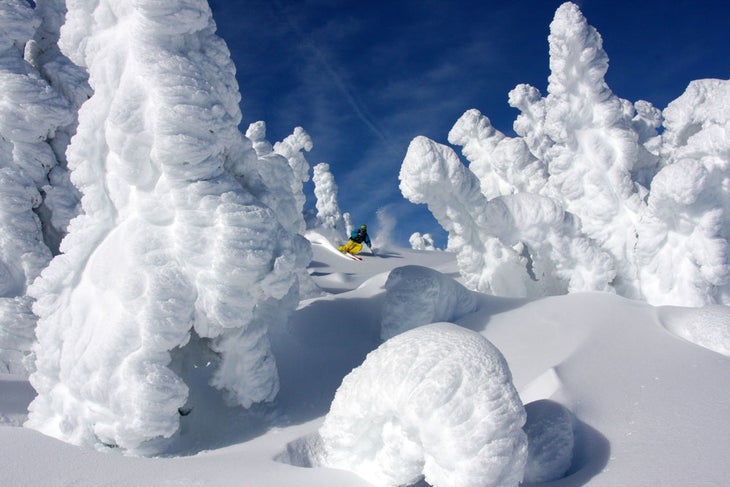 The thought of skiing in short sleeves is almost sacrilege, but B.C never leans too hard in either direction when it comes to temperature. While winters on Canada's west coast aren't exactly warm, they're not the chilled-to-the-bone kind of cold that springs to mind when you first think of the Great White North. Out west, it's only as cold as it needs to be—and that unique climate makes for some stunning sights.
Mount Washington's snow ghosts are chief among the most incredible things about west coast winters. Not nearly as spooky as they sound, snow ghosts are snow-and-ice-covered trees that, bereft of any visible greenery, look like sheet-draped ghosts. Though they may be pretty, leave some space when you're skiing around them. The only thing scary about a snow ghost is running into one—they are, after all, made mostly of solid ice.
Skiing, your way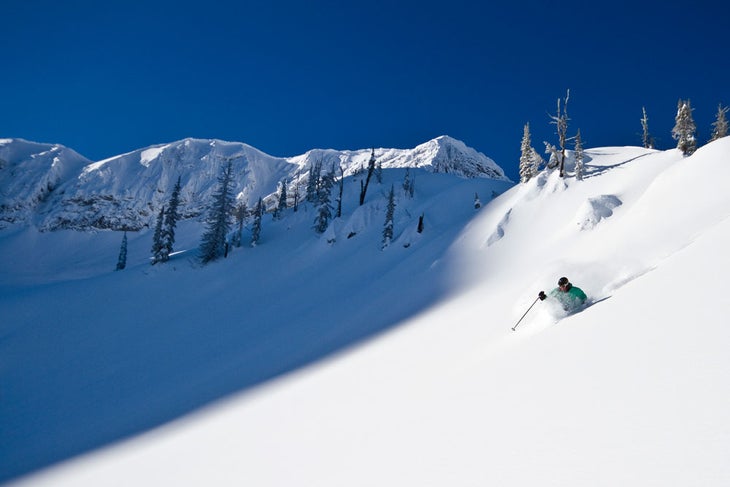 Maybe you're into the slalom. Maybe you prefer the pipe. No matter your style, there's a slope for you in B.C. Not only is Fernie home to the most bowls in North America, but it's also packed with events, from Retro Weekends to Slopestyle Competitions. Mount Washington, meanwhile, is a great place to go for a lit up nighttime ski session, while Whitewater's world-class skiing feels like something that could only be dreamt of in a skier's diary.
A different kind of highway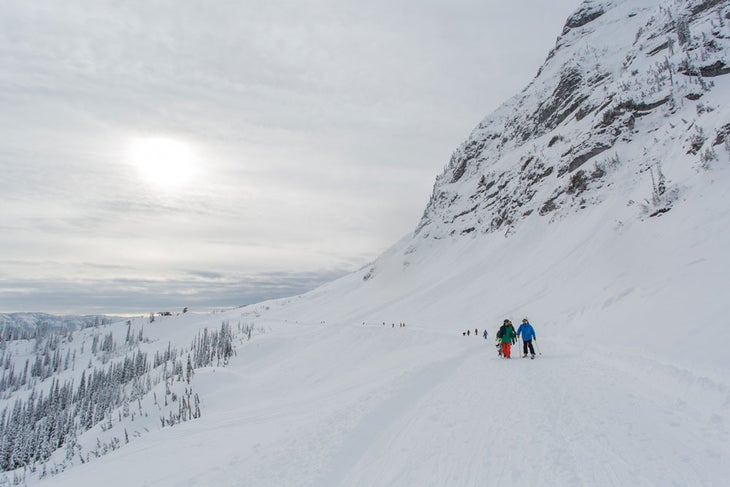 Move over, Trans-Canada: when it comes to stylish ways to travel, B.C.'s Powder Highway is second to none. The Powder Highway is a circular road that passes through the Kootenay Rockies, hitting some of the best resorts (including Fernie and Whitewater) and lodges the country has to offer along the way. Instead of carbon-copy rest stops and fast food chains, this 420-mile "highway" is dotted with iconic ski resorts, jagged peaks, and some of the best cat- and heli-skiing around.
Après-ski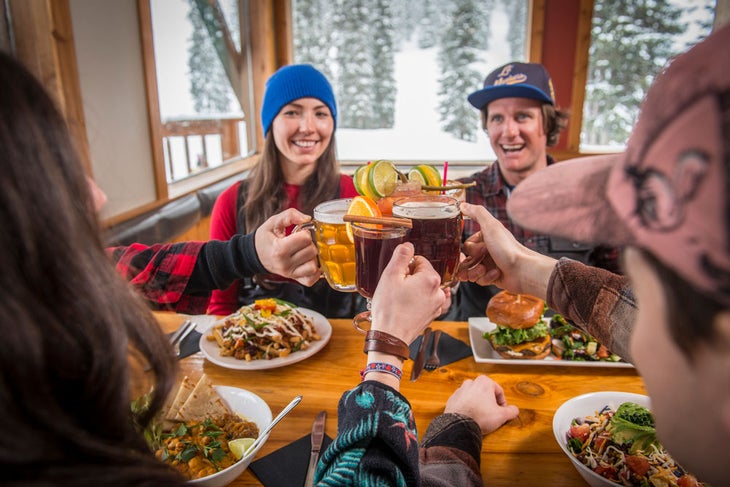 Your legs need a break after a long day on the slopes, and B.C.'s après-ski combines every element that makes Canada special. From hot springs to hot poutine, local wine to renowned craft beer, the options are as varied as your imagination—and it's all complemented by classic Canadian hospitality. Check out Mount Washington's Eagle View Bistro for mountain views and comfort food. For a frosty pint and an extensive pub menu, there's no better place than Fernie's Griz Bar. If you're hankering for a hearty meal to warm your belly during a day on the slopes at Whitewater, the Glory Lodge specializes in (relatively) healthy and phenomenally tasty dishes, such as pot pies and pho. No matter where you end up, expect to see smiling, friendly faces from all walks of life. In B.C., there are no egos allowed.
Ocean views that can't be beat
We'd be remiss if we didn't mention B.C.'s picture-perfect locale. When it comes to Instagrammable ski slopes, there's British Columbia, and then there's everywhere else. The sheer vastness of the province can lead to some beautifully empty runs, and the incredible variety of the terrain can't be beat. While the big verticals and monstrous mountains of the province's other resorts are certainly stunning, it's Mount Washington's alpine-to-ocean views that truly set it apart. Keep your camera ready—you might even spot a whale or two. 
–
Plan Your Ski Adventure to British Columbia at

Mount Washington Alpine Resort
–