Mother Nature is Rewarding Portillo With Big Storms After a Two-year Closure
Two years of patience and weeks of hard work are paying off at Portillo with an all-time start to winter in South America.
Heading out the door? Read this article on the new Outside+ app available now on iOS devices for members! Download the app.
It's dumping at Ski Portillo. Again. The deepest season in more than a decade is burying the resort in the Chilean Andes. Eighty-seven inches of snow fell between June 18, one of its earliest openings ever, and the beginning of August. That's more snow than its average season total in the last decade. And there are still two months until closing day and more in the forecast.
This big season is especially sweet after the last two years. The resort didn't open at all in the South American winter of 2020 and for only three weeks during 2021, due to COVID protocols. Reopening the resort after the extended hiatus created unique challenges, says Michael Rogan, the resort's operations manager. While Mother Nature and staff have cooperated, the wildlife hasn't been as helpful.
"Any operation like this, with time and history to it, wants to keep moving and breathing. It's a system that needs to circulate," Rogan says. "When you turn it off for an extended amount of time, it's going to take time to get it back up and running."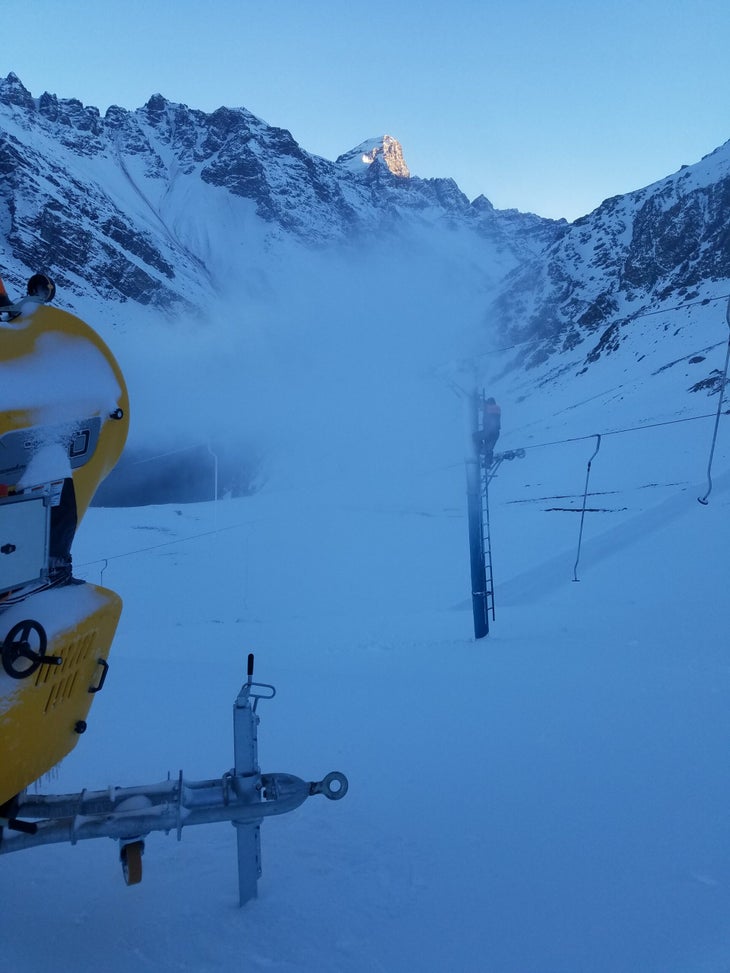 Knowing there were going to be some issues, Rogan flew down to Chile a month earlier than normal. He's a ski instructor at Heavenly Ski Resort during the northern winter and has spent his "summers" at Portillo for more than 30 years. He arrived on May 15, instead of mid to late June.
"It was a big commitment from the Purcells, the family that owns the resort, after two years shuttered," Rogan says. "They told me, 'Let's go for it.'"
The first task was turning on the iconic yellow hotel. It is owned by the resort and is the main accommodation. There were a few issues to work out, but the revival of the heat, electrical, water, and other systems went smoothly, Rogan says.
Snowmaking took more work. As part of the resort's 70th anniversary in 2019, Portillo invested $3.5-million in a new snow-making system, including 25 automated guns. They hadn't blown a flake since August of 2019.
"We plugged it in and that's when we found out where the mice were nesting and what wires they had chewed through," Rogan says.
His team of penguins, the nickname for the snowmaking crew, steadily worked through the blockages and replaced the damaged sections. They had the system ready when nighttime temperatures were cold enough to start blowing snow in early June. By the end of the month, the first significant snowstorm hit the resort, followed by a four-foot dump in early July.
Local skiers welcomed the solid start, says Arnau Sardà, the founder of My Line, a freeride and backcountry-focused ski shop in Santiago, the capital and closest city to Portillo.
"People are happy to have the skiing areas working 100 percent again and are eager to be on the slopes," he says. "In general, the slopes have been crowded during July."
The last two years left local skiers hungry for turns. Throughout most of 2020, the Chilean government imposed severe restrictions on its people, including banning outdoor sports, closing most shops, and prohibiting people from traveling outside their home region. No ski hill opened in 2020, "but quite a lot of people found a way to keep getting out," says Sardà. In other words, backcountry skiing boomed.
My Line was only a virtual store at the time, so it could continue to supply the growing demand while physical stores were still closed. Sales doubled compared to the 2019 ski season, says Sardà. Restrictions eased in 2021, but the ski hills stayed closed until the end of the season. Portillo opened for three weeks in September and closed at its normal time at the end of the month. Now with a retail store and the resorts open, My Line is on pace to set another record for sales, says Sardà. Portillo's early opening is helping.
"Portillo pushed hard to reopen as soon as possible this year," Sardà says. "It's very good to have this iconic ski area working again."
The return of key staff played a critical role in the early start, says Rogan. "It took a lot of effort and know-how to get it going," he says. The resort lost some employees during the hiatus, but most returned, allowing Rogan to operate without the staffing issues experienced at many resorts over the last two seasons.
"Staff shortages are a worldwide issue," he says. "We're feeling it, but not to the extent the States did last winter."
He thinks there are two reasons for the difference. One is that many ski hill employees have good and dependable jobs nearby during the off-season, either in agriculture or tourism. There was no alternative to winter work at the ski resort. The other is the work environment. Because there's no town at Portillo and Chileans typically work 12 days on and three days off, "everyone lives, works and plays together," Rogan says. "You get to know your fellow employees pretty quickly." It's a fun place to work, he says, as well as ski.
The early start to the season helped July bookings, a month dominated by Chilean families on holiday. Tourist restrictions are mostly gone now, making it easier for North American and European travelers to visit. Rogan says he expects foreigners to return in near normal numbers in August and early September. That includes several World Cup ski teams.
They train in Chile as an alternative to summer glacier skiing in the northern hemisphere. The chance to be on winter snow is especially important this year. The first downhill World Cup race is at the end of October in Zermatt, a month earlier than in recent seasons. "The teams are feeling the pressure more than normal," Rogan says. Both the U.S. women's and men's speed teams will spend time at Portillo, along with teams from Canada, Norway, and Austria.
The return of the racers will be the final piece in making Portillo feel like its old self, Rogan says. With most of the kinks worked out, he now has more time to ski and he's making the most of the powder days. A big early dump was one of his best days ever.
"It was all time," he says. "It snowed four feet but skied like two. The road was closed, so it was only people skiing at the resort. There was no rush feeling to the day. I was still getting first tracks at four in the afternoon. It was wonderful." And maybe a little cathartic.
One day like that goes a long way to erasing the pain of two lost ski seasons.