Citizen Skier
Chris Steinkamp has grown Protect Our Winters into the ski industry's leading voice for climate action. His next challenge: convincing skiers to spark a movement to save the snow—and bag some turns.
Heading out the door? Read this article on the new Outside+ app available now on iOS devices for members! Download the app.
Chris Steinkamp traverses the upper mountain at Squaw Valley and skis to a stop atop Sun Bowl, pausing to enjoy the view and catch his breath before dropping in. "Wow, that's beautiful," he says, snapping some iPhone photos for his wife and kids back home. Skiing, surprisingly, is a rare treat for the man who hopes to save the snow. "It's kind of sad," says Steinkamp, the executive director of Protect Our Winters, noting with embarrassment that he got only a handful of days on the slopes the past few winters. "I'm just too busy."
Protect Our Winters is the climate action group founded by snowboarding legend Jeremy Jones. While Jones is the president and public face of POW, Steinkamp is the quiet strategist and organizer who has worked behind the scenes for a decade to build the nonprofit into the ski industry's leading voice for climate protection. Launched on a shoestring budget, POW has grown to 130,000 members worldwide, with chapters in France, Austria, Sweden, and elsewhere, and a new headquarters in Boulder, Colo. Under Steinkamp's direction, POW has helped an initially reluctant ski industry become politically active in Washington and at state levels, partnering with some of the biggest brands in outdoor sports and leveraging the star power of athletes.
"POW is a very lean organization but they are creative and effective. Chris is the mover and the shaker who makes things happen," says James Rogers, senior sustainability manager at The North Face, one of POW's major donors.
POW's goal is to turn skiers and boarders into climate activists and build a social movement similar to those that have advanced the causes of gay rights and civil rights. Winter sports contribute $62 billion to the nation's economy and support 965,000 jobs, and the more than 20 million Americans who participate could become a powerful voice for change, Steinkamp says.
On November 8, an unexpected uncertainty hit the climate-action movement, with the new administration considering reversing current efforts to reduce carbon emissions and to also pull the United States out of the Paris Agreement. Following the election, POW and its allies recalibrated their strategy: focusing now on efforts to grow the climate-action movement internationally, and target senators, congressmen, and governors here to fight for progress.
"We need to take politics out of this. Climate change will hurt all voters," Steinkamp says. "In a weird way the fight is back on. Everyone needs to step up and speak up. Big corporations need to get involved too, and pull their levers of influence in Washington. We can't afford to wait another four years."
Auden Schendler, Aspen's VP of sustainability and chairman of the POW board, puts it more bluntly: "This is the moment when we have to suck it up and drop into the steep shit. You fall, you die. Ski and outdoor businesses need to publicly mobilize their consumers. CEOs need to speak up. We all need to make a loud noise. The civil-rights movement did not stop because our country had bigoted leadership. The climate movement will not stop because we have a denier in the White House."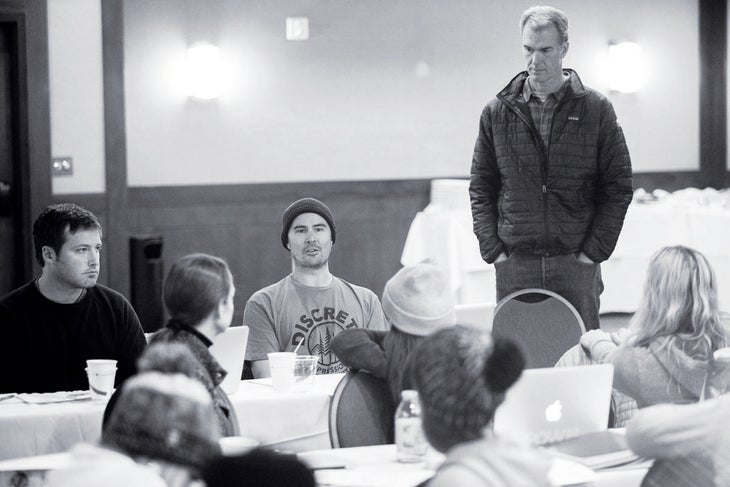 Calm, unassuming, gray-haired, and impossibly tall at six-foot-five, Steinkamp, 52, seems an unlikely candidate to foment a revolution. "Chris is definitely not an alpha," says Schendler. "He's the type of guy who apologizes to you while he's getting you to unload his van." Steinkamp grew up in Westchester County, New York and learned to ski during family trips to Vermont and the Catskills. He traces his environmental ethic to his father, an outdoorsman and a skier. After graduating from Saint Lawrence University, he spent two years in Alaska and Aspen before beginning a long career in advertising, overseeing campaigns for brands including BMW and Nissan. "I always wanted to do work related to the environment, but I found myself selling cars," he says.
In 2007, Steinkamp got his chance when he became the marketing director for Teton Gravity Research. That's when he met Jones, a TGR film star whose travels around the world had given him a firsthand view of waning snowpack. Jones had already come up with the idea for POW—an acronym that Steinkamp the adman recognized as ingenious—but felt he lacked the skills to manage a nonprofit. "Let's just do it," Steinkamp told Jones. "We'll figure it out." Steinkamp launched a POW website in 2007. Donations started coming in 30 minutes later.
"It's hard to imagine Protect Our Winters without Chris," Jones says. "From the get-go, I gave him the keys to the car and said, 'Drive.'" While Jones provided the star power, Steinkamp lent the business acumen. "It's one thing for me to walk into a room full of important people and say, 'Hey, dudes, I've got this climate thing I'm doing,' versus having Chris there to provide that professionalism," Jones says.
Steinkamp volunteered on nights and weekends for four years while continuing his agency career, working for free until 2012. Jones and Steinkamp operated POW as a brand rather than a nonprofit. They focused on free social media and created the Riders Alliance to capitalize on the cool factor of big-name skiers and boarders. The alliance is now a who's who of winter sports, an A-list of 70-plus Olympians and gold medalists, ski-film stars and X Games winners. The combined social-media reach of POW's Riders Alliance is in the millions.
"We are selling activism and helping people connect to climate change in an emotional way, through their love of snow sports," Steinkamp says. "We don't push a doom-and-gloom message. We try to make it cool to care. Our goal is to give people the tools to fight the good fight and help preserve this way of life that we all love." Millennials are POW's primary audience. "All the research shows that youth overwhelmingly support climate action and clean energy," Steinkamp says. "The will is there."
In addition to activism, POW focuses on youth education. Its Hot Planet/Cool Athlete school program has presented climate-change assemblies to more than 50,000 students. "It's not boring science," says Riders Alliance member Caroline Gleich, a ski mountaineer and three-time SKI Magazine cover model who has spoken in multiple schools. "We tell a positive message that you can make a difference if you get involved."
To win recognition in Washington, D.C., Steinkamp and Jones knew they had to make the case for skiing as a job creator. In 2012, POW released the report "Climate Impacts on the Winter Tourism Economy in the United States," which quantified the economic benefits of the winter-sports industry. The report "put us on the map," Steinkamp says.
POW was just getting started. When Obama announced the #ActOnClimate social-media campaign in 2014, POW helped generate a remarkable 10 million impressions in a week. "POW athletes are effective ambassadors because they have great visual content that makes people stop and stare, and they transcend politics," says former White House staffer Molly Kawahata.
In 2015, POW helped win support in several ski states for the president's Clean Power Plan. Steinkamp persuaded Ski Utah to write a letter to Gov. Gary Herbert, making the case that air pollution from coal plants is harming the state's $7 billion tourism industry. "Chris is the reason why we jumped into this issue," says Nathan Rafferty, Ski Utah's executive director.
Understanding that activism is another name for mass mobilization, POW has strived to keep its message positive. POW has partnered with Ben & Jerry's and New Belgium Brewing on a Pints for POW initiative, with proceeds going to POW and the group's info on the packaging. POW has partnerships with companies including Patagonia, Spy, Vans, Giro, Clif Bar, DPS, and New Era that place the nonprofit's logo on products. Initially skeptical, the ski industry's two main trade groups, Snowsports Industries America and the National Ski Areas Association, have worked with POW to become more vocal on climate change.
"POW has matured and more importantly our industry has matured on climate," says Squaw CEO Andy Wirth, who credits Steinkamp with convincing him to become more involved. "Five years ago they might have been seen as a fringe element. Now their message resonates."
As POW prepares for a busy 2017, the organization is finally on steady financial ground. In the summer of 2016, the nonprofit moved into new offices in Boulder, ditching a cramped basement in southern California. The new location puts the group at a hub of ski and outdoor industries. With its revenues growing—the 501(c)(3) organization had revenues of $1 million in 2016—POW has beefed up its staff, hiring, among others, a manager of advocacy to push climate initiatives in statehouses and at local levels. POW's next goal: become the voice for the entire outdoor industry, tapping an even larger audience of recreationists to build the movement. "Whether you're a fly fisherman or kayaker, many sports have a direct connection to snow and the mountains, and these people are seeing climate change just as visibly as Jeremy did," Steinkamp says. He is hopeful that Trump will likewise see the light. "Despite all the rhetoric from the campaign trail, maybe he will support renewable energy if he can be convinced it's a job creator."
Sliding downhill on snow has always been a magical escape. Now the act of skiing is a statement that snow, winter, and water are vital. Skiing also provides a lesson known to every rookie skier and rider: After a fall you get up, brush off, and continue on.
Back at Squaw, Steinkamp pushes off into the soft snow of Sun Bowl. Despite his humble appraisals, he's a good skier, confident, economical, and athletic, not flashy. I watch him for a while and then follow his tracks, assured that he will safely navigate the steep terrain ahead.