Sticking it to the Ban: "Snowboarding" at Mad River Glen
The video-contest winners Burton wasn't expecting.
Heading out the door? Read this article on the new Outside+ app available now on iOS devices for members! Download the app.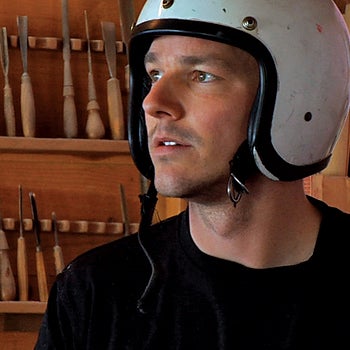 from
on
.
When Burton Snowboards announced a counterculture-video contest in the fall of 2007, American snowboarders began scheming. The competition offered $20,000, to be split four ways, for the best videos of snowboarders poaching the four North American resorts that forbid sideways sliding: Alta and Deer Valley in Utah, Vermont's Mad River Glen, and Taos, New Mexico (Taos rescinded its snowboarding ban last March).
Among those scheming were David Raizman and Brian Burns. Burns, who'd recently become obsessed with snurfing the hills around his Calais, Vermont, home, and Raizman, a filmmaker, dreamed up a dramatic mockumentary and took to the slopes of Mad River. Burton awarded the resulting five-minute video, christened "The Hawk," a $5,000 prize.
There's only one problem: They don't ride. Raizman is a telemark skier and Mad River loyalist. Burns had never snowboarded either, according to Raizman, who lives in Montpelier, 40 miles down the road from Burton's Burlington headquarters. "And on top of that, we're kind of old. Burton was really cool about it, but I don't think the young snowboarders in the contest were very pleased."
Raizman, 46, and Burns, 32, weren't the only non-snowboarders to benefit from the contest: Mad River Glen appreciated the free publicity. "I can't buy PR like that at any price," says marketing director Eric Friedman. Friedman went so far as to hire a photographer to accompany the kick-off poach, which consisted of nearly 40 snowboarders who arrived on a motor coach hired by Burton, a luxury Friedman found amusing. "This is a multi-million-dollar company that owns over 50 percent of the market, and they're talking about 'sticking it to the man.'"
As for Burns and Raizman, they're just thankful for the cash. "I had no work in January and February," says Burns, who makes custom furniture. "I had to win this just to pay the bills."
View "The Hawk" above.