Warren's World: The Gift Of Skiing
Warren's World: Christmas and the gift of skiing
Heading out the door? Read this article on the new Outside+ app available now on iOS devices for members! Download the app.
Warren Miller wrote columns for SKI from 2001 through 2011, sharing his dry wit, heavy sarcasm, and occasional doses of syrupy nostalgia with the magazine's readers, nurturing a relationship that crossed over from print pages to the big screen and back again. Many of his columns are available to Active Pass members. Not a member? Join the best club in skiing here.
Christmas Day, 1958, I watched three instructors trying to thread their classes down the Half Dollar ski hill with the rest of Sun Valley shut down because of tall sage brush and very little snow. Talking to Sepp, the ski school manager, I said, "You ought to look into those new snowmaking machines I just filmed, the ones Walt Stopa has at Wilmot in Wisconsin." Sepp's answer was "Those snowmaking machines are OK for those back east ski resorts. But we don't need them here in Idaho, where we get a lot of snow."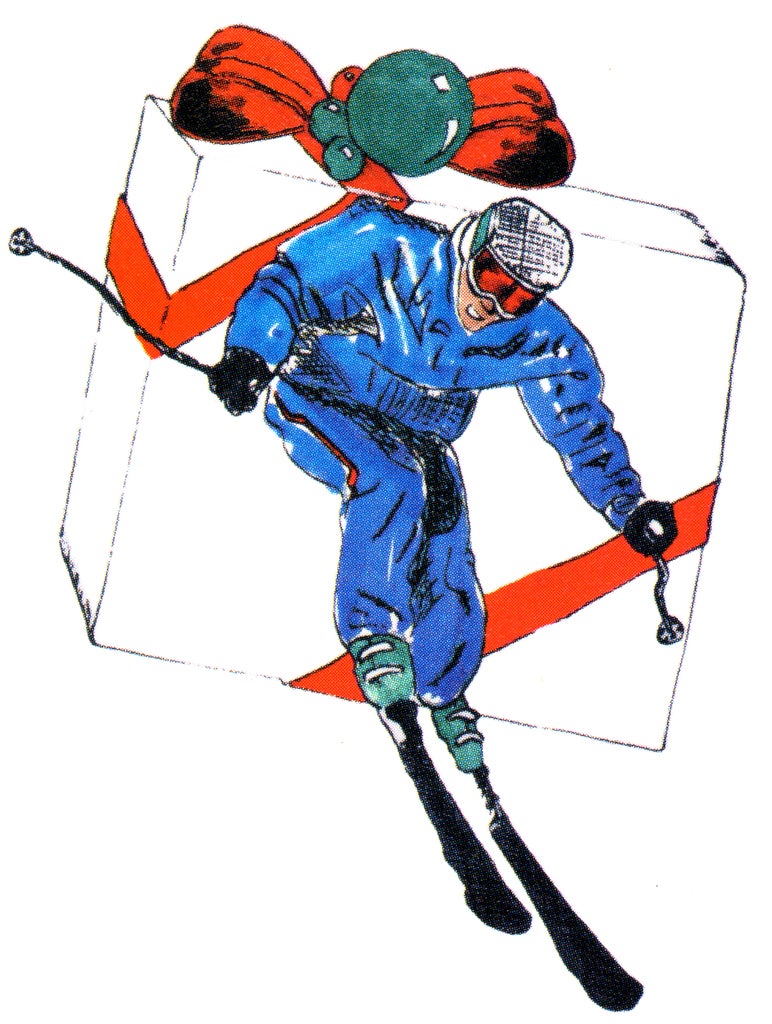 Today almost every ski resort in America has snowmaking machinery and many start them up in September so they can offer skiing by Halloween. A lot of skiers are upset if they don't have great skiing by Thanksgiving, much less Christmas. And if it hasn't dumped 7* feet of snow by New Year's Eve, those same skiers write off the winter as a bad one.
Personally, I try to spend the early season looking for the snow between the rocks. As my three children grew in age and size, we kept up the Christmas road-trip tradition. It was always hard to finish up a 75-city tour with my feature ski film, have three days to get caught up in the office, pack the car with our skis and luggage and start driving 900 miles to spend Christmas in the mountains. After driving for 18 hours on four hours sleep, the magic of looking out the ski lodge window in the predawn darkness and seeing new powder snow always erased any fatigue and frustration I might have brought with me. Later, while walking to breakfast with my children, feeling the crunch of snow under our feet, seeing our breath in the clean mountain air, throwing snowballs at each other, and listening to the distant boom of avalanche guns, my life always got back into focus. No one can ever take those holiday memories away from my family.
But in recent years, something different has been happening around the base of the ski hill on Christmas day. I hear it in children's voices. It's a different attitude.
"My Christmas tree has more presents under it than yours."
"Tommy has a more expensive _____(fill in the blank) than I do."
Materialism is creeping into people at much too young an age. Does it come from the parents' attitude that their condo is bigger than yours? There used to be a saying about "Keeping up with the Joneses." Why not just be one of the Joneses? Then if anyone wants to try to keep up with you, let it be when you're carving first tracks on a powder morning.
I have seen wives send their husbands' corporate jet back to their hometown to pick up a special dress they forgot to include in the 19 suitcases of clothes they brought for the many Christmas parties. A friend once told me that her husband had given her a parachute for Christmas. I was a little surprised because she was not the skydiving type. She explained that her husband had given her a parachute-not for personal use but for their jet, so they could land at airports with shorter runways and wouldn't have to spend so much time in the limo getting to the ski resort.
These 6 Gems From Warren Miller Remind Us What Skiing is All About
Everyone has at least one story for every Christmas of his or her life. One year, just after the holidays, I was filming a celebrity ski race and met a young lady named Tracy Taylor. She was the March of Dimes poster girl that year. She was born with spina bifida, which causes paralysis, and at the age of 11 she was no bigger than a minute.
After the opening ceremonies she had her picture taken in the arms of each celebrity, and when the photoshoot was over, I held her in my arms and skied over to where her mom was sitting. Tracy was wearing plaster casts from her toes to her hips, and when I put her down in her wheel chair, I turned to her mother and asked, "How much does Tracy weigh?"
"About 35 pounds."
"That's about the same as one of my movie cameras with a tripod. Would you let Tracy take a ski run with me?" Without hesitation her mom answered, "Sure." I picked Tracy up in my arms and coasted over to the chairlift. Taking advantage of the ski school line, we jumped right onto the chair and started for the top of the mountain. When I began skiing down with her cradled in my arms, her pencil-thin arms were wrapped tightly around my neck. Before I had made a half dozen turns her death-grip around my neck began to ease, and within a hundred yards she was waving at anyone who was standing alongside the ski run.
Tracy had a spirit that I have never seen in another human. By the time we got to the bottom of the hill, word had spread, and people were cheering her every time we made a turn. Tracy was hooting and hollering and giving everyone the thumbs up.
On the next run, as we gently cruised over the smaller bumps, I alternately held her down between my legs or lifted her high above my head, pretending she was getting big air. At the age of 11, Tracy had become an extreme skier.
Two weeks later I made arrangements for Tracy to fly to Denver and go to ski school with Hal O'Leary in Winter Park, Colo. Hal pretty much invented handicapped ski instruction, and he taught her how to ski down a hill all by herself. During her whole life, she had never been able to walk without crutches and braces, yet after her first nonstop ski run on the fourth day she said, "God made me this way on purpose so I can prove to the world that anyone can do anything they want to do."
What are you going to be doing this Christmas season? How about spending a day giving some ski lessons to people who might not be able to afford a day on the hill? All it takes is some of your time and some of your old equipment that's rusting in your garage. How about talking your favorite ski resort manager into letting everyone ride the resort's short, flat, beginner's chairlift all day for a ten dollar bill and throwing in the free use of some of last year's rental ski equipment at the same time?
I remember one very special Christmas Eve almost 50 years ago. My young wife had just died of cancer and our son was barely a year-and-a-half old. I was heading back to my hotel room alone in a blizzard with the wind blowing 25 mph and the single stoplight in town swinging in the wind. As I waited for the signal to change, I glanced over at the curb. At 2:30 on Christmas morning there was an elderly man sitting on a bench in the blowing snow waiting for the bus with his Seeing Eye dog. I drove about half a mile before I was able to make a U-turn and go back to offer the blind man and his dog a ride. I was across the street when a big red van pulled up and the man with the white and red cane and his dog climbed aboard. The van driver was a very fat man with long white hair, a big white beard and a twinkle in his eye.
He looked over at me as they drove away together, and I realized on that Christmas morning that if I were any luckier I would have to be two people.
Warren Miller wrote columns for SKI from 2001 through 2011, sharing his dry wit, heavy sarcasm, and occasional doses of syrupy nostalgia with the magazine's readers, nurturing a relationship that crossed over from print pages to the big screen and back again. Many of his columns are available to Active Pass members. Not a member? Join the best club in skiing here.