The Upside of Change
Now in the middle of season three under Vail Resorts' ownership, Whistler Blackcomb's true colors are shining through.
Heading out the door? Read this article on the new Outside+ app available now on iOS devices for members! Download the app.
Saudan Couloir pitches off the crest of Blackcomb Mountain like a dare. No matter how much change comes to Whistler—and visitors will find much that's new this season, after more than $90 million in combined village and mountain up- grades—this siren song remains the same.
From the valley floor, 5,000 feet below, Saudan Couloir looks broad and beckoning, a giant version of the Y from the YMCA logo rendered in snow white. From above, tips teetering over the edge, it appears to be another thing altogether: 39 to 42 de- grees steep, a smattering of granite outcroppings, a passageway through the throat that you don't want to miss, and a run-out that rubs shoulders with a debris-strewn glacial moraine.
The Couloir is not Whistler Blackcomb's steepest or most challenging line, but it is a double-black diamond. Add giant slalom gates, moguls the size of Mini Coopers, six inches of fresh snow and a finish line more than two miles from the starting gate, and it becomes a double dare—a bucking bronco of an event called the Saudan Couloir Ski Race Extreme.
Ex-World Cup racers blow out of the course. Seasoned amateurs wipe out on the very first turn. Professional big mountain freeriders double over in the finish area, clutching their legs and gasping for air. Everyone loves it. The mountain always wins.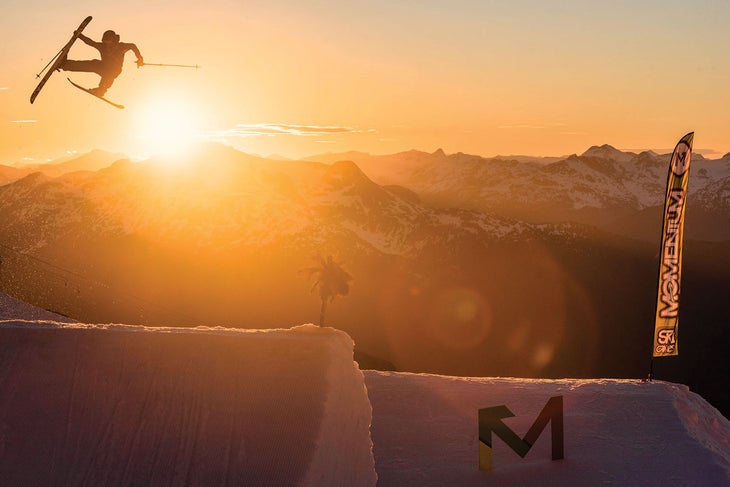 You could say Vail Resorts took the dare. In April 2018, they brought the signature race back to life after a 16-year hiatus. First, of course, the American conglomerate bought 75 percent of Whistler Blackcomb for more than $1 billion USD in October 2016. But wrangling North America's largest and most visited mountain resort into the Vail Resorts fold proved to be its own breed of bronco.
More about the Saudan Couloir Ski Race Extreme: When in Rome…
Back-room challenges merging the two big companies' internal systems led to front-line customer service snafus throughout winter 2017-2018. Day skiers reeled from sudden sticker shock and got vocal about it. An array of cross-cultural missteps in community, employee, and Canadian customer relations escalated things. "We didn't get it right," says Marc Riddell, Whistler Blackcomb's head of communications.
What Vail did get precisely right was bringing the Saudan Couloir race back to life. From its founding in 1987 until its wrap in 2001, the one-of-a-kind event came to embody Whistler Blackcomb's signature mix of jaw-dropping majesty, welcoming boldness, and high-spirited fun. Reviving the race sent a clear sign to regional regulars—who comprise a hefty 49 per- cent of Whistler's overnight visitors annually, and about the same percentage of the mountain's two-plus million winter skier days—that Vail understands and values the distinctiveness of what it bought.
"Whistler Blackcomb already was great," says Pete Sonntag, the American ski industry careerist and Vail Resorts company man who became Whistler Blackcomb's COO in July 2017.  "We're looking to build on what is good here and not necessarily to change it. Improving the on-mountain experience is our top priority."
In summer 2018, that priority translated to Vail investing $52 million in an accelerated Whistler Blackcomb construction campaign, bringing a squadron of lift upgrades (including a new valley-to-mountaintop high-capacity gondola on Blackcomb), two cantilevered viewing decks at different altitudes on Whistler, and completion of a breathtaking Whistler Peak suspension bridge designed to be open year-round. And then there's Emma, Vail's new artificial intelligence system providing on-demand mountain information via SMS.
Down in town, an additional $48 million in upgrades—funded by independent businesses, big hotels, and taxpayers—has brought fresh lodging, dining, and activities along with dramatic improvements to essential infrastructure like the center-of-town bus depot.
More about Whistler Village: Whistler's First Pod Hotel Is Important for Skiers Everywhere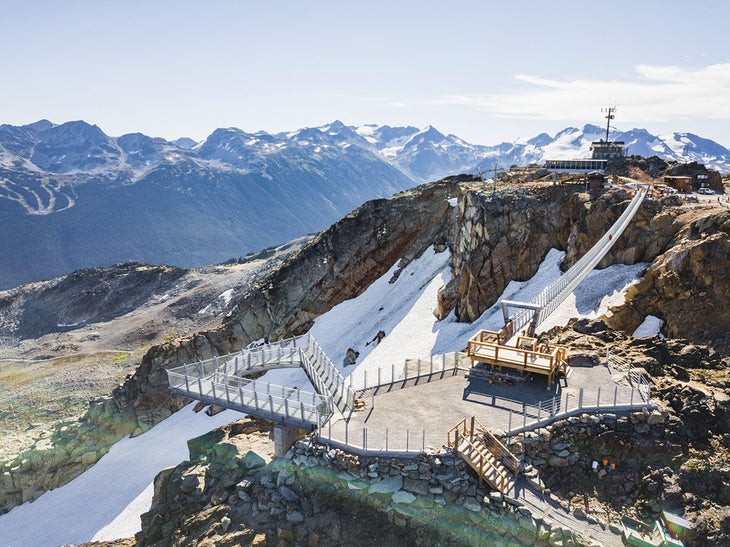 That $90 million in upgrades has brought a lot of shine. Visitors to Whistler this winter will find a mountain and town buzzing with vitality and internationalism like never before. It's both badass and family-friendly, innovative and unpretentious, rugged and refined.
But even with a summit-top suspension bridge, a Euro-hip pod hotel, and a robot who can text grooming updates, what's most essential about Whistler remains the same: Saudan Couloir and its sisters lure skiers off the valley floor with their siren song. High-spirited fun prevails. The Village Stroll has no slow season now, buzzing as it does year-round with people of all ages from all corners of the globe. Nevertheless, up on Whistler Blackcomb's majestic expanse it's still possible to find oneself alone—alone!—while gliding through a vast and snowy basin.
No matter how much change comes, Whistler is always going to be itself—and there's nothing else quite like it in the ski world. In this case, the mountain always wins. 
Whistler Blackcomb Trip Planning
Eat: Legendary chef Umberto Menghi left the original Il Caminetto to James Beard Award–winning chef James Walt last winter. The new iteration retains the Italian cuisine but adds local ingredients to the menu for a contemporary yet regionally inspired flair.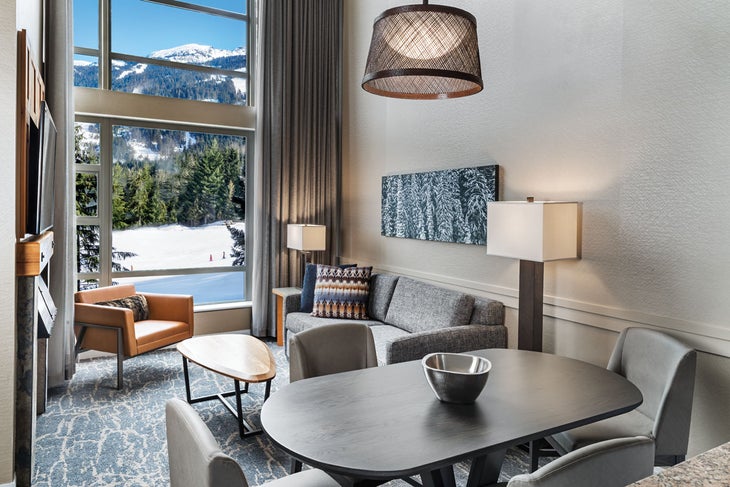 Sleep: The village-central Westin Resort & Spa Whistler recently underwent $9.35 million in renovations. At the base of Blackcomb Mountain, the stately Fairmont Chateau Whistler is reaping the benefits of $5.4 million in renovations of its own this winter.
Drink: It's not a proper Whistler visit without a post-schuss après stop at Garibaldi Lift Co. for whatever suits your appetite, from the signature GLC bacon burger to the ahi poke bowl, plus plenty of beer on draft, great cocktails, and live music.
Susan Reifer Ryan lives outside of Whistler, B.C., giving the longtime SKI Magazine contributor a front-row seat to the resort's evolution.
Originally published in the 2019 January/February 2019 print edition of SKI Magazine. To have great writing and photography like this delivered directly to your mailbox, SUBSCRIBE NOW.