Utah's Big Secret: Snowbasin
Terrific terrain. Great cuisine. and lodges fit for the Olympics. Why is Snowbasin still the best resort in the West that you've never skied?
Heading out the door? Read this article on the new Outside+ app available now on iOS devices for members! Download the app.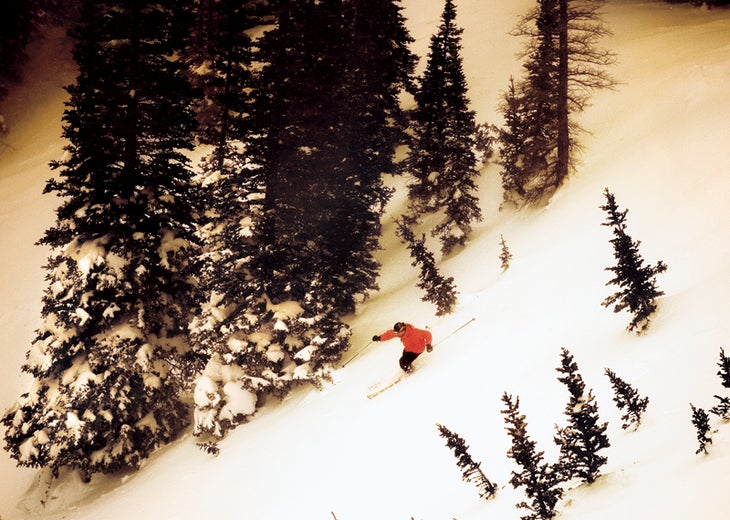 The bunny looks suspicious. He is driving a snowmobile, after all. Never mind that it's Easter weekend. A bunny who can drive a snowmobile is a bunny who's not telling everything he knows. Maybe he's in on it, too. By "it" I mean, of course, The Conspiracy.

Do I seem a little paranoid? Then clearly you haven't been to Snowbasin—which is exactly my point. Snowbasin, Utah, has some of the sweetest terrain, the fastest lifts, the choicest cuisine of any ski resort in North America. It should be a leading actor, smothered in applause and bathed in limelight. So why are the slopes of Utah's second-biggest resort so empty that you could race a tumbleweed downhill? Why had I met hard-charging Salt Lake City skiers who said they'd never drifted up here, though they lived but 35 miles away? Why does Snowbasin remain, in the words of one resident of nearby Ogden, "the highest-class locals' ski hill ever"?

My suspicion of a coverup has grown with every visit I've made. Somebody is giving this place the serious Area 51 treatment. But why? And who? The Masons? The Mormons? Some dark cabal of selfish local skiers?

The Snowbasin Conspiracy needs to be exposed, I decide. I will turn over every flake until Truth is discovered from behind whatever snowy knoll it has lain bound and gagged.

Riding the chair, I think that maybe I should start by questioning that bunny. When I look down, though, the bunny has suddenly made himself scarce.

***

On the surface, Snowbasin doesn't seem such a place of intrigue but one of straightforward wonder: six linked peaks, on their own, clothespinned to the Utah horizon like some romanticized ideal of the Great Western Ski Resort. An engaging 2,820 acres of terrain tumble from the ridgelines, with nearly 3,000 vertical feet of skiing—almost 1,000 more than Alta. Ski legend Alf Engen, of Alta fame, visited in 1940 and suggested a ski area should be built here. Snowbasin opened a year later—one of the first in the West.

Engen knew his stuff. The trail map could be a stitchwork of the highlights of some of the West's best. At the north end of that long ridgeline, the massif grows more crimped around 9,465-foot Allen's Peak and No Name. On these ridges flecked with subalpine firs, the skiing reminds me of Alta and Snowbird. The resort's beefy midmountain recalls a Deer Valley, with its heavy concentration of lifts, two swanky on-mountain lodges and intermediate runs such as Porky Face and Wildcat Bowl, where the groomers work up to 17 hours a day laying down carpet. The south end completes the triptych with a rumple of mellower open ridges and ego bowls—the low-angle love that is akin to Vail's Back Bowls or Jackson's Hobacks. Runs like Moonshine Bowl and the Diamond shine best under the skis of adventurous intermediates after a few inches of snow. This mountain isn't just great at serving up variety; it gives everyone his or her own unique area in which to enjoy it.

To see yet another side of the place, though, I head out one morning with senior ski patroller Leighan Falley. Falley helps run the Beyond Tracks program, which shows guests what Snowbasin offers just beyond the boundary ropes.

Immediately I suspect that a trap has been laid. Falley, 28, is startlingly beautiful, with a long black ponytail and blue eyes, in addition to all of her other attributes—Alaska-raised bush pilot, award-winning artist, champion backcountry ski racer. Falley clearly has been sent to distract me from plumbing The Conspiracy. But I focus.

We ride to the top of Allen's Peak, home of the start house for the men's downhill during the 2002 Winter Olympics. We push toward the boundary rope and find a few skiers who are taking in the unusual view over the mountain's backside: Far below lies Ogden's prim rectilinear grid, looking like a microchip beside the puddle of the Great Salt Lake. Avalanche beacons switched on, we pole past the gawkers and soon stand on the north side of the mountain's Coldwater Canyon. Again I'm chasing Falley and her black ponytail, this time down a swoopy white comma called Banana Chute. The snow is cold and still nearly untracked; not 80 yards away, on the other side of the rope, the powder disappeared days ago. How could no one have poached this by now?

Farther down, we pause and peer up to where the limber pines part and still more unskied, north-facing slots drop from the ridge that reaches out from Allen's Peak. Powder shots this tasty in Little Cottonwood Canyon would have been tracked out an hour or two after the chair opened. I'm disoriented. "When was the last time it snowed?" I ask.

"Um, maybe a week ago?" Falley replies, nonchalantly. And she skis on, circling us back to the frontside and the John Paul lift.

Next time up, we scooch along the ridgeline and hoof it briefly uphill to 9,070-foot No Name peak, then pass through some gates. This puts us above Hell's Canyon, a steep zone pinstriped with expert lines that bear names of the Seven Deadly Sins (Gluttony, Greed Trees, even one called Confluence of Anger, where slides meet and sometimes bury unwary skiers). "A five-minute hike to 3,000 vertical feet of powder," Falley gushes. "It's one of the best lift-accessed backcountry shots in the Wasatch." She's correct—even on another rapidly warming day we find powder pockets among the trees, then cut down faces of soft corn. "There are so many nooks and crannies up here," she says with in-the-know amazement.

Down at the lift, though, and among people again, Falley's mood seems to shift ever so slightly. She mentions how much backcountry traffic has grown. "But it's still quiet here," I counter. "Look around—it's Easter and it's ski-to-the-chair empty."

But Falley seems more subdued. Like she's having an inner conversation. In my paranoia, I suddenly imagine that she's remembering her orders: Bad-mouth the place. Douse the hype. Keep Snowbasin to ourselves. "We can get really busy," she says, as the empty chairs spool uphill like charms on a bracelet.

Snowbasin's lodges further confound me, as they do many visitors. They're massive piles of stone and timber, outré in their ponderous grandeur and, inside, jarringly stuffed in Legends of the Fall style. Earl's Lodge—the daylodge named for owner Earl Holding, who also owns Sun Valley, Idaho, as part of his far-flung business empire—has wall-to-wall English Wilton carpet on the floors, golden sconces bolted to rough-hewn timber beams and public spaces accoutered with ornate wardrobes, each big enough to suggest a Narnia beyond. Banging around the lodges in ski boots feels as inappropriate as sitting down to high tea in a loincloth.

The lodges are meant to be showpieces, in their fashion—especially the exceptional cuisine. (Tomato bisque, anyone? Tuscan-style herb-roasted suckling pig?) But even the cafeterias, with their granite counters, aren't a whole lot busier than the slopes. I walk into the marble-tiled bathroom, disoriented and impressed and confused. What is this place? Who is it meant to impress? Why is it here, out on its own, with almost nothing around it? What is Snowbasin still hiding from me?

***

I need new sources. The next day I head out with two guys who've skied this hill nearly their whole lives: Jordan Judd, 29, former owner of an Ogden ski shop and now marketing director for Atomic USA, and his buddy Nick Clark, 27, who also works at Atomic and grew up riding the Saturday ski bus here. They decide to show off their favorite zone. From Snowbasin's summit ridgeline, hikes of 30 seconds to 10 minutes deliver skiers to the top of a parade of cupped, Squaw Valley–esque cirques. Each bowl is threaded with couloirs or lipped with boxcar cornices that guard 400-vertical-foot shots, nudging 40 degrees. "Mt. Ogden Chute, when it has snow, is as good as anything at Jackson," says Clark. We'll try it later—and find out that he's right.

But now, as we wrap around 9,370-foot DeMoisy Peak along the resort's crown and sidestep over to the lip of Porky's—Porcupine Cirque—we're alone. No one around to eavesdrop. It seems a good time to ask about The Conspiracy. Judd confirms that in the last few years, everybody—Warren Miller film crews, major metro newspapers, national magazines—has come to Snowbasin and soaked it with praise. Yet not much has changed, and the place still hums below the radar.

"Exactly!" I say, thinking that I'll finally hear some meaty, you-can-thank-the-same-folks-who-want-to-fluoridate-the-water explanation. Not from these guys. My guides begin to dismantle The Conspiracy with the soft hammer blows of common sense. "It has the perception of being too far out of the way, a little too inconvenient," Judd says of the resort. In a state with such an embarrassment of ski riches—with at least five world-class resorts closer to the Salt Lake City metropolis and its busy airport—even being about an hour from the airport is a liability. The "Alta-oids" still don't drive up here unless Little Cottonwood Canyon is closed or Snowbasin gets a lot more snow, says Judd. Ditto for visitors: If you're sitting in a slopeside condo at Park City, loading up the car to drive an hour north to try Door No. 3—well, it just seems a hassle for most folks.

Is it simply that geography is destiny?

After a quick hike from the Strawberry Express gondola, we stand at the top of a chute called Lone Tree and shoot the breeze. Judd calls Lone Tree a "classic old-school Snowbasin run." It's tight as a tube sock, tilted between rock walls, with an ancient pine marking the entrance. The snow still looks choice, days after the last dusting. "Look, we've been standing at the top of this great chute for 10 minutes, and no one's come by," Judd says. "Do you think that could happen at Alta or Whistler or Jackson?" Well, what does explain that? I press him.

"If you put this mountain in Park City, or Vail, it would be world-renowned," Judd says. "But we don't have any lodging." He's right. We look down at the base area. It's nearly a blank slate without a single bed, though owner Earl Holding owns 15,000 acres at the base of the ski hill (including two square miles of prime real estate acquired in a controversial land swap with the U.S. Forest Service before the Salt Lake Olympics). And while the surrounding Ogden Valley has a few lodges and B&Bs, it's hardly geared for winter tourism—yet.

"Let 'em get the word out" about the place, Judd says, his voice carrying a hint of a dare. But until the lodging is in place, people won't show up in any real numbers to poach his powder. Then Judd points his boards down Lone Tree and disappears in a magician's puff. Lower down, we jump on the buffed back of Main Street, one of Snowbasin's boulevards. It's broad and fast and groomed nightly, and we roar past the only two people on it on a sunny weekday in March. Though this place gussied itself up for the Olympics, it really hasn't changed, Clark and Judd agree. They still see their same friends on the slopes that they did 15 years ago.

Finally, The Snowbasin Conspiracy crumbles under its own paranoia. Maybe Occam's Razor—the simplest explanation is usually right—best fleshes out why the resort remains undiscovered by just about anyone living beyond a handful of Utah zip codes. Maybe Earl Holding just doesn't want to invest any more money into this lonesome gem of a ski resort, right now, with pricey marketing and pricier hotels and the like. He already poured $100 million into Snowbasin to transform it into a showcase for six Olympic events. Maybe today Holding, who's in his 80s and is primarily an oilman and ranch baron with business ventures reportedly valued in the neighborhood of a billion dollars, has other priorities. "We're just enjoying Uncle Earl's tax write-off," jokes Clark.

The resort says a master plan is still being tweaked. Even so, other spendy priorities—such as replacing aged beginner lifts—need to occur before a hotel can appear, says Denzel Rowland, Snowbasin's general manager.

And anyway, I'm starting to understand the wisdom of The Conspiracy: Why should this place be in any hurry to change? Why megaphone a good thing out of existence? The reason I've kept coming back to Snowbasin is because it isn't yet like everywhere else. It's better. And so is the tomato bisque.

SIGNPOST: Snowbasin, UT
2,820 skiable acres; 2,959 vertical feet; summit elevation 9,250 feet; 400 annual inches; 104 runs; 12 lifts, including one tram and two gondolas. Lift tickets: $64; kids (7–12) $40; senior (65–74) $51; under 7 and over 74 free.

Getting There: Snowbasin is located 33 miles northeast of Salt Lake City. It's also about 45 miles north of Park City, in the Ogden Valley, and approximately the same distance from the Salt Lake airport. Ogden is 15 miles to the west, through Ogden Canyon.

Lodging: Here's why you've had the slopes to yourself: There's not a stitch of on-hill lodging. The nearest rooms are about 14 miles away. Moose Hollow Luxury Condos offer one-to four-bedroom units with fireplaces, hot tubs and big kitchens. Minimum two-night stay; moosehollowcondos.com; 877-745-0333. A shuttle stops here to take skiers to the slopes. For a traditional B&B, head to Snowberry Inn, in Eden, about 30 minutes away; snowberryinn.com; 888-746-2634.

Après & Dining: Nearby options, as with lodging, are limited. For local flavor, head to the Shooting Star Saloon in Huntsville—it's Utah's oldest bar—for a beer and a messy Star Burger (there's knockwurst in the middle); 801-745-2002. Or drive down-canyon to the Union Grill in Ogden for a tasty flatiron steak; uniongrillogden.com; 801-621-2830. On Saturday nights, guests can ride the gondola up to Snowbasin's Needles Lodge for a lavish buffet. Reservations required; 801-620-1021.

Info:snowbasin.com; 888-437-5488

SKIING SNOWBASIN
You've broken through The Conspiracy and found your way here. Good job. Now don't trust just anyone to steer you in the right direction—especially the scheming locals. Here's the real deal. Check out a trail map of Snowbasin and learn more about the resort here.

Snowbasin only has one base area, so every day begins and ends in the same place. From the base, board the Needles Express gondola for the 12-minute ride to the Needles Lodge. Get your ski legs under you with a cruise along Sweet Revenge, an intermediate groomer that leads to the wide-open Bear Hollow area and groomers including School Hill and Powder Puff. You'll end up back at the base, where you can address any equipment issues that might have arisen.

From here, it's back up the Needles Express gondola, heading down the Strawberry Traverse—another blue—to Main Street, which drops you at the terminal of the Strawberry Express gondola. Grab a coffee at the Strawberry Express Café for another 12-minute ride up. You'll want to have your camera ready at the summit, where the beautiful view of the Great Salt Lake includes a vista of four states—Nevada, Wyoming, Idaho and, of course, Utah. Head down Elk Ridge, the longest continuous groomed run—3.5 miles—on the mountain. It offers a bit of everything—steeps, rollers, trees—and is an ideal prelude to the challenges ahead. Hit the Strawberry Express again, but this time opt for Dan's Run, one of the more unique trails, dotted with islands of trees. It funnels though the Bear Hollow area and down to the base. From there, board the John Paul Express quad, used by Olympians during the 2002 Winter Games to access the downhill and super G courses, both visible from the lift.

But first it's time for lunch at what's arguably the most chic cafeteria in all of ski country, John Paul Lodge, at the top of the lift. Its four-sided granite-and-copper fireplace and giant windows facing the dramatic Ogden Cirque offer a unique sense of place. The motif is Italian comfort food; try the wood-fired pizza or Italian beef stew.

Things get more serious from here. Skiers not up for ungroomed expert terrain can bail on the Mt. Ogden Bowl run, a gentle cat track that leads back to the frontside. The rest should board the Mt. Allen Tram to the top, the highest lift-served portion of the mountain (9,310 feet). Take a peek at the downhill course and views of Ogden below. Either the Grizzly or Wildflower downhill course is groomed daily—ask guest services at the base. For Snowbasin's toughest challenges, head to No Name peak for steep trees and hike-to terrain that'll knock the wind out of you. Then try your game on Wheeler's, Shooting Star and FTS (Fun to Ski), which flow back to the base.

Daytrippers from Park City: You can ski the mountain's 3,200 acres in one day, but it will tax you. Instead, think of Snowbasin as three distinct ski areas and tackle the section that appeals most.

– SKI MAGAZINE, FEBRUARY 2009