Vonn Gets Podium, Bode Gets Fat Lip in Finland
World Cup visits the Arctic Circle; next stops: Aspen, Beaver Creek
Heading out the door? Read this article on the new Outside+ app available now on iOS devices for members! Download the app.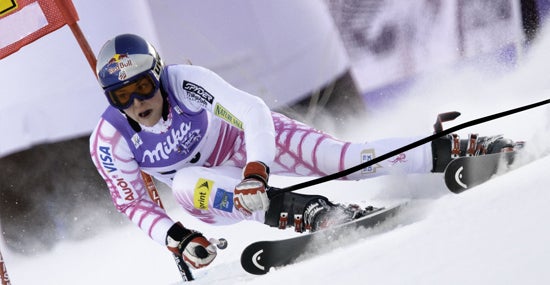 Short hill, bitter cold, lighted slopes and lots of Scandinavians? No wonder Lindsey Vonn felt so comfortable. "This hill reminds me so much of racing back at Buck Hill," said the Minnesota native, who finished second, just .08 seconds behind winner Maria Riesch of Germany in Saturday's World Cup slalom at Levi, Finland.
In the men's race on Sunday, Ted Ligety, in 18th, and Jimmy Cochran, 19th, led the U.S. team, with Bode Miller taking a gate to the face and failing to finish the second run in his first race back as a U.S. Team skier.
Vonn, who won the two speed-event titles last year, in downhill and Super G, proved she's still a contender in the technical events. She finished third in the slalom standings last year, and despite difficulties in GS, continues to look like a five-event favorite for the coming Olympics. "What she's doing right now in slalom is awesome," said U.S. technical coach Trevor Wagner.
"This gives me awesome confidence going into the Aspen Winternational (World Cup races, GS and slalom, Nov. 28-29) in a few weeks," said Vonn, who notched the first slalom victory of her career at Levi last year."I'm headed back to Vail now to get in some more slalom and GS training before Aspen. … It's really evident after today that the training I was able to get in Vail was really valuable."
Another Vail resident, Sarah Schleper, finished 16th in the first run, but missed a gate early on the second run. Hailey Duke and Kaylin Richardson finished 21st and 23rd, respectively.
In men's action Sunday, Austrian Reinfried Herbst collected the sixth win slalom win of his career, with Ivica Kostelic of Croatia in second and reigning slalom title winner Jean-Baptiste Grange in third.
Miller was fast early in the second run, but the gate to the face blurred his vision, forcing him to abandon the course. His injury was limited to a fat lip. Many racers had trouble with the steep section of the second run, as was the case with Ligety, who finished seventh in the first run but lost his rhythm on the steeps in the second run. Cochran handled the course well, however. Starting 46th, he managed the first-run ruts capably and finished 26th, then held on with a solid second run to finish just behind Ligety. The result should put Cochran back on the Top-30 start list for the next race.
Nolan Kasper, of Waitsfield, Vt., and Burke Mountain Academy, failed to finish in the Top 30 of the first run and so did not qualify for the second run in his first World Cup race. Tim Jitloff, of Reno, Nev., also failed to qualify for a second run.
WOMEN'S WORLD CUP SLALOM
Levi, Finland – Nov. 14, 2009


1. Maria Riesch, Germany, 1.48.71

2. Lindsey Vonn, Vail, CO, 1:48.79

3. Tanja Poutianen, Finland, 1:49.87

4. Susanne Riesch, Germany, 1:50.04

5. Michaela Kirchgasser, Austria, 1:50.32
-

21. Hailey Duke, Boise, ID, 1:52.30

23. Kaylin Richardson, Edina, MN, 1:52.31
-

Did not qualify for a second run:
Resi Stiegler, Jackson Hole, WY; Sterling Grant, Amery, WI
-

Disqualified:
Sarah Schleper, Vail, CO
MEN'S WORLD CUP SLALOM
Levi, Finland – Nov. 15, 2009
1. Reinfried Herbst, Austria, 1:49.79
2. Ivica Kostelic, Croatia, 1:50.07
3. Jean-Baptiste Grange, France, 1:50.32
4. Matias Hargin, Sweden, 1:50.34
5. Julien Lizeroux, France, 1:50.70
–
18. Ted Ligety, Park City, UT, 1:51.88
19. Jimmy Cochran, Keene, NH, 1:52.05
–
Did not finish second run: 
Bode Miller, Franconia, NH
–
Did not qualify for a second run: Nolan Kasper, Warren, VT
–
Did not finish first run: Tim Jitloff, Reno, NV