Lessons Learned From Calif.'s Caldor Fire, and How to Prevent the Next Big One
Why Sierra-at-Tahoe sustained so much damage, and what ski resorts can do to prepare for the next big wildfire.
Heading out the door? Read this article on the new Outside+ app available now on iOS devices for members! Download the app.
When Sierra at Tahoe General Manager John Rice first stepped back on the slopes of his beloved resort three weeks after the Caldor Fire wreaked its devastation during the summer of 2021, the ground was still smoldering, and a ghostly layer of ash covered the ground. 
"It was spooky. These beautiful big red firs were just gone, but there were still groups of green trees, like the ones outside my office,"  he says.
Because of Rice's involvement with the Lake Valley Fire Protection District, he had permission to go up to the site before the public, and see what had been lost. It was incomprehensible.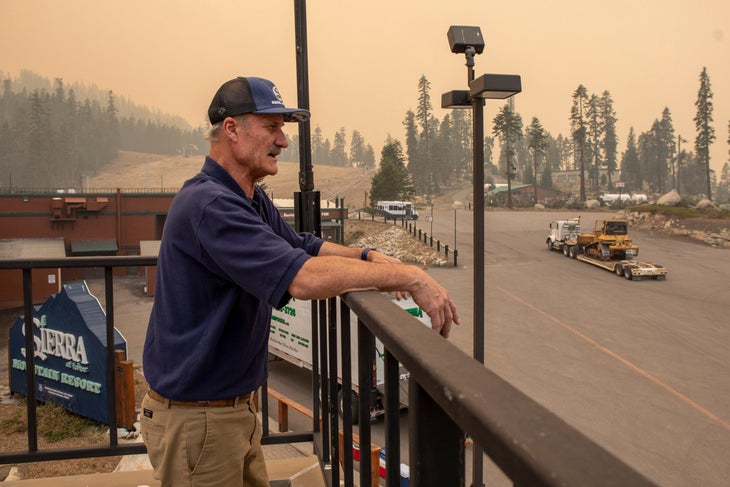 Fires move in surprising ways, and surveying the damage showed just how arbitrary and vicious they can be. And Sierra-at-Tahoe was prepared. The mountain operations crew had moved old snowcats and less-valuable equipment into the middle of the parking lot, and all that gear seemed fine after the fire. But the cinderblock shop building—where they'd stored all the most valuable mechanical equipment because they thought it was the most fireproof—had burned to the ground, and so had everything inside.
"I figured that if anything was going to go it was the wood buildings, but it looks like the roof of the shop building collapsed like spaghetti and everything inside melted," Rice said. During the fire, they tried to keep the chairlifts running so heat wouldn't build up in any single spot, but the fire killed the power, and then melted through the haul ropes of five of the resort's nine lifts. They were on the ground in piles of twisted metal.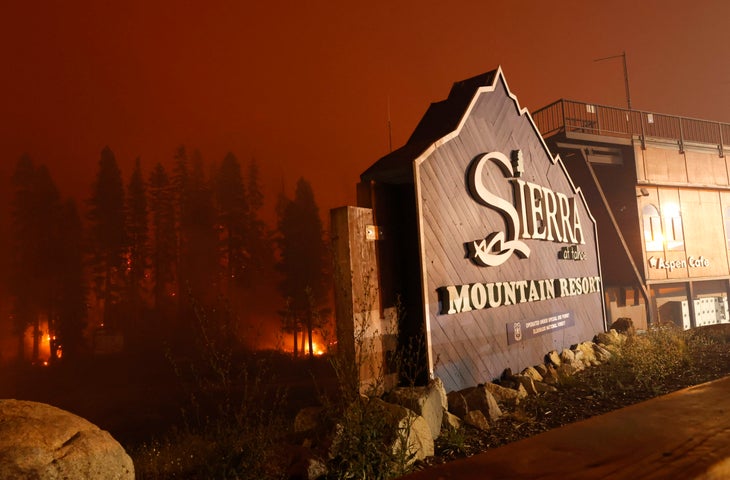 When the Caldor Fire started on August 14, 2021, it was more than 30 miles away from Sierra-at Tahoe.
Rice, who's been the general manager of the resort since 1993, has seen plenty of fires move through the forest over the years, and over the next two weeks he would watch the fire simmer and spread.
He and his team didn't think they were in the fire's path, but they had a plan in place anyway—an industry-leading wildfire response plan, one that others in the ski industry used as a baseline. "We thought perhaps there was a chance it could come, so we mobilized our snowmaking equipment and ran sprinklers on the roofs to increase moisture," Rice says.
But fires don't follow plans. Rice felt ash falling as he listened to radio traffic from Cal Fire officials who said that the fire was spotting ahead of containment lines. Wind was driving flaming sparks of duff and pine needles far ahead of the line of fire, and the forest was so dry and full of fuel that it lit up. The fire spread tens of thousands of acres in a single day at the end of August, heading north and east toward South Lake Tahoe, and toward the ski resort. 
On August 29, Rice was sitting on the roof of his office, watching the smoke in the distance, when a fireman told him the fire had breached a backfire line on nearby Packsaddle Pass and was coming their way—fast. "All along I had been told 'You guys are fine,'" Rice says. "But when that happened, one of the firemen said, 'I'm really, really sorry, you guys are going to get torched.'"
From there the fire came in with such ferocity that Rice could barely get out, rush home to pack up his house (which was also in the line of fire), and evacuate. He was the last one out of the resort, and as he drove away, knowing he'd done everything he could, he knew anything could happen. "It's a helpless feeling watching it come in with such force," he says.
By the end of the fire, 67 days after ignition, the Caldor had burned across the breadth of the Sierra, only the second fire to ever do so. It torched 221,835 acres, destroying more than 1,000 structures, and forcing 50,000 residents to evacuate. It was part of one of the worst fire seasons in the state's history.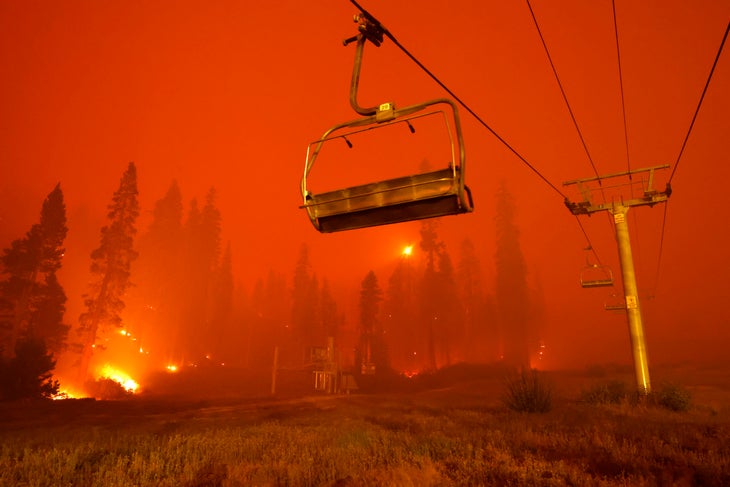 It burned through 80 percent of Sierra-at-Tahoe's 2,000 skiable acres, scorching old growth Red Fir forests and recently built storage buildings, splitting lift cables off the line with the force of its heat. It caused an estimated $5 million in damages, and impacted 80 percent of the resort's forest and surrounding ecosystem. Wildfires have burned in and around ski areas before, but this was the first time a wildfire has so thoroughly inflamed a ski area.
We also know it won't be the last. According to a 2022 UN report, catastrophic wildfires are expected to increase globally by 50 percent by the end of the century—and American ski country is right in the crossfire. Sierra-at-Tahoe is the canary in that particular coal mine, and the best thing we can do now is use the lessons about fire management they learned the hard way.
While many ski areas, especially in the Western U.S., are in wildfire-prone areas, they also have qualities that make them well prepared to withstand fire. Ski runs and big parking lots can be used as fire breaks, they have ample water supplies and storage for snowmaking, and there's often already defensible space around buildings and infrastructure. 
Because of that, Sierra-at-Tahoe was already being used as a staging area for the fire. They had a dozer crew on site before the fire even got close, prepared to clear vegetation and deny the fire its fuel. "We've been ground zero for where Cal Fire and the Forest Service hang out, they tend to pick ski areas because they have large, paved areas, food and beverage setups, and snowmaking systems," Rice says.
A year prior, at the encouragement of their insurance company, Mountain Guard, which ensures the most ski areas in the country, the resort had updated its existing fire management plan, outlining everything from the utility shut offs to the local fire agency contacts, to how they'd protect each building and lift.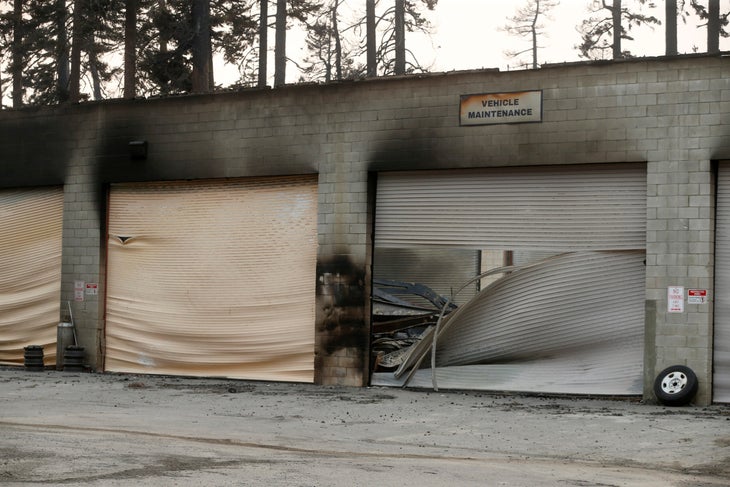 They'd also done work on the ground to make sure the property was in good shape for fire. A mere two weeks before the Caldor Fire, Mountain Guard had sent a crew to assess the resort for fire safety. They'd cut brush around buildings to ensure defensible space, sealed vents to prevent sparks from getting into structures, and coated some buildings with Thermogel, a highly effective fire retardant.
But when this fire ran up the hill from the west side of the ski area, it was blowing embers a mile ahead of the edge of the fire, and the wind was moving fast. The front line of the fire was burning so hot that the tops of trees shot sparks across entire ski runs, engulfing the canopy on the other side, careening through the fire breaks with effortless ease.
Fires need three things to ignite: oxygen, fuel, and heat. And the Caldor had plenty of each. The entire state of California has been in a drought for 15 of the last 20 years, and 2021 was the second driest year on record. The forests around Tahoe were chock-full of dry debris, thanks to years of fire suppression. So when temperatures hit the triple digits and the winds picked up, everything aligned for a mega fire.
And a megafire it was. The Forest Service estimates 80 percent of the vegetation within the resort's boundaries burned. They're still studying the impacts to the soil, including how it will lead to erosion and runoff, and trying to figure out how and where to restore the vegetation. "If you lose your forest, you've altered your ski area for a generation," Rice says.
But in the face of that full-scale alteration, they managed to open for a single weekend of the 2021-'22 season, which was crucial for a lot of reasons beyond skiing.. The resort is El Dorado County's second-biggest employer, generating  close to $50 million in yearly economic impact, when it's open. "I have 600 employees who need to get to work," Rice says.
So what does that look like? The recovery is estimated to cost something like $5 million, one of the largest single property insurance claims. That includes rebuilding and reinstalling those burned lifts and buildings, and replacing melted equipment, while fighting the current supply chain issues that are hamstringing any kind of construction.
They're replacing the structures they've lost, but ski areas don't just consist of hard infrastructure, they're also complex ecosystems, co-managed by the Forest Service and other partners. And trees, unlike buildings or lifts, don't have dollar values assigned to them on insurance claims. "A hard part about this, or unique part, is that buildings and lifts, that's all insured, but no one insures trees," says Michael Reitzell, the president of Ski California.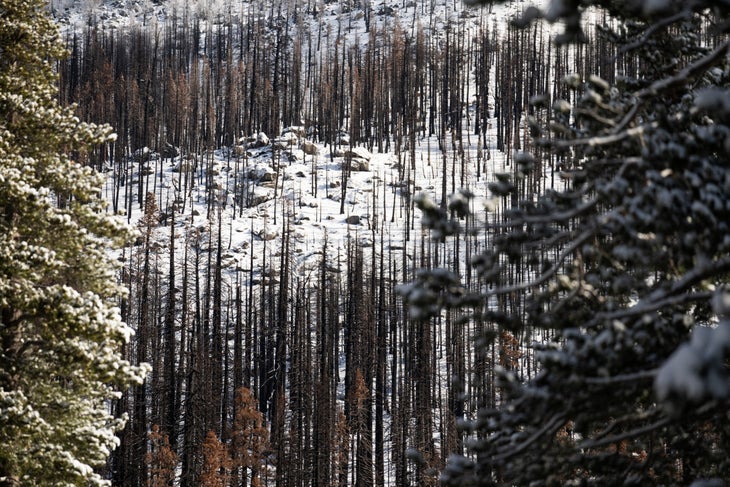 Reclaiming the forest is a huge part of bringing back the ski area, and making sure the area is resilient to future fires. Sierra-at-Tahoe is fully situated on Forest Service land, and Rice says they're working shoulder to shoulder with the Forest Service, along with a third-party nonprofit called the El Dorado Resources Conservation District, to make a plan to reclaim, repair, and replant the forest, while accounting for things such as erosion, sedimentation, and future fires. 
A key challenge in restoring the landscape is striking a balance between serving skiers and the federal mandate to reforest the property. They're trying to rebuild a healthy, resilient ecosystem that's also a working landscape where people can ski.
At Sierra, it's a long road to clean up and restore the area. They started with removing burned trees and clearing hazard trees, which could fall and harm a skier, or derail a lift. They cleared the slash off the current runs and created new ones where the trees have burned down. As they replant and repair the ground, they also have to think about erosion, and how snow and water will run off differently now that the soil is scorched and the trees are gone. They're looking at how wind moves over the hill differently now that so much of the forest is no longer there to buff the flow.
And while they work through the rubble of the ski area's past life, they also have to plan for the future, and make the landscape more fire resilient.  Fires like the Caldor are catastrophic because of a series of factors. The climatic ones like heat and drought, but also human-generated ones, like development and forest management. In the past, ski areas have collectively done a poor job of managing our forests for healthy fires, because we've been so scared to let things burn. But that means there's more fuel when the mega fires come. We're going to have to think differently about fire mitigation.
"This is more important than ever because over the last few decades, the wildland fire management environment has profoundly changed. Longer fire seasons; bigger fires and more acres burned on average each year; more extreme fire behavior; and wildfire suppression operations in the wildland urban interface have become the norm," reads the Forest Service's plan for wildland fire management.
South Lake Tahoe local Terren Gomez jumped at the chance to ride Sierra-a- Tahoe during its single open weekend of the 2021-'22 season. For one, he wanted to see with his own eyes the not only the destruction that leveled his beloved home resort, but also the signs of life that would restore the ski area to its former glory.
"No one even imagined that the fire would reach the lengths that it did, so when it blasted through Strawberry and up the ridge into Twin Bridges in what seemed like a matter of hours, everyone was completely in disbelief when it hit our little slice of heaven," said Gomez. "You didn't think about the fact that you may never be able to ride your resort again, it was more sheer despair thinking about the wildlife in the entire area being wiped out or completely displaced, you thought about the families that have worked and dedicated their lives to Sierra and those that have depended on the resort for their livelihood. You thought about the destruction happening there but being completely helpless all at the same time."
Sierra spent almost its entire 75th anniversary season closed with the exception of that one weekend, April 9-10, when it welcomed skiers and snowboarders back for what would be an eye-opening experience. There were three lifts and six trails open, all with burn around it and tree mitigation already complete. 
"It wasn't much," said Katie Hunter, Sierra at Tahoe's marketing manager, "but it was enough to get back on the mountain, to feel like we hadn't completely lost our 75th season."
Gomez was admittedly taken aback by the devastation. "You could see new landscapes that were once covered by the forest," he recalls, "and I had the bone-chilling realization that they would never be the same."
Only a sliver of the resort was open, but those in attendance that day made up for the lack of terrain with pure enthusiasm and optimism. Sierra's limited staff and mountain ops literally shoveled snow from nearby runs to ensure coverage, and live music, food and drink, and friendly banked slalom competition kept spirits high.
Says Gomez: "Despite the desolate entrance, it was quickly transformed into overwhelming positivity from the longtime fans who've been waiting an entire season to set foot on their most treasured playground."
"It was spring skiing to the nines," laughs Hunter, who was instrumental in organizing the anniversary weekend, "slushy as can be, everyone was in Hawaiian shirts, the vibes were at an all-time high, not a frowny face on the mountain."
Fast forward almost a year, and things are indeed different at Sierra-at-Tahoe. The resort has been able to pull off a complete season, which is testament to the dedication and resilience of its management and employees. It's a transformed experience, to be sure: The once lush trees of West Bowl are gone, and where one might have ping-ponging through tight glades, they now surf wind-swept powder and hop off small boulders. A nice reminder that "different" doesn't mean "lesser."
The resort took another blow when beloved Director of Mountain Operations John Paul Beran died suddenly in July of 2022. Beran was the heart and soul of the Sierra community, and one of the resort's biggest advocates. Even while the ashes were still smoldering, he vibrated with optimism. 
"Losing Paul was a huge blow to the community," Gomez says. "It seems it's given everyone involved even more encouragement to make his dream a reality. Paul spoke of discovery when he first came back to the resort after the fire, with new lines and views you've never seen before. We all can't wait to be a part of the new evolution of our favorite place we call home."
Climate solutions, public safety, future planning; it all fits together and ski areas—businesses that operate in climatically vulnerable areas—are right at the nexus of those issues. "This Sierra fire was somewhat of a bellwether event," says Tim Hendrickson, Senior Vice President at Mountain Guard insurance.  
He says that in the insurance world, which is a tangible way to assess risk and future planning, fire is firmly at the forefront of those conversations. He says that eventually fires could impact ski areas'—and anyone's—ability to be insured, but for now they're trying to focus on preventative measures, like prescribed burns, limbing trees, thinning, clearing fuel off the forest floor, and creating defensible space—all work that the Forest Service says can reduce both the cost and damage of wildfire. Mountain Guard is encouraging businesses to work with state, local, and federal agencies to prepare for fire, as conditions get hotter and drier. "There's always been fire, fire isn't a bad thing, except when it gets  out of control," he says. "Just how someone in Florida needs to live with hurricanes, we need to learn to live with fire."
Living with fire in a warming climate is an industry-wide issue, Sierra just happened to get hit first, and Rice says one of the most heartening things about the aftermath of the Caldor fire was the way other ski areas stepped up to help. Palisades Tahoe sent a crew of firefighters; Mammoth has sent over parts to help rebuild the lifts. Now, as he and his team are working through the rebuild and figuring out their future, he's trying to share as many lessons as possible about the steps they took before, what happened when the fire blazed, and how they're now thinking about the future.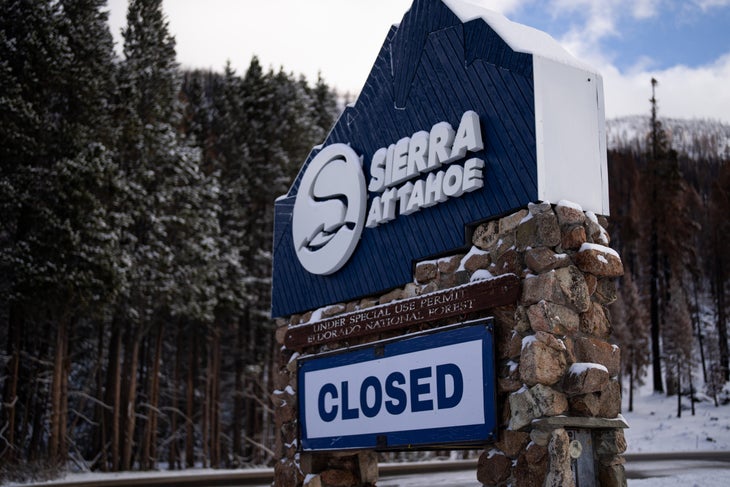 "This is the way a lot of places will have to adapt to a hotter, drier world," Rice says. "The number one thing is not to catch on fire in the first place." He's talking to other resorts about focusing on fire plans, fuel remediations, and creating more defensible space. He says that when a fire threatened N.M.'s Sipapu Ski Resort in May of 2022, they trucked their snowcats off site instead of leaving them at the resort like Sierra did, a lesson they learned from watching.
He'll keep sharing what he's learned, but for now, he says they're focusing on fully reopening this season. They want to get employees back to work, and to get their loyal local skiers back on snow. It's going to be different. It'll be a decade before there's any real regrowth, and we probably won't see the resurgence of those stately red firs in our lifetime, but he thinks we can make smart choices, take better care of our forests, and be more prepared next time a fire comes. Because it will.
And that might be the biggest lesson of living in climate change. The places we love will be impacted, likely in ways we can't yet imagine. We can't expect the future to look like the past, so we have to be ready to change. And that starts now. Even before fire is at our doors, we have to put in the work to be prepared, and to protect ourselves from the fire next time.