What's So Great About Big Sky?
If it were bigger than Jackson Hole, and just as steep, wouldn't everyone go there? It is. They don't. Go figure.
Heading out the door? Read this article on the new Outside+ app available now on iOS devices for members! Download the app.
Thunk, thunk. I chip the ice off my brother Andy's boot sole with the tip of my pole. He's above me on a 50-degree slope, clicking into his skis. We're wedged between rocks above Hellroaring, a chute in Moonlight Basin's Headwaters area. The hike over the ridge was exposed and slick; we had to downclimb backward, hammering in our boot toes with each step. Thunk, thunk. Another chunk breaks off his heel. And I think, this is the first time I've ever seen my big brother scared.
You know those family diagrams mental-health therapists use to show what role each member plays in a dysfunction? (If you don't, perhaps you should Google "denial.") In my family, Andy is the superhero, and I am the comic sidekick. He is the fearless leader scaling some wall, and I am the one in saggy tights, trying not to cry. Even our fishing trips became experiments in field medicine. Eventually all it took was one word, like "bivvy" or "hitchhike," and I would fire off excuses faster than a pack of Black Cats thrown in a campfire.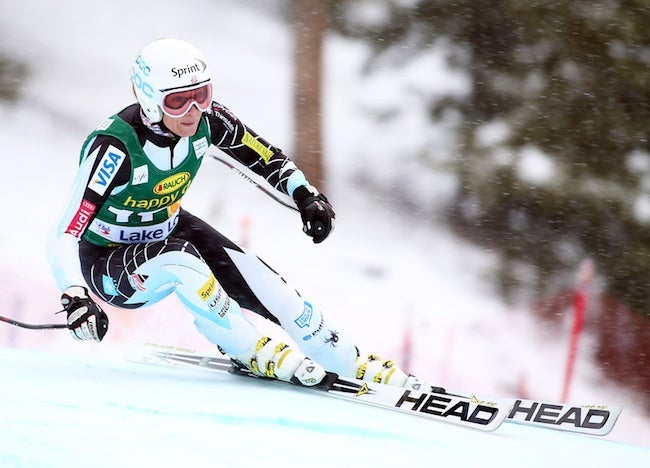 But for the first time in my life, Andy's the one with the excuses. He's been living in Brooklyn for two years, working (and partying) NYC hours. This reunion trip to Big Sky, Mont., is his first time back on skis—and alpine skis at that (he converted to telemark when it was still cool)—since he moved from our hometown of Denver. It's also his—and my—first time here. And right now, standing above me on the 50-degree Headwaters, he's the one who's scared—and I'm trying not to smile.
Click. His boot finally snaps in. I'm downhill, so I go first, making deliberate jump turns up top. I open it up a bit as the chute widens and then rein it back in above two giant blocks of rock on either side of a narrow slot. I pause for dramatic effect, focus my gaze on the opening below the rocks, then…sideslip the whole damn thing. I stop below, just out of the fall line, to watch Andy. It's steep. Chalk roller balls bounce down with each turn he makes. But if for once he was the scared one, he's not anymore. He doesn't just ski the slot between the rocks. He pours down it like water falling over rocks. His compact upper body hardly moves. There's no hesitation, no scraping, and certainly no sideslipping. Effing hell. The guy's still got it.
Growing up skiing Colorado's Front Range, all I ever heard about was the legendary Jackson Hole. And when I grew up and moved to Jackson Hole, all I heard about was the legendary Big Sky. "It's kinda like Jackson, but without all the aggro locals or liftlines," said all the aggro locals in the liftlines at Jackson. "And the Big Couloir is like Corbet's, but, like, 10 times longer." "And parking? Free, man."
As for Moonlight, the only thing I'd heard about it was a lot of tales of financial woes, which are, from the looks of it, far from over. (It was rescued from bankruptcy by Lehman Brothers in January 2012. Will Big Sky buy it? If Lehman parcels off the mountain from the base—which consists of high-end lodging and a Jack Nicklaus–designed golf course—maybe, says Chad Jones, Big Sky's public relations manager. For now, despite its unknown future, Moonlight will continue to operate.) Both resorts are accessible with the Lone Peak Pass, making Big Sky/Moonlight the largest contiguous ski area in the U.S., with 5,532 skiable acres, 4,350 vertical feet, and runs as long as six miles. Hence Big Sky's tagline: The Biggest Skiing in America.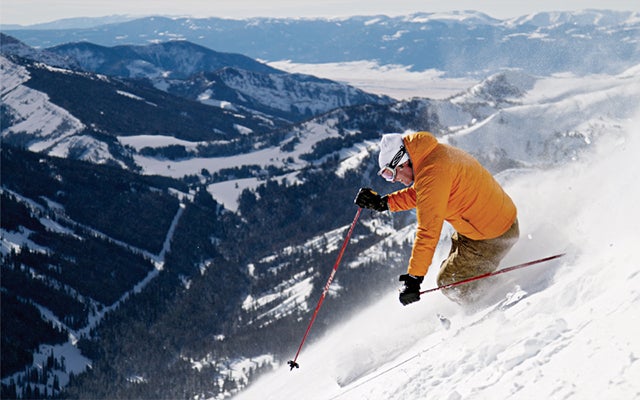 I check out the trail maps the night before we arrive. This will be good for us, I think. As a kid, I chased Andy around Winter Park every weekend, reveling in the pure joy that only dangerous speed and a total lack of adult supervision can create. Andy took care of me. Good care. Then life happened—college, jobs, marriage, children, moves, breakups. We were due for a reconnect. And some skiing.
"Welcome to Montana!" chirps the nice lady standing at the baggage carousel in the Bozeman airport as she watches me pull my suitcase off the conveyor. My brother scans her. No Montana Tourism badge. No religious pamphlets. Just a local lady psyched to see people visiting her home state. This, Andy says, does not happen at JFK. 
We drive an hour up the Gallatin River, which is so clear I can see every smooth brown stone under trouty riffles. The turn to Big Sky sneaks up on us, marked, as turns in Montana often are, by a log-cabin grocery/liquor/fishing/hunting/ice-cream/hamburger store. I buy a toothbrush and some beef jerky. We briefly doubt our navigation, as our iPhones lost map service in the Gallatin canyon, but when we crest the two-lane winding road into The Meadows and see the incisor of Lone Peak rising like some kind of cliché, all white and massive with trails spilling down all sides, we both know I was right: This will be good for us.
First thing in the morning, I pry open the blinds of my Summit Hotel bedroom window to see yesterday's tracks, already softening. It's warm—I'll just need a thin layer under my shell. 
I pinch my boot liners in and tromp downstairs to the Peaks for made-to-order omelets and a buffet with bacon, oatmeal-stout pancakes, and fruit. And coffee. Good, strong coffee. Much needed after a few too many beers the night before. 
"Dude, I am gonna catch some huge air today," Andy says. I've seen him launch graceful telecopters off 30-footers, but that was in his heyday. I'm old now, and he's three years older.
"Sweet, brah," I reply. It occurs to me that I don't actually know what the brahs say anymore. We used to be the cool kids with the lingo, skipping our Eskimo Ski Club lessons to freeski every Saturday at Mary Jane. I ask him if he remembers his hair.
"It was not a mullet," he insists. 
What we can agree on is that he did have more of it back then, and that we should probably stop eating. We walk outside to the plaza—real wood burning in the fire pits!—and, uh-oh. I pat my jacket pocket. Forgot my wallet. I huff, in ski boots, up to my room and back. By now it's rush-hour elevator gridlock, of course. Back to the plaza and, oh dear…my goggles must have snapped off somewhere along the way. My brother waits, with his skis, poles, helmet, and goggles on. "You ever done this before, Kimberly?" Andy 1, Kim 0. 
We skate through the slush into the liftline, where there are, like, two other people. Isn't this supposed to be Spring Break? Where is everyone? Which brings us to one of Big Sky's greatest charms—and its greatest challenge.
No one comes here. 

Sure, it's in the middle of Montana, which means it's out of the way but not necessarily hard to get to. We found flying into Bozeman's airport easy. More expensive, perhaps, than Salt Lake or Denver, but certainly simpler. This season, nonstop flights will be offered from the major hubs of Atlanta, Chicago, Denver, L.A., Newark, Salt Lake City, and Seattle.
So what is it? It's true there's not much in the way of an authentic village—though that's becoming an oxymoron these days anyway—and the dearth of quaint boutiques might discourage a certain demographic. The lodging consists mostly of three main hotels, and they're all owned by Big Sky, so despite several price levels and the cool Powder Ridge Cabins on the hillside, everything feels more or less…safe and unpretentious. There goes the Little Nell crowd.
But the base certainly does not lack the ski-vacation necessities. Restaurants Andiamo's and the Peaks are fine by any standard. The classic Whiskey Jack's sends a good après vibe, and a new spa—the Solace in Huntley's—isn't perfect, but at least it exists. The Meadow Village, six miles down the road, fosters a lively local scene. The Lone Peak Brewery pulls in a good crowd even on a Tuesday, and the Lotus Pad Thai restaurant serves up a mean halibut banana curry. It's plenty of diversion for Andy and me. But we are skiers. And as far as we're concerned, Big Sky nails it.
It's lunchtime, day two, and Andy takes a break to go check e-mail. "Don't eat too much. We're gonna ski the Big after lunch," he says.
I'm psyched, I say, but then find myself back in familiar fear territory. A storm is moving in. I hear thunder. The Big Couloir, as you can guess from the name, is Big Sky's marquee run. I've heard plenty about it—50 degrees, 1,450 vert, sign out with patrol, bring avy gear. Our skiing thus far has been cruising around on wide, slushy groomers; it's taken us a day and a half just to begin checking this place out. The terrain is so huge, so vast, and so open—with distant ridges striped by runs in every direction—it's hard to believe it's all the same resort. 
After picking through my arctic-char salad at the Peaks, I meet back up with Andy and we head for the Lone Peak Tram dock, a funky triangular structure that looks like something my daughter would build out of Legos. Clouds move over the sun, and the snow sets up instantly. From the lift maze, I look up at the A–Z Chutes, looker's right of the tram line, and see frozen ocean. It might smell like sunscreen down here, but it only takes one shadow to remind us we're headed to 11,000 feet in the lonely peaks of Montana. Halfway up, the tram car hangs like a tiny charm on a necklace stretching upward to its anchor point, a notch in the Lone Peak ridge. It seats only 15, but we easily make the next one. Up to this point, the terrain, with all the wide, open skirts of white, has seemed less intimidating than it should. I think of Jackson, which is no steeper or hairier, but its north-facing shadows make it feel scarier. Then we ascend, scouting all things skiable—plus some things that aren't but that nevertheless have tracks skitched down them. I revise my initial assessment. "That sh$% is steep," says one of our tram-mates. But then I eye the Big, and it seems, well, actually not that bad. 
At the summit, a bearded patroller informs us we're the last sign-out slot of the day, and visibility is now questionable. "You guys ever skied it before?" He eyes us responsibly. I'm aware we look like eager tourists, which, of course, we are, and I secretly hope he tells us it's closed. But he hands us the clipboard.
Clouds have fully enveloped the peaks now, and the light is so diffuse and flat, the ground glows brighter than the sky. Unseen drifts on the traverse catch my creaky knees by surprise, but the brown rocks peppering the downhill side (which rolls into a cliff) help a little. 
We round the corner into the entrance, and I peer over the edge. It's wide and steep at the mouth, turns in an S shape, and narrows considerably. The pitch is sustained, and perhaps even steeper in the middle. But there's no cornice to drop and, because of the rocks on either side, visibility is better than it was on the ridge. I'm perfectly nervous—not so much that I'm paralyzed, but just enough to be hyperalert. Of course, I make Andy go first. 
His turns are fluid and round, and he plants his pole like he's spearing a fish. I watch him get to the crux and, when he's safe from my slough, I start my own staccato hop turns. When I get down to the narrows, where the slope indeed rakes steeper, my thighs are on fire, but I keep skiing to the run-out. We fist-bump. I emit something close to a teenage girl's squeal. We laugh, every cell in our bodies buzzing with the high we used to feel as kids throwing daffies off bumps. 
The next day, we wake to three inches of glittering fresh on our Summit deck. The waiter at the omelet bar tells us there's nine up top, but there's so much terrain here with no one skiing it, we're in no hurry. We chat with a nice couple from Winnipeg. We see a few people ski down into the empty lift maze—they have snow on their thighs.
It's our last day, and we have a plan: ski the famed North Summit Snowfields off the top of Lone Peak down into Moonlight, then hit the Headwaters. It's funny—despite the shared lift ticket and apparent cooperation between Big Sky and Moonlight, we still feel heat from the once burning rivalry.
Big Sky locals have plenty of brand loyalty. "Moonlight's more about real estate than skiing," they say. True enough. When we drove around Moonlight's base the day before, we saw high-end cabins and the grand Moonlight Lodge, all stacked stone and rough-hewn beams. Everything is privately owned, including all the rooms in the Lodge, though many are available to rent. Moonlight feels like Big Sky's country club, down to the soaring entrance gate. Most visitors stay at the traditional hotels in Big Sky.
We disembark from the tram and blink in the blinding sunlight. White mountain ranges stitch the horizon in every direction. One distant peak looks familiar, with a distinctive hook. It can only be the Grand Teton.
Yesterday's wind-scoured tundra is a field of marshmallows after last night's snow. The upper section of the Snowfields is a fresh belly of white—treeless, open, and, though we can feel the floor, delicious. We traverse skier's left into Rips, a narrow vein through the cliff. Too steep to hold pow long but north-facing enough to be soft, it's thrilling. And utterly beautiful. It spills out into the valley, and we stop to look back at our tracks. Snow cascades over the cliff from two skiers behind us on the upper section. We check out the other lines. My brother will tell you I'm prone to hyperbole, but this, we agree, is one of the coolest runs we have ever skied. 
Cocktail hour. We're sipping Montana Mules from bright copper mugs at the Jack Creek bar in the Moonlight Lodge, mulling over the day. Kelly, the bartender, pours us a few of her favorite concoctions, including chocolate stout with a shot of Stoli vanilla.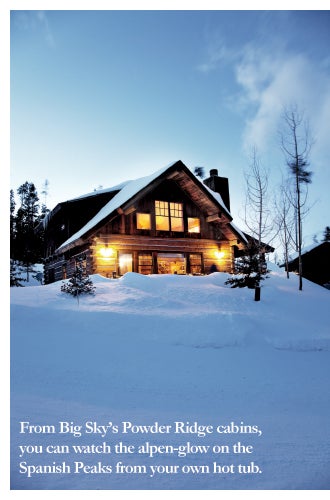 We hiked and skied the Headwaters all afternoon, and my muscles feel wrung out. They're some of the most underrated and unknown extreme terrain out there, as steep as Jackson Hole's out-of-bounds Puckerface off Cody Peak, but north-facing and knuckled with shot after shot of skiable fingers. I still can't believe I'd never heard of them.
"Remember when you took me down Prima Cornice?" I ask, referring to my slide-for-life at Vail into a stand of trees at age, I dunno, eight.
"You probably shouldn't have taken off your skis," Andy replies. 
A few locals next to us in flat-brimmed hats and hoodies pass us some dice. I'm all twos and threes, and they have to throw in a few bucks for me when we run out of cash. We slide them our lightly mined mountain of nachos and buy a round. 
My brother's winning now—a lucky streak of sixes. He's laughing and talking smack, the locals dishing in kind. This is our tribe. And man, it's good to be back. 
Check out more photos and tips in Larger Than Life: Big Sky, Montana