Where's The Spirit?
Warren Miller's essay on the history of how many iconic ski areas were built: hard work, love of the mountains, and entrepreneurship.
Heading out the door? Read this article on the new Outside+ app available now on iOS devices for members! Download the app.
Originally Published in October, 2000.
In 1936, Union Pacific Railroad president Averell Harriman created Sun Valley, Idaho, because he had enjoyed skiing in St. Anton, Austria. But there was no uphill transportation in St. Anton and he had to climb to ski, so he had engineers invent the chairlift in his railroad yard in Omaha, Neb., in July. The many different parts were designed, fabricated and transported to a remote hill near the end of a railroad spur in Ketchum, Idaho, and then hauled up the hill on the backs of mules. Five months later, just in time for Christmas, the lift carried skiers up Dollar Mountain.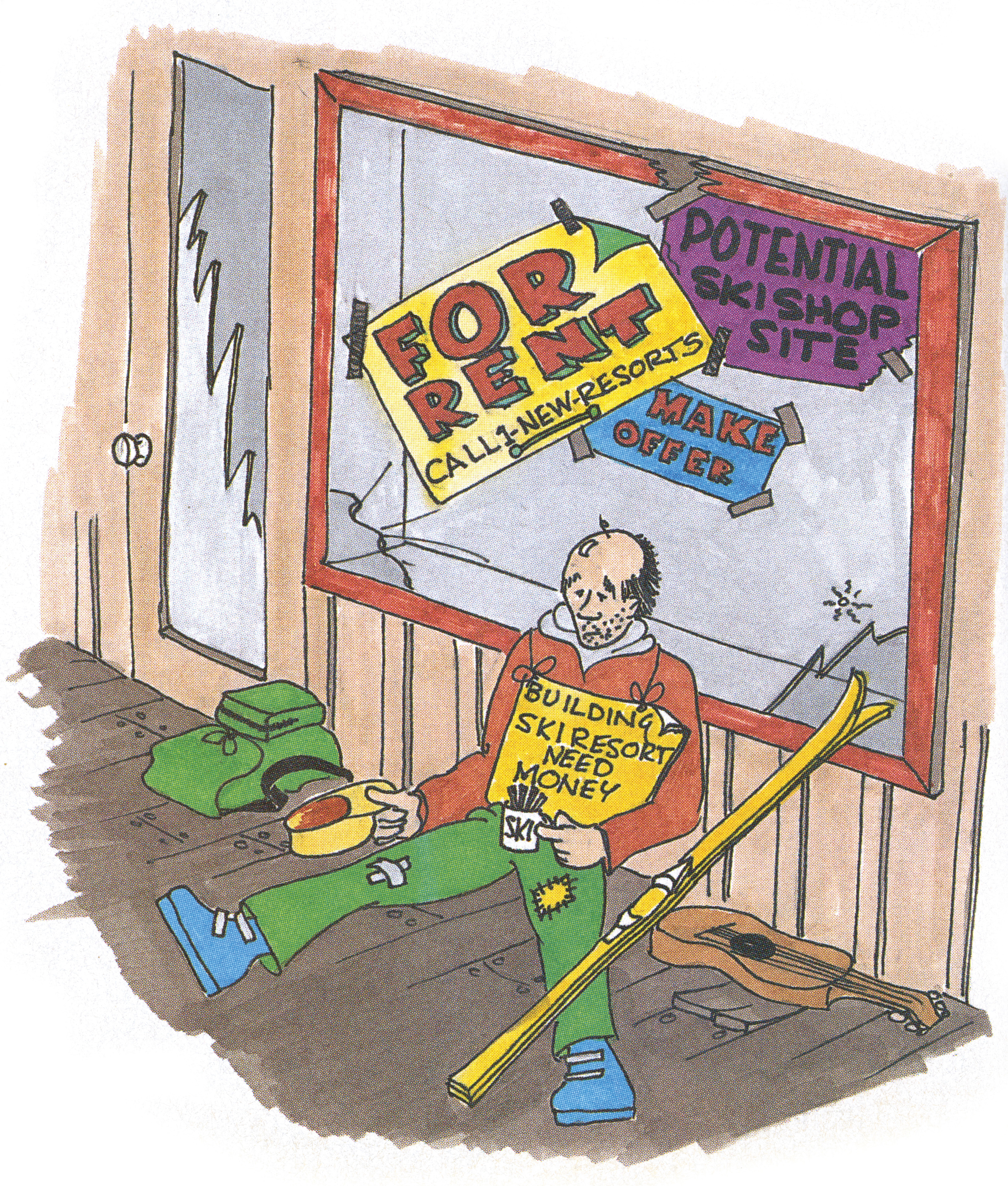 In the Thirties, U.S. Forest Service permits could be had for the asking and the American destination ski resort was invented. Harriman had enough capital behind him to buy 4,500 acres of land around that first chairlift so he could build a base village, too. A year later, a young snow surveyor walked into a bank in Bishop, Calif., and asked to borrow $84 against his Harley to buy the parts for his first ropetow. The banker initially turned him down but when he left, the banker's secretary said, "If you don't loan that nice young man that $84, I'm going to quit." The banker loaned the young entrepreneur the money and since then Dave McCoy has personally supervised the construction of all 31 lifts on Mammoth Mountain. At one time during his more than 60-year career, Dave even owned the bank that loaned him the original $84.
In 1948, Harriman's Sun Valley decided to build a new lift on Dollar Mountain. The manager of Sun Valley at the time, Pappy Rogers, wanted $5,000 for the original single chair. Everett Kircher, an automobile salesman from Detroit, offered him $4,800 and bought the lift as is, where is. Everett and his ski school director, Victor Gotschalk, took the lift apart bolt by bolt and trucked it to nearby Ketchum, where they loaded it on a train and shipped it to Michigan. Everett converted it into a double chairlift and put it up on the then-400-foot-high Boyne Mountain. As the story goes, Kircher bought the Boyne land for less than a hundred dollars from a farmer who couldn't grow any crops on the side of it. But it was the highest mountain in Michigan and under Kircher's guidance it became a huge success. Today the Kircher family also owns Boyne Highlands, Big Sky, Mont., Crystal Mountain, Wash., Brighton, Utah, and seven golf courses that stretch from Michigan to Florida.
In the late Thirties, Wayne Poulsen and Marty Arroge bought a meadow in the Sierras for a rumored $10,000. In 1948 they sold part of it to Alex Cushing so he could build California's first double chairlift. Alex not only built a chairlift, he started to develop a world-class resort that later would host the 1960 Winter Olympics. I had the good fortune to teach skiing at Squaw Valley that first winter of 1949-50. On a good day all four of us instructors would each have a pupil. When the powder was too deep to teach, I took 16 mm movies and produced my first feature-length ski film for less than $600.
About that same time Bob Mickelsen, who was the president of the Edelweiss skiwear company, found an isolated piece of land that was within 50 miles of Seattle and a short distance from a six-lane freeway. I spent two days flying around in a helicopter with Jim Whitaker, the first American to summit Everest, and three or four other skiers and again put together another promotional film for Bob to sell vacant lots at his potential ski resort. The first morning he showed the film in Seattle, he sold 47 lots at what later became Alpental.
In the late Fifties, a veteran of the Tenth Mountain Division found the place to build his dream ski resort so he and some friends bought a ranch under the guise that they were going to build a rod and gun club. Then he built a scale model of his dream, which was actually a ski resort. He put it in the back of his faded blue '55 Plymouth station wagon alongside his bed and traveled all over America trying to interest people in buying vvacant lots. Those vacant lots sold for $5,000 and $10,000 and with each lot you got four lifetime season passes thrown in. The $20,000 homes that were built on those $5,000 lots in the Sixties have sold as tear-downs recently for as much as $8 million. Pete Seibert was the entrepreneur and his dream resort became Vail, Colo.
Throughout the Fifties, Sixties and Seventies, major destination ski resorts were being created at the rate of about one every year or two. Then, gradually, environmental groups made the permit process impossible to cope with.
The last destination resort built in America was Deer Valley, and that was in 1981 on mostly private property. Meanwhile, Tom Dempsey in California has invested $8 million of his own money and eight years of his life trying to get a ski resort started near Mammoth. He has been shut down once again because someone discovered a rare breed of fish that lives a few miles below his land in the creek that runs through the valley at the bottom of his ski hill.
The current entrepreneurial trend is to simply buy up existing ski resorts and to homogenize them under one ownership. They are moving numbers around on a financial balance sheet and selling stock instead of logging ski trails, moving dirt, putting up ski lifts and building dreams.
It has been fascinating for 50 years to watch the change in attitude that has become so anti-entrepreneur. I used to be able to phone someone at a ski resort and ask if I could stop by and take movies to help promote their new resort in my next new ski film.
Last fall I was looking for new things to film in the ski business. I telephoned a major ski resort in Colorado for its 218-page four-color brochure. The electronic voice that answered said, "S-p-e-l-l—y-o-u-r—n-a-m-e—a-n-d—a-d-d-r-e-s-s—s-l-o-w-l-y."
The electronic voice repeated my correct name and address and then said, "P-l-e-a-s-e—a-l-l-o-w—f-o-u-r—t-o—s-i-x—w-e-e-k-s—f-o-r—d-e-l-i-v-e-r-y."
I made that phone call in November and I never did get the brochure. The whole experience made me appreciate the past, and people like Ted Johnson, who used to flip burgers at the top of the ski lift at Alta. At the end of the day he would ski over the ridge and down into the next valley. Before long he was buying up old mining claims from little old ladies who lived in house trailers in Torrance, Calif., or in tract homes in Minneapolis, Minn. When Ted had all of the mining claims and surface rights bought up, he took a movie that I had edited for him on the road and convinced Dick Bass to fund his dream. Together they created Snowbird, Utah.
Where have all of the entrepreneurs gone? Most of them have had their spirit destroyed by the people who chain themselves to the trees when someone tries to build a new ski resort. And so you might ask yourself: What would you be doing this winter if these entrepreneurs had not been able to build their dreams?