Buy a Brownie, Save a Forecaster
Features
Heading out the door? Read this article on the new Outside+ app available now on iOS devices for members! Download the app.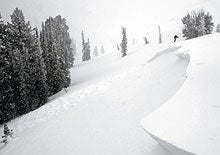 While the U.S. Forest Service estimates that 90 percent of U.S. avalanche deaths occur within its boundaries, taxpayer money covers just 60 percent of avalanche centers' meager budgets. And we do mean meager: "A lot of the smaller centers can only afford to put out forecasts two to three times per week," says National Avalanche Center Director Doug Abromeit. But a bill that's been floating around the House and Senate for two years could provide a much-needed boost.
The Federal Land Recreational Visitor Protection Act would give $15 million per year to the Forest Service's regional avalanche centers – an 18-fold increase from current levels. The funds would establish a central ammunition cache for control work, provide grants for research, and set up an advisory committee to coordinate avalanche control on a national level.
Proposed by Republican Senator Ted Stevens of Alaska, the bill passed a unanimous Senate vote in September 2004, only to die on the floor of the House amid questions over which government agency should cough up the funds: the U.S. Forest Service or the National Park Service. The Stevens camp plans to introduce the bill again next Congressional session, but don't expect any immediate decisions. "It's not a very hot bill," says Courtney Boone, Stevens's spokeswoman. "This bill is huge for skiers, but it's not high on the Congressional radar."
Currently, avalanche centers rely heavily on grassroots funding sources to stay operational. Most centers count on companies like Backcountry Access, Black Diamond, and Patagonia to give donations and host fundraisers throughout the year, such as Backcountry Access's Avalanche Jam, an annual beer-and-bluegrass event that raises money for the Colorado Avalanche Information Center. And until government funding is secured? "It's the bake-sale approach," says Abromeit. "It makes it very difficult to raise funds, especially in smaller communities."
MARCH/APRIL 2006
Get Insider Tips and Exclusive Online content delivered right to your inbox. Sign up for the SKIINGmag.com newsletter here