Environmental Ski Charter Draws Fire
News
Heading out the door? Read this article on the new Outside+ app available now on iOS devices for members! Download the app.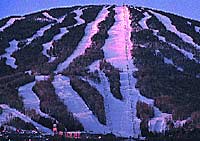 Lakewood, CO, July 14–White may be the stuff that skiers want most from their mountains, but the industry would like them to see a lot more green.
Not grass or dollars, mind you, but strong commitments to conserve resources. To that end, the National Ski Areas Association (NSAA) has adopted an Environmental Charter that encourages resorts to be good stewards of the land and to be sensitive to their local communities.
The guidelines, which are voluntary, cover a myriad of issues, including:
Conservation of water and energy

Protection of fisheries and wildlife

Sound management of forests and respect for wetlands

Energy-efficient waste treatment and disposal

Environmental education

Early-stage dialogue with local interest groups on future expansion plans.Hammering out the 24-page document took nearly a year's worth of spirited roundtable meetings with industry representatives, major environmental groups, and government agencies. So far, 160 ski areas representing 70 percent of the country's skier and snowboarder visits have signed on. The Charter also won the endorsement of a few high-profile organizations including the Conservation Law Foundation (CLF), the National Environmental Trust, the Trust For Public Land, and the National Fish & Wildlife Foundation.The Charter allowed previously warring parties to come to the bargaining table. Significant was the endorsement of the Conservation Law Foundation, which has battled ski areas in New England for years over environmental issues. Mark Sinclair, senior attorney and vice president of the CLF, described the Charter as "a positive step forward in getting more sustainable ski area development." However, Sinclair and other conservationists feel that the Charter falls short in addressing some major issues, such as the limits placed on real estate development.Just after the Charter was released Trout Unlimited, a national group involved with preserving fisheries and stream habitats, immediately assailed it."We don't think the language in this goes far enough to protect fish, especially from snowmaking operations," says Melinda Kassen, the group'sColorado Western Water DirectorOf the 200 participants in the discussions representing most environmental organizations, including two chapters of the Sierra Club, Environmental Defense, Green Mountain Club, Vermont Natural Resources Council, and The Citizens Committee to Save Our Canyons (a Utah group) many did not endorse the Charter. However, many were not asked for endorsment because they were not national organizations, says Geraldine Hughes, director of public policy for NSAA. "Some of these groups had positive things to say about the process, but other groups seemed to feel that reaching consensus was a threat to their livelihood," she said. However opposing groups feel about NSAA's Environmental Charter it will take some time to really judge whether ski areas use the charter to benefit their natural surroundings, and to give visitors a 'warm and green fuzzy feeling' about their patronage.