Lead With the Head
Instruction
Heading out the door? Read this article on the new Outside+ app available now on iOS devices for members! Download the app.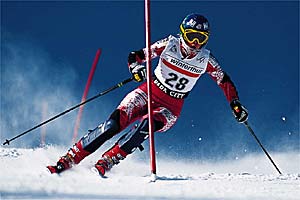 (SKI Magazine by Caroline Lalive) — I'm only 22, but I've seen a lot of changes in equipment and technique. The new super-short shaped skis demand that you stay super-forward. If you don't, you end up doing a wheelie because there's very little ski behind your feet.
My coach, Georg Capaul (the U.S. Ski Team women's coach), says the head should pass the gate before anything else. That works for freeskiing too. In short turns on these little skis, the head acts like the top of a pendulum, as the lower body and feet swing out to either side.
This photo catches me very early in the turn, as gravity is pulling me toward the fall line. Once my skis are facing directly downhill, my shoulders and hips will settle into a level position. This will be a quick, tight arc. Draw a line from the top of my helmet to midway between my feet, and you'll see my hips are in line with my feet. They can support pressure because they are not cocked or twisted.
There is plenty of aggressive flex in my knees and my ankles. We need this kind of forward pressure on the ski's tip to get it to come around. Note how both skis are rolled on edge. Both feet are carrying about the same amount of weight, too, unlike the old days when we actually lifted the inside foot to get all of our weight to the outside. I'm able to ski with two feet because the terrain is relatively flat. When it gets steep, I'll rely more on the downhill ski.
Try this aggressive technique to generate speed and momentum in your short turns, and you'll have a blast. The new short skis are a rush, slingshotting you from one turn to the next.