National Parks Undergo Winter Use Studies
News
Heading out the door? Read this article on the new Outside+ app available now on iOS devices for members! Download the app.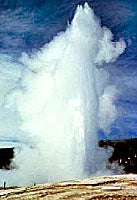 Yellowstone, CA, Dec. 15–As Yellowstone National Park opens for the winter season today, park officials are struggling to deal with the winter crowds. Although the park may not seem crowded to those who embark on backcountry-ski treks or to the solitary snowmobiler, the number of winter visitors has far exceeded the park's expectations.
In fact, Yellowstone National Park, Grand Teton National Park, and the John D. Rockefeller, Jr., Memorial Parkway have all seen a boom in winter usage over the last decade.
"We saw a dramatic increase in winter visitors from when we first opened for the winter season in 1964," reported Cheryl Mathews of Yellowstone National Park. "That year we had six visitors. This year, we estimate there will be somewhere between 138,000-140,000 visitors."
A 1990 Winter Use Plan projected that the park would not reach 143, 000 winter visitors until the year 2000. However, two years later the park topped out at that level of winter visitors for the 1993-1994 season. The number has held steady at close to 140,000 since.
A majority of the visitors to the parks are snowmobilers, hikers, and cross-country skiers who either camp or stay in various lodges surrounding the park. Others simply drive through as sightseers.
In response, the US Forest Service (USFS), the National Park Service (NPS), and several other agencies are preparing an environmental impact statement (EIS) that addresses seven alternatives for winter-use management within the parks.
The EIS study is part of a lawsuit settlement for a case that was filed in May 1997 by several environmental groups. The groups argued that the NPS failed to comply with federal laws and regulations for winter use in the three parks.
Nearly 2,000 comment letters on the EIS plan were received during a three-month public comment period in 1998. From this, the NPS narrowed some 15,000 suggested topics down to seven major points to be addressed in the draft EIS. These include winter activities, access to the parks, air quality, snowmobile noise, and human health and safety.
NPS officials have held several public forums to discuss the issues and alternatives outlined in the draft EIS, and a final version of the EIS study is due in Oct. 2000. A record of decision, which could change or limit winter use in the parks, is expected in Nov. 2000.