No Zen on a Powder Day
What is the sound of one cynic bitching at Kristen Ulmer's Zen ski camp?
Heading out the door? Read this article on the new Outside+ app available now on iOS devices for members! Download the app.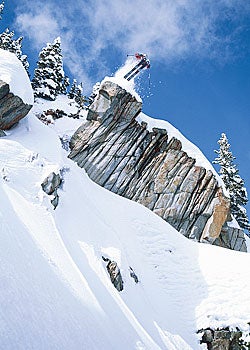 "Kristen Ulmer is a bitch and she knows it." That's how some ponce in a self-proclaimed "skier's bible" once opened a profile of the '90s-era ski fox, film star, businesswoman, and It girl. He didn't mean everything those bald terms imply, of course, but most saw Ulmer in those days as a talented man-eater who suffered no fools.
Here was a woman with more balls than a dozen male contemporaries. She'd grabbed the ski industry by its own sagging nads and shaken it for over a decade of adventure, attitude, and outrageousness in film and print. A biography would fill volumes, but the essential arc is this: A ponytailed bundle of hot German genes who skis in jeans moves to Utah from small-town New Hampshire. She makes the U.S. Mogul Team but bails to front-flip 40-footers for movies and magazines. She accretes sponsors and rises to prominence. She's named best female extreme skier for 12 years, disappears frequently (and alone) into the planet's nether reaches, becomes the first female to ski Wyoming's Grand Teton, and breaks hearts in every quarter of the male universe. Ulmer became freeskiing's first and foremost female personality. One of my true heroes.
Now she sits in front of me—20 of us, actually—crying like a Greek widow. It's strange to see tears shimmering in those virescent eyes. But it's not sadness; Kristen is just ecstatic, in the whacked-out religious sense, to be alive, sitting here at Snowbird, Utah, with a mix of spiritual neophytes and perennial seekers in her 14th Ski to Live clinic. Most participants will spend the next four days on the same path to enlightenment Ulmer has found and, through a mix of on- and off-mountain lessons, become better skiers. Others will simply get some great skiing in. The luckiest, presumably, will find both.
After a long, illustrious career in the spotlight began to feel like
Groundhog Day
, Ulmer started Ski to Live in 2003. Clinics are a proven and profitable way for pro skiers to ease out from under the pressure of the job, cashing in on their notoriety by sharing what they know. But in Ulmer's case, it was more of a conduit to pursue her own journey. She'd been practicing and surviving extreme sports forever. She had no idea what she'd learned. The emptiness told her what emptiness always tells you: Get spiritual.
Check out photos from the Zen ski camp.
Ulmer coached, led yoga sessions, group-hugged, and invited speakers to her clinics. Skiers responded to the blend of Zen and ski coaching. (She told me she'd once found a camper, a high-powered investment banker, crying on his hands and knees in a hallway until he reached out and hugged and thanked her.)
Eventually, at a friend's recommendation, she brought in Genpo Roshi of the Kanzeon Zen Center in Salt Lake City to shore up the spiritual end. Genpo's revolutionary technique for delivering the experience of Buddha Mind was all the rage—and scorn—of the Zen community. This perfectly suited Ulmer's own iconoclasm. The four-day affair now blends ski coaching by Ulmer at an exclusive locale with daily bookends of morning yoga and evening sessions focused on Genpo's Big Mind technique. Big Mind seeks to deepen and speed up self-analysis through negotiating between the self and various voices of mind, such as fear, control, and sadness. If everything goes according to the Big Mind program, your true self is ultimately revealed—and it's far from the usual bullying of ego. Nothing is judged, just noticed. It's introducing yourself to…yourself.
Hello, self.
How very Zen. Still, I Googled. It seems that there are two basic Zen schools, one teaching that enlightenment is a gradual process, the other that it can be instantaneous. With Big Mind, revelations should accumulate quickly enough to fast-track you onto the path. Ski to Live aims simply to take people to a state of enlightenment through lecture and skiing.
With journalistic schadenfreude my prime motivation to attend, the mix seemed certain to bring spiritual revelation for some and a guaranteed disaster for others. I was usually about as interested in discovering my inner self as drinking an enema martini. But I wondered if my old-school, id-serving approach to skiing could be changed in any way that might possibly make me a better skier—or (shudder) a better person. I also wondered whether Ulmer had moved past her larger-than-life persona or somehow found a way to make egomania touchy-feely. Ulmer dabs at the tears and her face softens into a beatific smile. I watch for a halo to descend on wires, but this is no pathos trap. Her tears are sincere waterworks to get us on the path, an anxious mother's as she sends her kids off to college. In front of her spreads a crescent of blank faces: bankers and builders, writers and publishers, doctors and housewives. For a moment, I think matronly venerability is the reason for everyone's silence. Then a whisper.
"Hey," says the guy next to me, "what's the snow report say?"
***
Next morning we're up early, twisting on yoga mats while a blizzard and its banshee wind bend around the utilitarian concrete envelope that is Snowbird's iconic Cliff Lodge. There's grunting, groaning, and a few nauseating thuds.
"
Breeeeeathe
," says the truck-spring-bodied leader.
"Fuck off," wheezes someone at the back.
Normally I get into yoga, but the guy at the back has snapped my concentration. I go through the motions but find myself worrying about breakfast. I envision a spread of vegetarian garbage that tastes like flavored gravel. But it turns out that we're on our own for meals and I'm free to get my bacon on. I'm also pleased to find out there will be no formalized colon cleansing or anything like that. There doesn't need to be, as the Mexican restaurant in the lodge will take care of that.
Out on the hill, Ulmer breaks us into groups. I instinctively join the expert band, as I'm not yet ready to dispose of my precious ego. Neither is Nick, another writer I fall in with without realizing the danger such alliances pose to objectivity and the seriousness of spiritual practice. Sure enough, within a lift ride Nick and I have decided that one move—the spread-eagle, crotch-grab peace sign—embodies all the salient voices of skiing, and that mastering it will beget instant enlightenment. We're making stuff up because we have no idea what we're supposed to do.
Powder continues to sift into the mountain's best lines. Ulmer joins us at the top of one slope. She says we're going to dialogue with some of the voices of mind we met last night. Since I pretty much hated them all—and thus myself—I'm plenty worried. Then our first real instruction from Ulmer. It's a shocker:
"Ski."
Surprisingly, the command poses problems even for this practiced group, many of whom appear bewildered both in face and foot, schussing unsteadily. So when we regroup, she returns to teaching.
"OK," says Ulmer, "what voice am I speaking to?"
"The voice of reaching," someone answers.
"And what is your job?"
"To reach."
"Reach where?"
"Out."
"Downhill," adds someone else.
"Ahead," says another. Now people won't shut up.
"The future."
"For peace."
"What?"
"You know,
mindlessness
."
A few Zen keeners in the group already know the language, but most get the idea—an entreaty to transform a mental process into a physical one. Still, when each member of our group skis off, trailing a billowing cloud down the chute, I'm surprised to see all of them balanced perfectly over their skis, hands out front, turning more or less down the fall line. Even Ulmer seems surprised at the group's uncanny improvement.
"Why did this work?" she asks at the bottom.
"I like being led," says someone. Everyone looks over, worms of thought on the meaning of this churning through their minds.
I think it's simple: Fear is a huge part of skiing. Most of us avoid fear rather than coming to terms with it. Thus fear holds us back by forming resistance in our minds. Being led can do an end run around fear and resistance. Eventually you trust yourself, and you lead. Resistance, you see, is the great impediment to skiing, enlightenment, everything—and you don't have to be a Zen master to get that.
But it probably helps.
***
Zen is very old, some 2,500 years in fact. During this span there have always been some masters looking for faster ways to bring about an awakening. As a monk, Genpo stumbled across a way to make it happen virtually overnight: Big Mind. Some Zen folks aren't too happy about this. (How would you feel if you spent 15 years learning how to rip couloirs and someone discovered a way to have novices doing it by the end of their first day?) Others in the Zen community are enthralled by the immediacy of turbo enlightenment. (Hey, the more enlightened humans aboard this earthly ship of fools, the better.)
We find out in the evening session how Big Mind works. It basically aims to pry apart our two essential elements—the "human," or self-conscious part, and the "being," or unself-conscious part. Once they're separated, we're to experience each on its own. This means we're simultaneously to feel what it's like to purely exist and to be aware of who and what we are without beating up on the idiocy of ourselves. That latter move is what humans do. Or, as Genpo says, "That's a human fuckin' being."
Genpo, age 64, doesn't ski. Born Dennis Merzel, Genpo had his last ski day on February 22, 1969, during a southern California snowfall so intense it set a record—17 feet. He skied all morning, went sledding all afternoon, and then somehow broke his ankle walking. He got to the hospital just in time to be shut in by the storm. Doctors wanted to operate but the storm had knocked out the electricity. Genpo took no drugs for the pain. When they finally got him to L.A. a week later, they didn't operate but had to rebreak his ankle to set it. Extreme pain ensued but again he took no drugs.
Now this master of Zen stands in front of us in jeans and motorcycle boots, dropping F-bombs, asking us to speak in hundreds of different "voices." First call is for the boaster (shy, I have trouble with this), asshole (no trouble), protector, controller, thinker, skeptic, self-critic. Ulmer cops to having disowned the self-critic voice; Genpo says he so thoroughly disowned this voice that it dwells in the mental basement under 10 feet of concrete.
Distracted, I look around and notice a case of Red Bull sitting on the bar with the water jugs. Worked from skiing, a few in the group pound back a can or two.
"How does this go with Zen?" I whisper to the woman next to me. She says she thinks it keeps the mind alert so the message can sink in better. She's serious. This makes me laugh out loud. At dinner, this same woman confesses to dreams she's had in which other voices tell her what to do. Then she tells me of her experiences with ayahuasca, the shamanic, mind-expanding Peruvian drug. I tell her I'm with the DEA.
***
Out on the mountain the next day, Ulmer offers another nugget of Zen: What's it like to go straight down the hill while making 99 turns?
Blank stares.
"OK, what voice do you ski in?" asks Ulmer.
"Hermit."
"Coach."
"Hedonist."
"Loser."
"Careful."
"Hopeful."
Ulmer tells us that voices might change on each run and even within a run, but ideally they won't. That's because skiing is inherently meditative. It forces you
not
to think. Skiing at one's own highest level effectively puts a gun to your thoughts. There's simply no room for them in the light-speed mind-body functioning required to keep you from hitting a tree. Certainly there are those who say sports are 90 percent psychological, but it isn't true. Rather, sports are 100 percent physical; only the ability to execute is in question. There's an entire industry built on this premise, and skiing is front and center on library shelves. It's apparent in titles like
Skiing: The Mind Game
,
Inner Skiing
, and, naturally,
The Zen of Skiing
. One of the Ski to Live participants has even written a book called
Skiing Zen
. It's about being driven, on impulse, to spend an entire season in Japan, where the occasional momentary revelations about skiing powder finally coalesced into, uh, ability.
Unfortunately,
just being
, without self-criticism, is elusive. You don't necessarily tire on the slopes because you're out of shape, we learn, but because negative thoughts stop your breathing and you don't have enough oxygen in your system. Though the cynic in me would like to dismiss the idea as nonsense, it actually makes perfect sense.
The tram is closed by the worsening storm, but skiing powder on Snowbird's ample lower apron with Nick is pure non-dual-mind and pure being. That all ends at the tram line, however, where voices reemerge: the weasel, the schemer, the impatient dickhead—though most of these are real voices from snowboarders waiting for the tram. All of these voices are silenced by another knee-deep run.
***
Another evening session. Outside, snow explodes in every direction. The canyon road will soon close and tomorrow is going to be a sick powder day. Interlodge, the rule that requires everyone staying in Little Cottonwood Canyon to remain inside his hotel until further notice, is imminent. How will the lockdown affect people? How will it feel to be confined in the Zen pen?
Wait—tear alert up front. Ulmer is oversharing again. This time about her broken heart from a cheating boyfriend. I think the point is that she got over it by deciding to get over it. Letting go. This makes me think. So I decide not to be annoyed anymore by the girlfriend at home who is driving me crazy. I decide to be single in the moment and, suddenly, I am! (This stuff really works!)
More voices: One woman discovers that she has always felt unlovable, then cries. But she won't stop knitting. She's been distracted, knitting through every session. I briefly want to kill her, then let it go. Progress!
Finally, we get to the voice of Big Mind. I am. Being. Everything yet nothing. Everywhere yet nowhere. The Way. Tao. The Master. Big Heart. It all equals a free-functioning human being. Oh, excuse me—human
fuckin'
being.
Ulmer reminds us of a poem about squandering your life and starts crying again, supposedly for those who have somehow done so. Part of me wants to cry, but the other part thinks it's winceworthy. Wince wins. My Big Mind shrivels. I'll never get these five minutes back. I'm such a cynic that I briefly despise myself for even being here, then let it go. More progress!
The next morning we are indeed Interlodged. Yoga done, breakfast eaten, we file into the room for a final session. One guy opines how he has no trouble accessing voices in the evening sessions but that as soon as he hits his first mogul it's difficult to get in touch with them. Another says that in the limited visibility of the storm, he experienced an out-of-body oneness with the mountain environment. Fortunately, Genpo cuts the nonsense with some Zensense that should save them a trip to the library, explaining to these sport-psych Luddites how you can be so into the doing that it's literally not-doing. As skiers, we should already know this. This is what we call the "white room," or being in the proverbial zone, brah.
The discussion moves toward resolution of the enlightenment question. The meaning of Big Mind. We're all so close to finding it, to tapping the voices of the seeker and the way. I am the way. I am the Tao. I am the truth. I am the light. The voice of the awakened one bubbles through. This is the voice of the Buddha. Here's the voice of surrender. Submission. There's nothing we can do. Nothing left to say. Joy flows through the room. Tears are soaking the carpet. Great gratitude for the mountains. Appreciation of the snow. There is ecstasy at this supreme nothingness…until a siren sounds.
Everyone looks out the window. Interlodge is over. We're going skiing.
Zen who?
– SKIING MAGAZINE, FEBRUARY/MARCH 2009