In Warren Miller's "Winter Starts Now," Generation Next Is Bringing Diversity to Ski Racing
A conversation with National Brotherhood of Skiers President Henri Rivers and up-and-coming ski racer Jayna Davis on diversity in the sport.
Heading out the door? Read this article on the new Outside+ app available now on iOS devices for members! Download the app.
'Winter Starts Now,' the 72nd annual ski and snowboard film from Warren Miller Entertainment comes to a theater near you between October 20 and December 30. Find local show times, and get free tickets, premium seating, and more by joining Outside+ today.
As our video chat begins, I immediately lower the brightness of my screen. It's not because of some type of laptop malfunction, but because the smile protruding from the other side is so delightfully bright. Jayna Davis, 14, is sitting in her dorm room at the Holderness School in New Hampshire, a preparatory school where she can split her time between academics and downhill skiing. 
Originally from Spokane, Wash., Jayna began skiing as soon as she could walk. When her father died unexpectedly when she was 2 years old, her mother, Jane, found herself in the role of single parent. An avid skier herself, the elder Davis was determined to keep her child in the sport, and at 5 years old, Jayna began ski racing.  
Her competitive focus is on three events: Slalom, Giant Slalom and Super Giant Slalom, and she trains year-round under Holderness ski coach Ben Drummond. Also on the Holderness ski team are three other young Black ski racers. Henniyah, Henri, and Helaina Rivers are the triplet children of Henri Rivers, President of the National Brotherhood of Skiers (NBS).  The four kick-ass downhillers appear in the new Warren Miller film, "Winter Starts Now," alongside the elder Rivers. The film heads out on national tour later this month.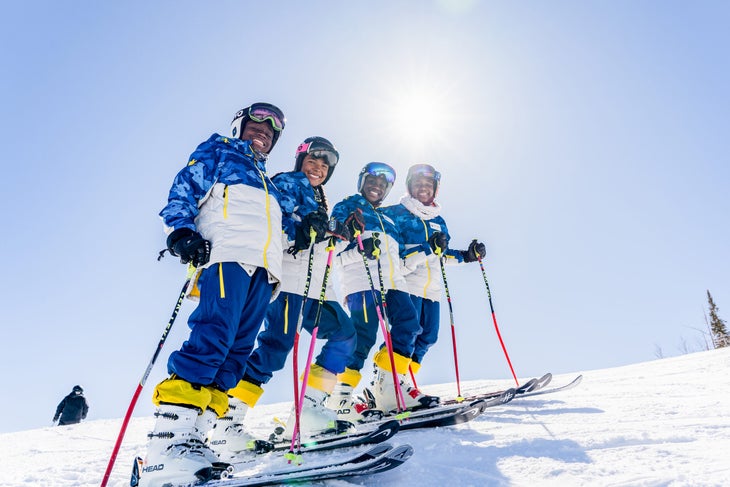 As a fellow Black skier, I was stoked to have the chance to chat with Davis and Henri Rivers about being Black skiers and their respective experiences in the sport. On the flip side, it was also sad that times haven't changed as much as we all might like. Hearing Rivers talk about the mistreatment, disrespect, and racism he's experienced on the mountain … well, I understood exactly what he was talking about. There are three generations between the three of of us, and the change is slow. But as we say, slow motion is better than no motion. And young up-and-comers like Davis and the Rivers triplets are bringing an exciting momentum to the scene, which might be just what the sport needs.
To see Davis and the Rivers crew in action, pick up tickets for a tour show near you this fall.
A Conversation About Diversity in Ski Racing
Henri Rivers: On his journey as a Black skier
Rivers' family owned a B&B near the slopes of Belleayre Mountain, a small ski area in the Catskills where he was introduced to the sport. At 14 he tried out for the ski team at his school, nabbing the last position on the team because "the coach had a soft spot for him," he says. Rivers went on to become one of the best skiers on the team thanks to proper coaching. 
That was around the time he noticed the dearth of Black skiers on the mountain. That sense of being alone is what drove him to seek out ski communities with more people who looked like him. In 1996 he joined the National Brotherhood of Skiers, slowly working his way to the top and wearing many hats along the way, including  Midwest Regional Competition Director, NBS National Team coach, and Olympic Scholarship Fund Administrator.  While on the rise in the organization, Rivers noticed that skiing in these groups still wasn't as inclusive as he would like, even though the color was no longer a factor. He realized that part of the reason was the cost of the sport. Since then, Rivers has made it a goal of the NBS to make skiing as affordable as possible, wrangling sponsors for NBS programs, partnering with satellite ski clubs around the country, and even spending his own money to introduce potential new skiers to the slopes.
Jayna Davis: What she loves about skiing
"Skiing brings me so much happiness," says Davis. "Whether I'm on the course going from gate to gate or out skiing with my friends or my mom for fun." Though as much as she loves skiing, Davis wishes there were more people who look like her out there on the hill. She likes to think that she's helping to diversify the sport by pursuing her dream to become a ski racer. When she's not training, Davis is passing on her passion for skiing to other young people as a ski instructor.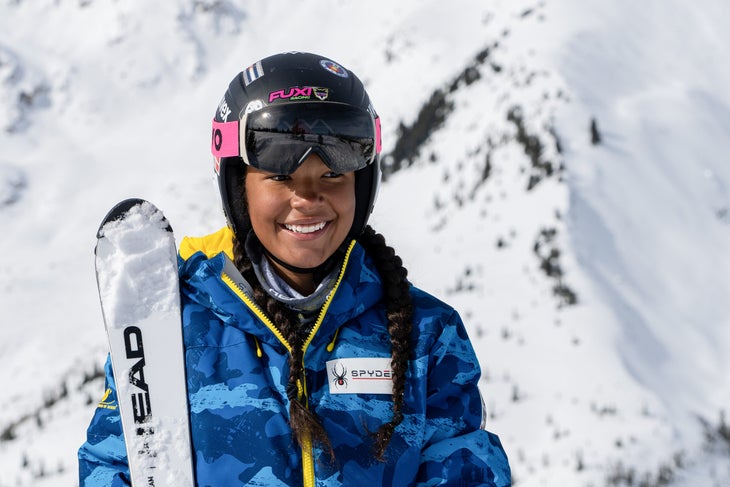 Rivers: What motivates him to push for more minorities in skiing
After transferring from a majority white high school to a predominantly Black high school, Davis took the opportunity of a show-and-tell day to introduce his passion for skiing to his peers, many of whom had never been to or even seen a mountain. He showed off all his ski gear and some photos and the class was hooked. They began firing questions, asking about the clothing, the speed, the ski gear, and how cold it got on the mountain. From that point, River knew it wasn't that Black people didn't want to ski, it was the lack of exposure that was the obstacle.
Davis: On being a minority in the sport
Davis's mother, a white parent to a biracial child, is not immediately recognized as her mother, and as a result, has overheard comments made about her child. One example was when people talked about about how "good a skier the Black girl is," raising the biased implication that this skill is unexpected for a Black skier. Another time, a 10-year-old Davis  was called a "Black [expletive]" by men on the 18-19 year-old ski team. Davis told her coaches, and they immediately jumped into action. The young ski racer cites her mother, teammates, and coaches as her support system.
Rivers: On his goal for the National Brotherhood of Skiers
Rivers' mission at the NBS is to have a Black skier competing at a high level, and, eventually, at the Olympics. That's why he's so excited about Davis, who's a recipient of a NBS scholarship that helps pay for her Holderness tuition. She is showing extreme promise to fulfill the NBS's goal, says Rivers, and be just the skier that the organization—and the sport—needs.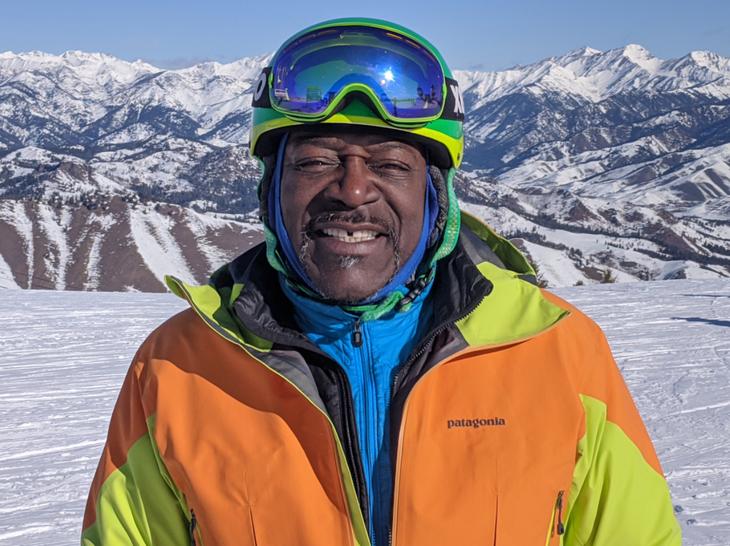 Davis: On the pressure of being a Black ski racer
Davis knows that eyes are on her, whether she likes it or not, because she stands out as one of the few competitive Black skiers on the mountain. And with that spotlight comes certain expectations—which is to say that she knows how much representation means in the sport. "The goal is to not be the only Black woman—or person—on the mountain and in the sport of downhill skiing," Davis says.
Tyler Matlock, 35, was born and raised in Colorado, although he didn't start skiing until he attended the University of Colorado at Boulder. He aims for 25 days a season. You can follow his daily antics, from skiing to surfing to gardening, on Instagram at _nevernotfun_