In Warren Miller's 'Winter Starts Now', the Future of Ski Patrol is Female
There was a time when seeing women on ski patrol was few and far between. This is not that time. Meet the women of the Sun Valley Ski Patrol.
Heading out the door? Read this article on the new Outside+ app available now on iOS devices for members! Download the app.
'Winter Starts Now,' the 72nd annual ski and snowboard film from Warren Miller Entertainment comes to a theater near you between October 20 and December 30. Find local show times, and get free tickets, premium seating, and more by joining Outside+ today.
When Angie Tumo joined Sun Valley Ski Patrol in 2010, she was one of two full-time women on the team. Tumo had been working in guest services at the resort after college, and was immediately drawn to patrol as she watched them head up the mountain in the dark, working together to get the mountain open each morning. She applied for patrol the next year and didn't get in, but another patroller quit two weeks into the season, and so she got the call to come in as a rookie for the year. "My first season I was so intimidated," she remembers. "When I got on patrol it was mostly dudes, and old dudes. At 27 I was one of the youngest people, let alone the youngest female."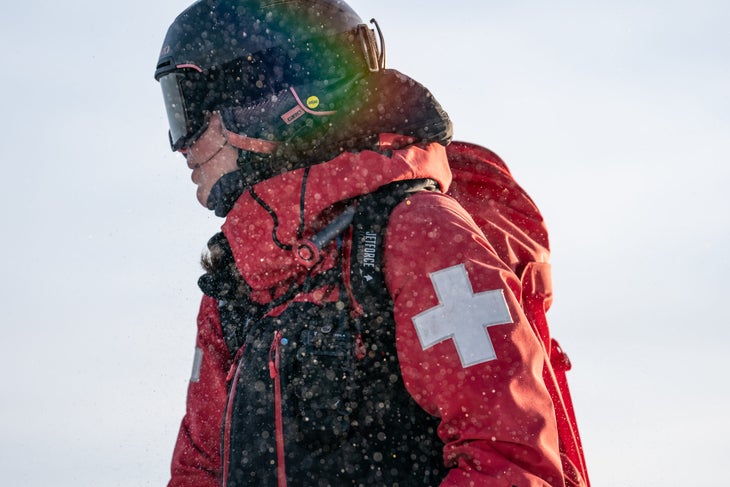 Tumo remembers a huge learning curve in her first season. "I wasn't the strongest skier, and all these dudes each had like 30 to 50 years of experience. I remember the whole time just thinking 'I don't want to make an idiot out of myself.'" 
Despite the rookie nerves, it didn't take long for Tumo to hit her stride. She became enamored with the quiet sunrises on the mountain each morning, gained more confidence in her medical skills, and started to feel more at home on the team. As the years went by she saw the patrol team hire more and more women. When Hannah Baybutt joined the team four years ago, she was one of almost a dozen. "When I started, there had already been a handful of women like Angie who had been around long enough to build momentum for women on patrol," Baybutt says. 
The Sun Valley patroller is featured in the 72nd annual Warren Miller film, "Winter Starts Now," in a segment with athletes Jim Ryan, Madison Rose Ostergren, and Kaylin Richardson. The WME gang shreds Sun Valley alongside Baybutt, who takes them along on a rowdy backcountry skiing mission. "I don't like the attitude of having to prove ourselves more, but they laid the groundwork for strong, smart patrollers that happened to be women, and that really helped me."
Related: Aspen Highlands Has a New Ski Patrol Directors, But This Isn't Her First Rodeo
Nicole Jorgenson, who is going into her sixth season on Sun Valley Ski Patrol, remembers women like Tumo inspiring her to feel more confident when she wasn't as sure of herself. When Jorgenson applied in 2016, the assistant director asked if she thought she was physically strong enough to do the work required of the patrol team. Jorgenson, who stands 5'2", nodded confidently. "But inside, I was wondering: am I?" she recalls. "My experience was definitely shaped by seeing how the other women on the team carried themselves. They were so strong physically and mentally. They knew they could do the job and they never questioned themselves."
But despite the fact that the female presence is growing, it's not without its challenges. Last year, Baybutt and a male colleague responded to a crash together on the hill. When they rolled up to the older man, he looked at Baybutt and said with skepticism: "And you're going to take care of me?" as she began to do an initial assessment. Baybutt carried on without missing a beat, but her male colleague was horrified. "I think it's the first time he noticed something we're so used to overlooking," she says. "It happens enough that I don't recognize it happening because I just shrug it off. I don't want to just shrug it off, I want to make a difference, but if you let it get you down everytime it just becomes too much."
Also Read: This Backcountry Mentorship Program for Women Cuts Out the Backcountry Bros
Baybutt works patrol in the winters and spends summers with the Ketchum Fire Department. When it comes to responding to a medical call on or off the mountain, she's in her element. "Of course I don't want anything bad to happen to anyone ever, but as a patroller you're in this unique role where you can be a calm, grounding presence on what could be one of the worst days of their life," she explains. "Being able to work as a team, show up for these total strangers, and do your absolute best for them is incredibly rewarding."
Tumo, Jorgenson, and Baybutt agree that success as a ski patroller is defined by more than age and size. "It's not about having the most brute strength up there," says Tumo. '"There are so many other attributes and ways to be a part of it." Baybutt adds that she's noticed female ski patrollers come at problems solving from different angles, taking a step back to put things into perspective before leaping to action prematurely.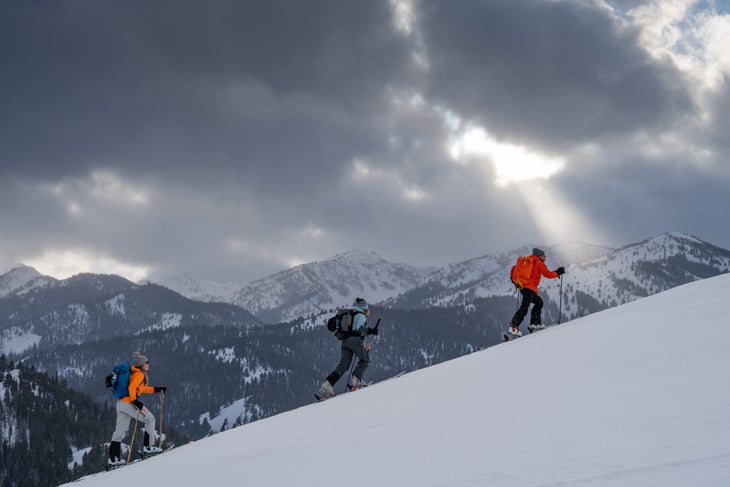 Jorgenson says that the mental strength that women possess is instrumental in dealing with the heavier parts of the job. "The way we deal with hard medical calls is unique," she says. "Patrol has been pretty cowboy by nature in the idea of not talking about hard experiences. I've seen male patrollers struggle because they internalize things. Female patrollers will openly talk about it and in the past few years I've seen our male patrollers get better about it as women show it's okay to talk about those things."
Still, the team is motivated to change the perception of who can and can't be a patroller. In 2018, Jorgenson helped bring the SheJumps Wild Skills Junior Ski Patrol Camp to Sun Valley, a clinic for girls eight through 17 to meet female ski patrollers, see them in action, and learn various skills related to first aid and mountain safety. "Junior Ski Patrol provides a really tangible way for girls to envision themselves doing that kind of job," says Jorgenson. "So much of the problem with male-dominated industries is that young women look at those careers and see only men doing them. It's hard to picture yourself in that environment when there aren't other females to show them the way." 
Tumo, going on 11 years on patrol, has seen both sides of patrol, the older veterans who took her in when she first started, and the young, bright-eyed team who's working to bring more diversity into patrol. "I've definitely seen a change in the landscape," she says. "Women are just as capable as men; we've just never been given the chance to prove ourselves. That's changed as we've fought for it and said 'Hey, I can do this just as well as you can.'"
Baybutt remarks that in her four years, there is seldom a time she's looked around and been the only female in the room. "There's still so much growth to be done, but the direction we're headed is really exciting."
Find the film tour location nearest you here, and join Outside+ for two free tickets, discounts on additional tickets, and VIP perks such a priority entry.