Warren Miller's 'Winter Starts Now' Explores What's in a Name at Palisades Tahoe
Longtime Warren Miller athletes who were raised amid the legendary terrain of the iconic Tahoe resort weigh in on its new name.
Heading out the door? Read this article on the new Outside+ app available now on iOS devices for members! Download the app.
'Winter Starts Now,' the 72nd annual ski and snowboard film from Warren Miller Entertainment comes to a theater near you between October 20 and December 30. Find local show times, and get free tickets, premium seating, and more by joining Outside+ today.
How local is pro skier Amie Engerbretson to the mountain now known as Palisades Tahoe? Her mom went into labor with her while standing in the base lodge cookie shop. When she was just six years old, she skied National Chute, a steep wall carved through the sheer palisades from which the resort gets its new name, for the first time. Since then, she's appeared on several resort trail map covers, thanks to her father, the pro skier-turned-ski-photographer Jeff Engerbretson.
Today, Engerbretson travels the world for skiing, filming with Warren Miller and other outlets, but still, there's still only one place that feels like home. And it doesn't really matter what that place is called.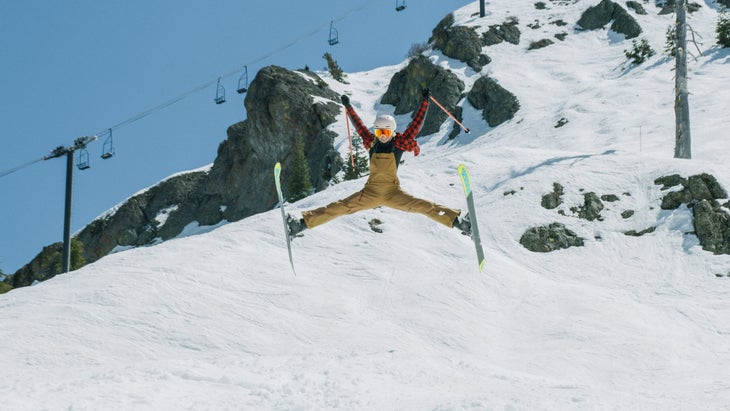 "When I think about the process of renaming this mountain and what this place, this community means to me, there's no grouping of letters that could possibly encompass that," Engerbretson says. "My attachment is to the feeling, the soul that lives here, my soul that was grown here. That connection is such a life force. That's not going anywhere. It's a much higher power than some collection of letters coming together."
Related: The Former Squaw Valley Debuts New Name After Year-Long Process
Warren Miller's 72nd annual film, "Winter Starts Now," features Palisades Tahoe. In the segment, Engerbretson rips around her home mountain in the spring sunshine, slashing corn snow and skiing the steeps off the mountain's legendary peaks. She's joined by up-and-coming skier Karsten Hart, legends like Cheryl Varner, who's better known as "KT Cheryl," and Olympic gold medalist Jonny Moseley.
The resort name change was unveiled in September, after a year-long process precipitated by resort management acknowledging the original name, Squaw Valley, is derogatory toward Native American women. In doing so, Palisades Tahoe followed an example set by the U.S. Board on Geographic Names, which renamed 16 natural landmarks in 2008 to omit the term "squaw." After conducting extensive etymological research of its own, the resort determined a name change was necessary if it hoped to live up to its goal of being a welcoming place to all. 
"The name is just a name, right?" says Tom Feiten, Palisades Tahoe's vice president of marketing and business development. "It's the experiences, the memories, the times with friends, the incredible ski lines that makes this place what it is. The biggest hurdle of this process was ensuring that we come up with a name that captures all of that."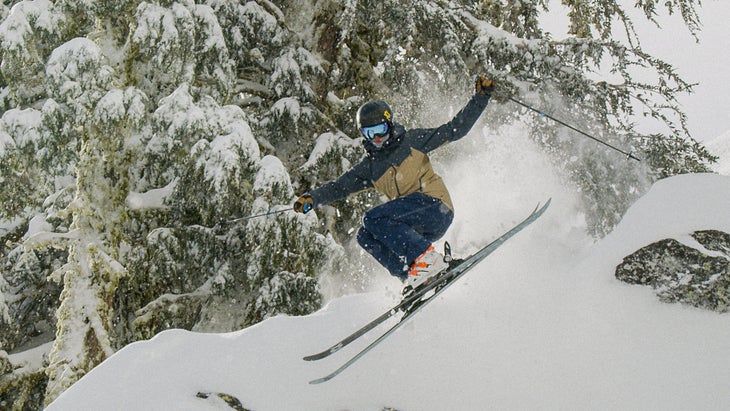 Members of the Washoe tribe, the original inhabitants of the valley dating back thousands of years, were relieved to finally see the name go. "I was speaking with a group of Washoe women, and one of the things that struck me was that one said she always felt unwelcome there," says Darrel Cruz, director of the Tribal Historic Preservation Office for the Washoe Tribe. "She said, 'It wasn't a place you wanted to go with that type of slur.' But now, she felt like the door was open and she felt welcome there. The resort understood that this has been a long time coming, that it is disrespectful for the tribe, and they want to do what's right. This is a good step in the right direction."
Destination Guide: Where To Eat, Sleep, Drink, and Play in Palisades Tahoe, Calif.
Moseley, who grew up with a poster on his bedroom wall of skier Greg Beck jumping 100 feet off the outcropping on the Palisades now known as Beck's Rock, says that the new name could not be more appropriate. "The Palisades are essentially the proving grounds for extreme skiers," Moseley says. "It's a place people come from around the world to ski. If you talk to anyone in the ski world, and you say the Palisades, they'll likely know what you're talking about."
This is the same place where Warren Miller films like Ski Country, in 1984, and Steep and Deep, in 1985, captured legends like Tom Day, Dan Herby, Scot Schmidt, and Kevin Andrews jumping cliffs and skiing chutes on skinny skis and in sunglasses. It was a Warren Miller movie that first made famous the Palisades line Schmidiots, when Schmidt aired the high stakes line with style. 
"Skiers are drawn to this mountain for its unique terrain. That's what makes the mountain what it is, what gives it its flavor," says Moseley. "This segment highlights what's at the root of what makes Palisades Tahoe great."
'Winter Starts Now,' the 72nd annual ski and snowboard film from Warren Miller Entertainment comes to a theater near you between October 20 and December 30. Find local show times, and get free tickets, premium seating, and more by joining Outside+ today.