2015 Summer Ski Camps
Skiing doesn't have to stop in the summer—check out these ski camps for that summer fix.
Heading out the door? Read this article on the new Outside+ app available now on iOS devices for members! Download the app.
Whistler, British Columbia
Momentum Ski Camps are all-inclusive and take place on the largest terrain park on the Blackcomb Glacier. Professionals coach young skiers (ages nine and older) in halfpipe, slopeside, and/or moguls. For the first time this year, Momentum will offer the option of film/photo camp too, so get your GoPros ready. Campers will stay at the Blackcomb Lodge and Spa (not bad, eh?). Sessions last either eight or nine days depending on the week, and nine-day sessions include a day off for water ramp sessions, tree climbing adventures at Cougar Mountain, paintball, visits to scenic lakes, or extra trampoline training.
Sessions start on June 19, June 26, July 3, July 11, and July 19.
Prices vary depending on session, roughly: $1,300-$2,200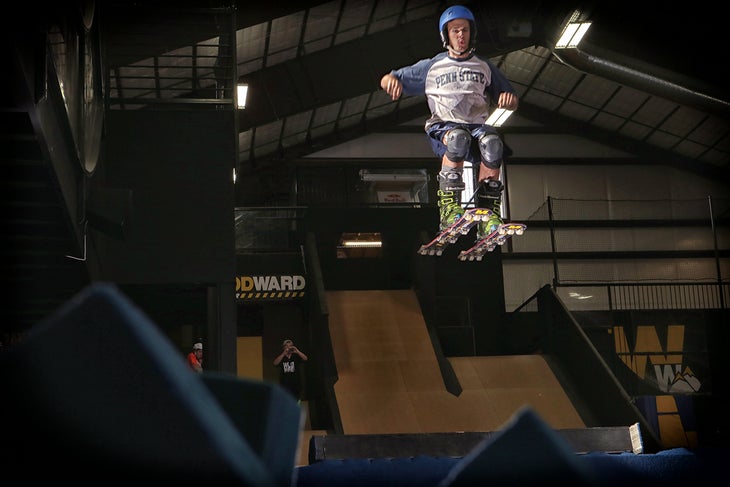 Copper Mountain, Colorado
This camp is for kids ages eight and older some weeks and only ages 8-12 other weeks—but each week offers sessions for adult campers too. Prices range per week, roughly between $1,000 and $2,000. The fee includes lodging, morning park laps with coaching, and afternoon barn sessions for practice. Campers shred the summer terrain park in the morning and train in the Woodward Barn, where campers can use Woodward's patented skis on wheels off their jumps into foam pits.
Woodward Copper also has a scholarship fund for financially challenged families.
Week-long sessions June 7-July 30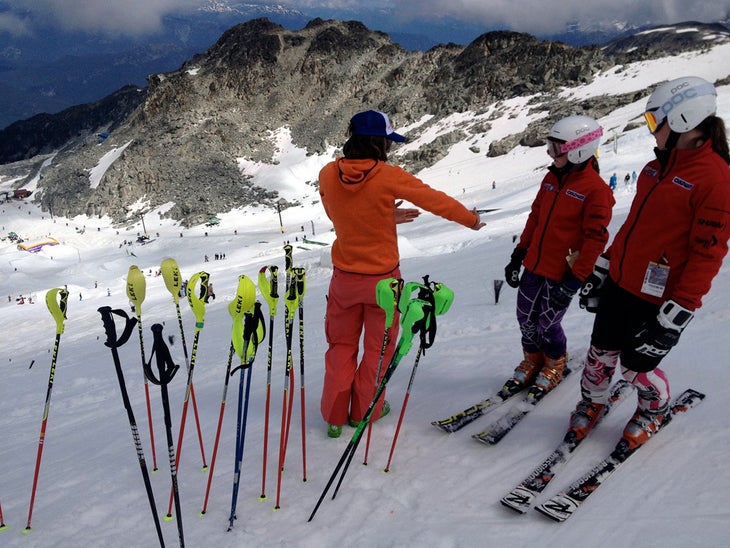 Whistler Blackcomb, British Columbia
Olympians Anna Goodman and Shona Rubens host a ski camp that brings together young girls with the message of female camaraderie and empowerment.  The camp is for ages 12-16 and focuses on improving Slalom and Giant Slalom skills as well as promoting healthy lifestyles and new friendships between campers.
Session One: June 20 – 27  $2,100
Session Two: June 29th – July 6th $2,100
Session Three: June 29th – July 10th $2,700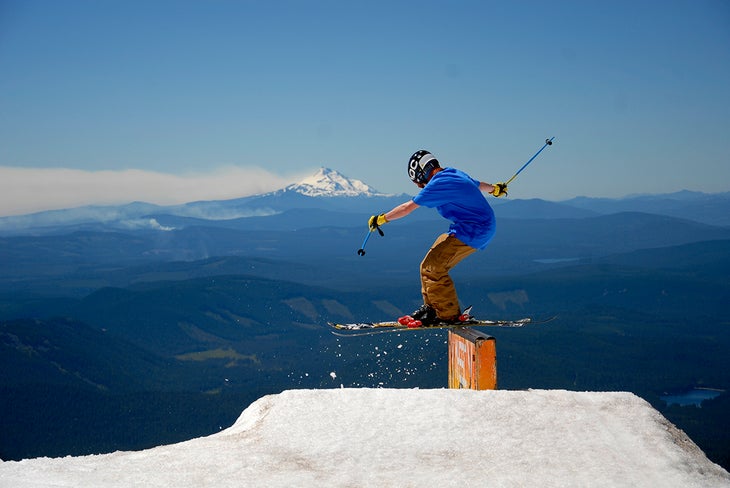 Mt. Hood, Oregon
Mt. Hood Summer Ski Camps offers affordable week-long sessions for children and adults. Campers receive instruction in moguls, free-skiing, or snowboarding during the days from a group of coaches ranging from professionals—such as former World Cup Canadian National Team coach Mike Syrovatka— to passionate college student ski rockstars. In the afternoons, campers can go whitewater rafting, rock climbing, paintballing, jump on a trampoline, play frisbee golf, and more—summer camp nostalgia.
Weekly May 24-July 26
Most sessions $1,345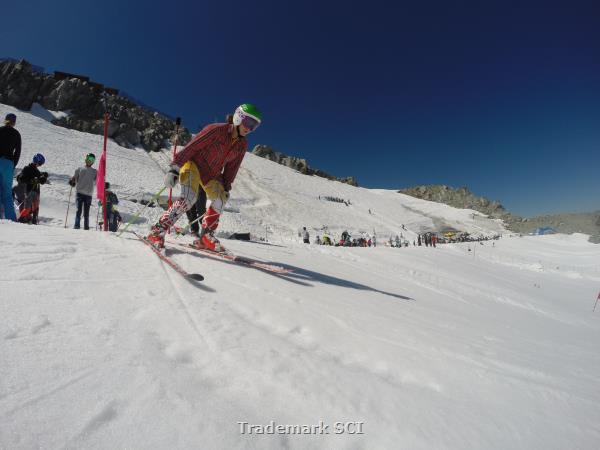 Whistler, British Columbia
This short but intensive training camp is for competitive skiers ages 9-15 looking to improve their Slalom and Giant Slalom technique and speed. It is also offered in Valle Nevado, Chile this summer.
July 2-8 or July 8-14 $2,295
July 2-14 $4,395
Valle Nevado: August 11-21 $5,195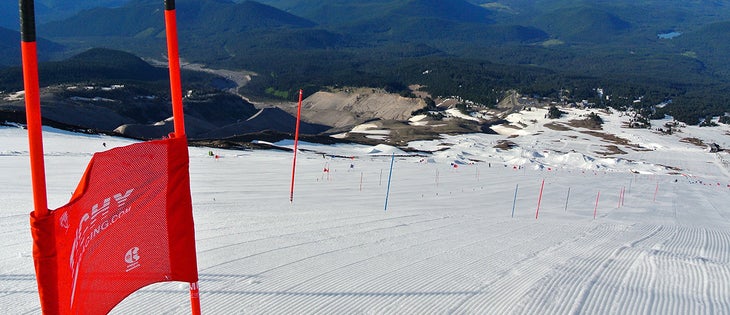 Mt. Hood, Oregon
These camps, for kids ages eight and older, focus on racing and daily Slalom training. There are 11 week-long camps starting May 27 through August 26. Each session has three days of Slalom, and three days of Giant Slalom. 
$1,295-$1,445.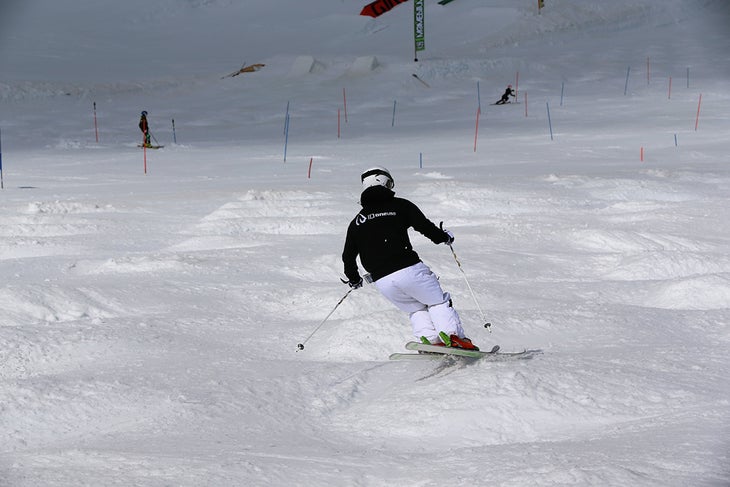 Whistler Blackcomb, British Columbia
This camp accepts skiers of all ability and aims to improve your mogul skiing—sore legs expected. The coaching staff is a mix World Cup skiers, Olympic skiers, and U.S. National Champion skiers such as Bryon Wilson, Heather McPhie, and Sho Kashima. Campers can choose between various sessions.
Big Session: June 29-July 15, $4,795
Small Session: June 29-July 7 or July 7-July15, $2,595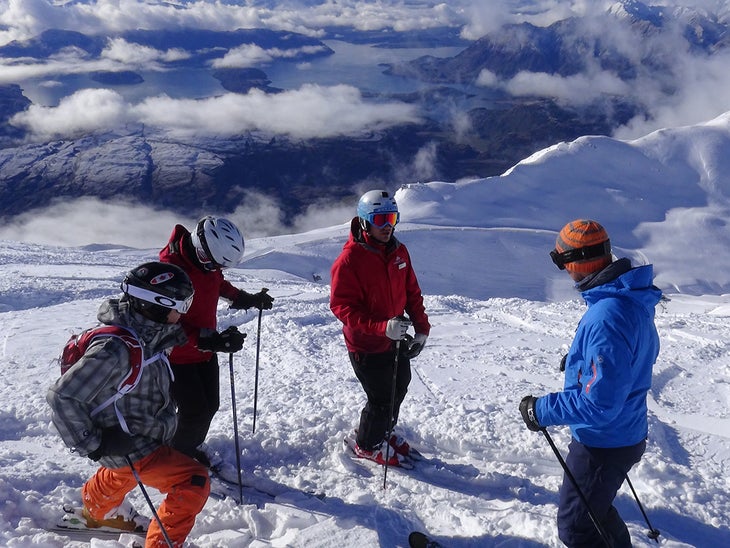 Treble Cone Ski Resort, New Zealand
This adult camp has sessions that last five days, starting every Sunday July 19-Aug 30. Participants will find their own accommodations in Wanaka, a 35-minute drive from the mountain. Campers also have the opportunity to go heli-skiing for a day during camp.
NZ $1,089-$1,988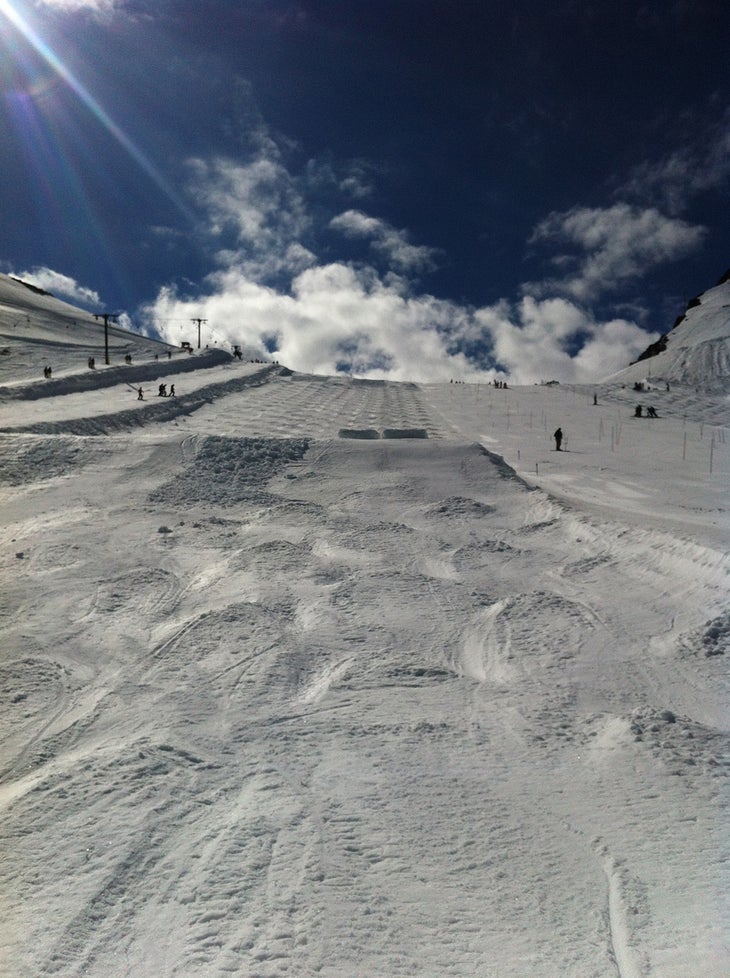 Whistler, British Columbia
Planet Ski International hosts a series of mogul sessions and freeride sessions in Whistler this summer. The first session is a combination of moguls and freeride, and the second session is fullyconcentrated on moguls. Campers will stay at The Aspens Resort at Blackcomb, and there is no minimum age to attend. All athletes must be current members of USSA at the time of their camp.
Session 1: June 24-July 1 $2,149
Session 2: July 1-July 16 $4,298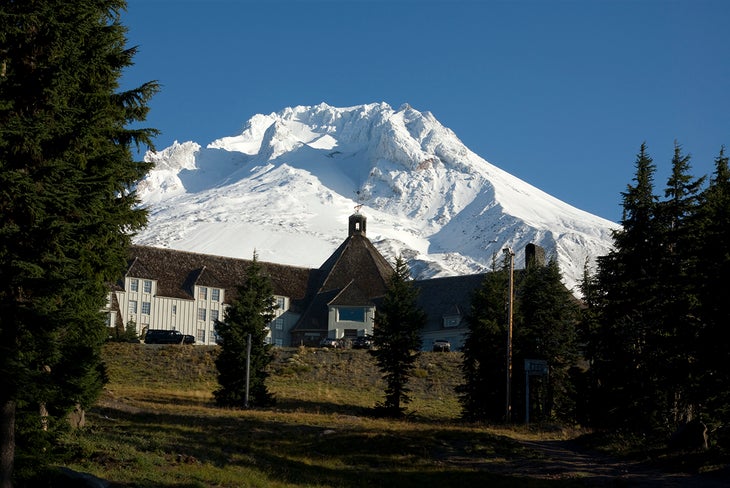 Mt. Hood, Oregon
Staying slopeside at Timberline Lodge, improving skills in the morning, enjoying afternoon activities such as white water rafting and soccer, and chowing meals from the Timberline Culinary Team sounds like a vacation and camp rolled into one. The Timberline Summer Snow Camps are focused on Slalom, Giant Slalom, and gate training for skiers of all abilities. Sessions can be overnight, three-day, or five-day day camps.
June 28-July 4, July 5-11, July 19-25
$1,700 for overnight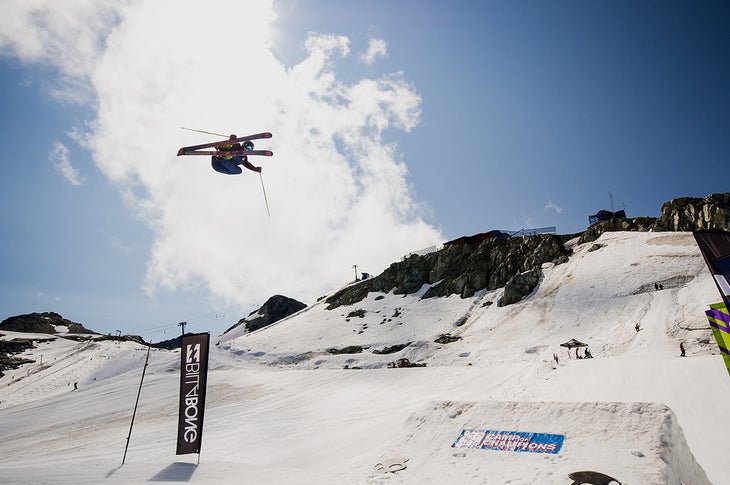 Whistler Blackcomb, British Columbia
Whistler has some of the best summer snow in North America, and Camp of Champions ensures freestyle ski campers a week of smiles and improvement on the glacier. The camp takes skiers and snowboarders who are new to riding terrain parks and teaches them the foundations and skills, including form and proper fitness, to shred. The camp has a deluxe option, which includes accommodations, or the standard option—which does not include accommodations. The deluxe camp is for ages 12 and up, while the standard camp is for ages seven and up.
Eight-day freestyle ski camps, June 28-July 23
Standard 8-day camp $1,999
Deluxe 8-day camp $2,395
Whistler Blackcomb, British Columbia
Treeline Ski Camp is the freestyle counterpart to the Dave Murray ski camps. It's designed for kids 7-18 of all skill levels—as long as they can link turns first. Sessions take place on a private terrain park at the Blackcomb glacier and will feature guest coaches. In the past, Julia Murray, daughter of Olympian Skier Dave Murray, was a guest. There are two sessions, plus an adult session, ranging from half-week sessions to two-week sessions.
Sessions: June 19-26 (adult only), June 26-July 3, July 3-10
Overnight week-long session $2,295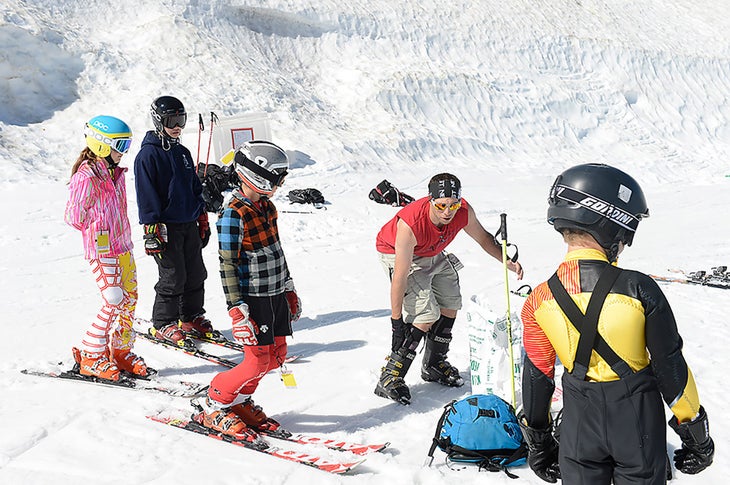 Whistler Blackcomb, British Columbia
Dave Murray is for skiers of all abilities and is designed to foster real improvement in a fun and laid-back environment. Camp offers Slalom and Giant Slalom gate training and analysis with individual coaching. Lodging is at Tantalus Lodge in Whistler Village.
Session A: June 26-July 3
Session B: July 3-10
$1,249 for half week, $2,295 for one week; $4,350 for two weeks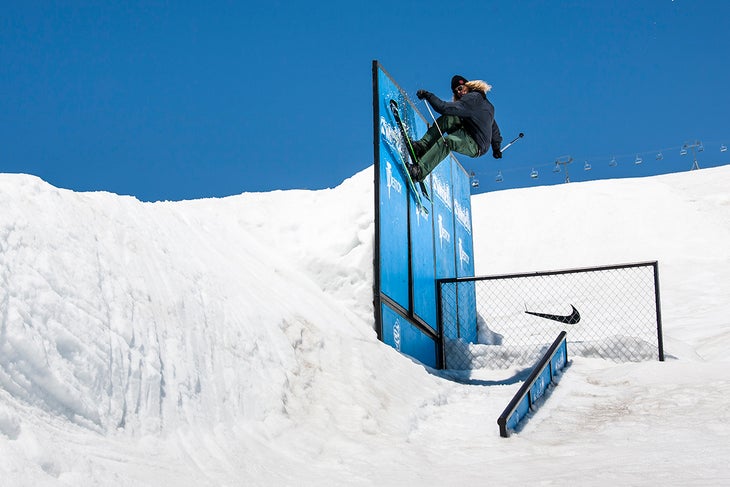 Mt. Hood, Oregon
This camp, based out of the Timberline Lodge, is tailored toward summer freestyle fun. Each week has a camp for ages 8-17 and an adult camp, which is basically an all-inclusive vacation with guides instead of counselors. On the hill, instruction includes learning techniques and tricks in the camp's terrain park. Afternoons and evenings are filled with activities like autograph signings, skate clinics, Guitar Hero, paintball, and human bowling—to name a few.
Campers of all abilities can attend and choose from overnight, day, or the All-Access Camp, allowing entry to the Windell's Private Park. Campers will receive daily instruction on the snow as well as foam pit practice. Lucas Wachs, Colby Albino, Steve Stepp, and Nicky Keefer are some attending pros that may also coach. Camps last a week and start on June 13, June 26, July 7, July 17, July 27, and August 6.
$1,999 overnight
$1,699 day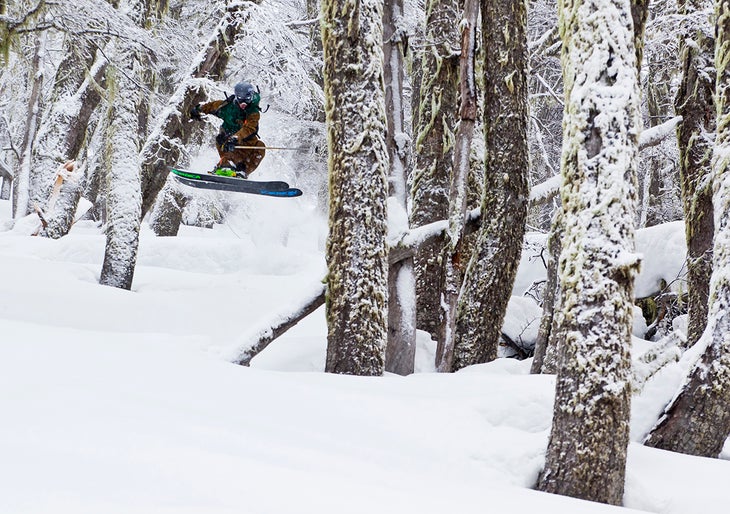 Catedral Alta Patagonia, Argentina
SASS Argentina is a South American ski adventure for teens and adults.
There are five sessions between August 1 and September 5. Teens younger than 18 can only attend the first three sessions. Campers stay slopeside at Catedral Resort or in luxury apartments. Activities include backcountry and big mountain skiing, as well as exploring Argentina.
An eight-day session costs $2,695 for adults and $2,895 for participants under 18.
Prices increase for sessions added on.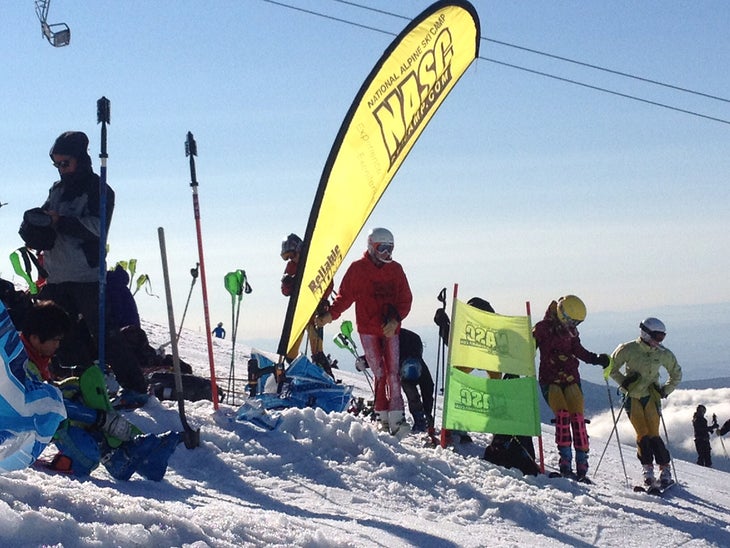 Mt. Hood, Oregon
The National Alpine Ski Camp is a ski racing camp for kids ages 8-18 offering slalom, giant slalom, and Super G training. It's designed like a traditional summer camp on a private river front campus on a Salmon River Reserve. Campers train every morning on the reserved lanes that have a custom wave track, and in the afternoon campers can do other sports like rock climbing, wind surfing, mountain biking, white water rafting, golf, and hiking. NASC also hosts summer ski camps in Canada, Czech Republic, France, Italy, and Spain.
10 and 21-day sessions between June 11 and August 11
Full Program costs $2,295