2017 Mountain Guide: Far West
Bachelor adds 635 acres to the $6 million cloudchaser lift, becoming the fifth largest U.S. resort.
Heading out the door? Read this article on the new Outside+ app available now on iOS devices for members! Download the app.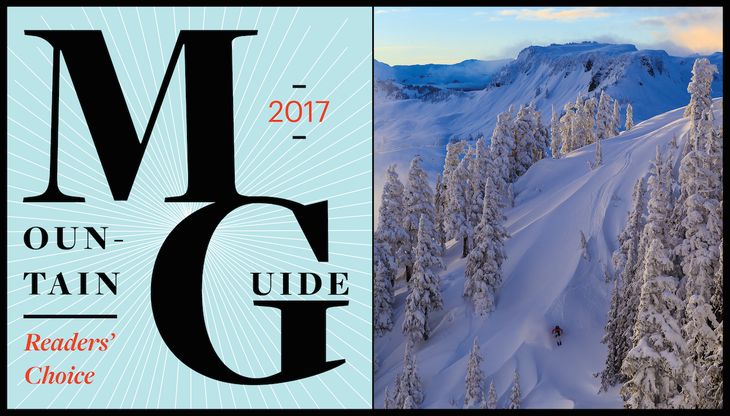 Overall Best Resort
MAMMOTH// California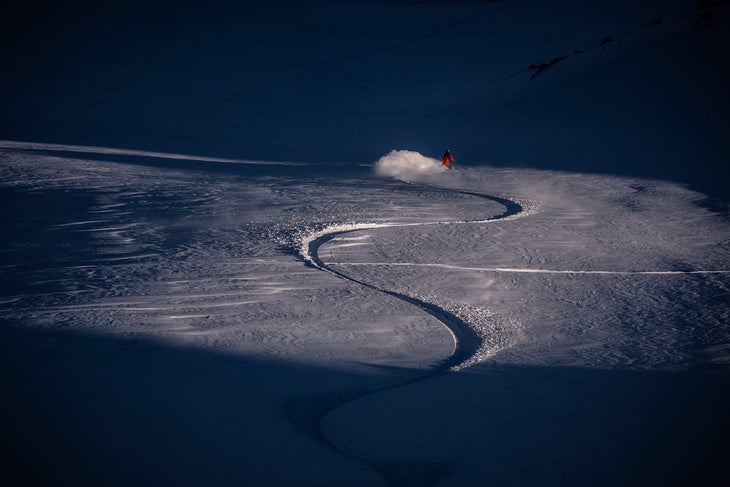 Photo Courtesy of Peter Morning for Mammoth Mountain
For almost 64 years now, Mammoth Mountain has lorded over some of the country's best skiing with barely a nod from skiers outside of Los Angeles. Why? We're guessing Mammoth's 3,500 acres, 3,100 vertical feet, and 400 inches of annual snowfall get lost in the noise of SoCal's sand and silicone stereotypes. It's too bad because Chair 22 might be the country's best storm skiing, with its frosted pines, fun-size cliff hucks, and full-throttle fall lines. Then there's the alpine. Spilling precipitously from 11,053 feet, it's a fast and loose powder playground with perfect orographics to produce immaculate wind buff when the snow faucet turns off. An incredible mountain hiding behind Southern California's spray-tan haze, Mammoth should be on your bucket list, somewhere right near the very top.
Best Tailgate Party
HEAVENLY// California
"Lap Gunabarrel, bring beer, and get an invitation to the Face Rats' BBQ." – Michael Rogan 
Tallest Parking-Lot Snowbanks
MT. BAKER// Washington
Saying it snows quite a bit at Mt. Baker is like saying it's pretty warm in Death Valley. Even if the ski area's '98–'99 winter snow- fall record of 1,140 inches is never surpassed, its annual average of 641 inches virtually guarantees an enormous base and plenty of powder schralping. The only people happier than Baker skiers are Baker snowplow drivers.
Least Annoying Bro Scene
STEVENS PASS// Washington
Stevens is the Chuck Norris of northwest ski resorts: quiet, calm, understated, but bursting with badassery. Namely deep snow, great terrain, and a core (but largely spray-free) locals scene. And it has night skiing, which is Chuck Norris's favorite kind of skiing.
Best Hero Turns
MT. BACHELOR// Oregon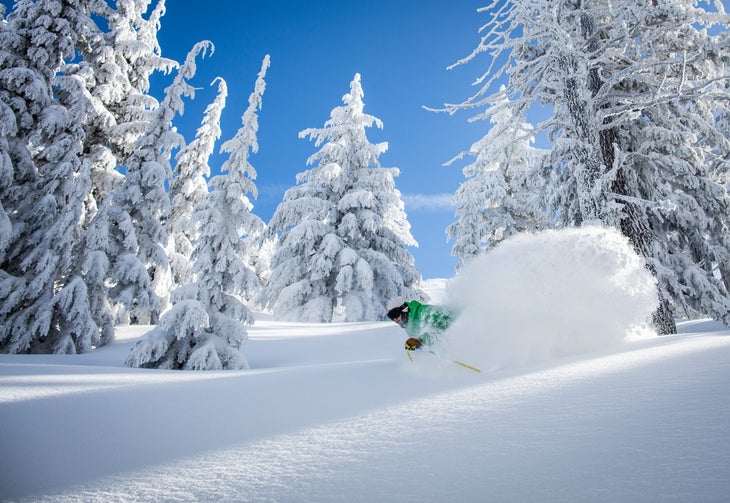 Photo courtesy of Mt. Bachelor
The near-constant lava flows of Bachie's shield volcano have had a unifying effect on the terrain. And while the pitch can be somewhat predictable, this place becomes a super-G course when the breeze blows just right and fresh flakes trickle (or pour) from the sky. Bend 'em like Bode. Glide like the Hermanator. Let the wind peel back your eyelids.
Friendliest Volcano
MT. HOOD MEADOWS// Oregon
Mount Hood is a volcano. Volcanoes are awesome. Ergo, Hood is awesome—and the skiing is too. Mt. Hood Meadows is high enough to get great snow but has plenty of below-treeline ter- rain. The lifts are high-speed, but there are plenty of stashes off the beaten path. The terrain trends toward steep and deep but there are also several manicured parks. What more can you ask of your friendly local stratovolcano?
Weirdest Ski-Town Culture
MAMMOTH// California
Every weekend, L.A. unleashes the beast on Mammoth Lakes and Mammoth Mountain. And that's cool, so long as you like lifted trucks, tattoos, flat brims, and all-black…everything.
Best Hidden Stashes
DIAMOND PEAK// California
"You'd never guess a small mountain like this would have some good stuff, but it does. And please don't tell anyone." – Lauren Lida (So much for not telling anyone.)
Best Steeps
SQUAW/ALPINE MEADOWS // California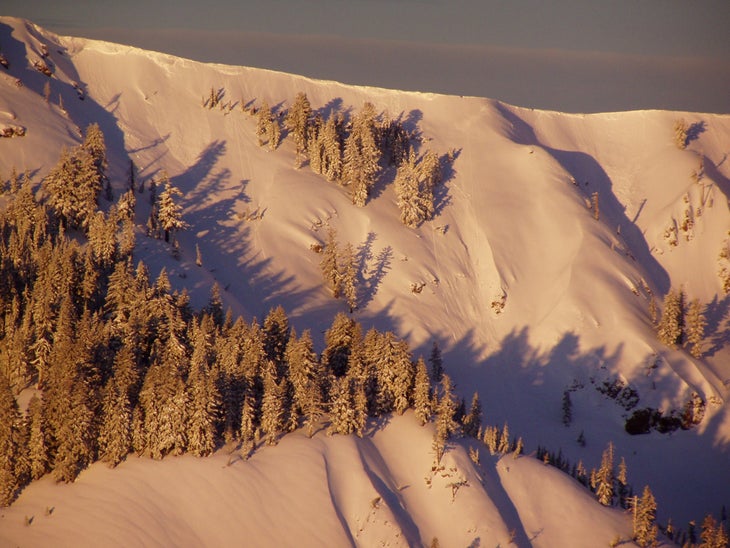 Photo Courtesy of Squaw Valley
The Palisades, KT-22, Little Alaska. Need we say more? You can shred the same iconic steeps as Scot Schmidt, Glen Plake, Shane McConkey, Ingrid Backstrom, Michelle Parker, and all the other legends who call this mountain home.
Best Excuse to Say "Chammy" (It's French for Après)
LE CHAMOIS// Squaw Valley, California
Le Chamois hasn't changed much in the past couple decades, and that's just fine. It's still the best après spot to even out your goggle tan while crushing a few beers and a slice after a day of shredding.
Best Throwback Event
LONGBOARD RACES// Johnsville Historic Ski Bowl, California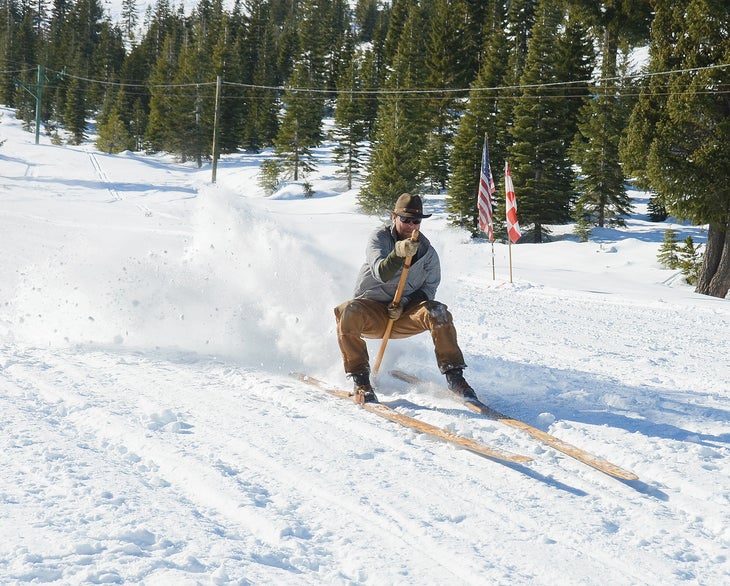 Photo Courtesy of Plumas Photography
In the 1860s, Johnsville Historic Ski Bowl in Plumas-Eureka State Park became the site of some of the first recreational downhill skiing in the country when gold miners took to the slopes in the winter months. Nowadays Johnsville holds races on old-school 10- to 15- foot wooden "longboards," just as they did back in the day.
Thinnest Crowds
HOMEWOOD// California
You know the saying "No friends on a powder day"? Well, at Homewood it's more like no crowds on a powder day, or ever, really. Thus Homewood's actual slogan, "Smile, you're at Homewood."
Best Trees
SIERRA-AT-TAHOE // California
Sierra at Tahoe isn't really famous for much—uncrowded and mellow is more its thing. But its "strokers" (what locals call the pillowy logs and stumps they pop off of in the trees) are iconic. Head here on stormy days and lap perfectly spaced, sheltering trees.
Best Stealth Powder
KIRKWOOD// California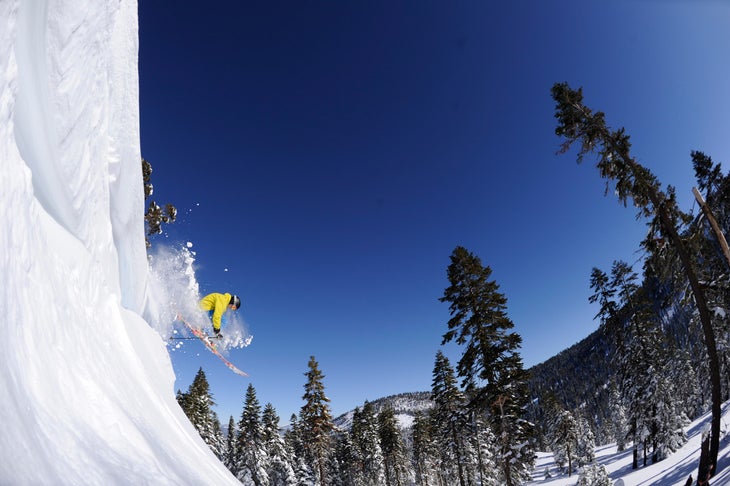 Photo Courtesy of Corey Rich
Kirkwood's higher-than-most base elevation, coupled with its location just west of the Sierra Crest, means it usually gets more snow than other resorts in the Tahoe region, a phenomenon known as "the K-Factor."
Best Pond Skim
CUSHING CLASSIC// Squaw Valley, California
Every resort does a pond skim in the spring, but how many use an actual pond? This one does.
Best Slackcountry
SUGAR BOWL// California
Sierra dumps like the one that stopped the ill-fated Donner Party a century and a half ago still blanket the mountains around Donner Summit. These days we're lucky to feast on fewer people and more fresh snow, both in the resort and out-of-bounds on runs like Lake Run, which falls from the top of Mount Judah to the west end of Donner Lake. Learn some skills or hire a guide to access the goods at Sugar Bowl Backcountry Adventure Center.
Cue for Wistful Longing
TRUCKEE// California
Tahoe's classic A-frames are a painful reminder that ski towns used to be affordable for regular people. And that some of us are old enough to remember it. Sniff.
Best Alternative to Strip Clubs
BATTLEFIELD VEGAS // Las Vegas, Nevada
Vegas is not exactly your typical ski town (see what we mean)—après options are a little more, um, varied. When you get sick of getting glitter in your eyes at certain establishments, hit Battlefield Vegas, where a cool $2,500 buys you a turn at the helm of an M1A1 Abrams Main Battle Tank. Go ahead, run over a car, Grand Theft Auto style.
Most Character
KIRCKWOOD// California
"The Squaw bros don't go there, and the terrain is amazing. Higher base elevation means more and better snow." – Anthony Martin
Best Place to Outsmart Rain
MT. ROSE// Nevada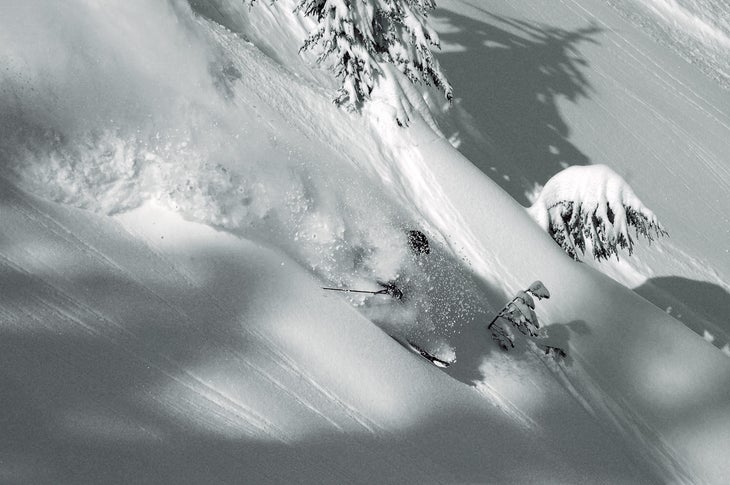 Photo Comt Rose
With a base elevation of 8,260 feet, snow is stacking up at Rose while other resorts are getting rained out. So rather than complain, just outsmart the weather.
Best Beer
ALIBI ALE WORKS// Incline Village, Nevada
Do you love beer? (That was a rhetorical question.) Check out Tahoe's newest and best brewery and taproom, in Incline Village. You can thank us later.